What's in my Diaper Bag
This shop has been compensated by Collective Bias, Inc. and its advertiser. All opinions are mine alone. #SpecialKGoodness #CollectiveBias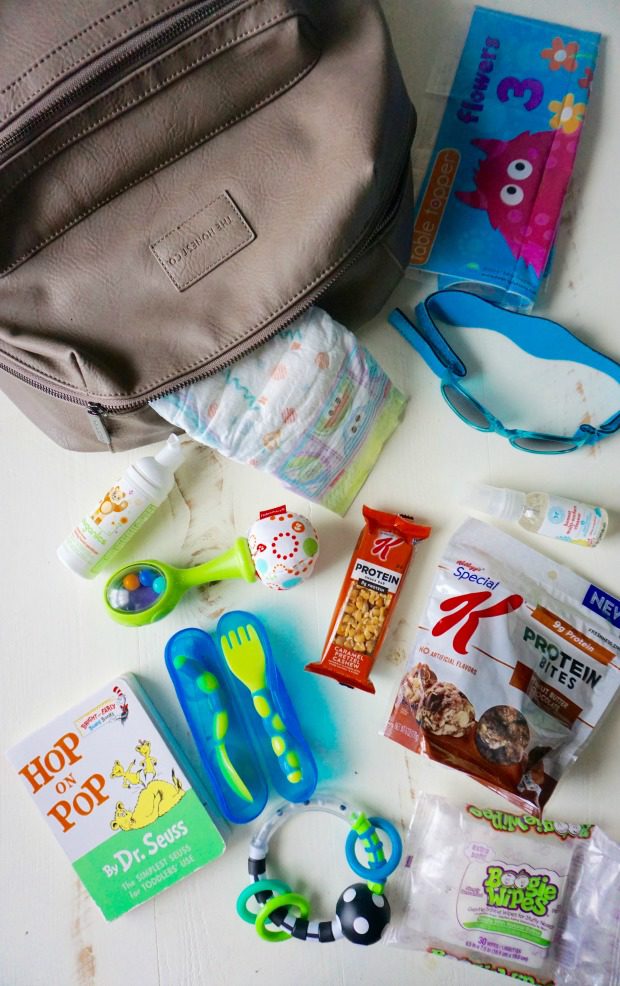 I'm a pretty reliable person. I like a routine. I love to be organized.
…And a baby changes all that. When I was pregnant (and, admittedly, even now eight months later), I loved seeing what other moms have in their diaper bag or purse. At first it was so that I could be prepared and pack my own bag with all the essentials. Later, I had a bag that was so heavy it hurt my shoulders and so I needed to scale back a little bit. Now, I read these types of posts less out of necessity and more out of curiosity.
The truth about diaper bags is this:
The items inside are never organized
You'll throw things in there when you're on the go.
You may never carry a purse again.
It'll become a hub for snacks. Lots of snacks.
I have a diaper backpack. It's the easiest way to go from here to there with an infant, in my opinion. Being hands-free is such a necessity for so many reasons.
Necessities in my bad include:
Standard Essentials
In the beginning I packed like 20 diapers and an entire container of wipes when we left the house. It was a little embarrassing and as you can imagine, contributed major bulk to my bag. Instead, limit your supply to just a couple. I usually make sure I have 3 diapers and a smaller wipes container. I also make sure to have an extra change of clothes for Max because you never know when he'll need it. Also pacifiers, a changing pad, bibs.
Snacks
I always carry water for myself and Max. I also have snacks for him, like puffs and yogurt drops. But also, snacks for me. When Max was really little there were times when I just forgot to eat when we were out, or I was so focused on getting through an outing before he got tired or upset or just bored that I would rush to complete everything and food was just an after thought. After some headaches associated with poor eating habits, I quickly made it a priority to carry snacks for me too.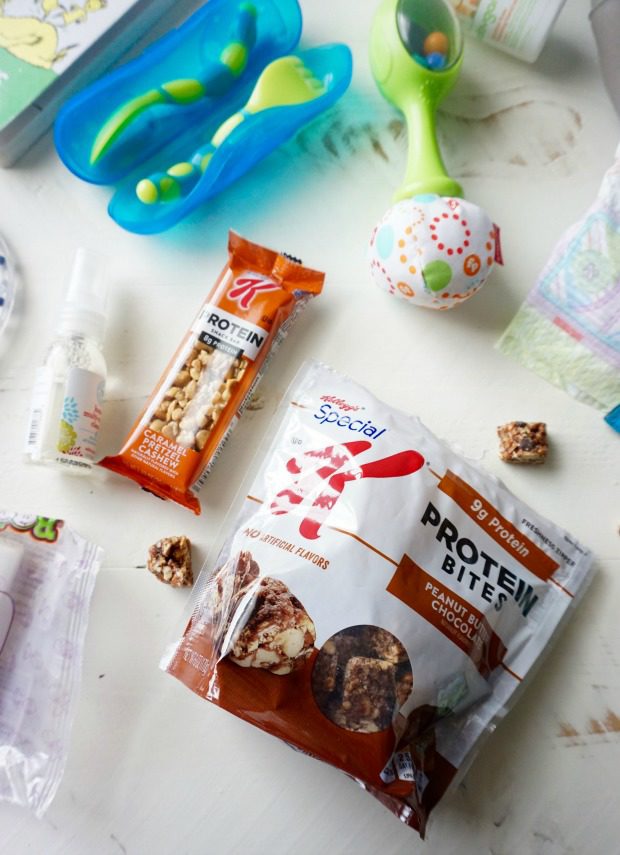 My go-to are the Special K® Protein Bars and Bites I purchased from Target. Specifically, I like the Caramel Pretzel Cashew flavor in the bars and the Peanut Butter Chocolate flavor in the bites. There are eight grams of protein in the bars (nine in the bites) which means they keep me full and satisfied. Get more Kellogg inspiration here and be sure to take advantage of the current Cartwheel Collection offer that's running through February 18!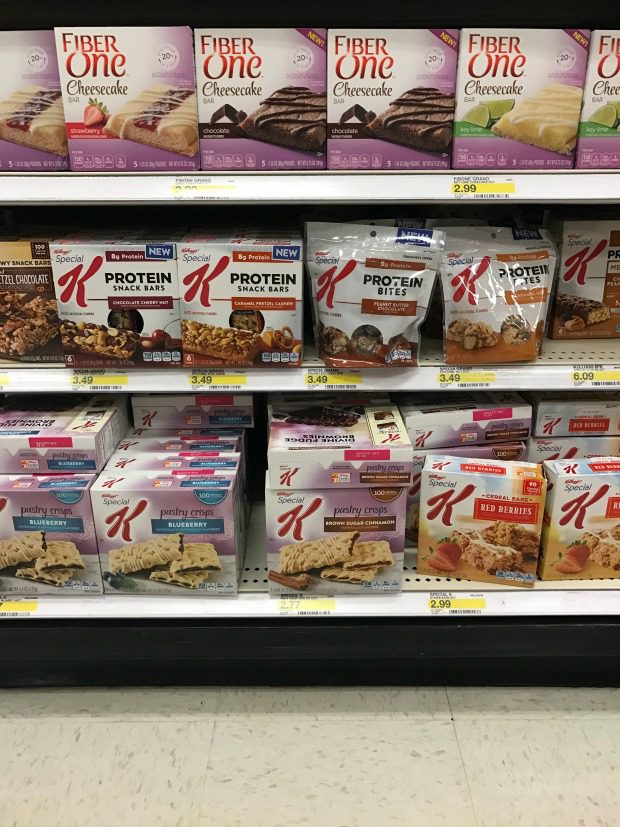 Toys and Books
Max is a huge fan of books and so they are an important distraction tool when I need him to remain on his best behavior. He also likes rattling toys and crinkle papers.
Hand Sanitizer
For obvious reasons. When you're out, there are door handles and grocery carts and all kinds of germies to contend with.
Placemats
Max is a little too young to use plates properly. If we're at a restaurant, I can't just place his food on a plate and expect that he'll keep the plate there and not pick it up and possibly throw it on the ground. At the same time, I don't want to put his food straight on the table. The placemats I have are perfect because they stick to the table so he can't move them around. They also have different blocks of color and numbers on them so they can also be a learning tool as we're enjoying a meal. You know, since he's just bound to put crayons in his mouth if we try that.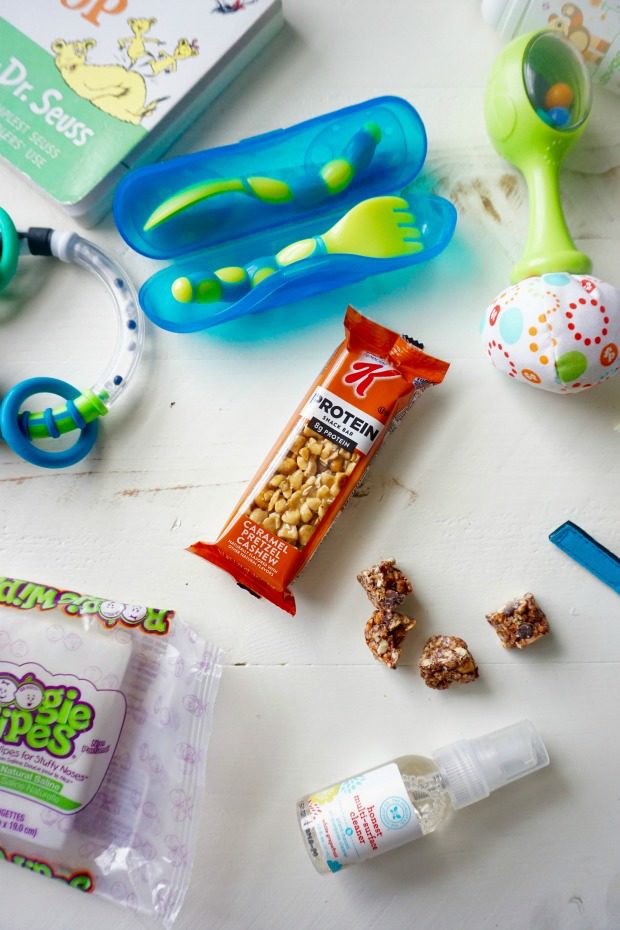 Fork and Spoon
Max is really into feeding himself, mostly with his hands, but he sometimes holds his own fork and spoon. I have a set just for him that has an easy grip. I love that he's showing more and more independence!
I also have additional items for me: wallet, lip gloss, cell phone, bluetooth headphones and hair ties (because babies pull on hair). Depending on what we're doing and where we're going, I may bring my mirrorless camera so I have the option of capturing higher quality photos.
Now help me satisfy my curiosity and let me know what's in your diaper bag, including mom snacks! Pleeeeeease 😜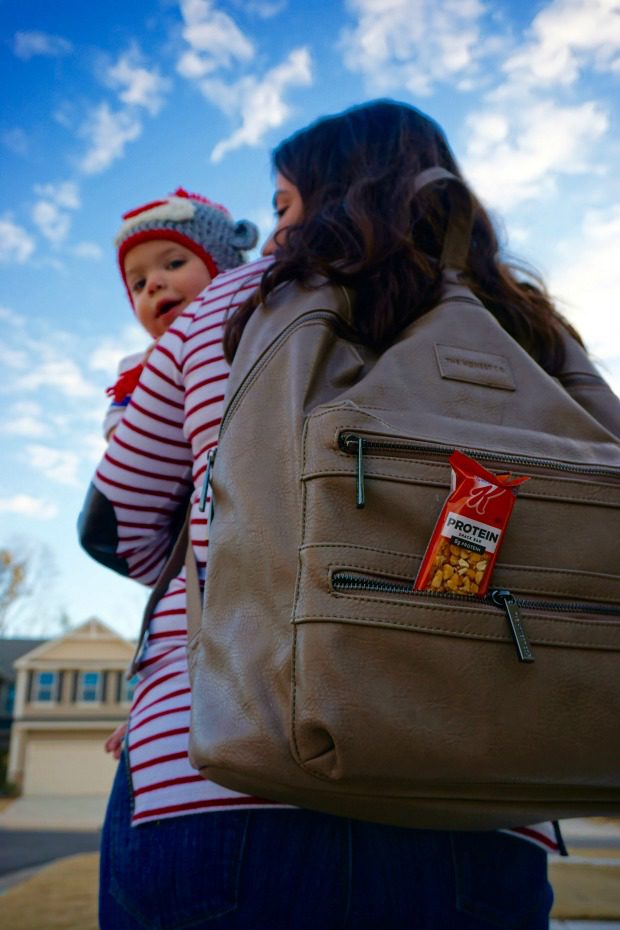 Leave a Comment