Vegetable Stir-Fry with Mother Earth Boxes
There are tons of times, for as much as I love to cook, I just don't feel like it. It's much easier and quicker to go to the Vietnamese restaurant down the road for my FAVORITE: spring rolls over rice noodles (bun cha gio). Or the Indian place right across the street for their Chicken 65. And if I'm really in the mood for either of these and don't get it, I obsess about them until I do. Kinda like Chick-Fil-A on a Sunday. Like, you just cannot wait until Monday so you can get your fix. Know what I'm sayin'?
Around here, it's been raining nonstop. If I knew I had to endure rain anyway, I'd rather be in Seattle. When it's so dreary, I don't want to be gallivanting around to my favorite restaurants, and I especially don't want to go to the grocery store. Have you ever had to load your car with plastic bags full of groceries? It's no fun, and I'm pretty uncoordinated so I have an ungraceful go of holding the umbrella and situating the groceries snugly in my trunk, all while trying to remain dry.
Luckily, I had Mother Earth Boxes at my doorstep. I didn't feel like cooking and then all of a sudden, with a box full of fresh and local produce, I was back in the game.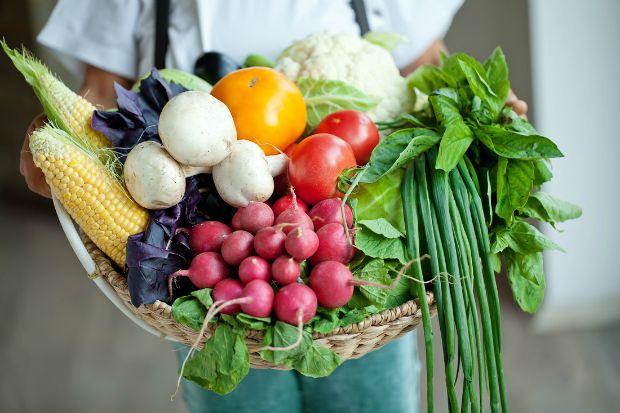 (via)
I've tried another local organic produce delivery company, but I feel like Mother Earth is a better option. It's so plentiful with over 120 varieties of fruits and vegetables. I received sweet potatoes (massive sweet potatoes), a pineapple, peppers, tomatoes, avocados, lettuce, herbs (much appreciated and rare in boxes like these), peaches, asparagus, oranges, leeks, and much more. The box I received happened to include items I would normally get from the grocery store and things that are easy and familiar to cook with.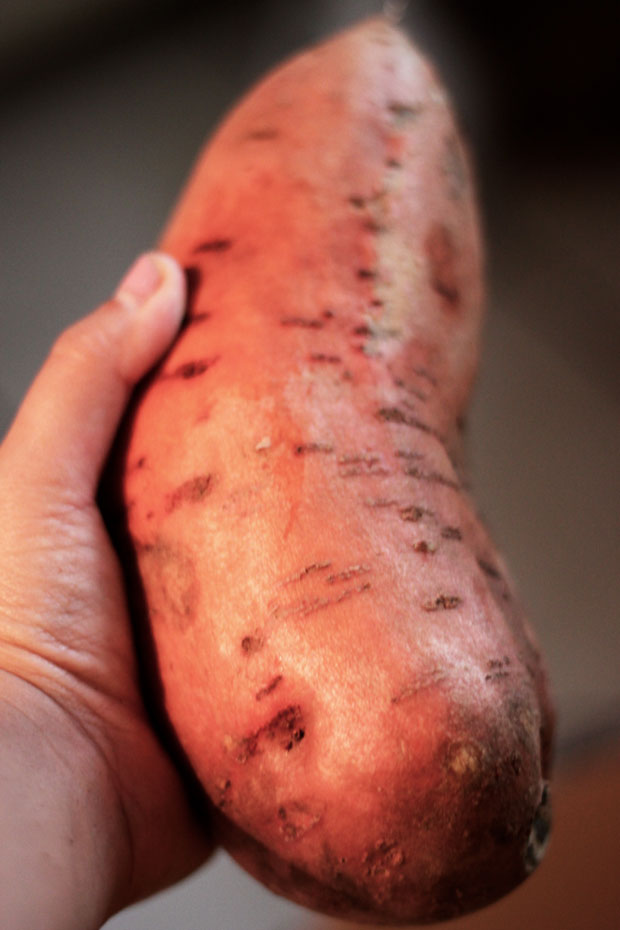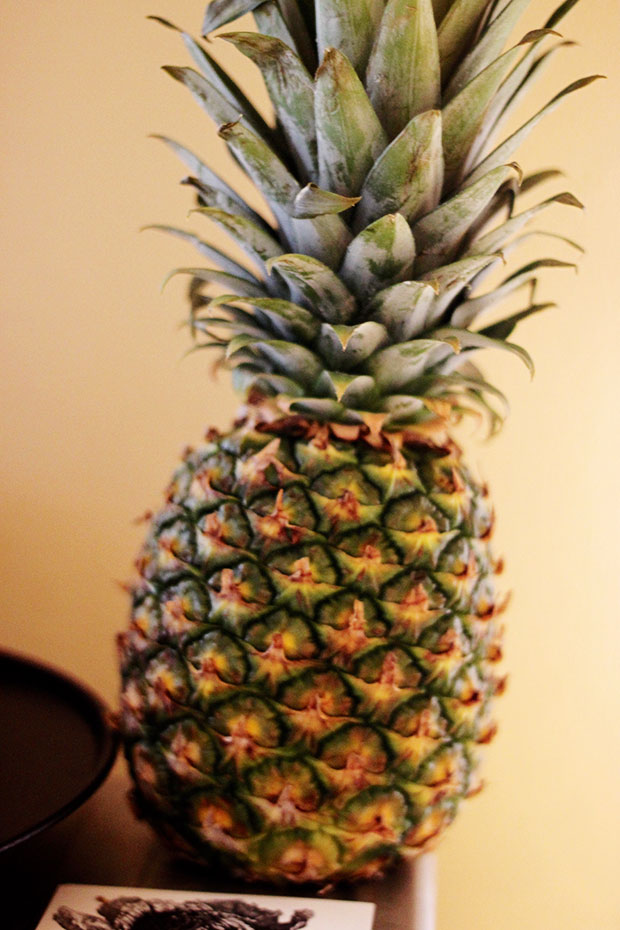 Mother Earth, available for delivery to residents in Hillsborough and Pinellas counties only, has three different style boxes:
The Wonderland: Vegetables and Fruits (my choice)
The Tooty Fruity: Fruits only
The Hulk: Vegetables only
Each box is 20-25 pounds and feeds 2-4 individuals for an entire week. The cost of each box is $49.00, but you'll feel like the luckiest person on earth when you open the box and see everything inside. It's like Christmas morning.
So, given my limited amount of groceries but my sudden plethora of fresh produce, I knew what was in order for dinner: Vegetable Stir-Fry!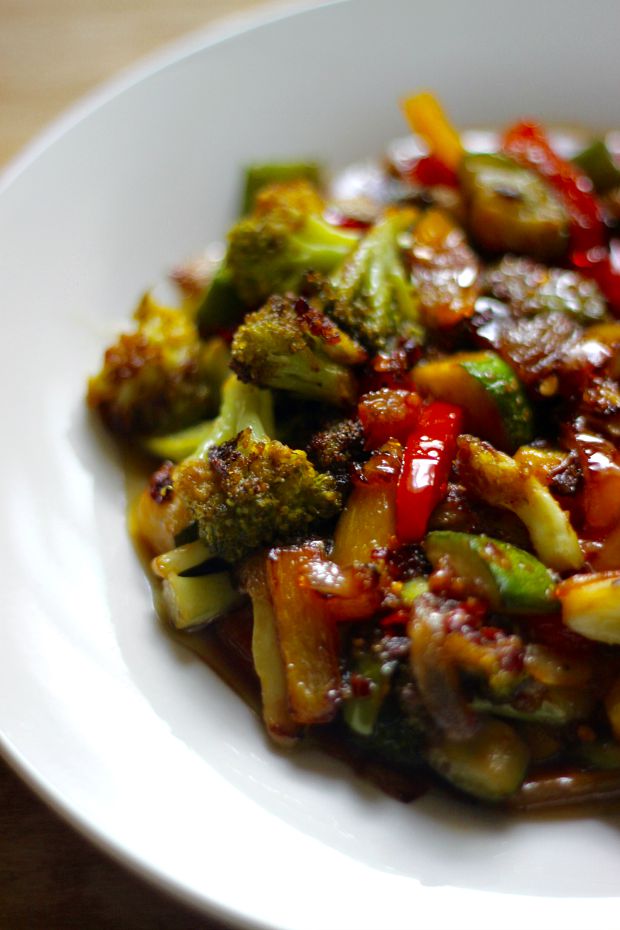 Because stir-fry is that "oops I don't know what else to do with these veggies" dish. The dish that's a favorite for everyone because who doesn't love stir-fry, right?
And it's filling and healthy and freakin' delicious. Lots o'veggies. Load them up.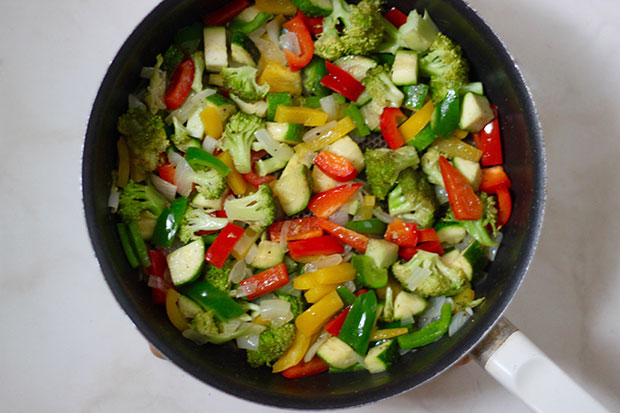 In my Mother Earth box, I received a bunch of green, red, and yellow peppers. I had leftover broccoli, zucchini, onions, and garlic. This simple and fast stir-fry was perfect in that the flavors were SPOT ON, and I was able to finish the meal before my husband left for work (his night shift at the hospital hinders my dinner game in many ways), which always gets two major thumbs up from me. I like to provide him with food for a late night dinner as often as I can.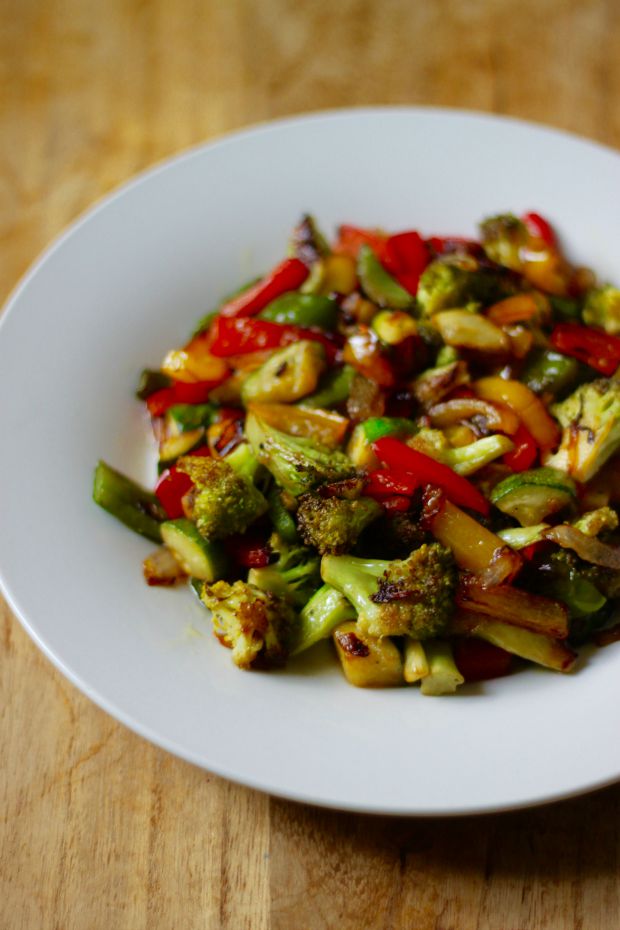 I just mixed up all the vegetables, let them get golden brown in the pan together with some oil, all cozy like. While I let the vegetables form these little brown (ie: most delicious) bits by purposely not stirring too often, I made up the sauce that would join everything together.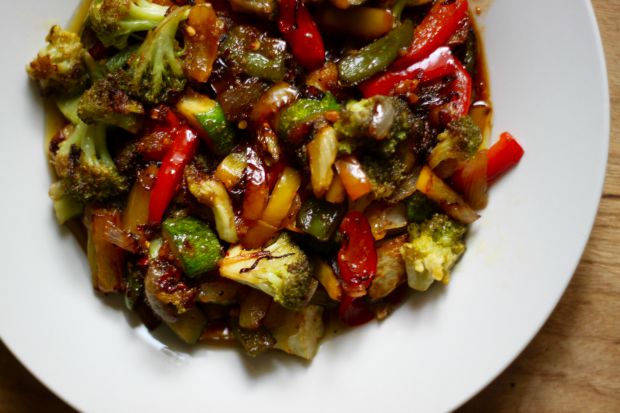 In my sauce, I added Sriracha because, as overplayed as some of you may think it is, it's still just as tasty as before the craze even began. Plus, I love spice. I would've let some thai chili peppers marinate and release their spicy flavor into the sauce, but remember the patio frogs (??). No thanks.
If you have access to some hot peppers, it wouldn't hurt to cut them in half and thrown them into the sauce, allowing everything to soak up the heat. Yummmmm.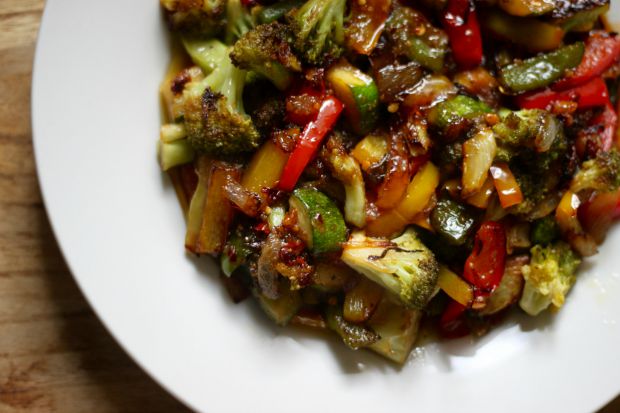 When the vegetables were to the bite that I wanted them to be, I poured the completed sauce over them. The sauce got all bubbly for a sec and then the vegetables started soaking it all up because they like to swim in yum.
The sautéed vegetables are fun all on their own, but with the sauce that's all at the same time sweet and tart and deep in flavor, it's so so so so much better. Serve with rice and be all happy and smiley while trying to figure out how you can resist enough so you can bring at least some leftovers to work the next day for lunch.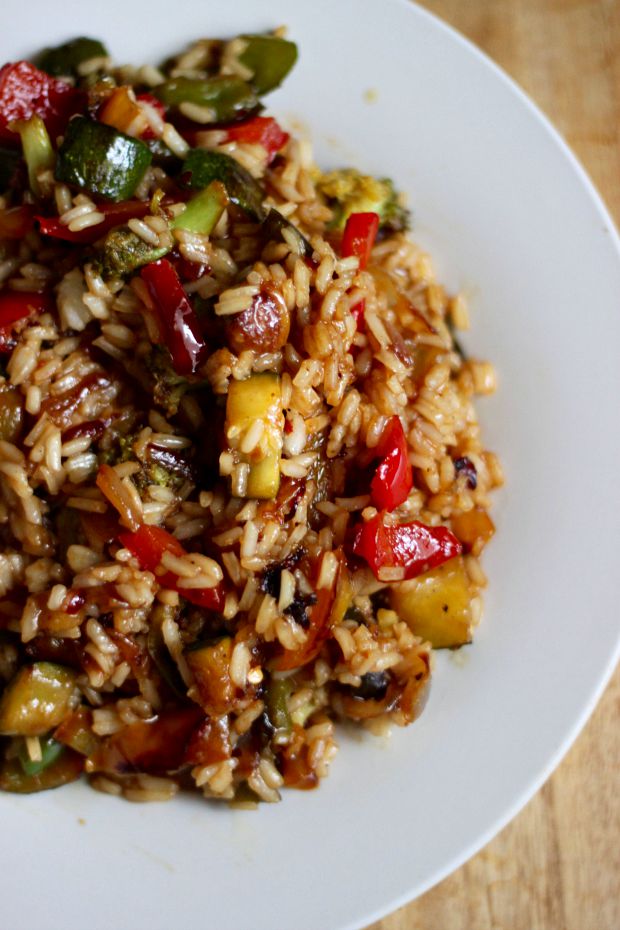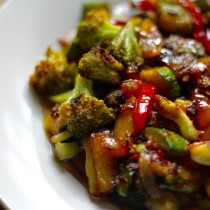 Vegetable Stir-Fry
A hearty vegetarian dish that'll make any cook on a time limit happy. It's a fast and easy meal with vegetables that can be exchanged or even eliminated, anything to make it your own.
Ingredients:
Stir-Fry
2 tablespoons oil
1 medium yellow onion, chopped
2 garlic cloves, minced
1/2 red pepper, chopped
1/2 green pepper, chopped
1/2 yellow pepper, chopped
2 medium zucchinis, chopped
1 1/2 cups broccoli florets, chopped into mini florets
Pinch each of salt and pepper
Sauce
3 tablespoons tamari (or soy sauce)
1 tablespoon light brown sugar
1 tablespoon honey
1 tablespoon rice vinegar
1/2 tablespoon garlic paste (I get mine from Trader Joe's)
1 teaspoon sriracha
1/4 teaspoon red pepper flakes
Salt and pepper to taste
Directions:
In a large skillet, heat oil over medium-high heat. Add vegetables and saute until soft, or desired tenderness, tossing occasionally.
Meanwhile, add all sauce ingredients to a small saucepan set over medium heat. Whisk until brown sugar is dissolved, then remove from heat.
Once vegetables have been sautéed to your liking, add sauce to the pan. Stir to combine. If desired, add cooked rice to the pan.
Leave a Comment