Sun, Fun, & Relaxation at the Don CeSar Hotel: Our First Anniversary Weekend
Can you still be considered newlyweds when you've been married for over a year? It's a question I've actually wondered myself, and been asked by others. Well, nothing much has changed around these parts. We're still as awesome as we ever were, but marriage is just different…in a good way. And it just keeps getting better and better. Lucky for us, we had a first wedding anniversary that won't ever be forgotten, we're sure of it. It all started with dinner at Piquant, easily a favorite restaurant in Tampa, followed by brunch at the Don CeSar's Sea Porch Restaurant the next day.
But that's not all for our anniversary weekend. Not only did Don CeSar give us a wonderful brunch, introducing us to a resort restaurant we definitely plan on continuing to visit for fantastic brunch food, but they hosted us for the day and night at the hotel.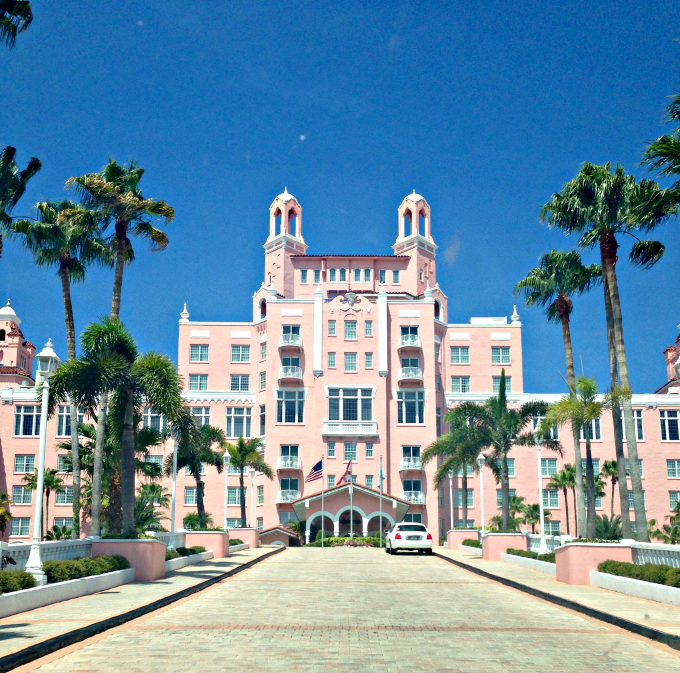 The Don CeSar is the "pink palace" that any Tampa Bay resident has seen, probably many times over, as it's a huge hotel that's right on the beach. Plus, it's pink! Until our anniversary weekend, I had never set foot in the Don CeSar, although I had always wanted to. I mean, it's just magnificent looking on the outside; I had always wondered what the inside was like. First, look at that large driveway! Going up the driveway to valet parking, it's like the pink palace is coming up to greet you, and yes, I felt greeted by the resort immediately.
When we walked inside, it was unlike any hotel I've stayed in before. Obviously being renovated over the many years of the hotel's existence, it still felt "old school elegance", like the air of elegance only met by many decades ago. You feel transported to another time, even though the hotel also has an air of modernity. It's a combination of modern and vintage that works extremely well, yet you don't see often at all.
Since we arrived very early for brunch, we waiting just a little bit after dining for our room to be ready. But, seriously, there isn't a better spot to wait for your room. We waited in a hallway right around the corner from the lobby bar, and in front of a couple of fishtanks we just enjoyed watching, in plush chairs I could've fallen asleep in.
Yep, it was those two chairs right there in the front. You wouldn't normally find comfort when waiting for a room at another hotel. But there were ample areas to sit and enjoy the hotel, and then they graciously called me directly when the room was ready.
And up to the 7th floor we went!
Upstairs, we ran into a member of housekeeping that we ended up joking around with whenever we would pass her in the hallway – she was personable, and we really enjoyed her! She made sure our stay was great, and truly cared to hear how our weekend was going. I mean, really, where else do you get that kind of service?
But the room…oh, the room.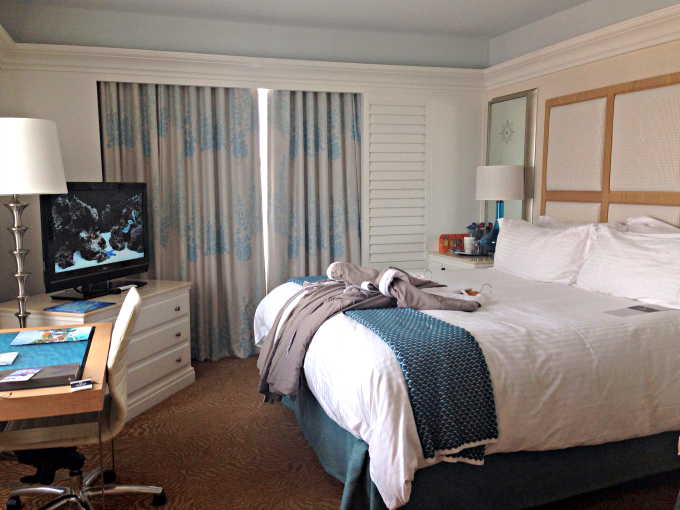 There were two windows. The one straight ahead looked out over the parking lot, but even better, over a vast expanse of St. Pete which was particularly alluring at night when we relaxed with the curtains open (and contemplating room service, hehe). The other window, next to the desk on the left, looked over part of the roof and the beach. It was just a wonderful room, cozy and personal, and exactly what we needed.
And can I just say that I have never, ever stayed in a more comfortable bed. I was wondering what would happen if I just decided never to leave the hotel. You'll see that we immediately got the robes out from the closet. Because we are robeaholics. We don't own nice ones of our own, but when we stay somewhere, we have to sample the goods. These robes were almost as comfy as the bed itself.
I loved everything about this room – the colors, style, layout. I even mentioned to Mike that I would love to have our bedroom look just like this. So relaxing…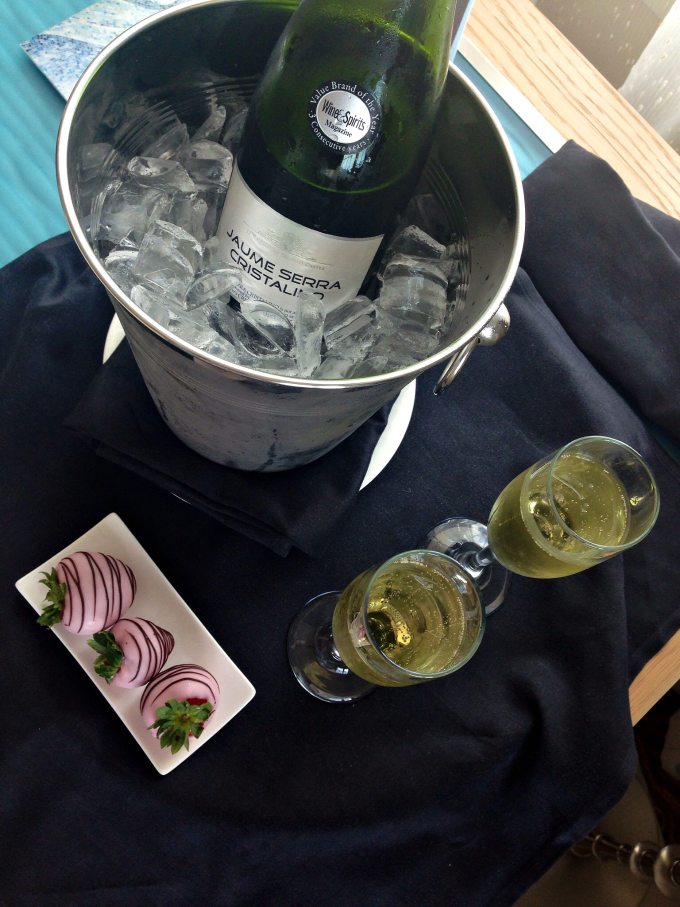 And then these strawberries and sparkling wine happened. And it was a complete surprise! Because that's how the Don CeSar does things. They care, and they make it known. A brief knock on the door just five minutes into our stay and we let in this loveliness. Although still hungry from brunch, we gobbled down the strawberries, and pretty much swigged our first glass of wine each.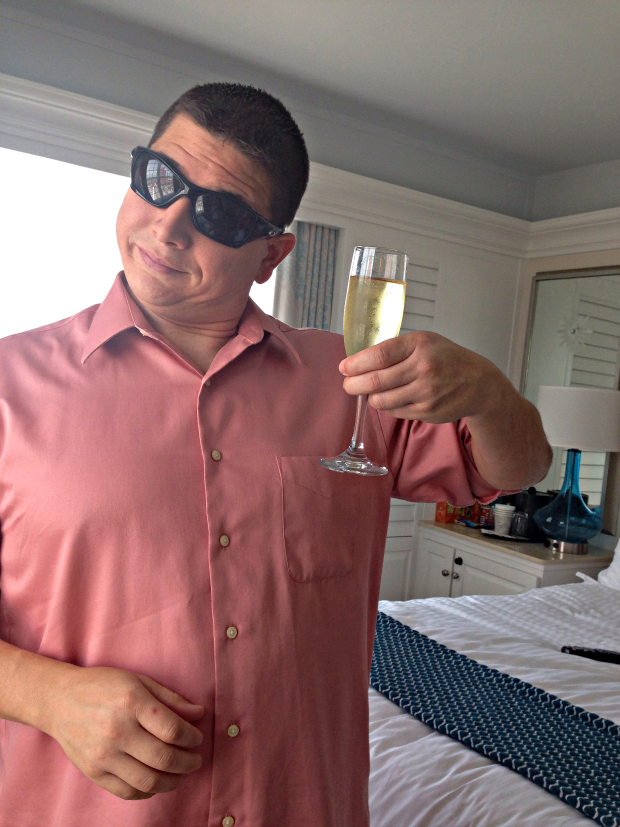 I may have even sat in the bed and drank a long sip from the bottle. I don't know why; it was impulse, mmkay?!
The Don CeSar Hotel, being a resort, included an activities itinerary with their welcome brochure, and much to our interest, we saw a food demonstration taking place in the courtyard by the pool. Why not?? It turned out to be a demo about cake pops, which made me happy, and to get there, we walked through the courtyard and around the two pools, both areas being so lovely, we just became more and more thankful for the experience and opportunity to check this place out!
Yes, the greens around the property are really that lush. The pictures you see online are really that accurate. We were both in a constant state of amazement at how fortunate we were for this stay, and to be surrounded by all of this!
Honestly, our lives are so busy and we don't really get this kind of quality time together that we relaxed in our room for the majority of the day, watching TV. It was so serene, and unlike any relaxation I could ever hope to achieve at home. You know, because you're constantly thinking about what there is to do, to clean, to organize, to cook, etc. Being at the Don CeSar, relaxing like we would at home, was somehow on a whole 'nother level, like we had been transported to a land that couldn't have been farther from our condo…and it was SPLENDID.
But, of course, we had to walk the beach and make sure we were present for the sunset.
The sand!! So soft, I could've slept in that too!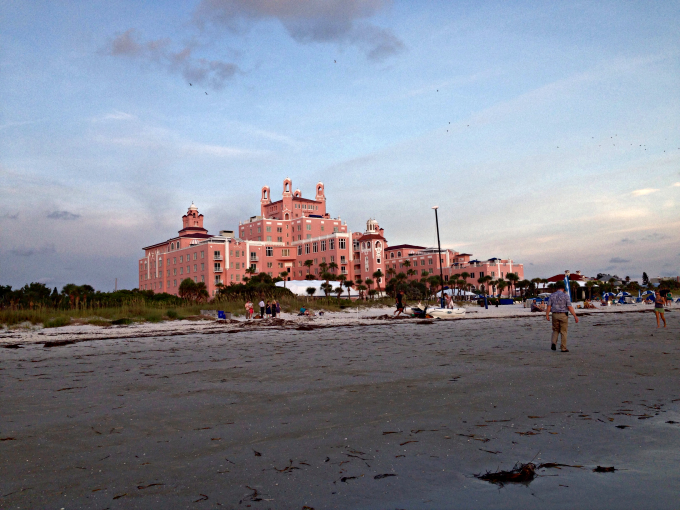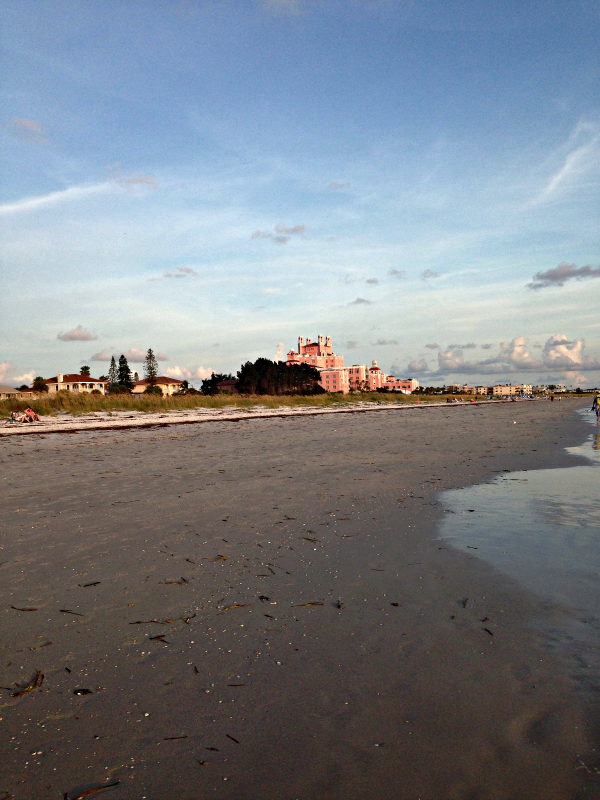 And then…sigh…as the sun went down on our anniversary weekend, we went back to the room for even more relaxation, including a deep internal debate on whether I should order a cheeseburger through room service, and then the inevitable passing out before our usual bedtime.
What a weekend. Thank you so much to the Don CeSar for not only meeting our high expectations, but then exceeding them. We really cannot describe how thankful we are and how much of a difference you made to our anniversary weekend. We'll never forget it!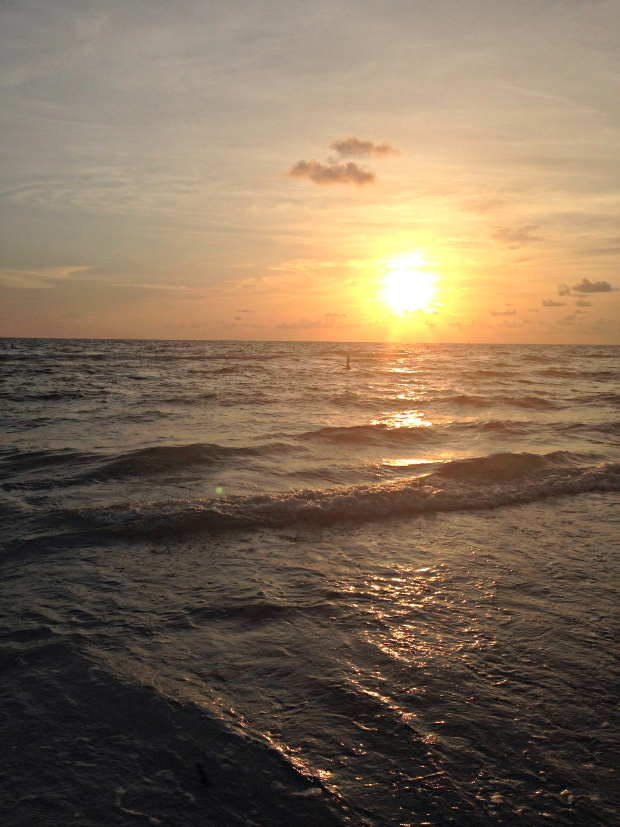 2 Responses to "Sun, Fun, & Relaxation at the Don CeSar Hotel: Our First Anniversary Weekend"

Trackbacks/Pingbacks

Leave a Comment