A Glimpse of Seattle Through Foodie Eyes
It's not every day that I get to travel to another city. It's definitely not every day that I can walk to breakfast, lunch and dinner without breaking a sweat and then sit down to these meals and be the biggest glutton in the history of ever.
When in Seattle for the International Food Blogger Conference, I did what any self-respecting rebel of a foodie does: I skipped all but one section of the conference and roamed the city for the best eats. Oh, and there were some sights along the way.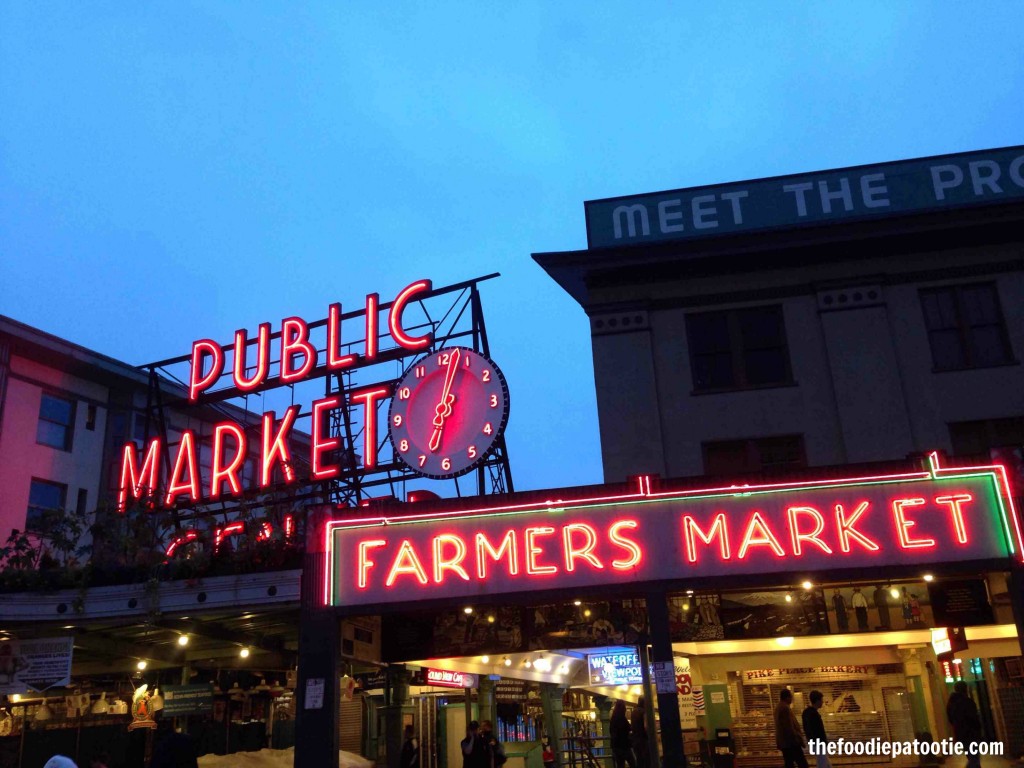 A theme of my Seattle trip was Dry Soda, an all natural, less sweet drink that only has four ingredients and is based in Seattle. At the end of our Savor Seattle food tour, I was introduced to this brand when Rich, our tour guide, suggested the Rhubarb flavor. I'd end up loving it and going on to try the Cucumber, Lavender, Apple and Ginger. A product that I will now forever have in my fridge, Dry Soda is refreshing and light.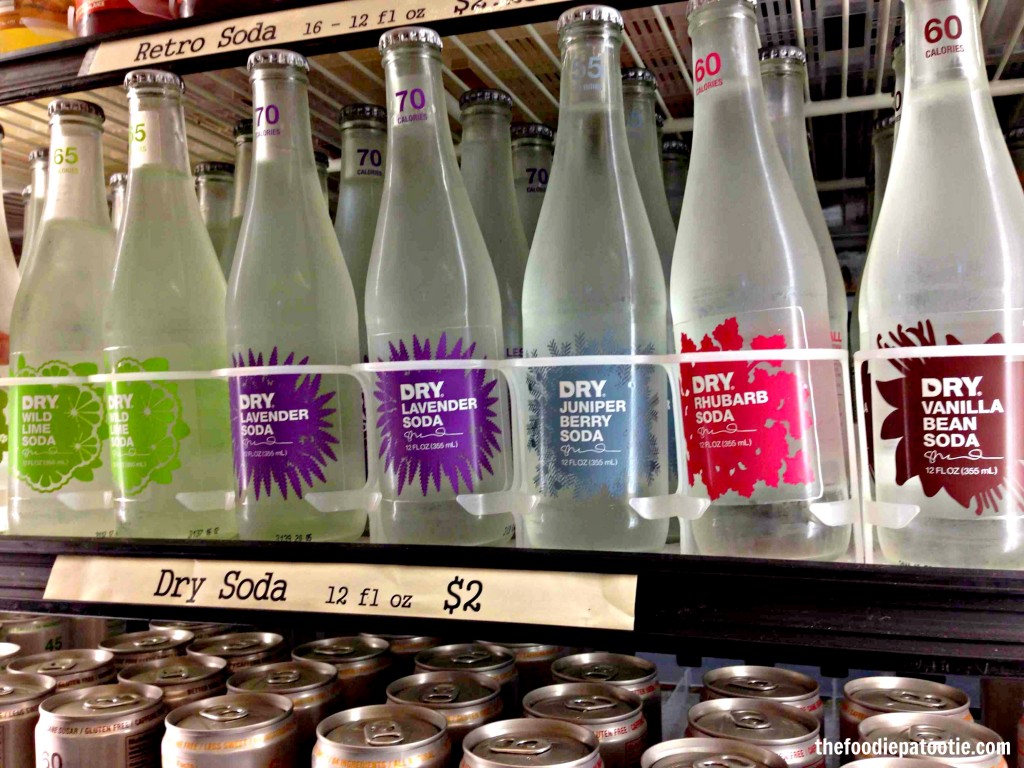 Like Dry Soda on Facebook | Follow Dry Soda on Twitter
Here is a photo dump of the other food I ate:
Dungeness Crab Grilled Cheese: Flagship cheese, crab and remoulade sauce
As I mentioned during my previous post, Beecher's Handmade Cheese and I became friends (they have an awesome Twitter presence) and so I had to try what was promised to be a very important stop in my Seattle journeys. Plus, have you seen those luscious Dungeness crabs? To resist would have been food sacrilege.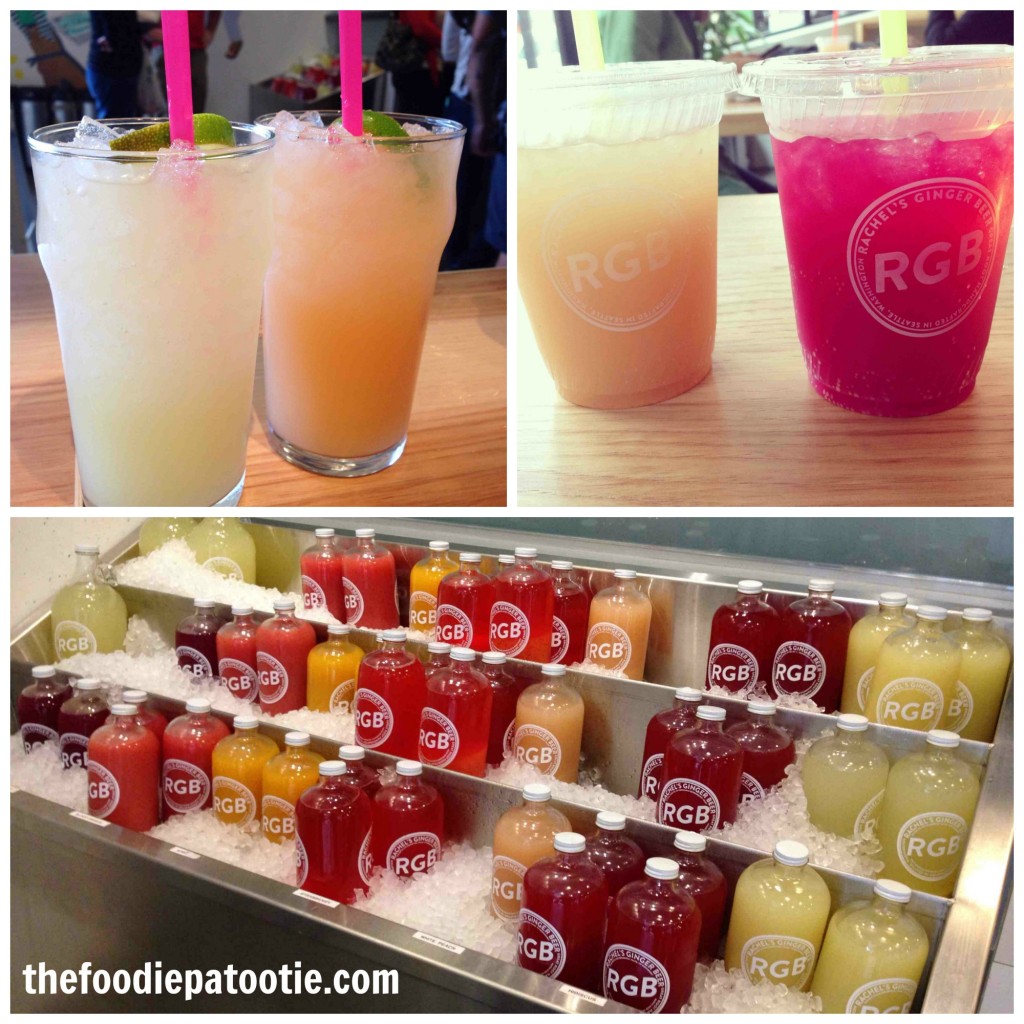 Drinks: Moscow Mule, Porch Swing (ginger beer, gin, aperol), White Peach Ginger Beer, Orange Beet Ginger Beer
I stopped by Rachel's Ginger Beer three times throughout the three full days I spent in Seattle. If that's not instant obsession status, I don't know what is. The people at RGB are so nice and welcoming, it was like I was visiting a friend. I so very much appreciate friendly service like that.
All of the drinks I tried were great, but I have to admit that the White Peach Ginger Beer (no alcohol) was my favorite because I could taste more of the ginger sting. The Moscow Mule was one of the better ones I've had.
Serious Pie & Biscuit
The Zach: fried chicken, tabasco black pepper gravy, bacon, fried egg, biscuit
Potatoes: Fingerling potatoes, rosemary, onions
If it wasn't for what I would eat later that day, I would have named The Zach my favorite meal of Seattle. There was absolutely no shame in my game as I devoured this dish, leaving only a little bit of the fatty bacon pieces and a part of biscuit on my plate.
Porchetta: Roast pork tenderloin and belly herb aioli, coleslaw on sourdough
Steak & Grilled Onion Sandwich: Sauteed steak and onion, provolone, arugula, champagne vinaigrette
The Steak & Grilled Onion Sandwich is unbelievable and I could probably go on and on about the best sandwich of my life. I could say that a trip to Seattle is worth it just to eat the Steak & Grilled Onion Sandwich. I could even explain how my displeasure of having to walk up a hill the entire way to Dot's was completely forgotten as I bit into this sandwich from heaven.
Instead, I'll just say that your trip to any delicatessen will never be as satisfying as my trip to Dot's and I shall dream of this sandwich forever.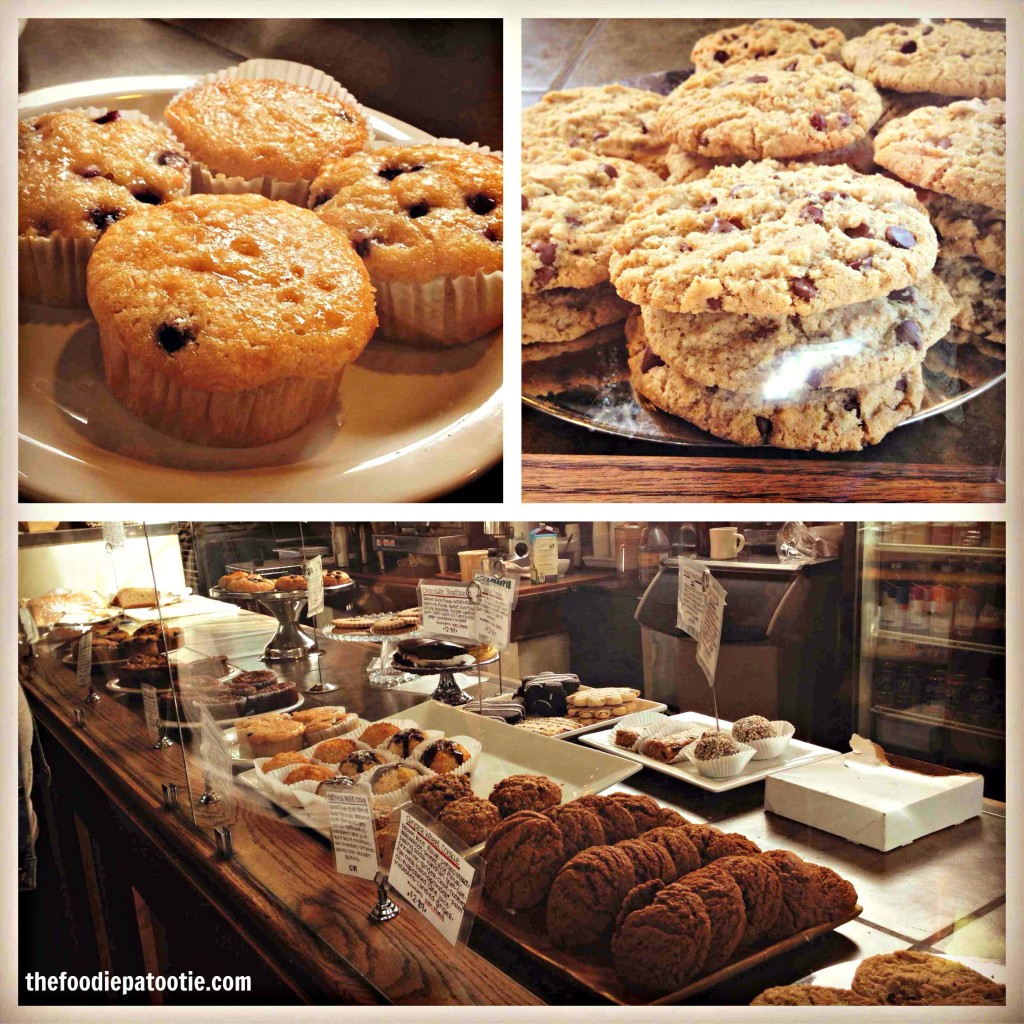 The Flying Apron bakery was an accidental find while walking to Dot's Delicatessen in Freemont. It had a cool logo and advertised for gluten-free products so I knew I wanted to try something out. I loved the display of all desserts and pastries, but decided on the Lemon Blueberry Muffin (upper left) and these chocolate shortcake cookies. The muffin was fluffy and packed a strong punch of blueberry and lemon flavors. The shortcake cookies, on the other hand, were thrown out. Sorry, Flying Pan.
For some reason, eating at an Asian restaurant was a completely lost idea on me until the time when I was planning my visit to Pho Bac. After all, Seattle has an abundance of Asian cuisine so I couldn't very well say that I conquered a diversity of Seattle food without getting Pho. Pho Bac, beyond being completely adorable inside, makes a killer Pho Ga (with chicken). The thai basil and beansprouts were served on the side so I could put just the right amount for me in the bowl.
Topped with Sriracha, hoisin and sweet chili, I was so pleased with my noodle bowl.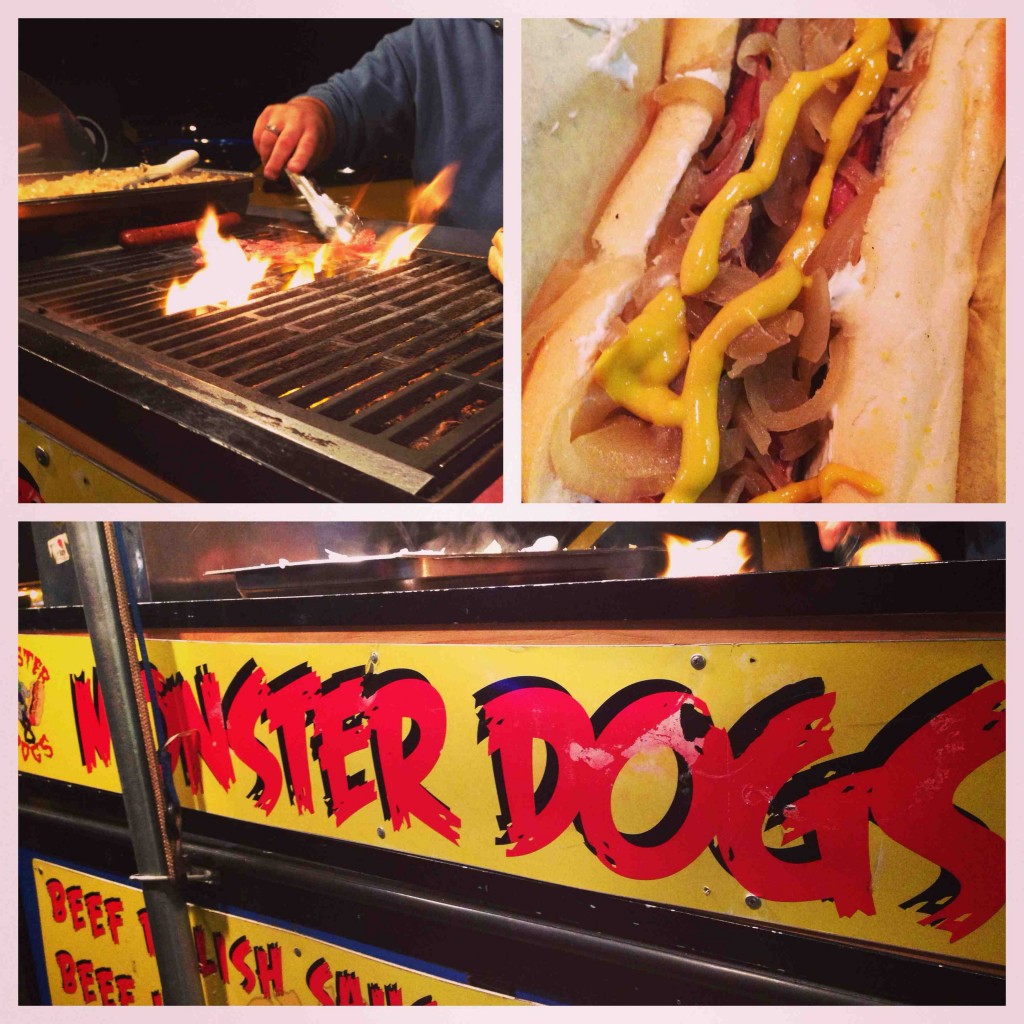 One night, after spending some time at Bathtub Gin, the Seattle speakeasy, I smelled the tantalizing aroma of street hot dogs. Like moths to a flame, Tracy and I made the short trek to the Monster Dogs stand to get a polish sausage dog with cream cheese, mustard and grilled onions. As we walked back to our hotel, it completely warmed my soul. Yum.
Skillet Diner
B-Fast Sammy: bacon jam, melted american and brie, arugula, egg, bacon, jalapeno aioli on brioche
Skillet Diner is a product of Skillet Street Food, what started as a food truck, essentially. The diner is really just that- an extended bar with many seats and then some booths along the outer walls. It's bright and welcoming, even on a cold and drizzly morning. While everything on the menu sounded awesome, and they even had these cinnamon rolls as big as my face, I had to have the B-Fast Sammy, a sandwich I had my eye on even before my plane touched down in the city.
Halfway through my meal I took off the bacon jam because it was overpowering, but the sandwich still rocked. The side salad with balsamic was a welcome retreat from all of the non greens I had been eating.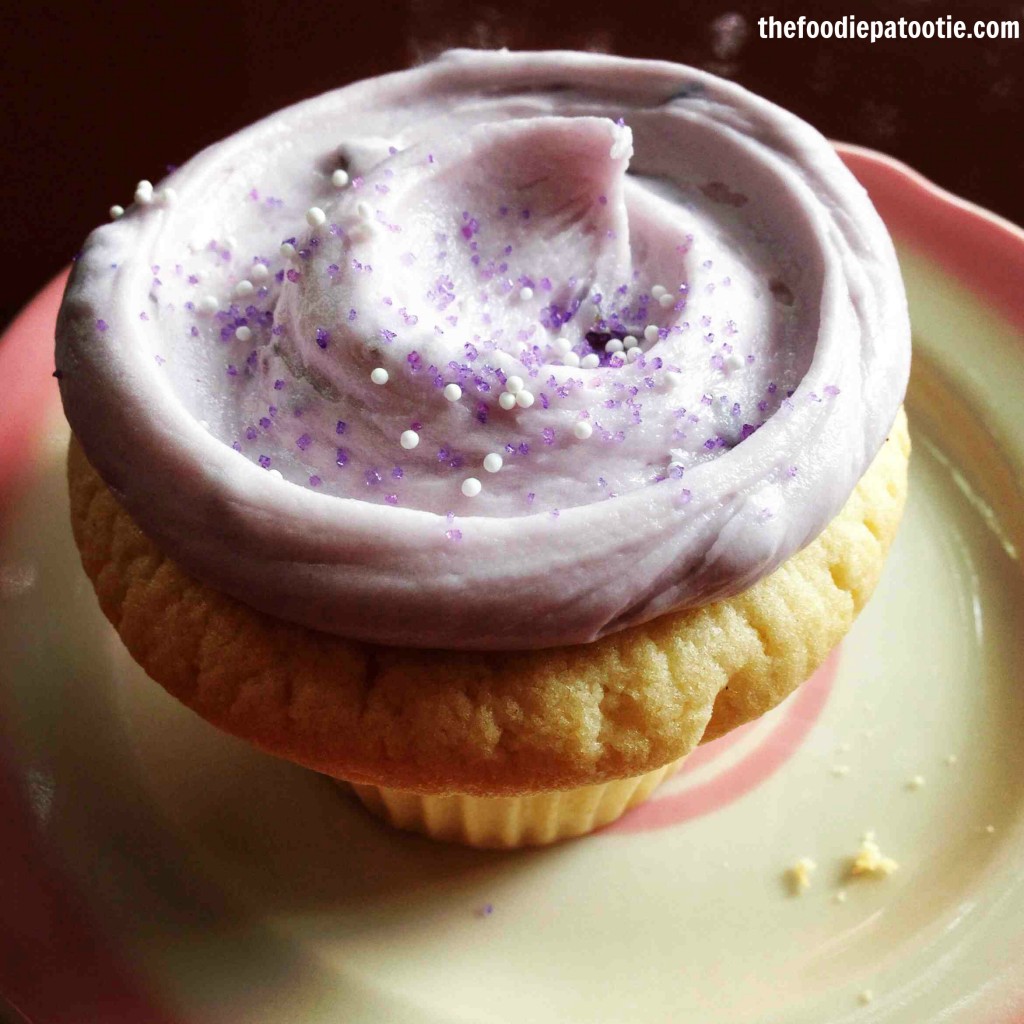 Lavender: vanilla buttercake with lavender vanilla buttercream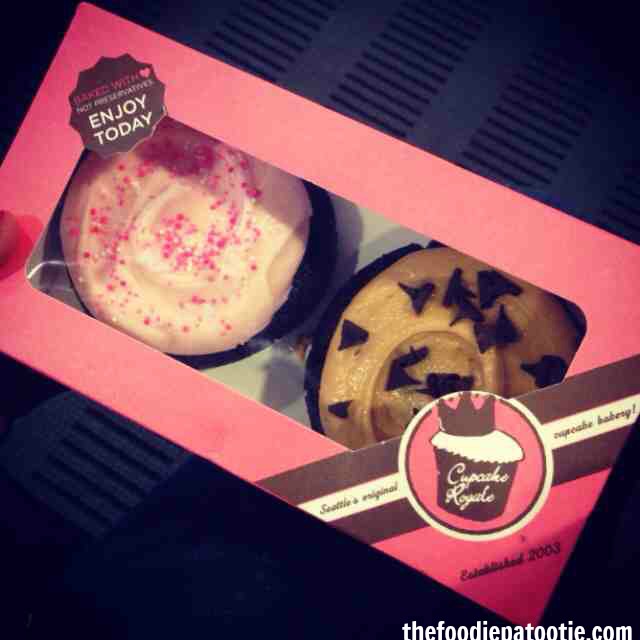 The Kate: chocolate cake with pink vanilla buttercream
Salted Caramel: chocolate cake with caramel buttercream, Fleur de Sel and dark chocolate curls
Cupcake Royale has both ice cream and cupcakes. During the first day of the conference they were positioned right outside of the doors to the room where we would all gather to hear Dorie Greenspan's keynote speech about the then and now of food blogging. I let go of all of my lactose-intolerant inhibitions as I ate the Cracker Jack ice cream they were sampling. And by sampling, they meant big bowls.
I'm not usually a cake person, but their ice cream convinced me that I had to try one of their other desserts so I chose Lavender and I didn't regret it. I brought home The Kate and Salted Caramel for my mom.
The Walrus and the Carpenter
Pork Meatballs: orange cherry tomatoes, basil, onions, Enoki mushrooms in a mushroom broth
French Onion Soup: croutons, Gruyere, beef broth
Fried Brussels Sprouts: topped with salt and chives
Although widely acclaimed and the winner of many prestigious awards, The Walrus and the Carpenter was not one of the best meals I've ever had. Everything was seasoned fantastically, was cooked to status awesome, and portioned correctly, but the best part of The Walrus and the Carpenter is the atmosphere. It's bright inside because of the windows and creative lighting and the colors are subdued and neutral. Everything looks clean and polished, but in a relaxed setting where you watch every process of every meal from start to finish, including an oyster guy who shucks and smells every one of those little sea guys.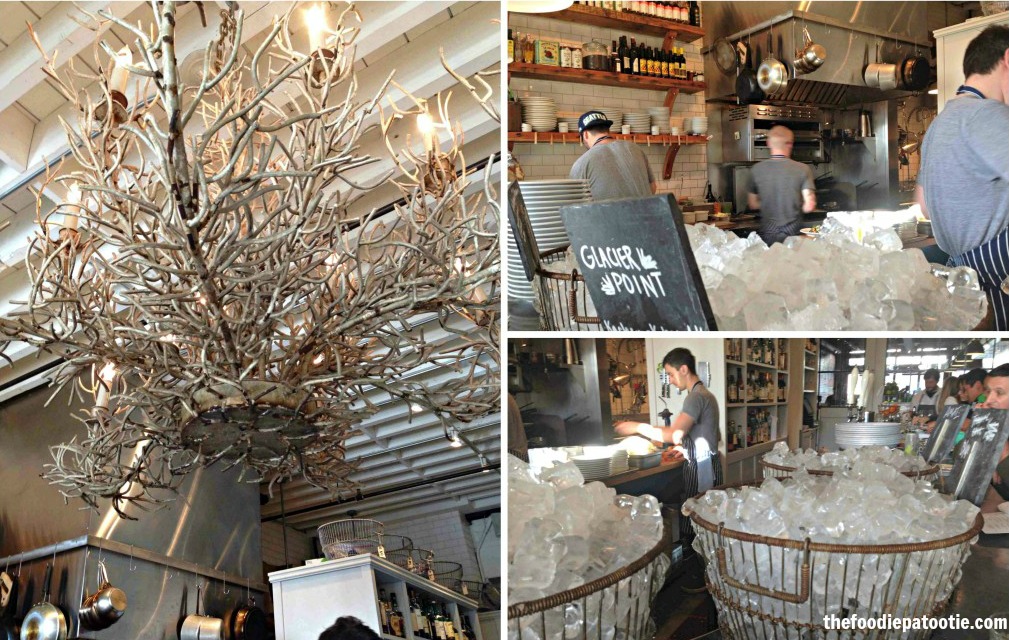 Seattle was a beautiful place and I feel so fortunate to have been able to go. Seattle, I will be seeing you again and maybe next time I won't have my eyes closed in my favorite picture from the trip…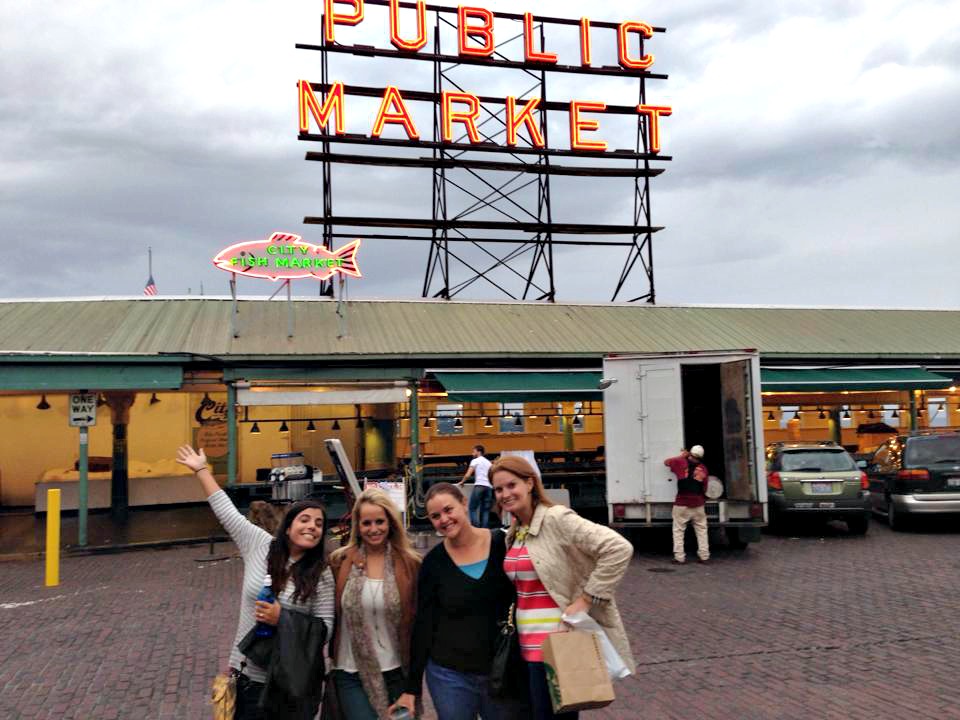 Photo courtesy of Megan of the blog I Run for Wine
5 Responses to "A Glimpse of Seattle Through Foodie Eyes"