Quick Spanish Style Chicken and Rice
This shop has been compensated by Collective Bias, Inc. and its advertiser. All opinions are mine alone. #UncleBens #FlavorInfusions #CollectiveBias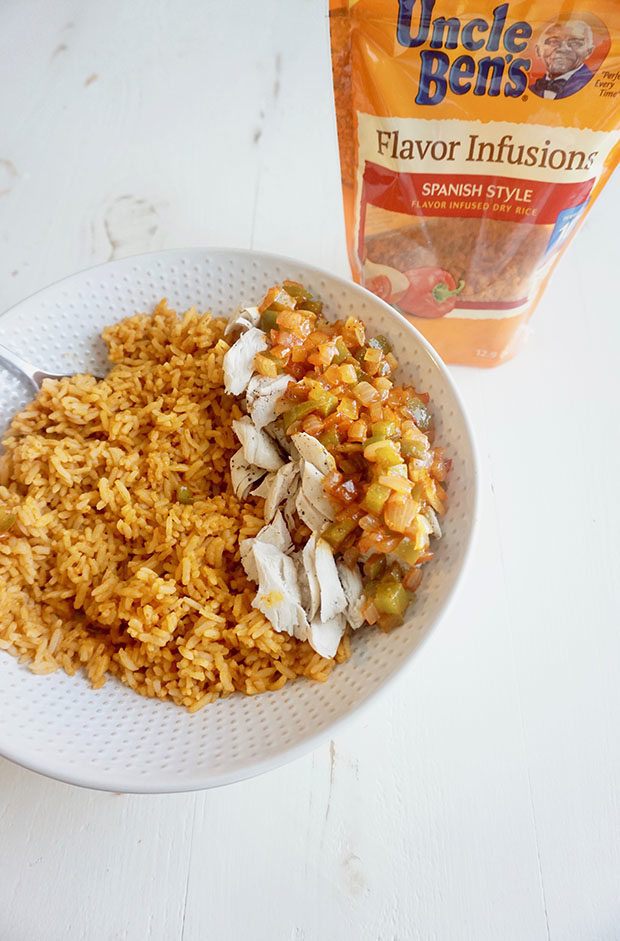 I'm Cuban and Italian so my ethnic staples include: pork and chicken, rice, pasta, and olive oil, just to start.
I'm also a mom so I sometimes lose time, patience and honestly, creativity in the kitchen. I really enjoy being able to cook meals for my family most nights of the week, but weeknights can be unpredictable. There's traffic to get home from work, random grocery store stops, cranky kids, and who knows what else. Then comes the meal prep and, finally, the cooking. Even the simplest of recipes can take a long time depending on what else is going on around me.
For those moments when a 30 minute meal is likely going to take more than that, I turn to a quick and easy solution that doesn't make me compromise any flavor: Uncle Ben's® Flavor Infusions.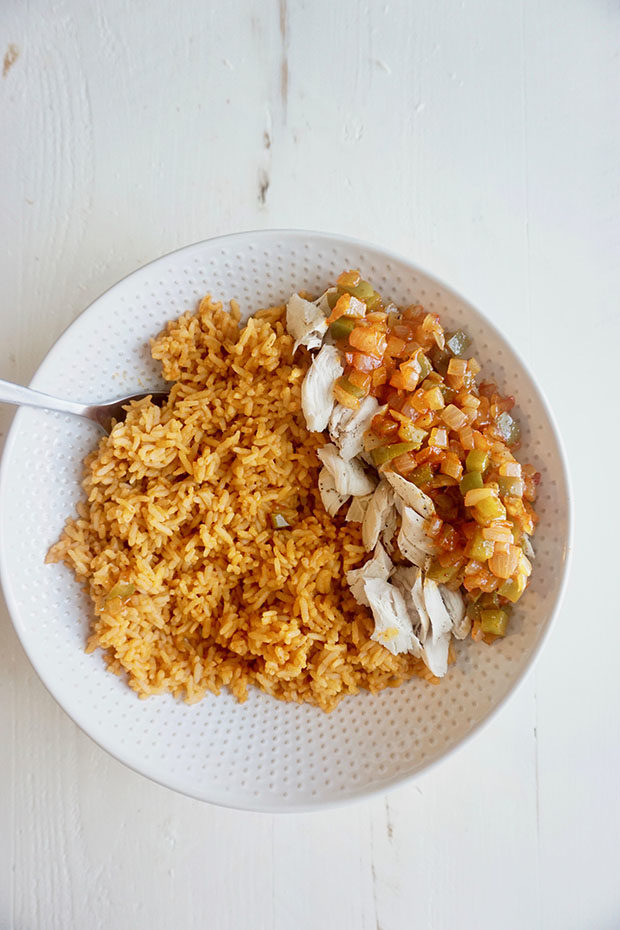 I recently used Uncle Ben's® Flavor Infusions Spanish Style to make Arroz con Pollo. Arroz con Pollo is one of those dishes that takes a little longer. The entire meal preparation and cooking takes at least 45 minutes.
I take my Arroz con Pollo seriously, too! I once competed for the title of Best Arroz con Pollo Dish in my hometown, Tampa Bay/Ybor City. I didn't win, but I had so many attendees come back to my station for seconds and thirds and fourths. I heard so many times that I had the most authentic chicken and rice out of all the contestants. It was so much fun!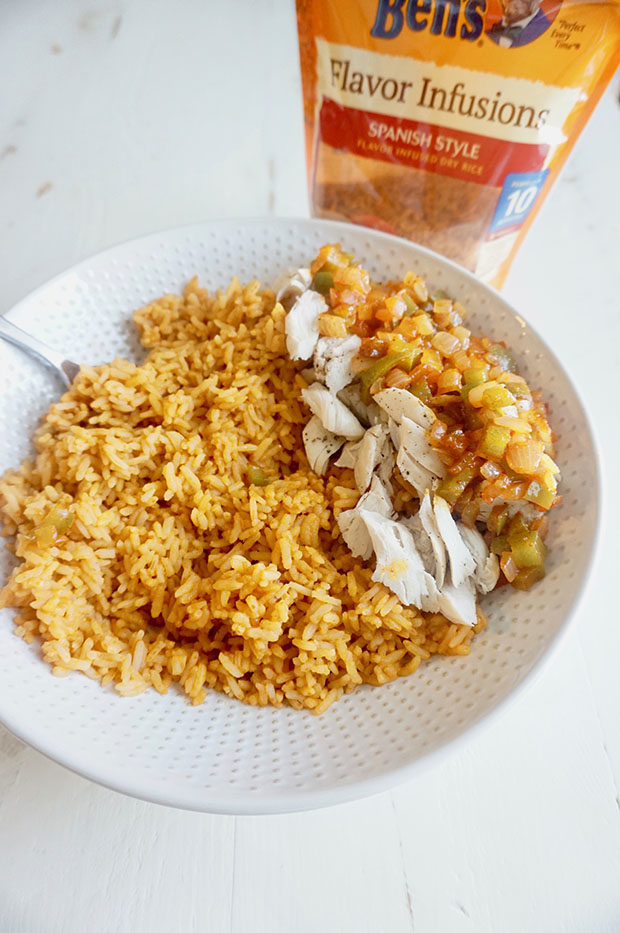 So, when I say that Uncle Ben's® Flavor Infusions Spanish Style is a fantastic substitute, especially for those times when you simply can't dedicate the necessary time to a family meal, I totally mean it. My son is a year old and I work outside of the home 40+ hours per week. When I get home, I'm tired from work and just thinking of the work still left to do around the house. I push all that aside because I want to spend as much time as possible with him before his bedtime. Uncle Ben's® Flavor Infusions allows me to do just that.
When I use Uncle Ben's® Flavor Infusions, I make chicken and an easy blend of sauteed green pepper and onion to top it off. Dinner is done in about 15 minutes!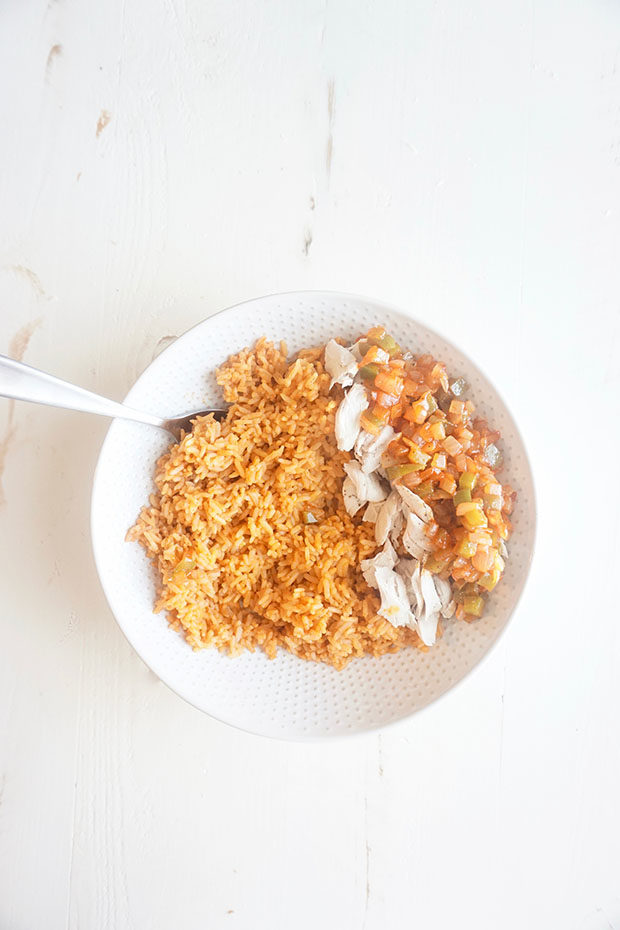 Uncle Ben's® Flavor Infusions can be found at Walmart. It is made without preservatives and without artificial flavors which I think is pretty great! The way the rice gets that full flavor is because each grain has been infused with herbs and spices, eliminating the need for any flavor packet. Cook for 10 minutes, spending minimal time in the kitchen and maximum time with family.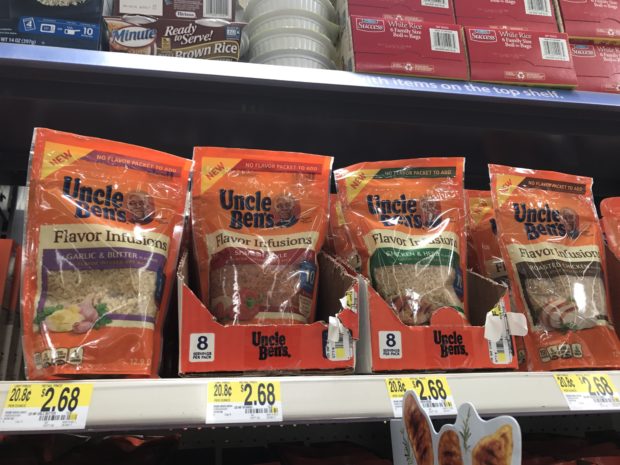 Want more recipe inspiration? Click here!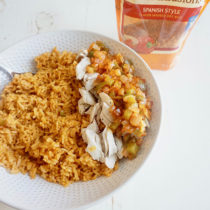 Quick Spanish Style Chicken and Rice
Ingredients:
½ pound boneless/skinless chicken cutlets, chicken thighs, or chicken breasts
Salt and pepper
1 tablespoon extra-virgin olive oil
¼ green pepper, chopped
1 small onion, chopped
1 packet Goya Sazon seasoning
Uncle Ben's® Flavor Infusions Spanish Style rice
Directions:
Salt and pepper both sides of the chicken. Set a small pot of water to boil, then add the chicken and boil until cooked through. Once cooked through, remove from water and shred; set aside.
While the chicken is cooking, cook Uncle Ben's® Flavor Infusions Spanish Style according to package directions. This should take no longer than 15 minutes.
While the rice is cooking, heat olive oil in a small skillet over medium heat. Add the green pepper and onion, salt and pepper, and stir occasionally until vegetables are very tender. Stir in the packet of Goya Sazon.
To assemble, pour the rice into a shared serving dish, top with chicken and green pepper and onion mixture.
4 Responses to "Quick Spanish Style Chicken and Rice"

Trackbacks/Pingbacks

Leave a Comment