Modelo Negra Chocolate Ice Cream with Pretzels + bonus pork ribs recipe
This shop has been compensated by Collective Bias, Inc. and Constellation Brands. All opinions are mine alone. The following content is intended for readers who are 21 or older. #SummertimeCerveza #CollectiveBias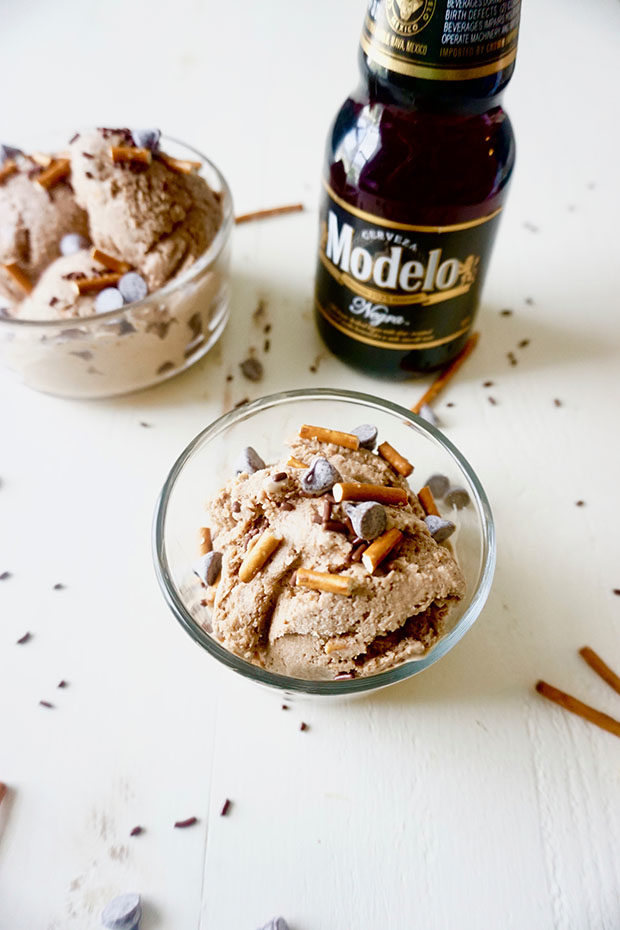 I remember being in college and taking a longer-than-is-acceptable lunch break to watch soccer tournaments. The Beautiful Game was something I found thrilling, exciting enough to miss work (I would go back eventually).  
Any tournament game for any sports tends to be fun to watch, but I found soccer/futbol even more so. It takes remarkable skill, plus for someone who needs to see some action to garner interest, it definitely fits that bill.
Of course, no drinking when I was supposed to head back into work. That was reserved for after work and weekend game watching.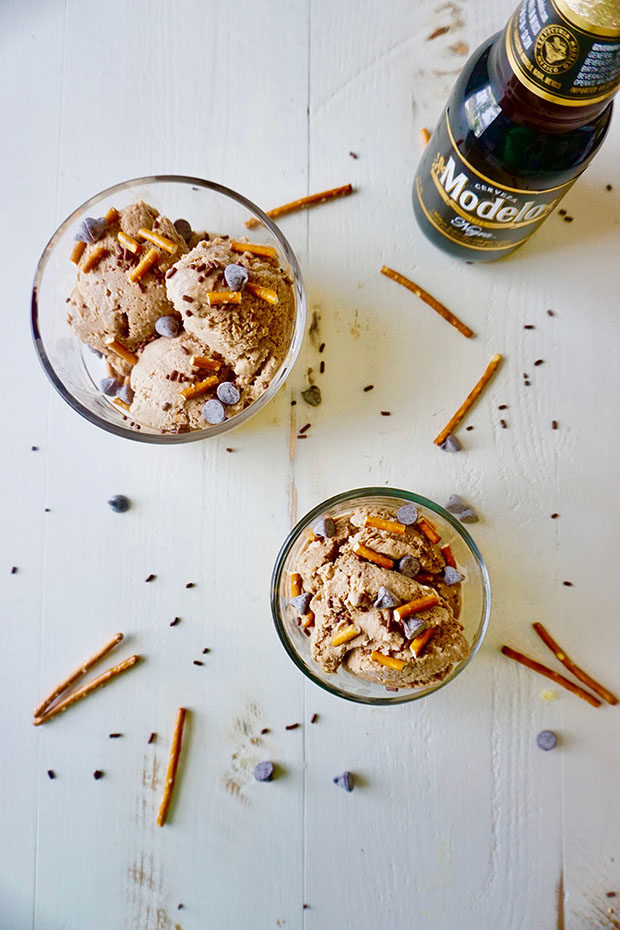 It's been many years since those long break days, but the fast pace of the game has never changed. Now, I can sit back and relax with the Modelo line of beer like Modelo Negra and Modelo Especial, the official sponsor of the 2017 Beautiful Game. Brewed with a fighting spirit, Modelo is the perfect sponsor, and the perfect drink to enjoy with friends. Plus, their beer is high quality and, I believe, sets the gold standard for what great beer should be.
And, if I'm being honest, I can have just one drink, but I'd also like to incorporate that flavor into my food so today I have Modelo Negra chocolate ice cream and a rack of pork ribs made with a Modelo Especial marinade. Neither has this overpowering taste of beer; the flavor is highlighted just enough so you know it's there, but still get a nice balance from everything else involved.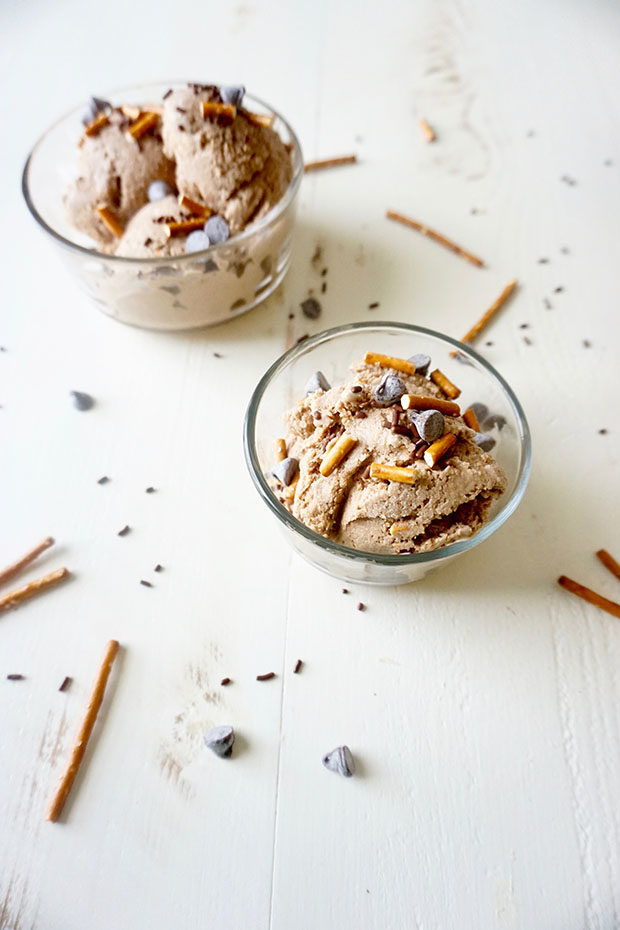 First up: ice cream. It's summer and it's blazing hot. I wanted something refreshing and delicious, something that all guests can enjoy during summer get togethers. As much as I love the flavor of Modelo Negra, I knew I needed to keep my heavy hand out of the way and try to elicit a balance between alcohol and chocolate. So the beer taste is subtle, but definitely noticeable. Chocolate and salt go well together so in went the pretzels.
The ice cream really is as easy as could be. One thing I recommend is whisking the beer in a separate bowl for a solid five minutes or so. Doing so helps to decrease the amount of carbonation, making the beer easier to freeze.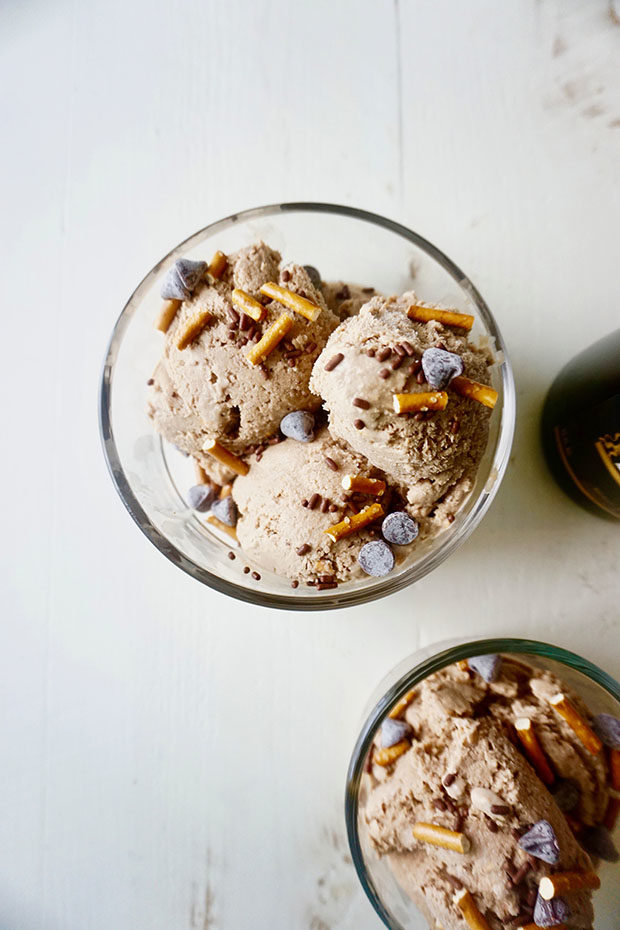 You guys, when I was finally able to test this creation, I had to remind myself that I needed to take photos to share with all of you. I can't keep this goodness all to myself. But it was an act of the utmost resistance because I honestly could have sat there and eaten the entire bowl of ice cream. In fact, I already know that this is my summer ice cream flavor. Catch me in the kitchen every week for a fresh batch.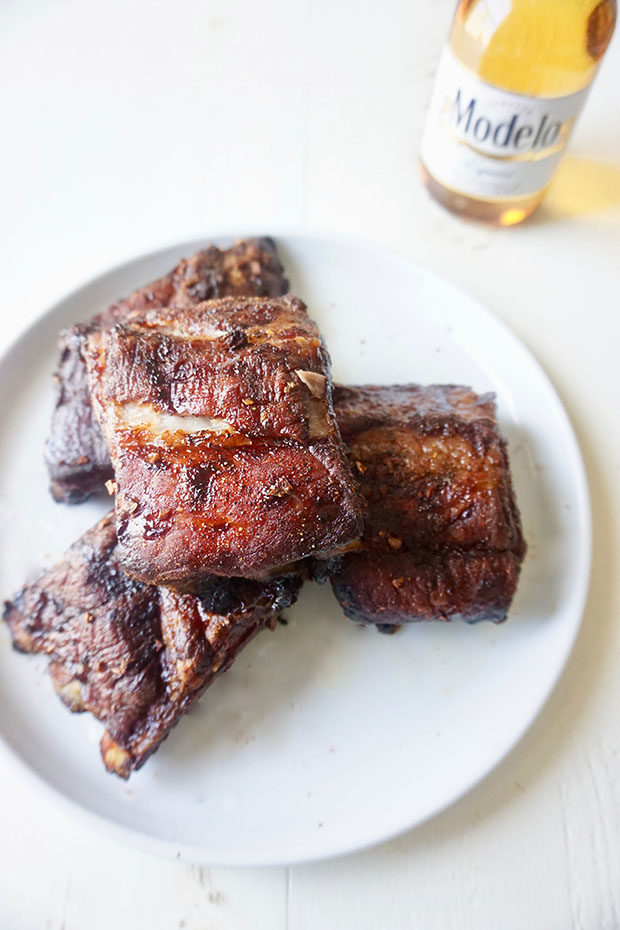 Along with the ice cream, the other perfect summer food is ribs. Pork tends to be my go-to given my Latina heritage, but beef would work just as well with this recipe! For the ribs I used Modelo Especial and combined it with brown sugar, lime juice for some tartness, and spices. I had minced garlic thrown in too.
Ribs are best enjoyed grilled and outside by the pool….except when you need to be indoors to watch a game! So, to account for that, these ribs are baked. But you would never know it. Wanna know why? Because the beer will burn just a little bit and give this lovely illusion that you've been sweating over a grill for a period of time. Not so.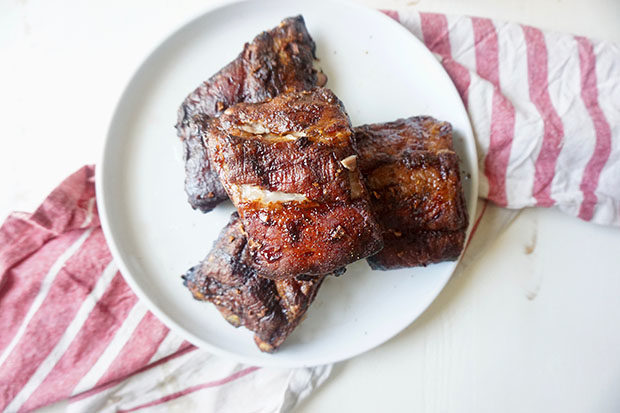 I know that describing ribs as being covered in burnt beer sounds very unappetizing, but Modelo almost has a mind of it's own. It's like, "These ribs are going to be delicious so I'm going to create a nice crust. I'm going to use my ethyl alcohol superpowers and burn a little bit in all the right places and not too much, just enough, so rib lovers will never make their ribs any other way."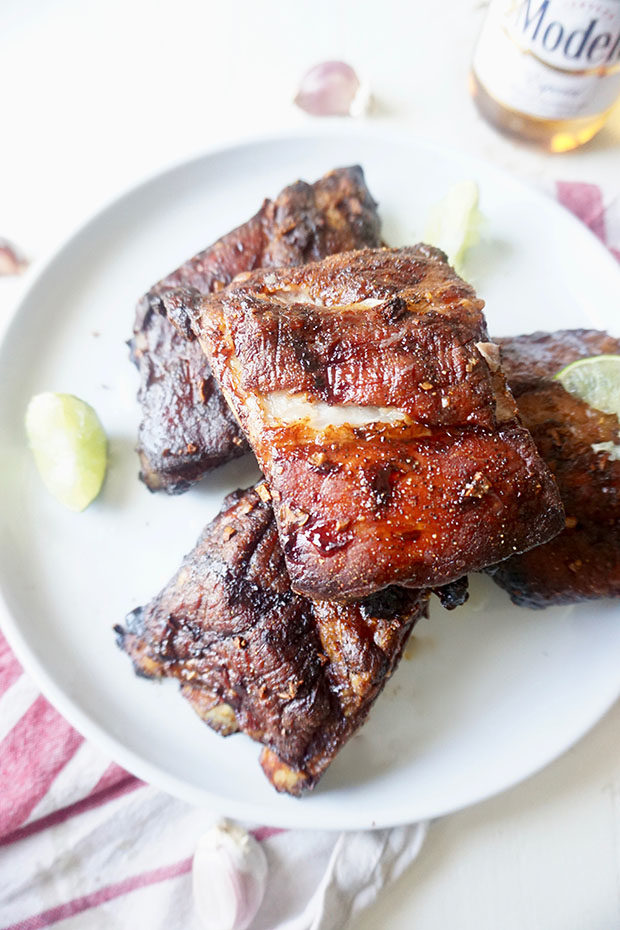 And for that, Modelo, we thank you.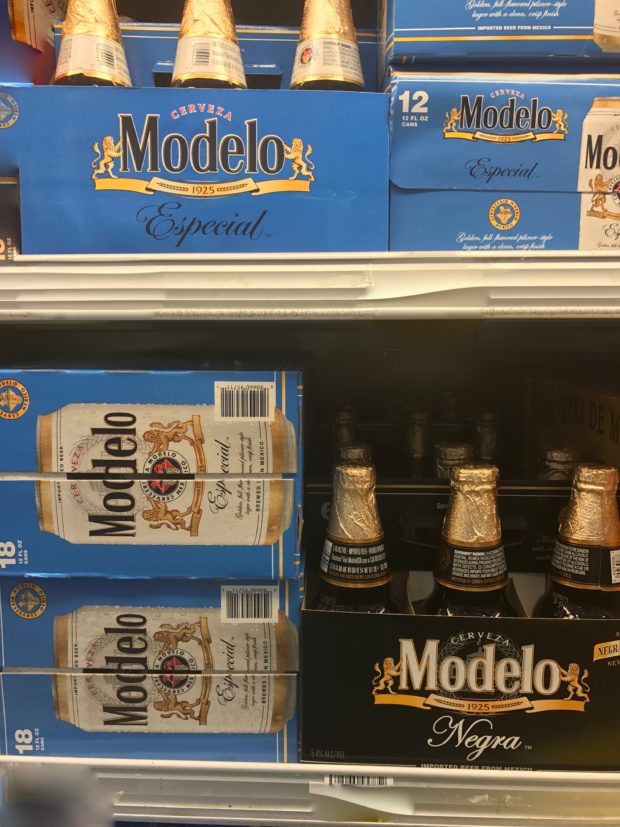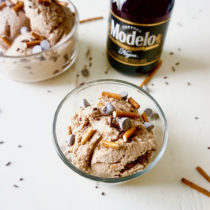 Modelo Negra Chocolate Ice Cream with Pretzels + Beer Glazed Pork recipe
Ingredients:
Ice Cream
¾ cup Modelo Negra
4 ounces semi-sweet chocolate chips
2 cups heavy whipping cream
½ cup sugar
Pinch of salt
4 egg yolks, whisked
1 cup whole milk
1 teaspoon vanilla extract
Handful of pretzel sticks, broken into small pieces (optional, but recommended)
Ribs
3 pounds pork back ribs (I used the extra meaty kind)
1 12-ounce bottle Modelo Especial
½ light brown sugar
1 tablespoon ground cumin
½ tablespoon chili powder
½ tablespoon paprika
½ tablespoon smoked paprika
Juice of 2 limes
3 cloves garlic, minced
Salt and pepper
Directions:
Ice Cream
Important! → Make sure your ice cream maker bowl is completely frozen before beginning.
In a bowl, whisk Modelo Negra for about five minutes to get rid of some of the carbonation. This'll make the beer easier to freeze. Set aside.
Pour chocolate chips into a separate large bowl that is freezer safe.
In a medium pot set over medium heat, combine heavy whipping cream, sugar and a pinch of salt, whisking until the mixture starts to boil steadily; remove from heat. Temper the eggs by adding a tablespoon or two of the cream mixture to the whisked eggs. This is to bring the temperature of the eggs up without scrambling. Then pour the egg mixture back into the pot with the hot mixture and whisk to combine. Pour this mixture into the bowl with the chocolate chips.
Stir until all of the chocolate chips are melted. Then slowly pour in the milk, beer, and vanilla extract; whisk to combine. Cover mixture with plastic wrap (be sure the plastic wrap is actually touching the liquid to prevent ice crystals). Place in the freezer to chill completely.
Once chilled, make the ice cream according to your ice cream maker's instructions. With mine I turned the ice cream maker on (with the completely frozen bowl), then poured the chilled, liquid mixture into the top and let run for 15-20 minutes, or until desired consistency. Toward the end, I added the pretzels. Transfer ice cream to airtight container (cover again with plastic wrap) and freeze until firm.
When ready to serve, top with chocolate chips, more pretzel pieces, and chocolate sprinkles.
Ribs
In a medium bowl, whisk together beer, brown sugar, cumin, chili powder, paprika, smoked paprika, lime juice, and garlic. Liberally salt and pepper the pork ribs.
In a large ziptop bag or large container with lid (whatever will fit your pork + marinade!), combine pork ribs and marinade mixture, making sure that the pork is coated with the marinade. Allow to marinate in the fridge for 2 hours.
Preheat oven to 275*F and line a baking sheet with aluminum foil. Place the marinated pork on the foil and bake for 4 hours.
Trackbacks/Pingbacks

Leave a Comment