Pasta Aglio e Olio with Brussels Sprouts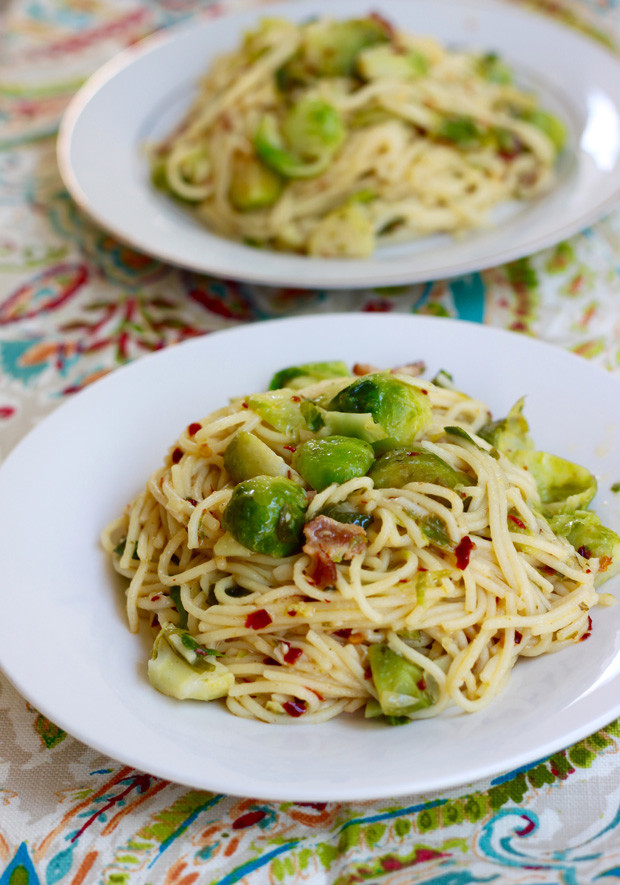 I crave simplicity. I like my relationships to be simple, my attire is simple, and my favorite dishes are simplicity at its finest. More often than not, if you go for a simple dish, you're allowing the ingredients to shine through more. To me, uncomplicated is best in almost everything. The exception is a craft cocktail, of course, although I do love me some plain ol' gin & tonics.
Along with a simple tomato sauce, there is perhaps no other Italian pasta that's as simple as Aglio e Olio. It means "garlic and oil" and that's basically all it is. Except I add some lemon juice and red pepper flakes because yum, but they aren't necessary to the dish.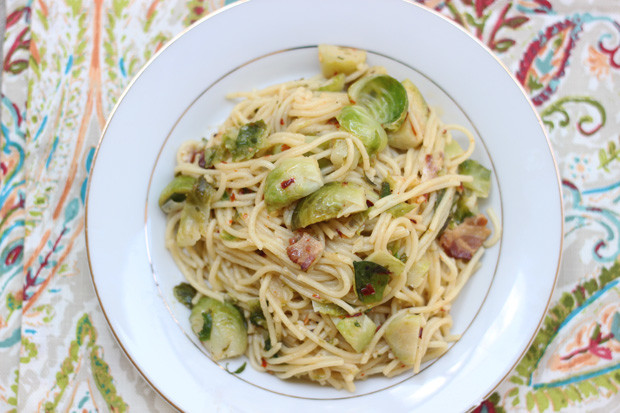 I used to think it was crazy to not have any red sauce at all in a pasta dish because we are a family of sweet tomato sauce all the way. But we're also a family of cheese and lots of olive oil. Oh, and lots of garlic, too. Okay, fine, so everything is in abundance.
The thing about this pasta is that you don't have to have any vegetables. Some say it's better without it and, depending on my mood, I tend to agree. My mood ring is always turned to pasta though because it's amazing. But anyway, I've made this dish with broccoli, chopped asparagus, spinach, and now, brussels sprouts. I think my favorite is the brussels sprouts because a) brussels sprouts are so good in any which way you can get 'em and b) there remains more of a difference in texture compared to the other vegetables and c) the leaves of the brussels sprouts start to separate with the cooking of them and so you have brussels sprout leaves everywhere.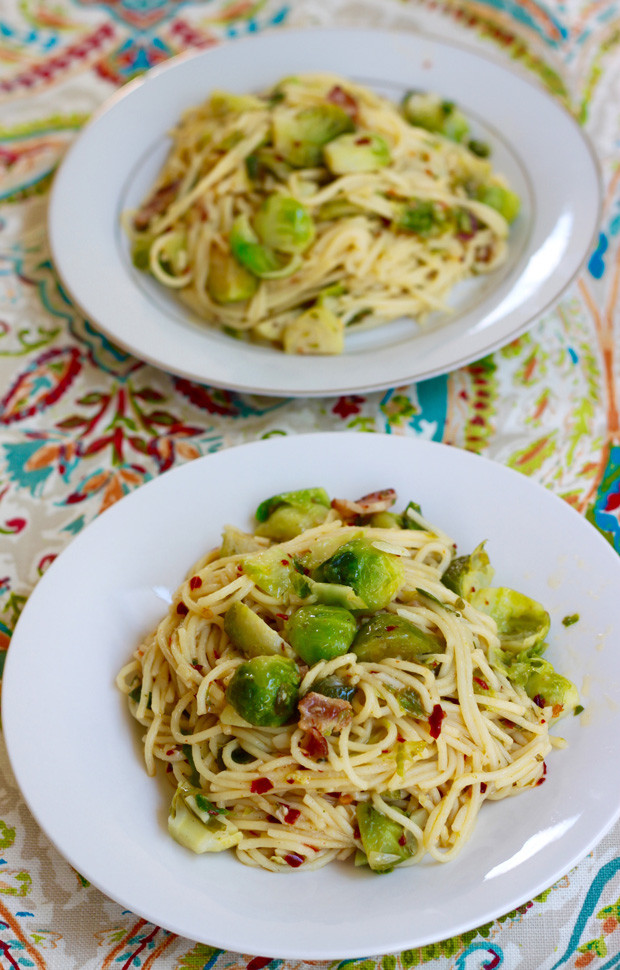 (By the way, have you SEEN the video of Scott Conant cooking spaghetti aglio e olio over on Popsugar? 😍)
He insists on no cheese, but I couldn't resist adding some Pecorino Romano. #sorrynotsorry #greatestcheeseever
I'm fairly sure that I make this pasta dish at least once a month, which is a lot considering I try to make different dishes all the time. Gotta keep this blog fresh with content. But I can't stay away from aglio e olio and no matter how much I make, there does not exist leftovers in my home. My husband and I will have our fair share for dinner and then eat some more cold late at night. Maybe even for breakfast, if more is available. But never, ever does it last 24 hours.
So go ahead and get to sizzling those slurpy noodles. You can thank me later.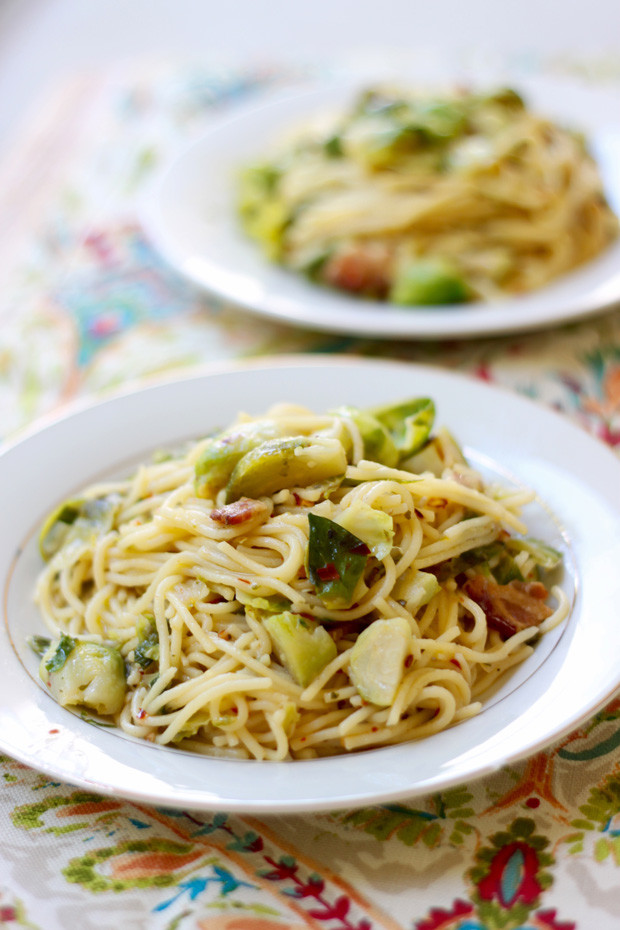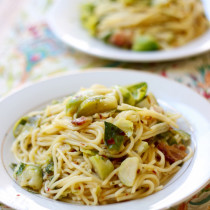 Pasta Aglio e Olio with Brussels Sprouts
This Pasta Aglio e Olio with Brussels Sprouts recipe is a simple Italian pasta dish you'll want to make many times over. Aglio e Olio stands for "garlic and oil" and makes for a spaghetti you'll want to slurp.
Ingredients:
1 pound cooked spaghetti, plus 1 cup of the pasta cooking water
1/2 cup extra-virgin olive oil
8 garlic cloves, minced
2 cups brussels sprouts, cut in half with ends disgarded
2 1/2 tsp red pepper flakes
Kosher salt
Juice of 1/2 a lemon
1 tsp lemon zest
Pecorino romano cheese
Directions:
Set a large pot of salted water to boil for the pasta. Add the pasta to cook when ready.
Meanwhile, heat another pot to boil with salted water. Add the brussels sprouts and cook until al dente. Remove brussels sprouts from the pot and immediately place in bowl of ice water. Then, remove them from ice water, pat dry, and set aside until cool enough to handle. Once cool enough to handle, slice off and discard the stem and cut each sprout in half.
Heat the olive oil over medium heat in a large saute pan with higher sides. Add the garlic, halved brussels sprouts, and red pepper flakes. Lower the temperature as needed so the garlic doesn't burn. It should just be lightly sizzling. Add 1 cup of pasta cooking water and a pinch of kosher salt, swirling in pan for 1-2 minutes.
Add the pasta, lemon juice, and lemon zest, tossing with tongs to coat everything well.
Serve immediately with grated pecorino romano cheese on top.
4 Responses to "Pasta Aglio e Olio with Brussels Sprouts"

Trackbacks/Pingbacks

Pingback: Recipe Roundup for Valentine's Day – The Foodie Patootie

Pingback: Bonkers for Brussels Sprouts! – The Foodie Patootie

Leave a Comment