National Truffles Day |Easy Chocolate Truffles
Picture it: Tampa, 10:30pm yesterday, in the living room.
I was exhausted after a long day at work and many other things going on. After dinner, we settled in to watch The Americans that had recorded the night before. After, I knew I would have to get up and start making truffles for National Truffles Day, but you know those moments where you become one with the couch and just cannot be bothered to move? Scratch that. You literally cannot move due to pure exhaustion?
That was me. And in my state, I asked Mike to make truffles for me. I'm so happy that he was more than willing, being a night owl himself, to help me out. This morning, pretty chocolate truffles greeted me from the fridge. Ahhh, this is the life.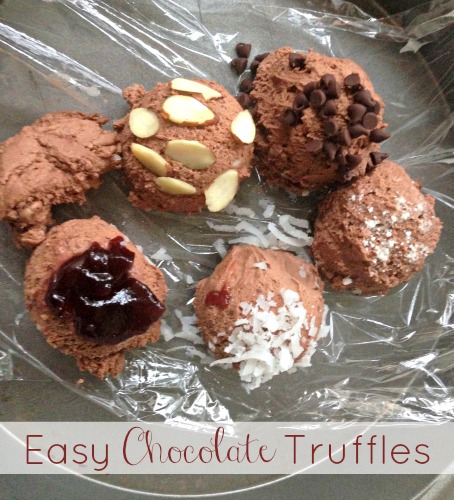 I got this recipe from the Kraft website. Frankly, my Chocolate-Covered Cashew Truffles were not even cute, and I wanted to make something better the next time.
True to form, Mike followed the instructions and also topped the truffles with different things like nuts, coconut, jam, chocolate chips, and powdered sugar. What a guy. I took a bite of some of them after I haphazardly took this picture and before leaving for work and, I have to say, they came out so very good. If it wasn't for my husband, today's food holiday recipe would not exist on my blog. Woot!
National Truffles Day |Easy Chocolate Truffles
Recipe Type: Dessert
Author:
Prep time:
Cook time:
Total time:
Serves: 6
Ingredients
2 1/2 ounces (from an 8 ounce package) Philadelphia Cream Cheese, softened
1 cup powdered sugar
1 package (4 ounces) Baker's Semi-Sweet Chocolate, broken into pieces, melted
1/2 teaspoon vanilla extract
Instructions
Beat cream cheese in large bowl with electric mixer on medium speed until smooth. Gradually add sugar, mixing until well blended.
Add melted chocolate and vanilla; mix well. Refrigerate 1 hour or until chilled.
Shape into 1-inch balls. Roll in nuts, cocoa, powdered sugar or coconut. Store in refrigerator.
Notes
From [url href="http://www.kraftrecipes.com/recipes/easy-chocolate-truffles-52614.aspx" target="_blank"]Kraft[/url]
Tomorrow: National Raspberry Tart Day
2 Responses to "National Truffles Day |Easy Chocolate Truffles"

Trackbacks/Pingbacks

Leave a Comment