National Chocolate Parfait Day | Chocolate & Vanilla Pudding Parfait
It's May 1st. Do you realize what this means? It means a couple of things:
The "It's Gonna Be May" Justin Timberlake memes are over. Although you might start seeing the "gonna be" crossed out, a la BuzzFeed.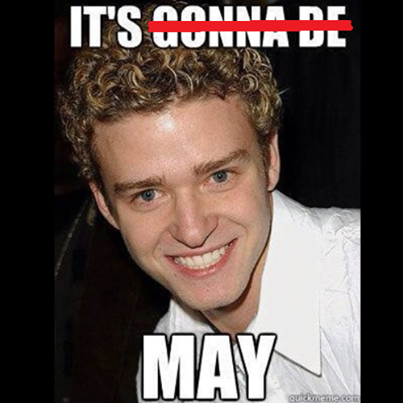 I'm officially a third through the National Food Holiday project!
I've had some struggles, including with the making of the food, the cost of the food, the time it takes for an entire post to work, the promotion of said posts, and more. But, guys, I'm a THIRD of the way through. This is huge. It feels like just a day ago that I was a fourth of the way through. Pretty soon, I'll be half way done. If I could incorporate Facebook emojis in this post, I would say I'm "feeling accomplished".

There we go, hehe.
I wish I could say that I'm starting my second third of the year with some extravagant meal and I'd be able to exclaim, "Look at me, look at what I've done! Let's start this second period off right", but it's National Chocolate Parfait Day. If that wasn't easy enough, I made pudding parfait which basically consisted of me making chocolate pudding and vanilla pudding, both from a box, and layering them in the fanciest cup I own.
At least I'm real and honest, and also real honest, right?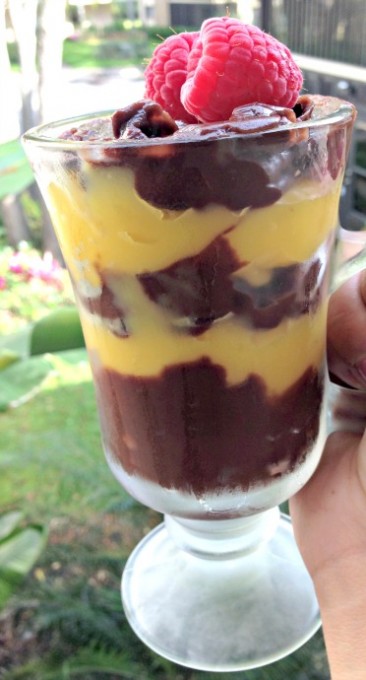 I also made this at 11pm yesterday, photographed it with my cell phone this morning, and am writing the post this afternoon. There's nothing like rushing, forgetting, and then attempting to make up for it. It is what it is and I'm so elated by being a third of the way done, the quality of my photos in this post don't seem to matter as much.
Also, when I was making this, I'm not sure what made the vanilla pudding bright banana yellow and I'm a little wary of the egg yolk color, but it tastes fine so I'm guessing the dry vanilla pudding mixture of my youth was either different, or the beige color of my memory is incorrect.
National Chocolate Parfait Day | Chocolate & Vanilla Pudding Parfait
Recipe Type: Dessert
Author:
Prep time:
Cook time:
Total time:
Serves: 1
Ingredients
1 (3.4 ounce) box of chocolate pudding mix
1 (3.4 ounce) box of vanilla pudding mix
Raspberries for topping (optional)
Instructions
Make chocolate and vanilla pudding mix in separate bowls according to package directions.
Layer chocolate and vanilla puddings in a cup. Top with raspberries if desired.
Tomorrow: National Truffles Day
3 Responses to "National Chocolate Parfait Day | Chocolate & Vanilla Pudding Parfait"