National Submarine-Hoagy-Hero-Grinder Day | Chicken Tender Sub
If you have a Publix where you live, you will completely relate to this post. If you don't have a Publix where you live, that is unfortunate and you must change this immediately.
I used to work on the social media team at Publix and, without a doubt, the topic that created the most buzz stemmed from anything having to do with our chicken tender subs. For not only is Publix known for amazing chicken tenders – seriously, the smell alone, good God – but Publix is also known for their amazing subs. Can I get a 'whoop' from my Publix peeps????
Anyway, so you can imagine that when the powers of the sub and the powers of the chicken tenders combine, it's stronger than freakin' Captain Planet. Gaining some poundage from chicken tender subs alone? It's easy to do, trust. There was a Publix directly across from the corporate office! Gaining from subs never felt so good.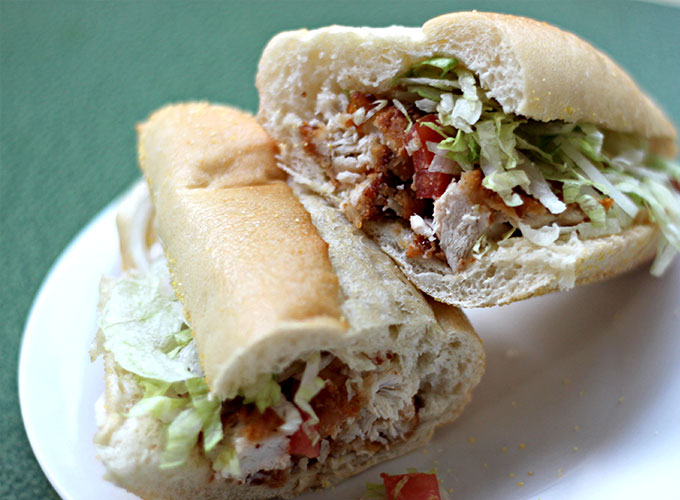 For National Submarine-Hoagy-Hero-Grinder Day (really, they couldn't keep it to just one name for the same thing?), I wanted to be so outlandish and make a mega sub sandwich that was so long I would need my neighbor to help my husband hold it up while I took a picture. But, that's impractical, both for my budget and for how much food my stomach can fit.
Then it occurred to me: chicken tender sub. Golden and crispy chicken, with shredded lettuce, plump tomato slices, thinly sliced onions, some dill pickle chips (these, specifically), and a homemade honey mustard sauce. I came prrreetttty close, guys. I got all ingredients from Publix, after all, except for the honey mustard. But my honey mustard was used in this recipe and it's excellent.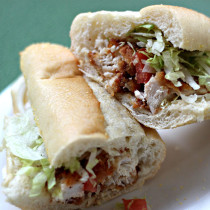 Chicken Tender Sub
Ingredients:
3 fried chicken tenders, chopped
2 slices of tomato, diced
1 cup shredded lettuce
Couple of thin onion slices
Couple of pickles
Honey mustard sauce (recipe below)
1 sub roll
Homemade Honey Mustard Sauce
1 Tbsp mayonnaise
1 Tbsp dijon mustard
1 Tbsp honey
Directions:
Homemade Honey Mustard Sauce
Whisk all ingredients together until fully combined.
Chicken Tender Sub
Spread honey mustard sauce over inside of sub roll. Top with the rest of the ingredients.
Leave a Comment