National Pumpkin Cheesecake Day | Pumpkin Cheesecake Squares with Brownie Crust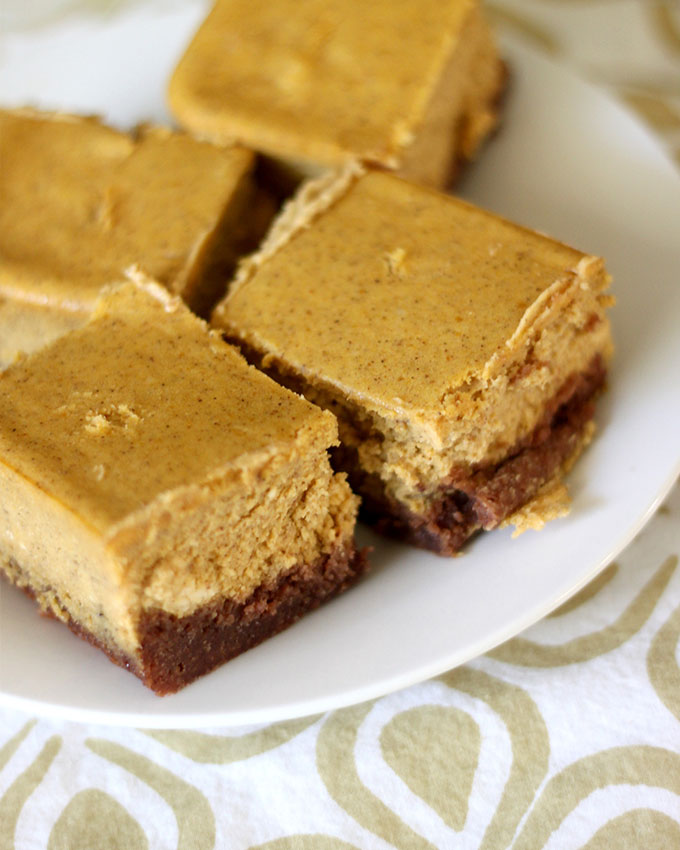 I think the last time I talked about cheesecake on this blog, I mentioned how I loved that there were as many of them as there are because I think cheesecake is wonderful. Now, I'm wondering, why are there so many cheesecake days, anyway?
Since when are cheesecakes so popular? I always thought I was in cheesecake-loving solitude, but maybe I've been wrong all along. I just never hear people talk about cheesecake the way I do chocolate, vanilla, red velvet, and carrot cakes.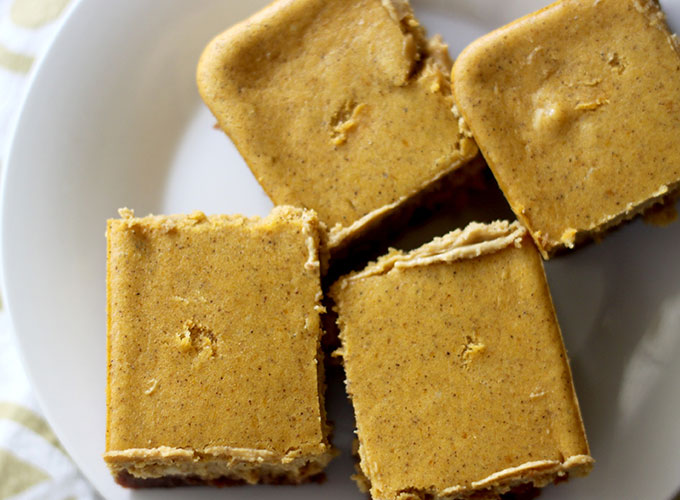 Me? Well, I think cheesecakes are out of this world awesome, made even better with a brownie crust like this recipe has, and yet better still in the original variety but with raspberry swirling throughout.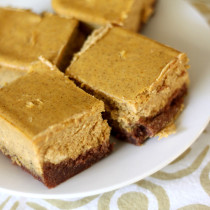 Pumpkin Cheesecake Squares with Brownie Crust
Ingredients:
Brownie Crust
1/2 cup unsalted butter, room temperature
2 ounces unsweetened chocolate
1 tsp vanilla extract
1 cup sugar
2 large eggs
1/2 cup + 2 Tbsp flour
1/2 tsp salt
Pumpkin Cheesecake
2 (8 ounces each) packages cream cheese, room temperature
1 cup sugar
1 cup canned pumpkin puree
3 large eggs, room temperature
1 tsp vanilla extract
3 Tbsp King Arthur all-purpose flour
1 tsp cinnamon
1 tsp allspice
1/4 tsp salt
Directions:
Brownie Crust
Preheat oven to 350*F. Spray an 8x8 cake pan.
Melt butter and chocolate together, either in the microwave or double boiler. Stir in vanilla. Set aside.
In a stand mixer, or a large bowl, cream together the sugar and eggs. Add the chocolate mixture and stir to combine.
Add salt and then slowly add flour until fully incorporated. Pour into prepared baking dish. Bake for 12 minutes.
Remove from oven and set pan aside to cool while making the cheesecake.
Pumpkin Cheesecake
In the bowl of a stand mixer, beat cream cheese and sugar until smooth, about 3 minutes. Add in pumpkin and eggs, one at a time, mixing together after each ingredient addition. Add in vanilla, flour, cinnamon, allspice, and salt, mixing to combine.
Pour mixture over brownie crust. Place pan on a rimmed baking sheet and pour hot water on the baking sheet, around the square pan so it comes up on the side of the pan without pouring out of the baking sheet.
Bake until cheesecake is set around the edges, but still slightly loose in the center, about 40-45 minutes. Remove from oven and set the pan, without baking sheet, to cool on a wire rack. Once cool, cover with plastic wrap and set in fridge from 3 hours, or until firm.
Leave a Comment