National Maple Syrup Day | Grade B Maple Syrup Madeleines
French toast is better than pancakes. It's just a fact. I don't know why, but I do know that it has nothing to do with the maple syrup since that's the variable that remains the same in both breakfast dishes. However, the kind of maple syrup makes a difference, as I noticed with these madeleines.
"Grade B" sounds like second grade, but that's not the case at all. Grade B maple syrup is made from sap collected later in the season, and just means that it's color and flavor is a little less delicate than Grade A syrup. Which means…it holds up better in the baking process. Hurrah!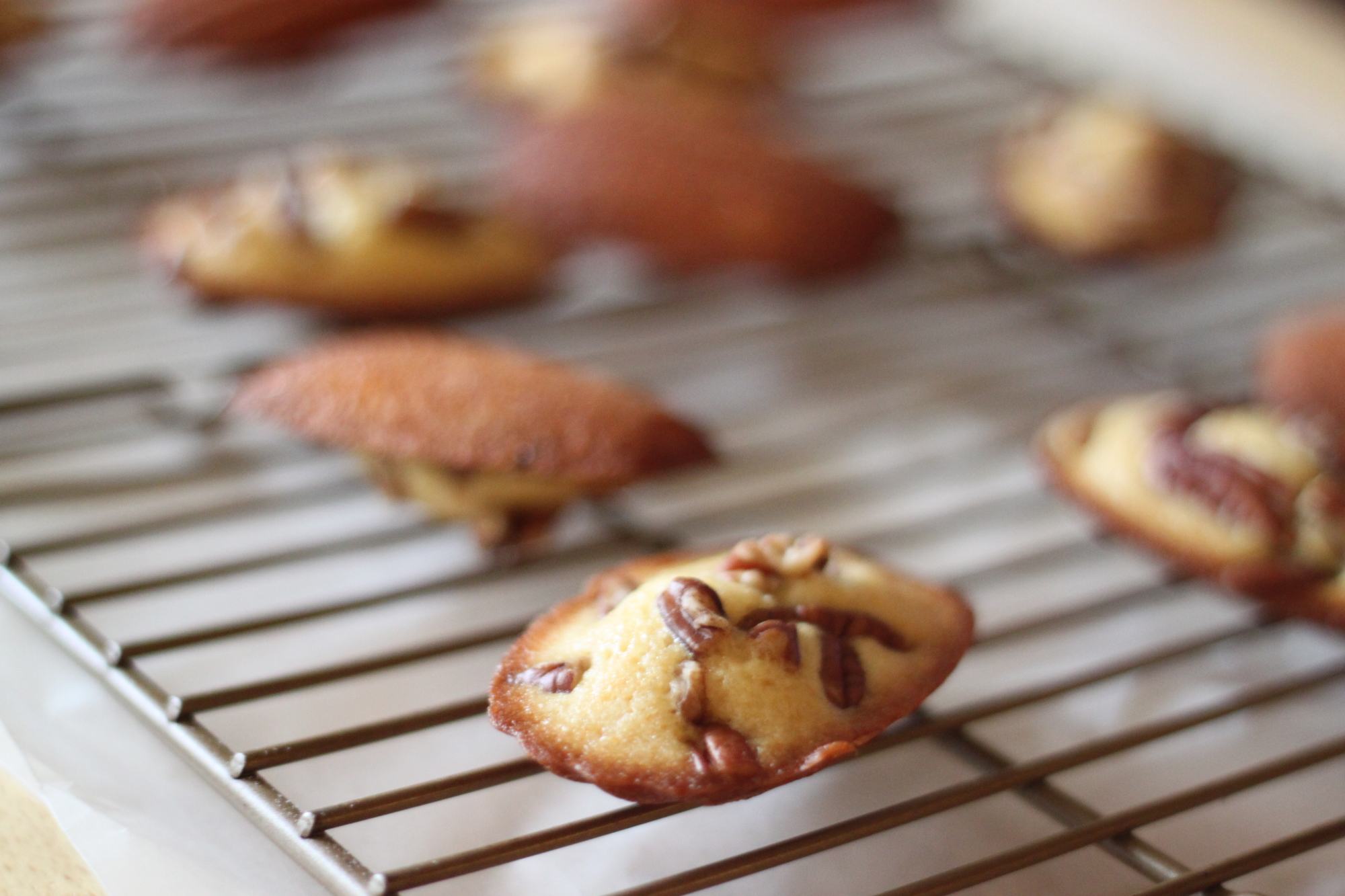 This recipe is slightly adapted from Madeleines: Elegant French Tea Cakes to Bake and Share by Barbara Feldman Morse. I made my first tray of madeleines from this book for National Espresso Day, and then promptly found a recipe (this one, obviousssslyyyy) for National Maple Syrup Day and National Cocoa Day.
Like I said before, the recipes all sound great and the best part about madeleines is that they have the same base. Well…basically (hehehe). So I churned out multiple madeleine recipes in no time flat. Wonderful.
Here are some of the other recipes you'll be able to find in the book:
Not Just Plain Vanilla: Chai Tea Madeleines, Eggnog Madeleines, Rosewater Madeleines (I'm thinking eggnog will be perfect around Christmas!)
Morning Madeleines: Lox, Cream Cheese, and Red Onion Madeleines, Cheese Danish Madeleines, Mapley Granola Madeleines
Dark and Deluxe Chocolate Madeleines: Nutella Parfait Madeleines, Molten Madeleines, Kahlua Madeleines
Fruit and Nuts: Almond Macaroon Madeleines, Mendiant Madeleines, Peach and Cream Madeleines
Savory and Appetizer: Brie-Stuff Madeleine Puffs, Crabby Madeleines, Buttery Cornbread Madeleines
Indulgent Madeleines: Black and White Madeleines, Bananas Foster Madeleines, Hazelnut and Frangelico Madeleines
Who's EXCITED?!?!?!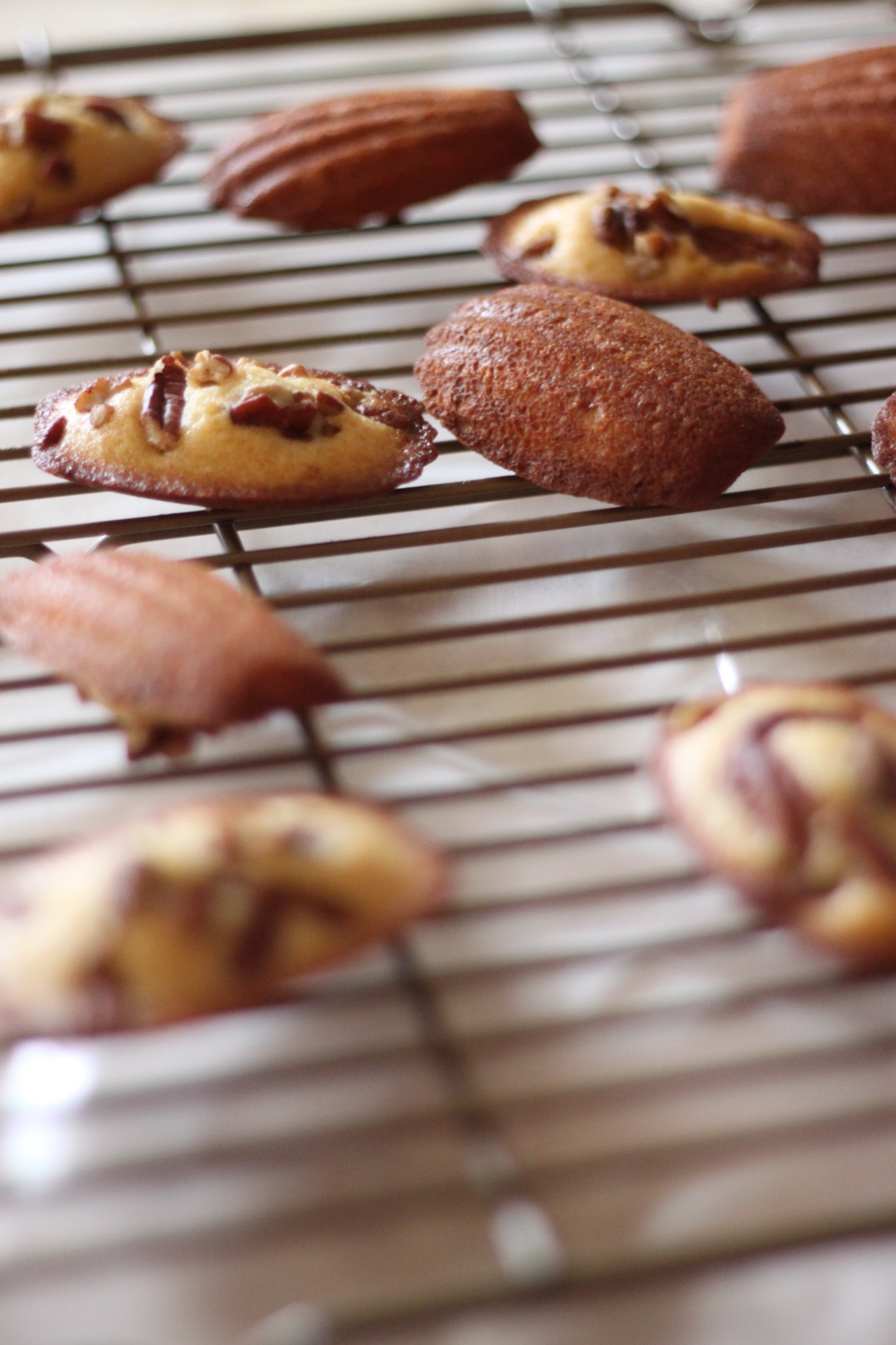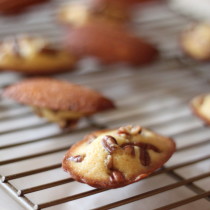 Grade B Maple Syrup Madeleines
Ingredients:
1/2 cup all-purpose flour
1/4 tsp salt
1/2 tsp baking powder
6 Tbsp unsalted butter, room temperature
1/3 cup sugar
1 large egg, room temperature
1/4 cup grade B maple syrup, or any pure maple syrup
1/2 cup toasted pecans, chopped
Directions:
Place a rack in the center of the oven and preheat oven to 350*F. Coat one 12-shell pan with baking spray.
In a small bowl, whisk together the flour, salt, and baking powder.
In a medium saucepan set over medium heat, combine the butter and sugar. Allow to melt, stirring frequently. Once butter is melted and combined smoothly with the sugar, remove from heat and set aside to cool slightly.
Once butter/sugar mixture has cooled for 3-4 minutes, add egg and maple syrup, whisking well until completely blended. Add flour mixture and stir until completely incorporated.
Fill shell molds until 3/4 full. Sprinkle each with pecans.
Bake for 10-12 minutes, until madeleines mound up slightly and spring back when gently pressed.
Remove pans from oven and let cool on a wire rack for 2-3 minutes, then invert and tap madeleines onto the rack.
Adapted slightly from the book: Madeleines: Elegant French Tea Cakes to Bake & Share
3 Responses to "National Maple Syrup Day | Grade B Maple Syrup Madeleines"

Trackbacks/Pingbacks

Leave a Comment