National Lager Day | Green Bean Casserole
To me, green bean casserole is a Thanksgiving side dish so I'm a little late on this, but I'm sure it's just as great for a Christmas feast (I've told you before that my family gets down on some hispanic food for Christmas). The only beer you'll find in this casserole is in the fried onion batter, but you could put some in the casserole itself, I'm sure. Bonus!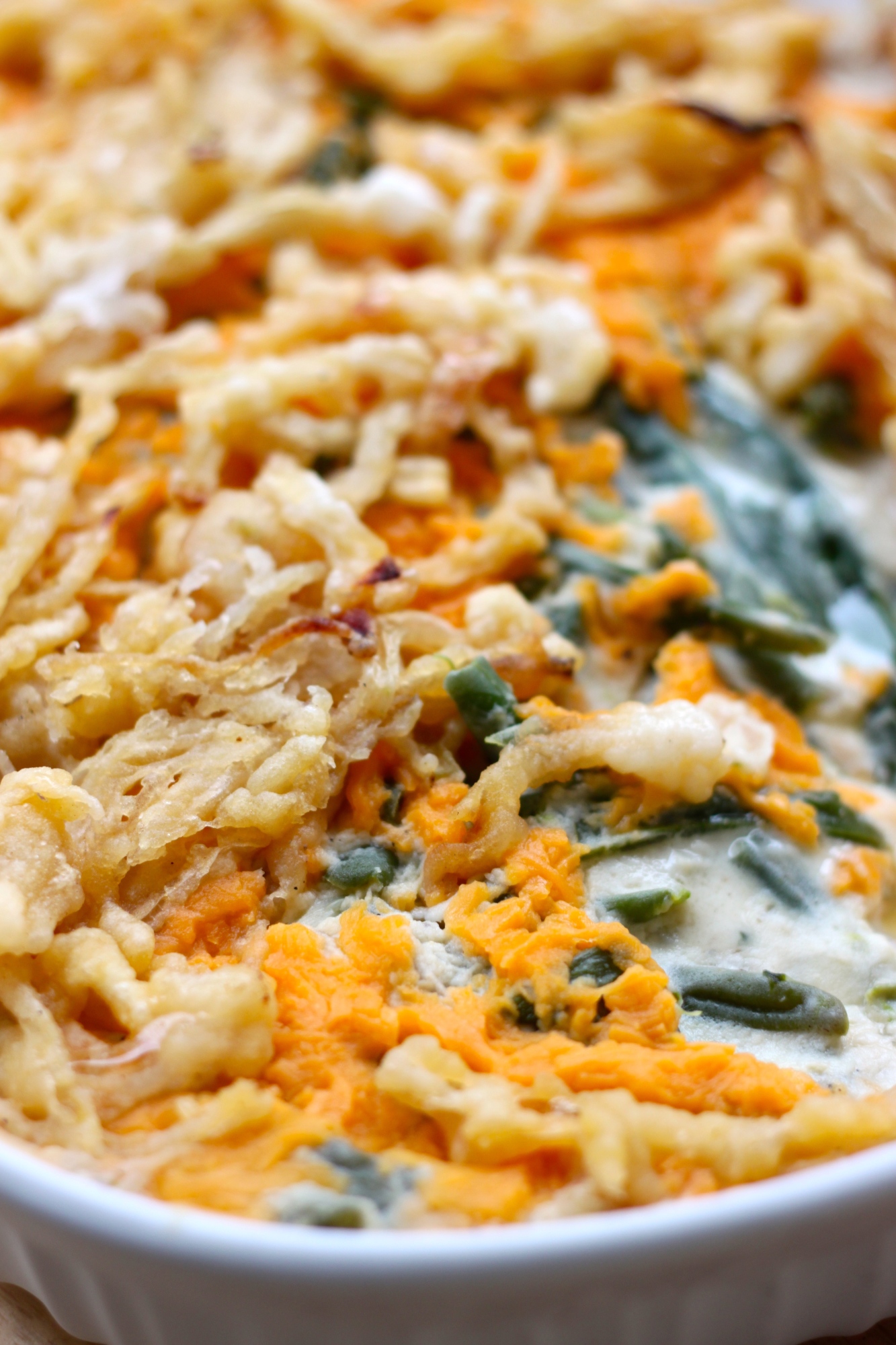 What I love about this casserole is that everything is made from scratch. No canned soups here. It's a bechamel sauce that it really great the day of, and not as great warmed up as leftovers. So eat this casserole in one sitting with your family! Not that I'll have to beg you to or reiterate that point too much, it's so tasty, you'll want to have it all dinner anyway.
There's something so comforting about green beans, and green bean casserole in particular. I can't put my finger on it, but I do feel comforted by more traditionally southern food anyway, even though my family never really cooked it when I was growing up. It could be that the combination of green beans, cheese, and onions, all baked to perfection, is exactly what's needed for the ideal comfort dish. Not to mention that it's served in a casserole dish so that just screams for placement in the center of a long table surrounded by other food and lots of family.
Happy National Lager Day!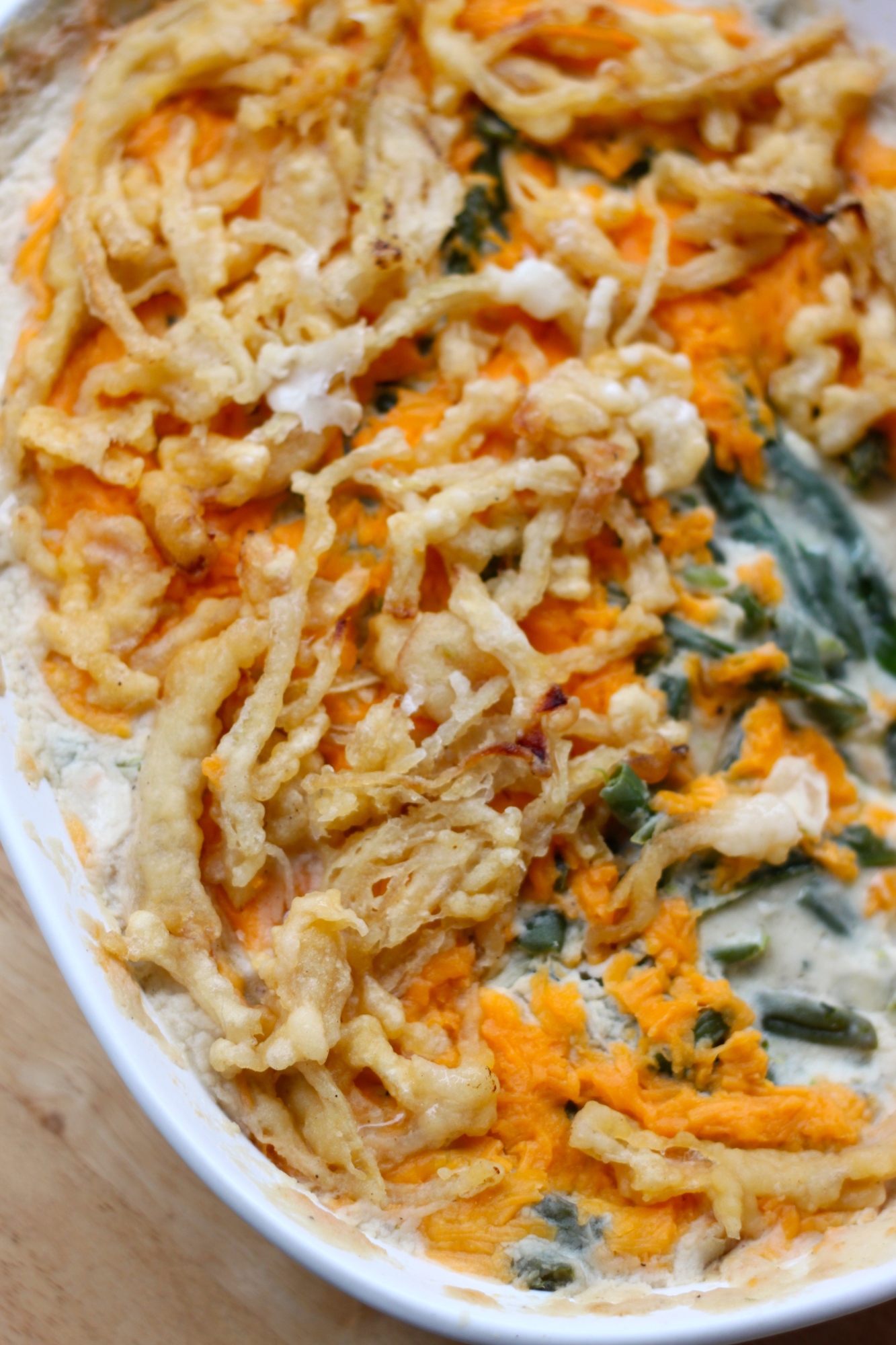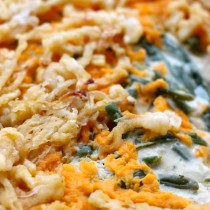 Green Bean Casserole
Ingredients:
Fried onion topping
Canola oil
1 cup all-purpose flour
1/2 cup lager beer
1 small yellow onion, cut into thin half moons
Casserole
2 pounds fresh green beans, stems removed and ends cut off
6 Tbsp unsalted butter, divided
1 small yellow onion, finely diced
4 cloves garlic, minced
1/2 cup dry white wine (I used Chardonnay)
1 cup whole milk
1 cup heavy cream
1 cup chicken stock
1/4 cup + 2 Tbsp all-purpose flour
1 tsp Worcestershire sauce
Salt and pepper, to taste
1 cup grated sharp cheddar
Directions:
Fried onion topping
Fill a Dutch oven with about 2 inches of canola oil. Heat oven medium high until temperature of the oil reaches 375*F. Line a plate with paper towels and set aside.
In a medium bowl, combine flour and beer to make a batter, adding more beer as necessary to come to a batter that's pancake-like. Toss the onions in the batter, coating them evenly.
Add the onions, making sure to separate from each other when needed, to the oil and cook until crispy and light golden brown. Be careful not to overcrowd the pot.
Using a slotted spoon, remove onions and set on paper towel-lined plate. Sprinkle with salt.
Casserole
Preheat oven to 350*F. Bring a large pot of salted water to a boil. Add green beans and cook until they take on a deep green color and they are tender, about 10-15 minutes. Drain and rinse.
In a large pot, melt 2 tablespoons of butter on medium-high heat. Add the onion, garlic and a pinch of salt. Stir often and cook until onions are softened, about 5 minutes. Add the wine and simmer until it evaporates, about 5 minutes. Set aside, or put in another bowl.
In a medium saucepan, combine milk, cream, and chicken stock and set to simmer. Meanwhile, melt the remaining 4 tablespoons of butter in the pot you used for the onions. Add the flour and whisk until creamy, about 2 minutes. Slowly, and in a steady steam, add the hot milk mixture and continue cooking, whisking frequently, for about 15 minutes, or until mixture has been thickened. Whisk in Worcestershire sauce and salt and pepper.
Stir the onion mixture into the cream sauce and simmer for 5 minutes, whisking occasionally.
Stir the green beans into the cream sauce and toss to combine. Pour into a large, buttered casserole dish and bake uncovered for 15 minutes. Add the grated cheddar and fried onions and bake uncovered until cheese is melted, about another 15 minutes.
Trackbacks/Pingbacks

Leave a Comment