National Kahlua Day | Strawberry Cupcakes with Kahlua Chocolate Frosting
I've described my love for strawberries in my National Strawberry Day post, which also falls on the food holiday calendar for today. Isn't February 27th wonderful? I sort of feel like a Disney princess who is frolicking through the meadows eating fruit.
If this is weird, I don't care. I'm very excited about this dual food holiday.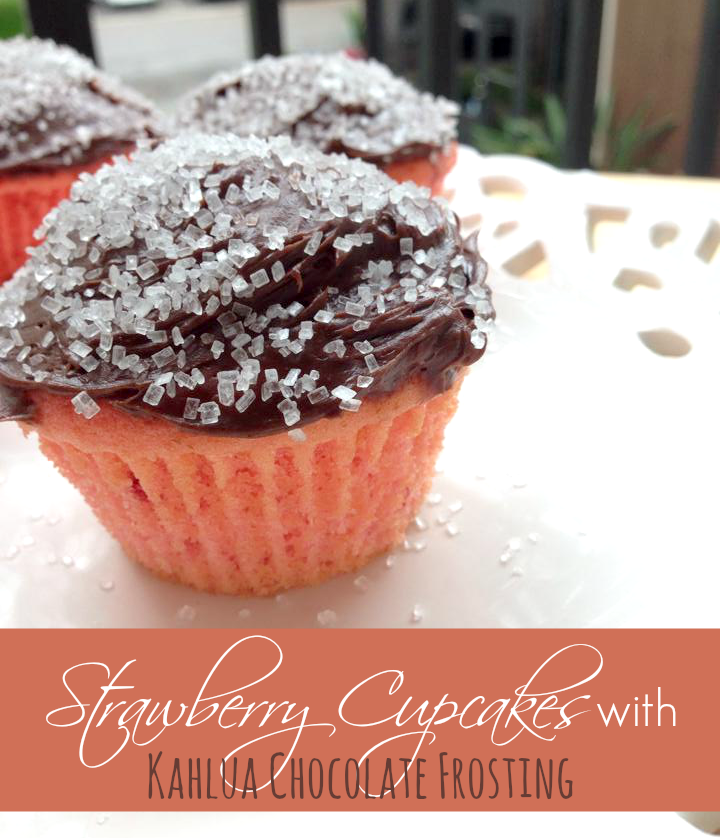 I'm a big fan of chocolate-covered strawberries. That's apparent from my Triple Chocolate Strawberries post. Well, I thought that strawberry cupcakes with a spiked chocolate frosting would be pretty ideal, especially if it's spiked with Kahlua.
It's a flavor combination I didn't see coming, and I just kind of went with it. Coffee and rum go well with chocolate (especially the Mocha flavored Kahlua like I used), and strawberries go well with chocolate, so therefore strawberries go well with coffee and rum. It's practically mathematical.
I decided to not add too much Kahlua. I still wanted a prominent chocolate flavor, but the Kahlua added a welcomed punch to the frosting, especially after the work day I had.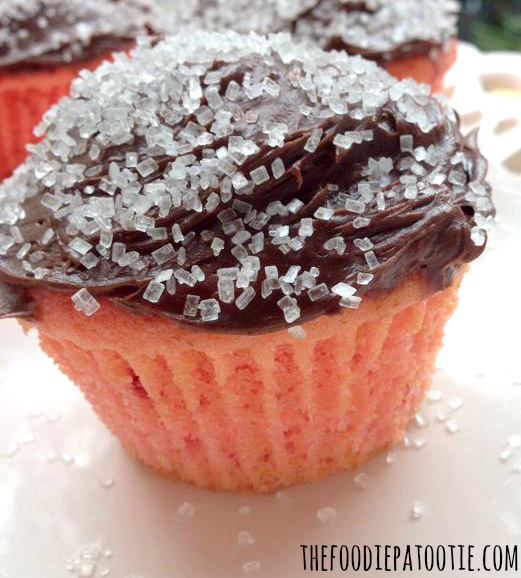 Now I want to know: What is your favorite flavor combination?
National Kahlua Day | Strawberry Cake with Kahlua Chocolate Frosting
Recipe Type: Dessert
Author:
Prep time:
Cook time:
Total time:
Serves: 24 cupcakes
Ingredients
[b]Strawberry Cupcakes[/b]
2 cups sugar
1 (3 ounce) package strawberry flavored Jello-O
1 cup butter, room temperature
4 eggs, room temperature
2 3/4 cups cake flour
2 tsp baking powder
1 cup milk, room temperature
1 tbsp Kahlua
1/2 cup strawberry puree
2 drops of pink/red food coloring
[b]Kahlua Chocolate Frosting[/b]
4 tbsp unsalted butter
4 squares unsweetened chocolate, chopped
4 cups confectioners' sugar
2 tsp Kahlua
Instructions
[b]Strawberry Cupcakes[/b]
Preheat oven to 325*F degrees. Line cupcake pans with liners and set aside.
In a medium bowl, sift together the dry ingredients and set aside.
In a large bowl, beat butter with sugar and jello until creamy. Add eggs one at a time. Beat for 3 minutes.
Add 1/3 of the dry ingredients and then add the rest in 1/3 increments alternatively with the milk. Mix until combined. Add in the Kahlua, strawberry puree and food coloring.
Fill each cupcake liner 2/3 of the way up. Bake for 18-20 minutes, or until toothpick inserted into cake comes out clean. Let sit for 5 minutes before removing to a cooling rack to cool completely.
[b]Kahlua Chocolate Frosting[/b]
Melt butter and chocolate together using either the microwave or double boiler method. (Stir after every 30 seconds if using the microwave, and constantly if using the double boiler.)
Stir in Kahlua and then gradually add the confectioners' sugar and beat until the frosting thickens. Adjust sugar if necessary.
Tomorrow: National Chili Day; National Chocolate Souffle Day 
2 Responses to "National Kahlua Day | Strawberry Cupcakes with Kahlua Chocolate Frosting"

Trackbacks/Pingbacks

Leave a Comment