National Jelly Bean Day | Vanilla Cupcakes with Jelly Bean Frosting
Fortunately, and unfortunately, I eat with my eyes. Therefore, I had a lottttt of jelly beans left post-Easter. Given that I didn't want to have to consume all of them (because I will), I was very happy to see National Jelly Bean Day on the list.
While spending the day helping my mom, she came up with the idea to make a jelly bean frosting. We completely thought that we could melt the jelly beans, combine them into a whipped frosting, and voila!
However, it turns out that jelly beans are weird. The first batch of jelly beans I worked with did eventually dissolve (kinda), but almost immediately burnt in the pan and hardened. The second time around resulted in these cupcakes so all was not lost.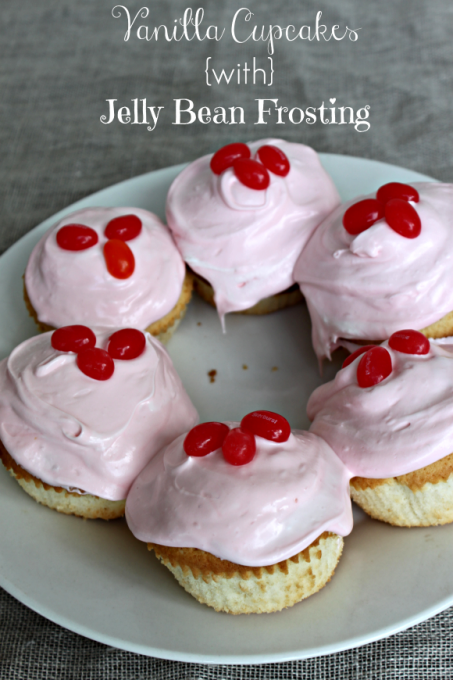 You see, when you place jelly beans in a pot with some water and heat them up on the stove, they lose their color and flavor. They retain their shape, although softer (except when you go a little too far with the melting).
What I ended up doing was using the juice from the melting of the jelly beans and mixing it with frosting I purchased at the grocery store. I used cherry Starburst jelly beans because those are basically the best things ever and while the frosting tasted more strawberry than cherry, it was obviously still tasty and sweet.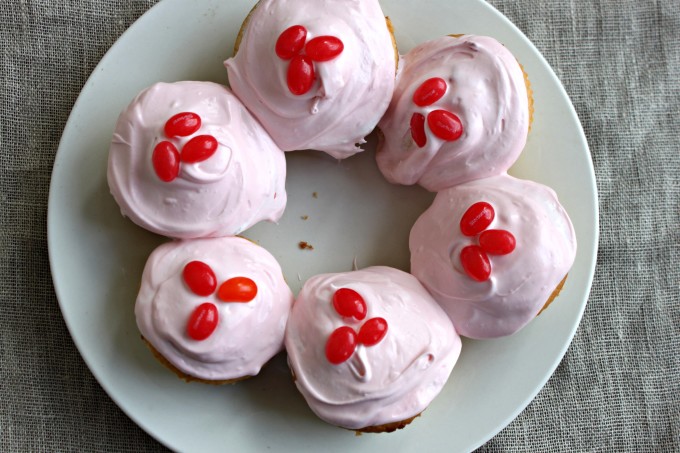 I am really glad I made these cupcakes. A classic vanilla cupcake with a different kind of icing, a fun icing. I'm pretty much sold on making these around Easter every year.
National Jelly Bean Day | Vanilla Cupcakes with Jelly Bean Frosting
Recipe Type: Dessert
Author:
Prep time:
Cook time:
Total time:
Serves: 6
Ingredients
3/4 cup all-purpose flour
1/2 cup sugar
3/4 tsp baking powder
1/2 tsp vanilla extract
1/4 tsp salt
1 egg
1/4 cup milk
1/4 cup softened unsalted butter
Small handful of jelly beans
2 tbsp water
1/2 container of store-bought vanilla frosting
Instructions
Heat oven to 375* F. Line a muffin tin with 6 paper liners.
In the bowl of an electric mixer whisk together flour, sugar, baking powder, vanilla extract and salt. Add egg and milk. Beat on medium for 2 minutes. Add butter and beat on low medium-high speed for 2 minutes. Scrape down bowl and beat on low speed for 30 seconds.
Equally fill muffin cups and bake for approximately 15 minutes or until toothpick inserted in the middle comes out clean. Cool in pan for 10 minutes. Transfer to a wire rack and cool completely.
To make the frosting, combine your desired flavor of jelly beans with water in a small bowl over medium heat. Cook until color has left the jelly beans. Combine jelly bean juice with frosting. Top cupcakes.
Tomorrow: National Cherry Cheesecake Day
Leave a Comment