National Cherry Cheesecake Day | Mini Cherry Cheesecakes
I feel like, more than anything, I've written about cheesecakes. It's exhausting to love cheesecake, but fun at the same time. Bonus that nearly everyone loves cheesecake (except my husband and I think I should do some sort of scientific experiment to find out why exactly this is the case) because I never, ever have wasted leftovers. My neighbor willingly takes cheesecakes from me, as well as my friends and family members.
Since National Cherry Cheesecake Day is today and National Blueberry Cheesecake Day is May 26th, I just made them both at once. I made a total of six mini cheesecakes, three cherry and three blueberry. The recipe below is for those six mini cheesecakes so I would definitely top them with your favorite fruits and syrups, and even whipped cream if you have a super sweet tooth.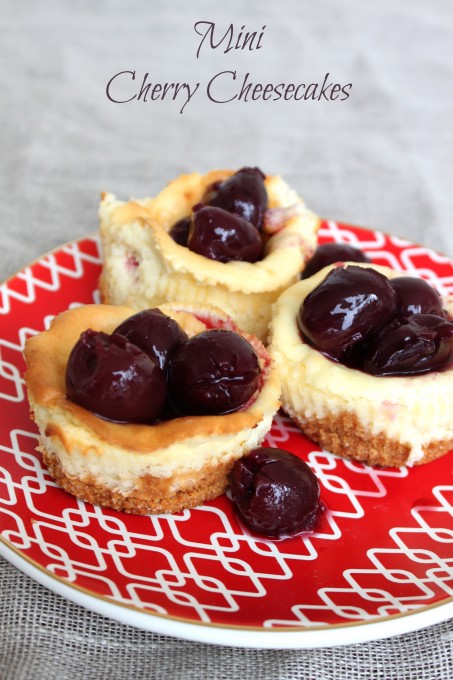 I must admit – I thought this cheesecake recipe was no fail. After all, it's never failed me before and I've made it approximately 13,456 times. However, cheesecake can be temperamental. Maybe it cooked too long, maybe my mom's oven is different than my own (actually, I'm pretty sure that's the case), maybe I let the cheesecakes sit out to cool for too long. Whatever the reason, they formed weird, as you can tell by the mini cheesecake in the background in the photo above. At the end of the day, though, isn't how a cheesecake tastes way more important than how it looks? I mean, if you had to pick one or the other anyway – I would prefer both, but what can you do sometimes?
This is exactly why I love to top my cheesecakes with something. And, I've always been a fan of cherries so this sweet treat made my day.
National Cherry Cheesecake Day | Mini Cherry Cheesecakes
Recipe Type: Dessert
Author:
Prep time:
Cook time:
Total time:
Serves: 6
Ingredients
[b]Graham Cracker Crust[/b]
⅓ cup Graham Cracker crumbs
1 tbsp sugar
1 tbsp unsalted butter, melted
[b]Cheesecakes[/b]
8 ounces cream cheese, softened
¼ cup sugar
1 tsp vanilla extract
1 large egg
[b]Topping[/b]
1/2 can of pitted cherries
Instructions
Preheat oven to 325*F.
Mix together the crust ingredients in a small bowl and divide evenly among 6 paper-lined muffin tins. Press into bottoms to create an even layer.
In a separate bowl, combine the cream cheese, sugar, and vanilla extract. Beat to mix together. Add the egg, and continue beating for 5 minutes, or until thoroughly combined.
Pour evenly over the crusts. Bake for 25-30 minutes, or until the cheesecake has set. Remove from oven and cool completely. Refrigerate 2 hours before topping with cherries.
Tomorrow: National Pigs-In-A-Blanket Day
3 Responses to "National Cherry Cheesecake Day | Mini Cherry Cheesecakes"

Trackbacks/Pingbacks

Leave a Comment