National Ice Cream Day | Candied Bacon Ice Cream
Bacon is this really great craze that almost everyone has gotten behind. And why not? Bacon is smoky and salty and delicious. Sometimes I think it's too much and people are just pairing bacon with just about everything just because it's bacon and for zero other reasons. Sometimes I'm like…"Is there anything else you can do with bacon?", or "When will this 'bacon on everything' phase end?" And then other times I'm like…"GIMME ALL THE BACON!" because it is pretty perfect with some things.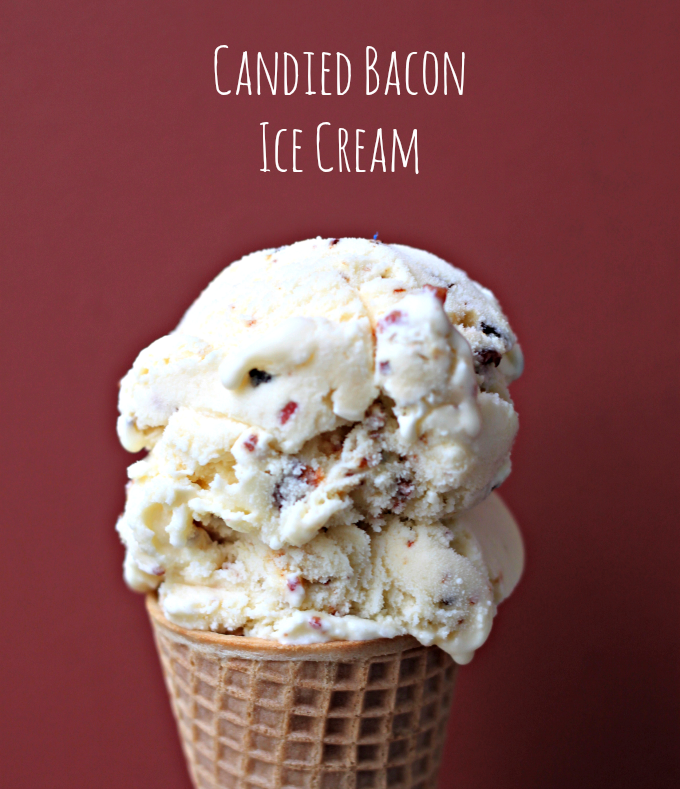 Take this candied bacon ice cream, for example. I received a link from my uncle who wanted to make it for the 4th of July weekend. I immediately had mixed feelings. Would I like bacon in ICE CREAM? Would anyone else, or would it go to waste? I saw it was candied and I thought that I might as well give it a try. After all, there are many ice cream recipes to make over this summer and why not try something completely out of my realm?
And you know what? It was AWESOME. Like, amazing. And awesome. And all the words that you use to describe something fantastic. If you are totally over the bacon craze, don't be until you try this ice cream. This I promise you.
Look, even Darth Vader wanted some of the goods.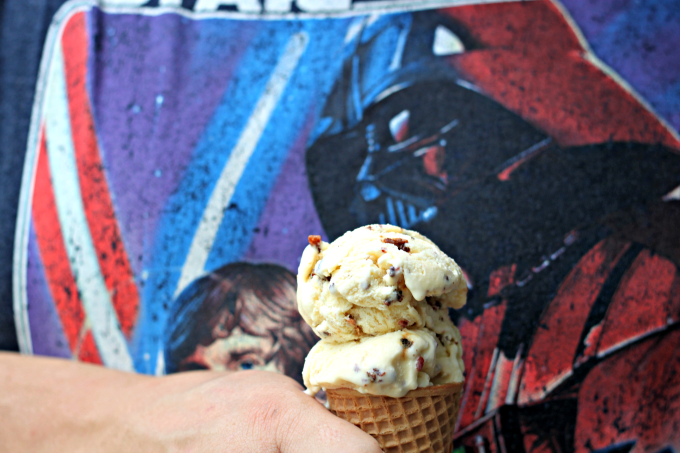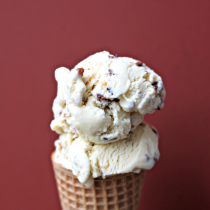 Candied Bacon Ice Cream
Ingredients:
6 bacon slices
1 1/2 Tbsp light brown sugar, divided
2 cups whole milk
2 cups heavy cream
1 cup granulated sugar
1/4 teaspoon salt
6 large egg yolks
1 teaspoon pure vanilla extract
Directions:
Preheat oven to 350°F.
Arrange bacon slices in an even layer on aluminum-lined baking sheet. Sprinkle with half of the brown sugar. Bake 15 minutes. Turn slices over and sprinkle evenly with the rest of the brown sugar.
Continue to bake the bacon, checking every 5 minutes, until bacon is crisp, about 15 to 20 minutes more. Transfer to parchment or brown paper to drain. Once bacon is cooled, tear or cut into small pieces. Set aside.
Heat milk, cream, granulated sugar, and salt in a 3-quart heavy saucepan over moderate heat, stirring occasionally, until sugar is dissolved.
Meanwhile, beat yolks in a medium bowl with an electric mixer at high speed until thick and pale. Reduce speed to low and add hot milk mixture in a stream, mixing until combined. Transfer custard to saucepan and cook over medium-low heat, stirring constantly, until thermometer registers 170 to 175°F (do not let boil). Stir in vanilla.
Transfer custard to an ice cream maker and freeze for 15 minutes. Fold bacon pieces into the ice cream, transfer to a Tupperware container and place back in the freezer for another 2 hours, or until desired consistency.
4 Responses to "National Ice Cream Day | Candied Bacon Ice Cream"

Leave a Comment