National Hot Dog Day | Sonoran Hot Dogs
Ah, National Hot Dog Day. A food holiday I started planning, or rather, thinking about since the very beginning of this thing. I know it's unknown what exactly goes into hot dogs, but I think it's safe to say that I love it. Ballpark dogs, grilled, boiled – I play even and love them all.
When I was in Seattle for the International Food Bloggers Conference, I had a Seattle street dog, topped with cream cheese, mustard, and onions. It was one of the best hot dogs of my life. Who would've ever guessed that cream cheese on a hot dog would actually be appetizing, never mind when you add condiments and some tangy onions to it.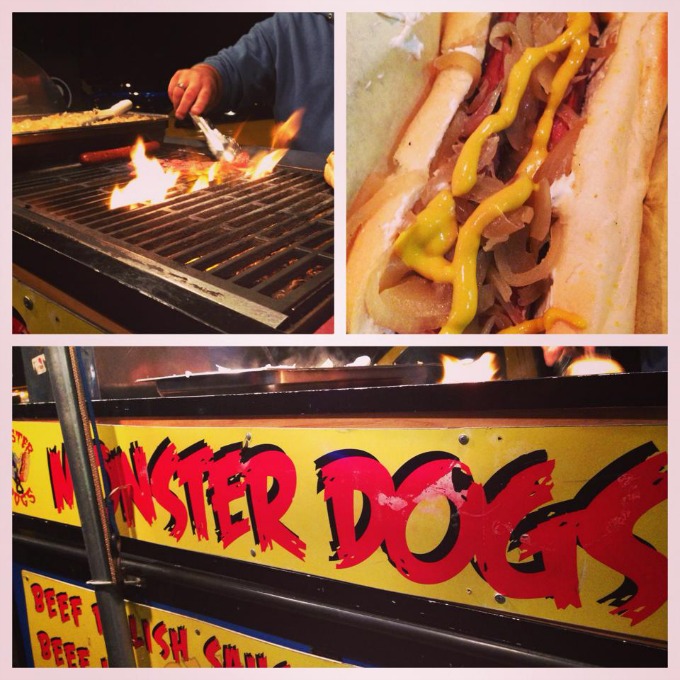 I ate this hot dog after spending some time at an awesome speakeasy with Tracy and while on the way back to the hotel, which was within walking distance, another perk of Seattle.
For National Hot Dog Day, I went all out and made Sonoran Hot Dogs for my family. We ate these on 4th of July during our FEAST.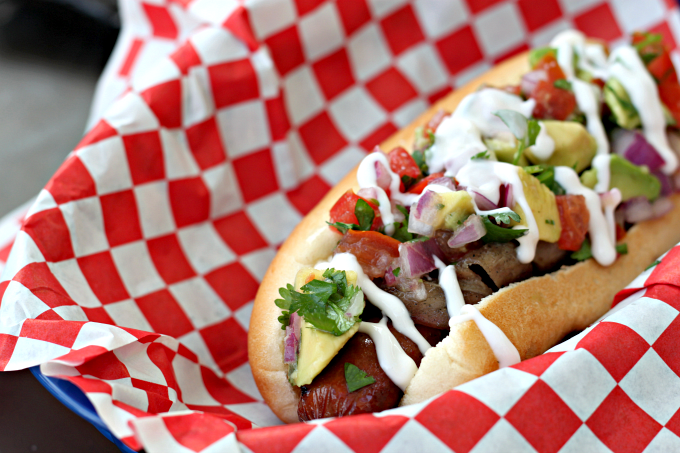 You guys, I'm not lying, kidding, or exaggerating when I say that this is the best hot dog I have ever had. Really, seriously, 100%. I just keep thinking how unfortunate it is that I hadn't made a Sonoran hot dog until now.
I used Hebrew National hot dogs and made a combo topping of these great flavors. And the Sonoran hot dog is wrapped in bacon. Win.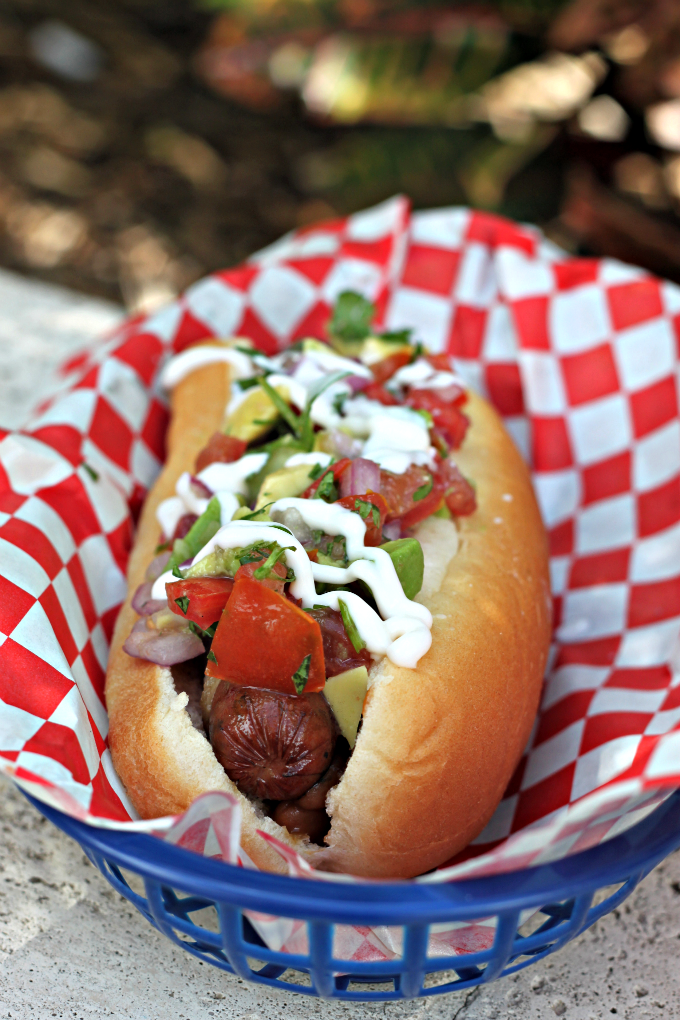 National Hot Dog Day should be celebrated every day, right?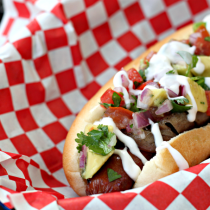 National Hot Dog Day | Sonoran Hot Dogs
Ingredients:
4 hot dogs
4 hot dog buns
2 Romato tomatoes, diced
2 avocados, peeled, halved, seeded and diced
1/4 cup diced red onion
2 1/2 tablespoons chopped fresh cilantro leaves
Juice of 2 limes
Pinch of salt
1/4 cup mayonnaise
1 teaspoon milk
4 slices bacon
1 (15-ounce) can baked beans
Directions:
Cook baked beans on the stove top according to package directions. Keep them on simmer until ready to use.
Preheat grill to medium high heat. In a medium bowl, combine tomatoes, avocados, onion, cilantro, lime juice and salt. In a separate bowl, whisk together mayonnaise and milk. If the mixture is too thick, add more milk as needed. Add mayonnaise mixture to a squeeze bottle.
Wrap each hot dog in a strip of bacon. Grill hot dogs until the bacon is brown and crispy, about 8-10 minutes.
To assemble the hot dogs, scoop the beans evenly into the hot dog buns. Add the hot dog and top with the avocado pico de gallo. Finish by drizzling the mayonnaise on each hot dog and sprinkling with additional cilantro if desired.
 Tomorrow: National Tequila Day
3 Responses to "National Hot Dog Day | Sonoran Hot Dogs"

Trackbacks/Pingbacks

Pingback: Friday Links | 10.3.14 - The Foodie Patootie

Leave a Comment