National Fritters Day | Apple Fritters and Peanut Butter Caramel Sauce
It was a normal Sunday, relaxing and watching an insane amount of Food Network – probably with something baking in the oven – when I saw Sunny Anderson making some apple fritters that needed to belong to me, and belong to me right then and there. I made these apple fritters of hers with an insanely delicious peanut butter caramel sauce that day, and I have not turned back, having made them an additional time since. Now, I share my take on the recipe with you all here.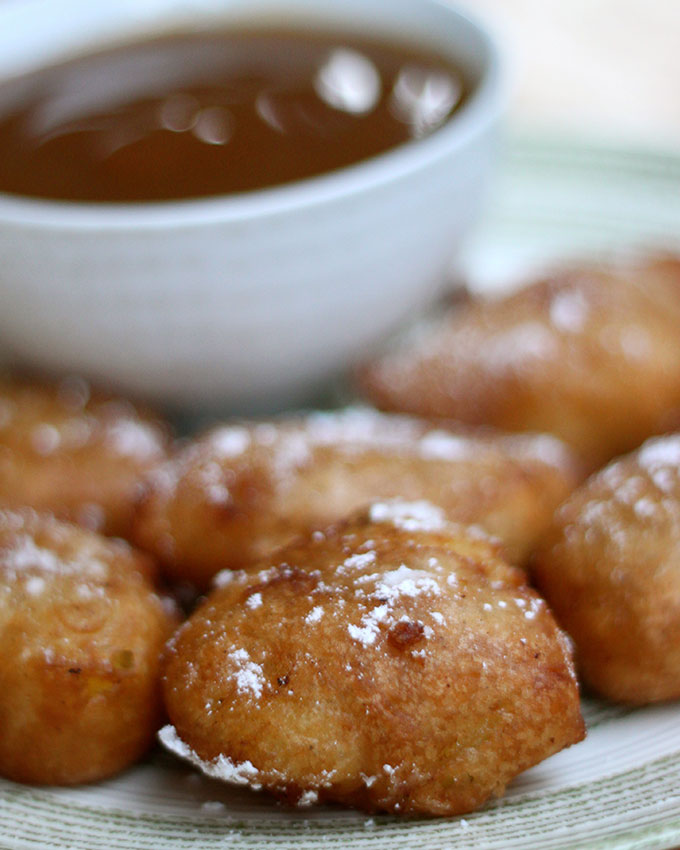 I crave fried foods. It's true, I totally do. And not in a particularly classy way either. I'm all drooling and screaming about how I want some fried chicken. I look like a total lunatic and my eyes get all bloodshot and crazy.
Well, that's how I feel like I seem anyway. That's me in the head, rabid for fried foods. Can I justify this fried treat by being like, "But they're apples!!!!"?
No matter. Whether you don't mind the fried, or you consider it an indulgence, go for it. Or, skip the fried and just dip straight apple slices in this bish.
Happy National Fritters Day!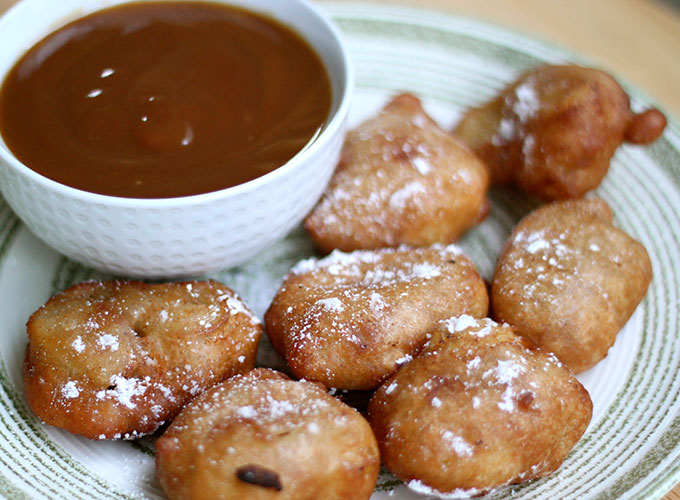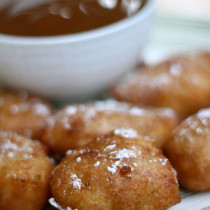 Apple Fritters and Peanut Butter Caramel Sauce
Ingredients:
Apple Fritters
2 Granny Smith apples, peeled, cored and chopped
1/4 cup brown sugar
2 Tbsp granulated sugar
1/4 tsp allspice
1/4 tsp ground cinnamon
1/8 tsp ground nutmeg
1 cup all-purpose flour
Kosher salt
8 ounces beer
Canola oil, for deep frying
Peanut Butter Caramel Sauce
1/2 cup light brown sugar
1 stick butter, melted
1/2 cup heavy cream, at room temperature
1/2 cup peanut butter
Directions:
Apple Fritters
Fill a large bowl set over medium-high heat with canola oil until it comes up 2 inches on the sides. Bring oil to a temperature of 360*F.
In a medium bowl, stir together the apples, sugars, allspice, cinnamon, and nutmeg. Set aside.
In a large bowl, add flour and a pinch of salt. Make a well in the center of the bowl and whisk in the beer until combined. Gently fold in the apple mixture and let it rest for 10 minutes at room temperature.
Using a large tablespoon, gently drop the dough into the oil in batches. Fry until golden brown on both sides, flipping once, about 4 minutes total. Remove to a paper-towel-lined plate. Serve with Peanut Butter Caramel Sauce.
Peanut Butter Caramel Sauce
In a small sauce pan set over medium heat, melt the brown sugar. Whisk as it melts. Add the melted butter and continue to whisk until smooth.
Remove from heat and pour in the heavy cream in steady, light stream, continuing to whisk until smooth. Add the peanut butter and replace the pan over low heat. Whisk for about a minute as it melts into the caramel sauce.
Remove from heat and serve warm.
Apple Fritters adapted and Peanut Butter Caramel Sauce recipe from
Sunny Anderson
.
Leave a Comment