National Crown Roast of Pork Day | Crown Roast with Apple Stuffing
SMH SMH SMH SMH. It was a semi chore in getting this crown roast into my home. I thought it would be easy to find one, but then I started seeing prices online and about flipped. Who has a million dollars to spend on meat, anyway?? (Turns out those were all for massive crown roasts.)
I work at Publix, but I've never seen any crown roasts of pork in any of the retails stores by me. I called Whole Foods and Fresh Market because I figured that if anyone has this beautiful meat, it would be them. Well, yes, they did, but it was over $100! The Foodie Patootie doesn't have that kind of cash, y'all. The reason for the cost was the minimum number of ribs (12) they said I needed to be able to form a circle. At $8.99/lb, it would be a cost higher than I was prepared for. I'm sure it was organic and all the good stuff, too, but at some point (unfortunately) my money is more important.
Since Whole Foods said they would have to make it, I thought that my dear sweet Publix would definitely do the same, and it would be way cheaper. Yeah, I wouldn't opt for our GreenWise pork, but still. At $4.99/lb, I was able to get a small crown roast of pork from Publix (9 ribs), for a grand total of $24.99. Publix, you never, ever fail me. It even came with these little hats to place on the end of the bones, which are missing from my pictures, much to the disappointment of my husband.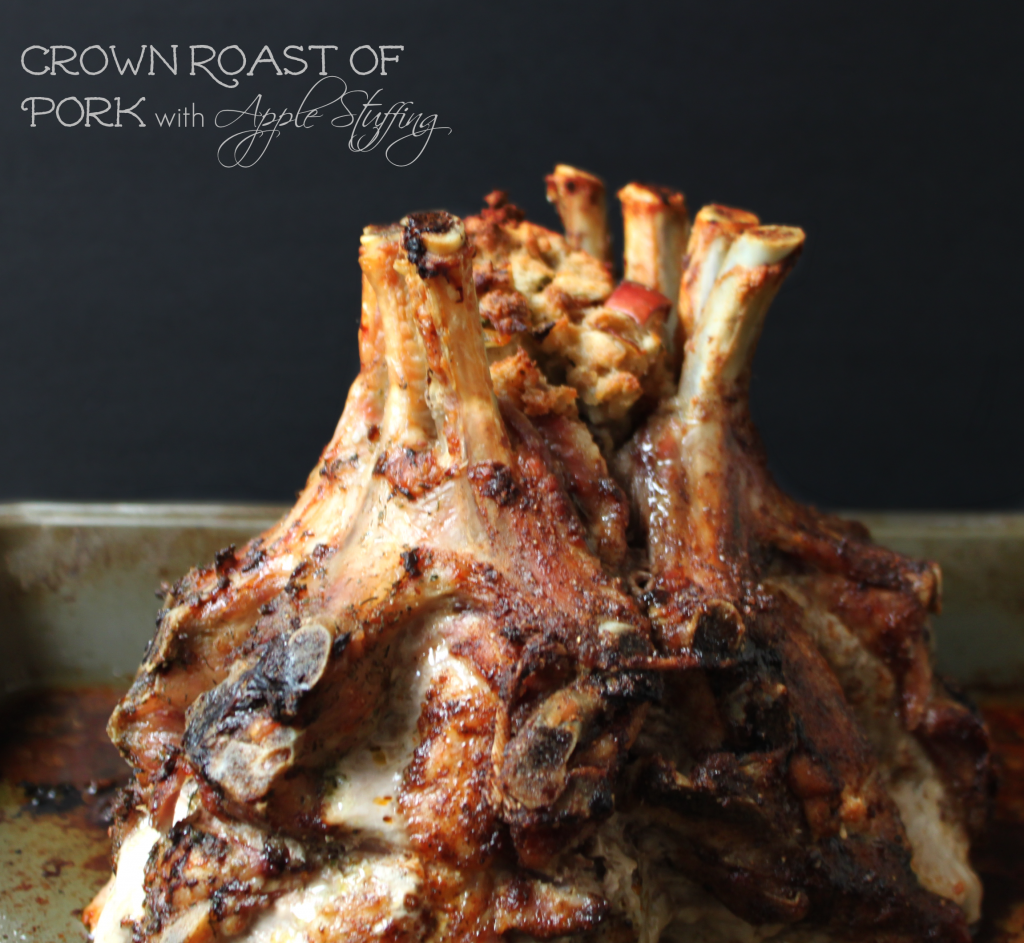 I was nervous to make this monstrosity. It looks important and a little like royalty, actually. Whole Foods, bless their hearts, talked to me for a solid ten minutes about the crown roast, and even suggested alternatives such as the Royal Guard to cut down on the expense. At the end of the day, it is National Crown Roast of Pork Day, not Royal Guard Day. Sorry, WF, although I appreciate your efforts and your stores are very pretty and secretly, I love you very much.
This baby cooked for 2.5 hours. That's almost three hours of lovin' in the oven…or something like that. My husband and I used three different rubs on the ribs (3 ribs per rub) – Jamaican Jerk, Memphis Butt Rub, and a spice combo of dried shallots, garlic, dill and chives. Use whatever seasoning you'd like, or just use salt and pepper. This meat is made to be tasty no matter what you do.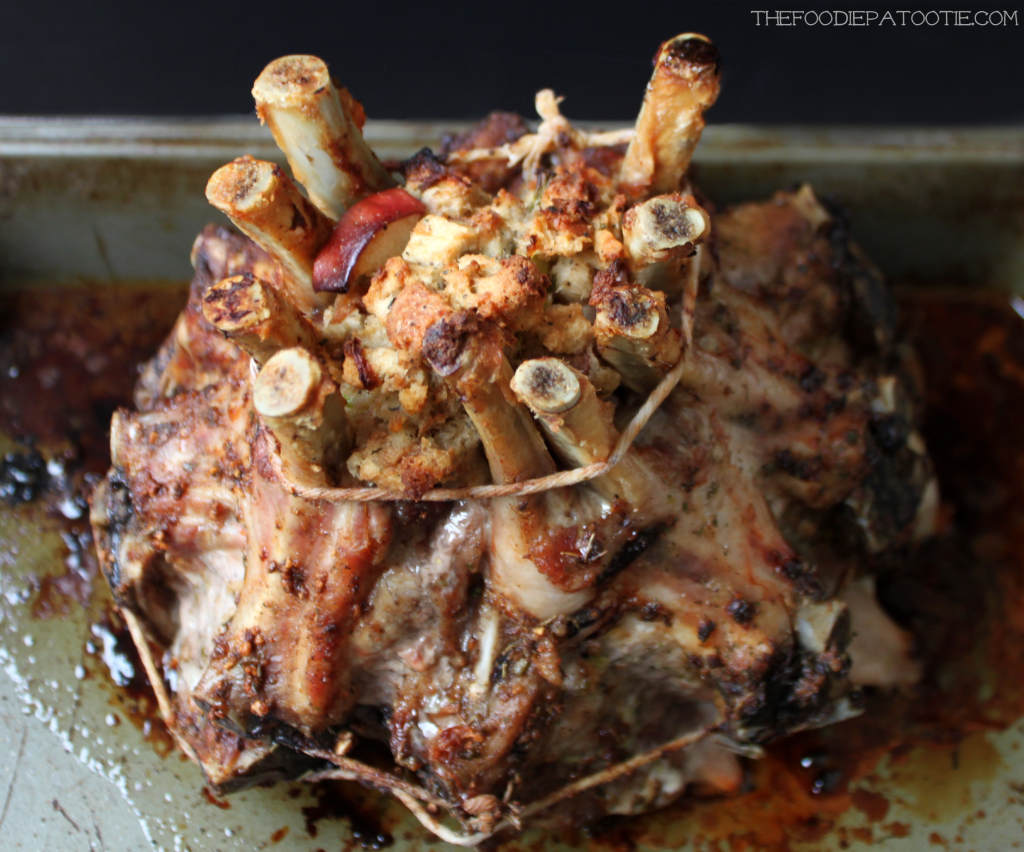 Also, everyone knows that pork and apple go very well together, right? Okay, good. Given this factoid, I had to make an apple stuffing. There wasn't any other option for me. I did use a package of the Pepperidge Farm cubed herb-seasoned stuffing, but added apples, onions, spices of my own…well, you can see all of that in the recipe below.
A meat mound like this has to be shared so I invited my mom over for dinner and we chowed down while watching Cutthroat Kitchen and eyeing my homemade PayDay bars as dessert. (The PayDays are coming for National Peanut Cluster Day tomorrow.)
TGIF!
National Crown Roast of Pork Day | Crown Roast with Apple Stuffing
Author:
Prep time:
Total time:
Ingredients
1 crown roast of pork
Salt and pepper
Seasoning of your choice (I mixed my dry seasoning with some olive oil and then brushed all over the pork ribs)
2 tbsp olive oil
4 tbsp unsalted butter, softened
1 bay leaf
1 medium onion, chopped
3 celery stalks, chopped
2 Macintosh apples, quartered and chopped
Salt and pepper
1 chicken bouillon cube
2 tbsp dried parsley
1 package Pepperidge Farm cubed stuffing mix
Water
Instructions
[b]Crown Roast of Pork[/b]
Preheat oven to 350*F. Place rack in bottom 1/3rd of oven.
Season crown roast with salt and pepper, in addition to any other seasoning you choose. To prevent the "crown" tips from burning, cover each bone tip with aluminum foil. Cook in a roasting pan for 20-30 minutes per pound.
After 1 hour, remove from oven, remove aluminum foil bits, and stuff with stuffing. Return to oven and cook for the rest of the time, or until a meat thermometer reads 150*F.
[b]Apple Stuffing[/b]
In a large saucepan on medium high heat, combine butter and olive oil. Once butter is melted, add bay leaf, onion, celery, apples, and salt and pepper. Cook until vegetables and apples are soft.
Add cube, parsley and stuffing mix. Slowly add water to the mix until desired stuffing consistency.
Tomorrow: National Peanut Cluster Day
Leave a Comment