National Cold Cuts Day | Thanksgiving Sandwich
You wanna hear something depressing? It's been over three months since Thanksgiving, and we still have another eight months to go. That's a whole lot of days until it's acceptable to stuff your face with turkey, stuffing, mashed potatoes, dessert, and then have a turkey sandwich a couple hours later…and then have another turkey sandwich for breakfast the next day. Oh, and for lunch, too.
You know that moment when you are in a complete Thanksgiving-induced coma while you sit on the couch pretending to watch the football game and the only two thoughts running through your head are: 1) WHY ARE MY EYELIDS SO HEAVY?!?, and 2) When can I sneak away from everyone to make a post-meal meal without little laughs from loved ones? (I'm a bottomless barrel, folks.)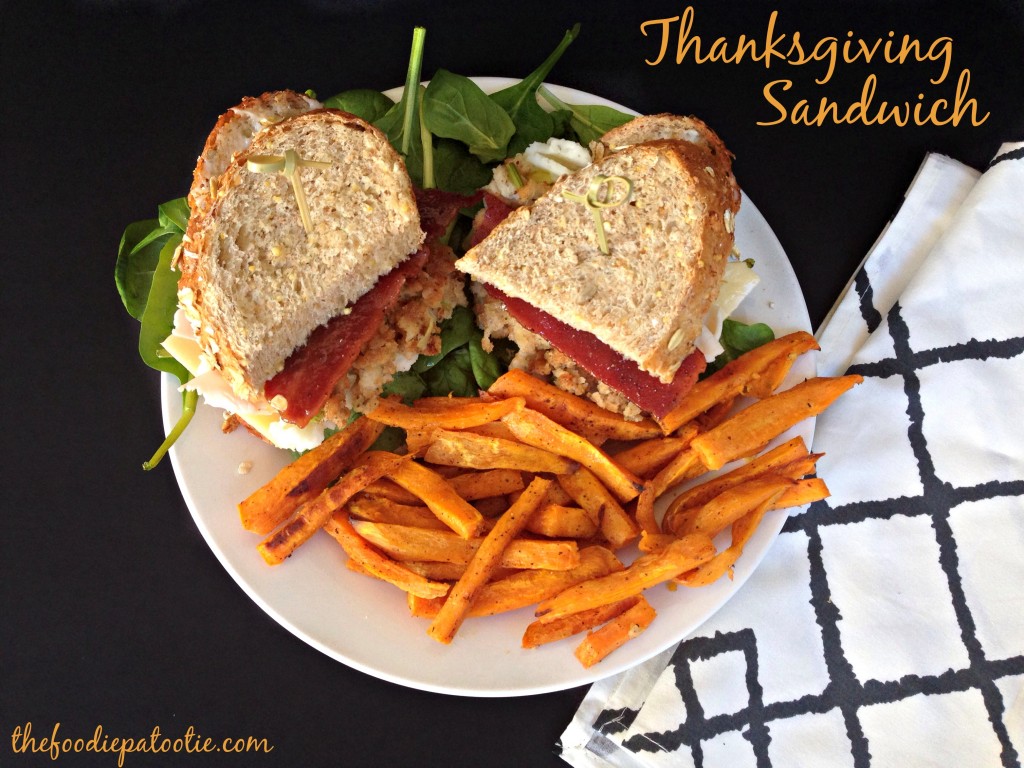 Well, I simply can't wait any longer. When National Cold Cuts Day appeared on the calendar, it was time. Time for Thanksgiving in March. Time for food that'll make ya say "zzzzzz". Time for a sandwich piled with all the fixings you can expect for the best food holiday of the year (Thanksgiving, duh).
This sandwich took a while to make because, frankly, I suck at time management in the kitchen. My planning, especially when anticipating something of this magnitude of awesome, just flutters away. Yes, it was a labor…a labor of LOVE. Turkey, cheese, stuffing, mashed potatoes, and candied bacon are piled on this sandwich.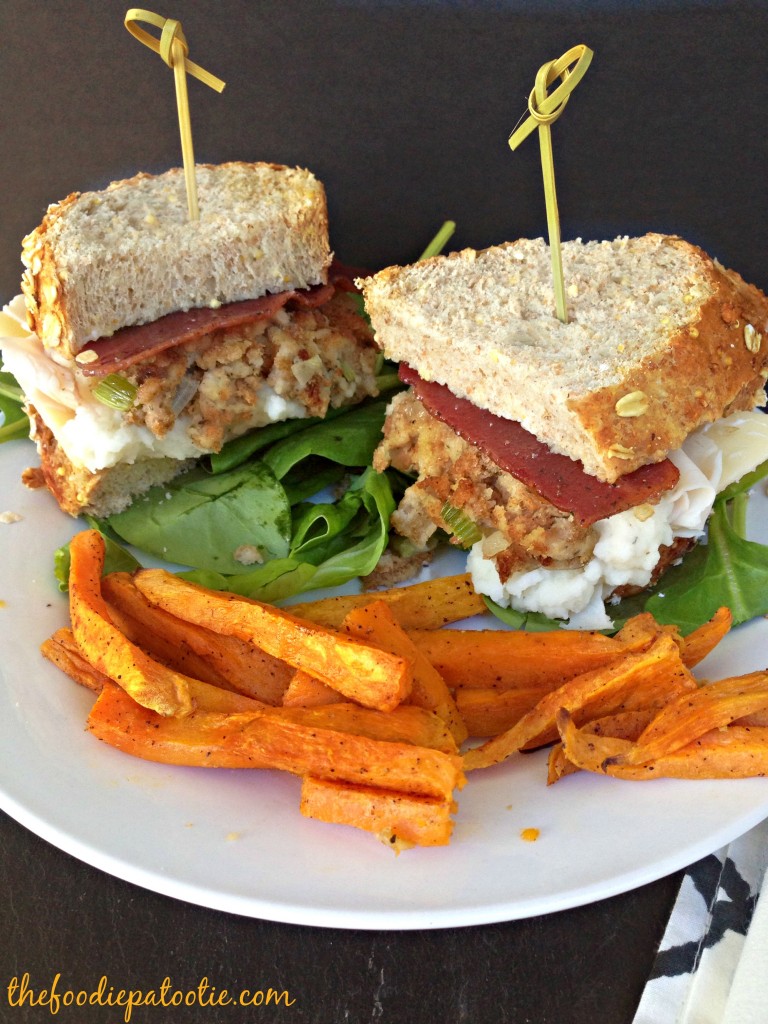 Sweet potatoes, not to be forgotten from any Thanksgiving feast, were made into fries. It was a late Sunday lunch yesterday that I'll be gushing about for quite a while. Now, it's time to have leftover sandwiches today. I have to celebrate right. 😉
FYI: The recipe below includes enough for left overs so just use your judgement on how much to make.
National Cold Cuts Day | Thanksgiving Sandwich
Author:
Serves: 2 sandwiches
Ingredients
1/2 pound sliced oven-roasted turkey from your local Deli (I used Boar's Head)
4 slices Havarti cheese
Candied bacon
Mashed potatoes
Stuffing
Multigrain bread
2 sweet potatoes
Instructions
[b]Candied bacon[/b]
Preheat oven to 325*F. In a medium bowl, combine 7 slices of bacon with black pepper and 1/4 cup light brown sugar.
Cover a baking sheet with foil, place bacon slices in single layer on top, being sure to pour remaining brown sugar on top of them. Cover with an additional sheet of foil. Place 2nd baking sheet on top. This second baking sheet will flatten the bacon during the cooking process.
Cook for 20 mins, and then increments of 10 minutes after that until fairly crispy. Bacon will crisp up a little more after being removed from the oven.
[b]Mashed potatoes[/b]
Boil 4 potatoes (peeled and diced) in water until cooked. Transfer to the bowl of a stand mixer and mix on medium with 3 tbsp of butter, a splash of heavy whipping cream, and salt and pepper to taste. Add more of any ingredient until you reach desired taste and texture.
[b]Stuffing[/b]
I followed the instructions on the bag of non-cubed Pepperidge Farm Herb-Seasoned Stuffing. Delicious!
[b]Sweet Potato Fries[/b]
Preheat oven to 450*F. Place 2 sweet potatoes (peeled and cut into long slices) on a foil lined baking sheet. Drizzle with olive oil, salt, pepper, garlic powder, and chili powder (all to taste). Toss with hands and bake in a single layer for 20 minutes, or until the potatoes are golden brown.
[b]To assemble the sandwich[/b]
Spread mayonnaise on multigrain bread. Top with a little bit of everything.
Tomorrow: National Pound Cake Day
3 Responses to "National Cold Cuts Day | Thanksgiving Sandwich"