National Cognac Day | Cognac Chicken
You want to know what I love being able to do? Get home when it's still light outside, cook myself dinner, and then write my blog posts while watching The Carrie Diaries in a separate internet window via Netflix. (Seriously, who else is obsessed with this show? I'm almost done with Season 1.)
I just started a new job about a month ago. I came from Publix which is a great company, but while I didn't work more than 40 hours a week, it felt like a lot more what with my late nights and 45 minute drive one way (on the interstate, with no traffic – it basically felt like a lifetime). Now, I'm thrilled to have the job that I do, a regular 8-5 that not only gives me the increase in responsibility, but also the ability to learn more and more. I'm said it before- I'm insatiable. I finally have a job where my insatiability works for me, and for the company.
Anyone who has a full-time job knows that having a great work-life balance is just as important as the actual work you are doing. Never more do I have to take work home with me, or have a long and unnecessary shift on the weekends. This is exactly how I was able to prepare a chicken dinner AND enjoy it before the sun even started setting.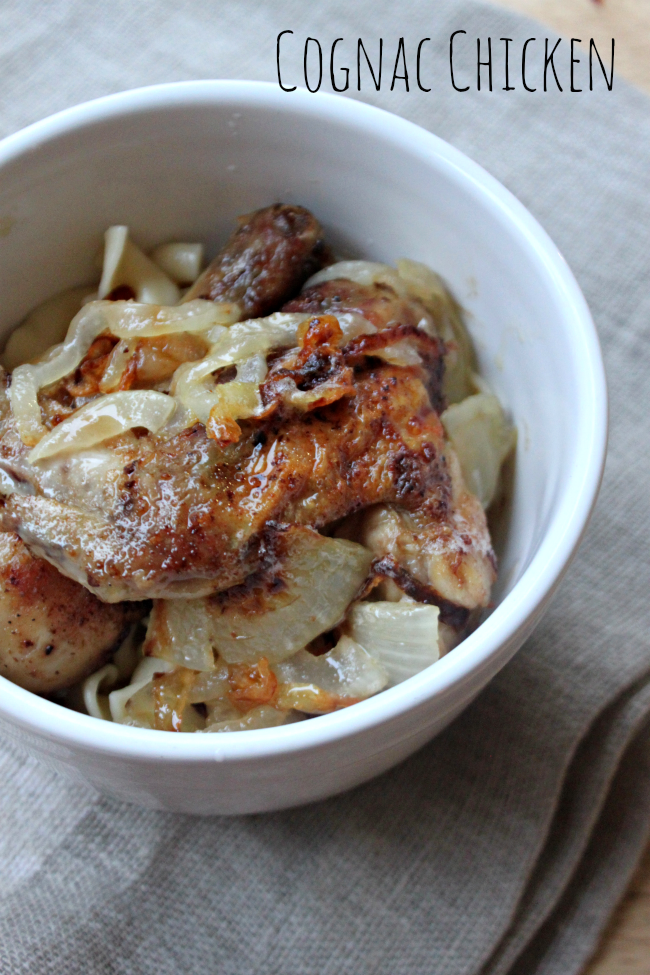 Incredibly crispy chicken, soft onion slices, medium egg noodles, all topped with a cognac and cream sauce. Oh yes, I went there.
Chicken is the one thing I always have at home. You can make it breaded, crispy with its own skin, in strips, over salad, noodles, or by itself. You can season with a marinade, simple salt and pepper, a number of other seasonings like red pepper flakes and garlic powder. I mean, the possibilities are endless with chicken. It's a blank slate.
For today's meal, I simply seasoned with salt and pepper, brushed with flour and pan fried until cooked through and the skin was ultra crispy. That's it. The sauce came after, but it didn't even need it. The chicken was juicy inside and crunchy outside, pieces that I was happy to bite into while watching The Real Housewives of Orange County. Mmm-hmm.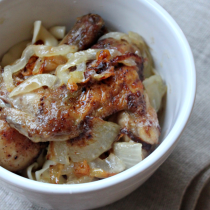 Cognac Chicken
Ingredients:
1/2 onion, sliced
1/4 cup butter
2 Tbsp oil
1 1/2 pounds frying chicken with skin (combo of breast, leg, thigh)
Generous pinch each of salt and pepper
1/4 cup flour
1/3 cup cognac
1 pint heavy whipping cream
Directions:
In a large saute pan over medium hear, melt butter with oil. Place onions in pan, reduce heat to low, and cook for about 20 minutes, or until onions are almost caramelized. Remove onions from pan and set aside.
Season chicken with salt and pepper. Spread flour over chicken pieces and place in pan. Cook on medium, turning over once, until chicken is cooked through. (You may have to adjust the temperature so you don't burn the chicken, depending on your stove.) Once chicken is cooked, remove from pan and set aside with the onions.
Drain excess butter and oil from pan. Add cognac, bring to a boil and then add whipping cream and bring to a boil again. Boil for about 2 minutes, or until sauce has thickened to your preference.
Pour sauce over chicken and onions. Serve over egg noodles.
2 Responses to "National Cognac Day | Cognac Chicken"

Leave a Comment