National Cocoa Day | White Chocolate, Pecan, and Cranberry Madeleines
I love the combination of dried fruit and nuts. That probably explains how I can eat my weight in trail mix without a blink. It's automatic hand to mouth syndrome. (And, psst, it's wonderful.)
National Cocoa Day comes between National Espresso Day and National Maple Syrup Day (December 17). MADELEINES FOR ALL!!!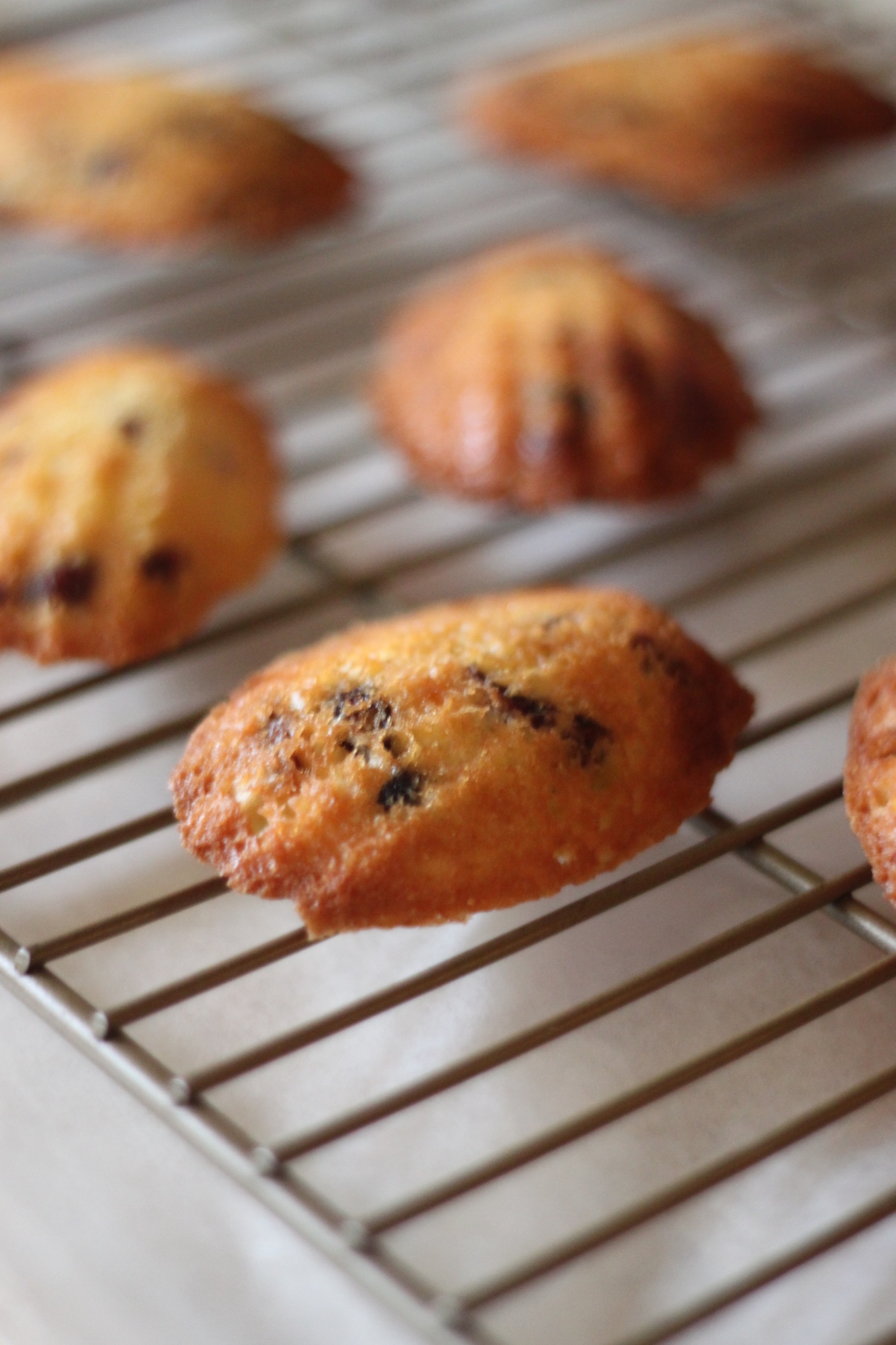 Thanks to author Barbara Feldman Morse, I was able to get three food holidays done with a batch of madeleines. Thank YOU, Barbara. I received Madeleines for review so I'd be remiss if I didn't tell you about some of the recipes you'll find:
Not Just Plain Vanilla: Chai Tea Madeleines, Eggnog Madeleines, Rosewater Madeleines (I'm thinking eggnog will be perfect around Christmas!)
Morning Madeleines: Lox, Cream Cheese, and Red Onion Madeleines, Cheese Danish Madeleines, Mapley Granola Madeleines
Dark and Deluxe Chocolate Madeleines: Nutella Parfait Madeleines, Molten Madeleines, Kahlua Madeleines
Fruit and Nuts: Almond Macaroon Madeleines, Mendiant Madeleines, Peach and Cream Madeleines
Savory and Appetizer: Brie-Stuff Madeleine Puffs, Crabby Madeleines, Buttery Cornbread Madeleines
Indulgent Madeleines: Black and White Madeleines, Bananas Foster Madeleines, Hazelnut and Frangelico Madeleines
Seeeeeee? It's wonderful.
These particular madeleines are a great combination of sweet and salty, and well, you need to make these right now. Now, go!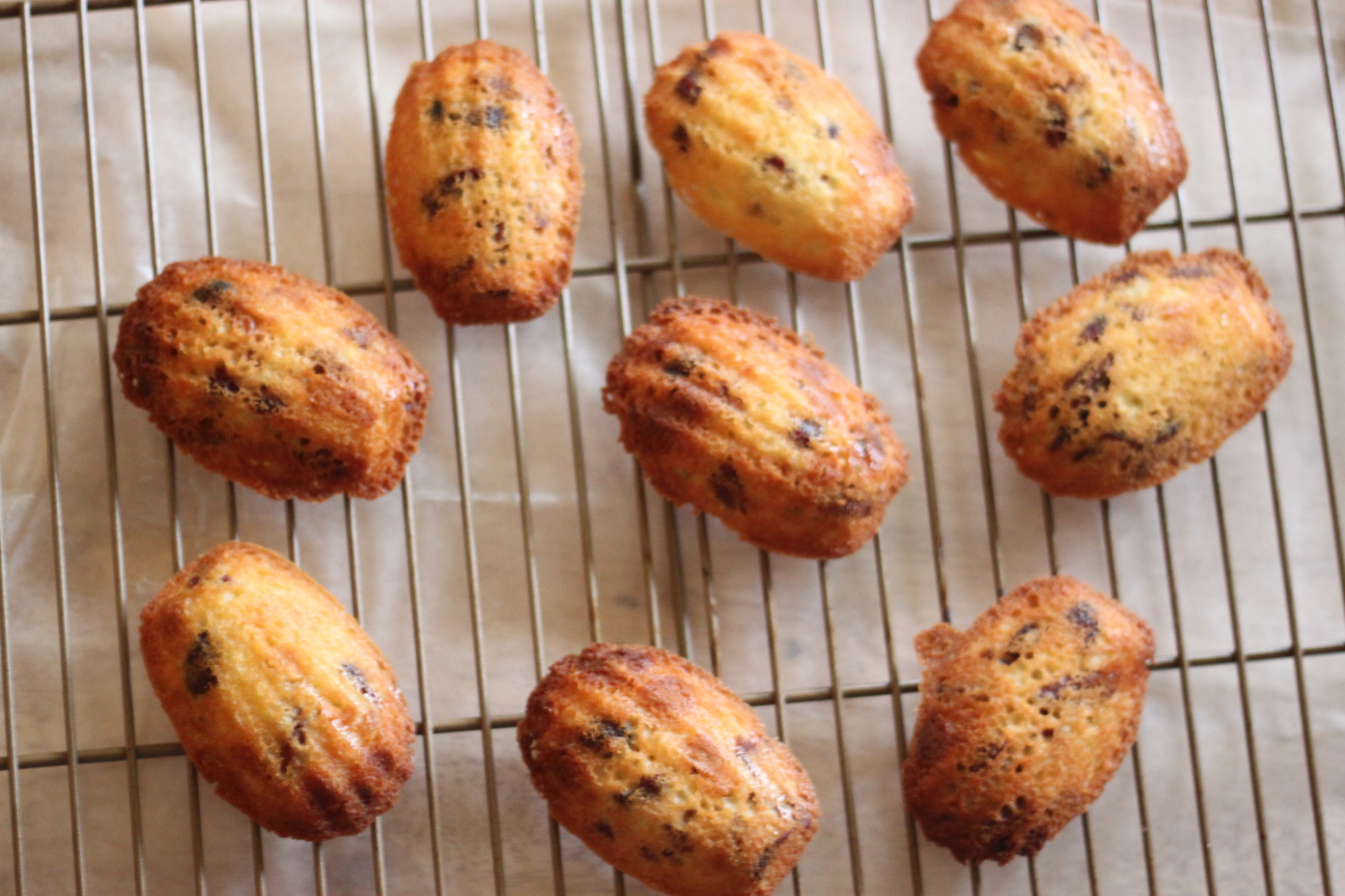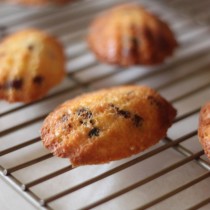 White Chocolate, Pecan, and Cranberry Madeleines
Ingredients:
1/2 cup all-purpose flour
1/4 tsp baking powder
1/4 tsp salt
5 Tbsp unsalted butter, room temperature
1/2 cup sugar
1 large egg, room temperature
1 tsp vanilla extract
1/3 cup toasted and chopped pecans
1/3 cup white chocolate chips
1/4 cup dried cranberries
Directions:
Place a rack in the center of the oven and preheat to 350*F. Coat one 12-shell pan with baking spray.
In a small bowl, whisk together flour, baking powder, and salt.
In a medium saucepan set over medium heat, combine the butter and sugar. Allow to melt, stirring frequently. Once butter is melted and combined smoothly with the sugar, remove from heat and allow to cool slightly.
Once butter/sugar mixture has cooled 3-4 minutes, add egg and vanilla, whisking until well blended. Add flour and whisk until completely incorporated. Stir in pecans, white chocolate, and cranberries until evenly distributed.
Fill shell molds with batter until 3/4 full. Bake for 11-13 minutes, until madeleines puff up and edges are golden brown.
Remove pan from oven and let cool on a wire rack for 2-3 minutes, then invert and tap madeleines onto the rack.
Recipe adapted from the book: Madeleines: Elegant French Tea Cakes to Bake & Share.
Trackbacks/Pingbacks

Leave a Comment