National Cheeseball Day | Party Cheeseball
I love getting together with friends, especially when the get together is a potluck and everyone brings an appetizer. Finger food is my favorite because it's easy to nibble on and you can try everyone's creation without getting too full too fast.
You see, I'm 100% that person who tries to eat with her eyes and then fills up her plate with everything on the table which results in either not physically being able to finish everything which then makes me sad or actually finishing everything and then feeling way too full to even function.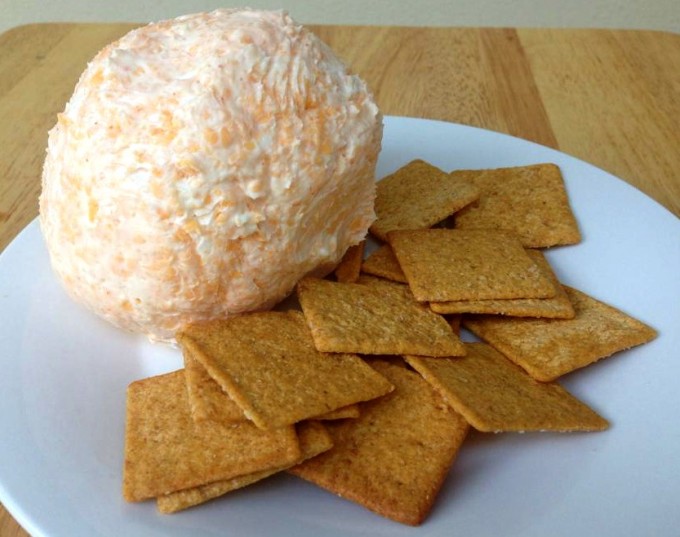 I've professed my love for cheese before and a cheeseball appetizer with some Ritz crackers or Wheat Thins is perfect. It's my go-to appetizer for parties, along with the Spinach Dip recipe from my mom. Mmm, that pumpernickel bread with the dip is just wonderful.
What is your favorite appetizer dish?
National Cheeseball Day | Party Cheeseball
Recipe Type: Appetizer
Author:
Prep time:
Cook time:
Total time:
Serves: 12
Ingredients
1 (8 ounces) cream cheese, softened
4 ounces shredded sharp cheddar cheese
1 tsp lemon juice
Pinch cayenne pepper
Instructions
Beat cream cheese and cheddar in small bowl with mixer until blended.
All lemon juice and cayenne pepper; mix well. Refrigerate several hours.
Notes
Adapted from [url href="http://www.kraftrecipes.com/recipes/party-cheese-ball-54440.aspx" target="_blank"]Philadelphia Cream Cheese[/url]
Tomorrow: National Animal Crackers Day
Leave a Comment