National Boston Cream Pie Day | Boston Cream Pie Cupcakes
Yet another food holiday down. Sometimes I feel like I have forever to go, and sometimes I feel like I'm in the home stretch, the latter being what I feel most often. I remember back to the summer when I made the mistake of thinking just because it was June 1st, I was halfway done with the challenge. And then I actually thought about it and realized that July 1st was actually my halfway point. THAT was a low.
As you all know, I mostly cook these food holidays in advance because to make one new dish every single day, especially since I have a full-time job, would be way too much for me. So, given that, I quickly counted. I have 52 food holidays to go, which seems like a lot to someone not in the challenge, but just remember that I started with about 450 total.
Given how busy this makes me, I am happy to make some shortcuts. Today, for National Boston Cream Pie Day, I made yellow cake cupcakes from a box mix and then filled them with boston cream, topped with chocolate frosting.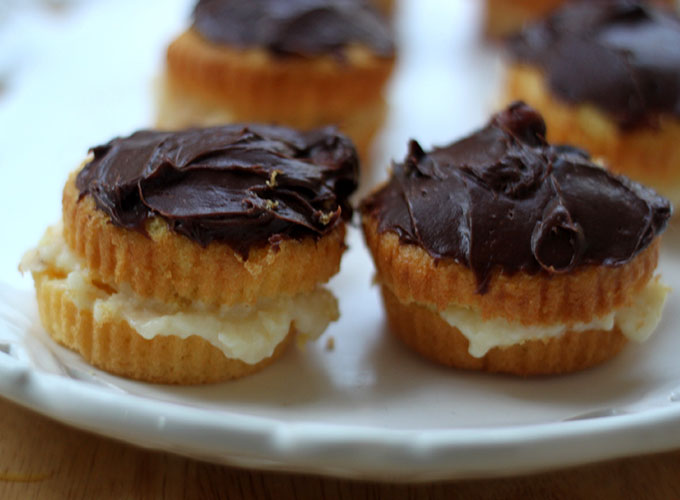 Sometimes these shortcuts are completely necessary to keep your head in the game and not give up. Also, I promise that given more time, my cupcakes, filling, and frosting would look much better. When you're taking advantage of your weekends and making multiple food holidays both Saturday and Sunday, there's inevitably going to be those times when things get haphazard. Just remember that the taste is there. Enjoy!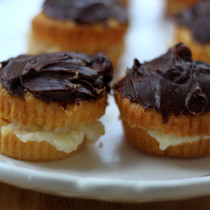 Boston Cream Pie Cupcakes
Ingredients:
1 box yellow cake mix, plus all required ingredients from the box
Chocolate frosting
Cream
2 large egg yolks
1 1/2 cups whole milk
1/3 cup sugar
2 Tbsp cornstarch
1/8 tsp salt
2 tsp vanilla
Directions:
Make yellow cake cupcakes according to package directions. Remove from oven, transfer to wire rack, and allow to cool completely.
In a small bowl, beat yolks with a whisk. Stir in milk to combine.
In a medium pot, stir together the sugar, cornstarch, and salt. Add the egg mixture slowly so the eggs don't cook. Boil for 1 minute, or until thick. Remove from heat and stir in vanilla. Refrigerate until set.
Once cupcakes have completely cooled, cut in half width-wise, spread on cream, and top with chocolate frosting.
Leave a Comment