National Apple Turnover Day | Green Apple Turnovers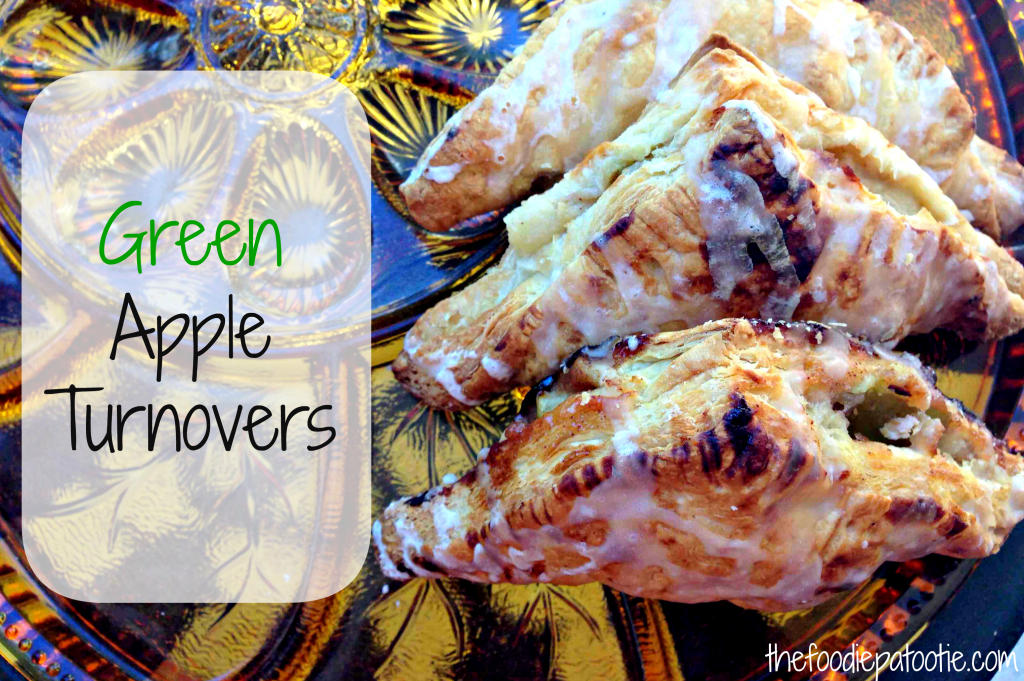 Apples are definitely not my favorite fruit. I prefer almost anything else, actually. As one of my leave favorite fruits, I don't eat it very often, yet I have apply eating envy when someone else does. It's weird. I love the crunch sound that comes from eating a fresh apple. I just wish it tasted better. (Although I will say that Honeycrisp apples are amazing. They are apple juice in edible form.)
For this national food holiday challenge, I didn't mind the days of apples. Although I don't eat plain apples, they are absolutely delicious in a pastry, pie, or some other kind of dough. They are great coated with candy or caramel, dipped in chocolate, or basted in some cinnamon sugar.
On this run, I ended up using too much filling for each turnover and some of the goods leaked out, but I still very much enjoyed them. The flaky puff pastry, the sweet and tart filling, the glaze that could only have been better if more was involved.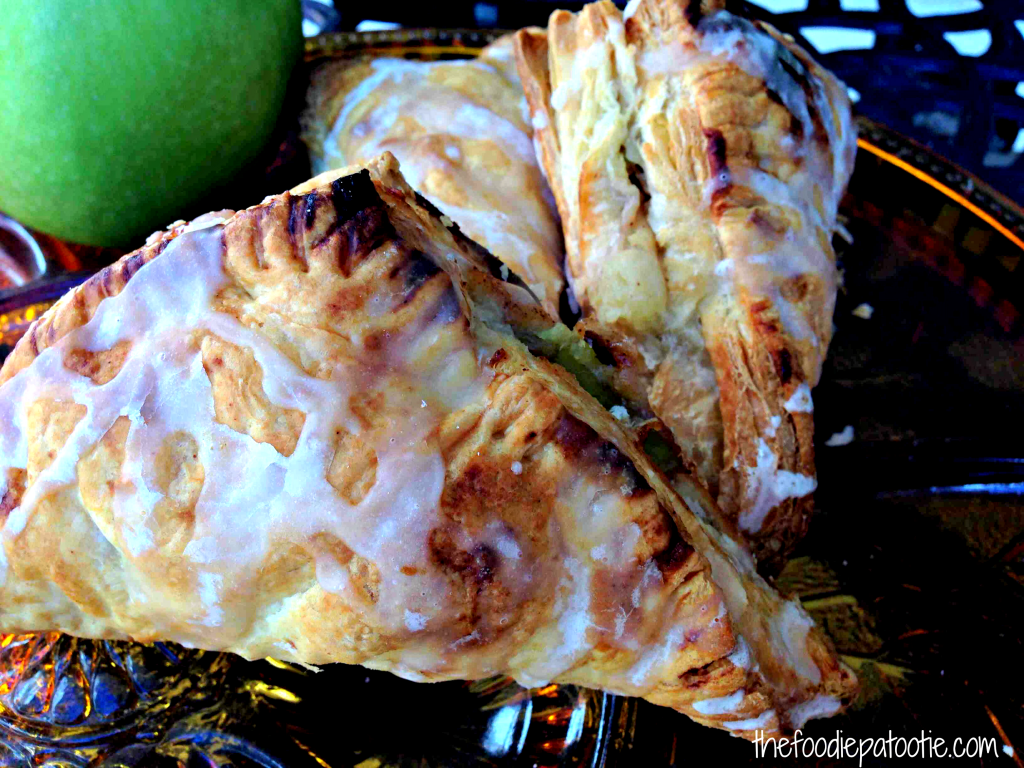 I hope you enjoy these turnovers as much as I enjoyed making and consuming them. My mom, my husband, and I devoured these for dessert after dinner, midnight snack after our Always Sunny in Philadelphia marathon, and then breakfast the next morning because we were too tired to drive home the night before.
The number one thing to remember when making sliced apples for something is to put them in lemon juice and water to prevent browning as you prepare the rest of the dish and later as you remain with leftovers (if you are not gluttons like me).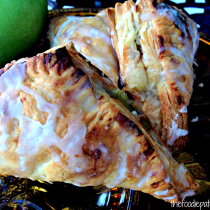 Green Apple Turnovers
Ingredients:
2 Granny Smith apples, sliced
2 cups water
1 tbsp lemon juice
1 tbsp butter
1/2 cup light brown sugar
1/2 tsp ground cinnamon
1/2 tbsp cornstarch
1/2 tbsp water
1 package frozen puff pastry (about 17 ounces), thawed
1 cup confectioners sugar
1 tbsp milk
1 tsp vanilla extract
Directions:
Preheat the oven to 400 degrees.
Combine the 2 cups of water and lemon juice in a bowl along with the sliced apples. This is to keep the apples from browning.
Melt butter in a large skillet over medium heat. Drain water from apples and place them into the skillet. Cook, stirring constantly, for about 3 minutes.
Add light brown sugar and cinnamon to skillet and stir for 3 more minutes.
In a separate bowl, combine cornstarch and 1 tablespoon of water. Mix well until combined and add to the skillet, stirring for another minute or two. You are looking for a sauce that is slightly thick. Remove from heat.
With puff pastry sheets completely unfolded, cut each sheet into 4 smaller squares. Spoon apples into center of square and fold over pastry from corner to corner, pressing edges together with fork tines to seal. Place filled turnovers on a baking sheet.
Bake turnovers for 20 minutes, or until golden brown and slightly puffed. Cool completely.
Mix together the confectioners sugar, milk and vanilla extract in a separate bowl. Drizzle or spread over cooled turnovers.
Nom nom nom away!
2 Responses to "National Apple Turnover Day | Green Apple Turnovers"

Leave a Comment