Miami Vacation | My South Beach Experience
Is the holiday weekend really over, and with it my vacation? Sigh.
It wasn't easy coming back to work on Tuesday, I'll tell ya that much. Although I complained about the heat more than I ever had in my life, Miami was still a vacation and it's always hard coming back from a vacation to your reality.
Let me tell you all about me and my friend's vacation to SoBe, Miami!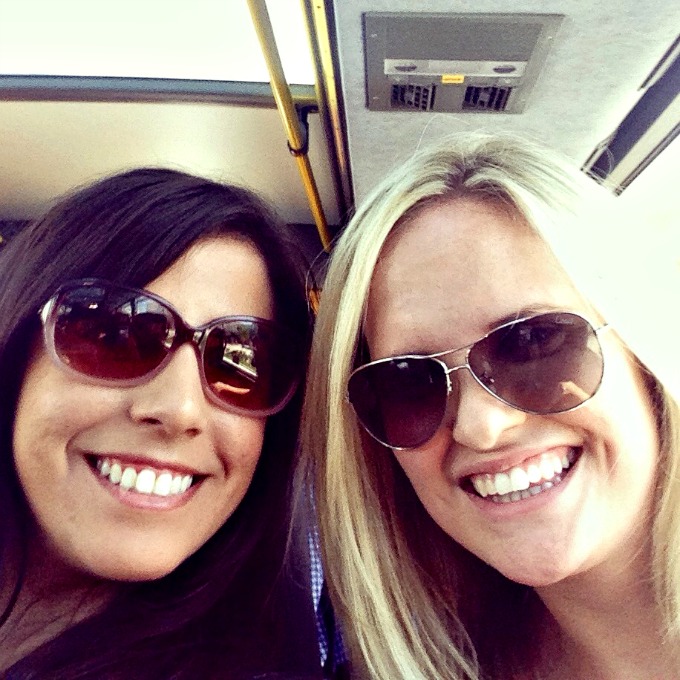 First of all, if you live in Tampa, Orlando, or Jacksonville, you should consider taking your vacation to Miami on the MegaBus. This sucker was amazing. Yes, it's a bus and yes, it takes just a little longer to get to your destination, but it's totally worth it! First of all, driving to Miami is a pain and not fun. Second, it's cheaper to take the MegaBus than it would for gas and parking at any hotel down there, but also, parking at the different restaurants, bars, shops, etc. is so pricey, it's better to take a cab everywhere instead of utilizing a car. Trust me, look into the MegaBus for all of your Miami vacation needs. We bought late and spent $40 each roundtrip; just a month earlier, they were going for $20 roundtrip. You can't beat that price.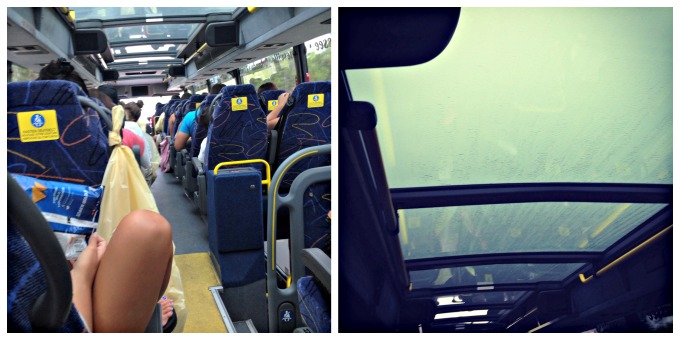 As Florida tends to go, we had some rain to and from Miami, but it was nice to not have to worry about actually being the driver through the rain and instead, just take naps through it.
It was after 7pm when we got to our hotel on Friday so we just ate at the hotel's restaurant, Essensia. This restaurant, as well as many others throughout the city, was participating in Miami Spice, a food event similar to Dine Tampa Bay. You pay $23 for lunch and $39 for dinner for a prix fixe menu, which includes an appetizer, entree, and dessert. A fairly great deal depending on the restaurant you go to and what item(s) from the menu you're interested in.
I had the Spicy Thai Basil Gimlet, which was delicious, and then ordered a Lobster Salad, Sirloin, and an Apricot Parfait. I loved the lobster salad; the flavor combination was stellar. Unfortunately, the steak came out with a strong truffle smell and sure enough, you could taste it in the demi sauce, and it was put on there with a pretty heavy hand.
The thing is, I like truffle, but some places put so much in their dish, it overpowers everything else. It made me very sad face to realize that that's how my steak dish was. And then I wasn't a huge fan of the dessert. Whomp whomp on our first meal in Miami.
But! I was confident that our next meal would be fabulous, mainly because I trust everything food-related that my friend Leslie says and she recommended Yardbird to me.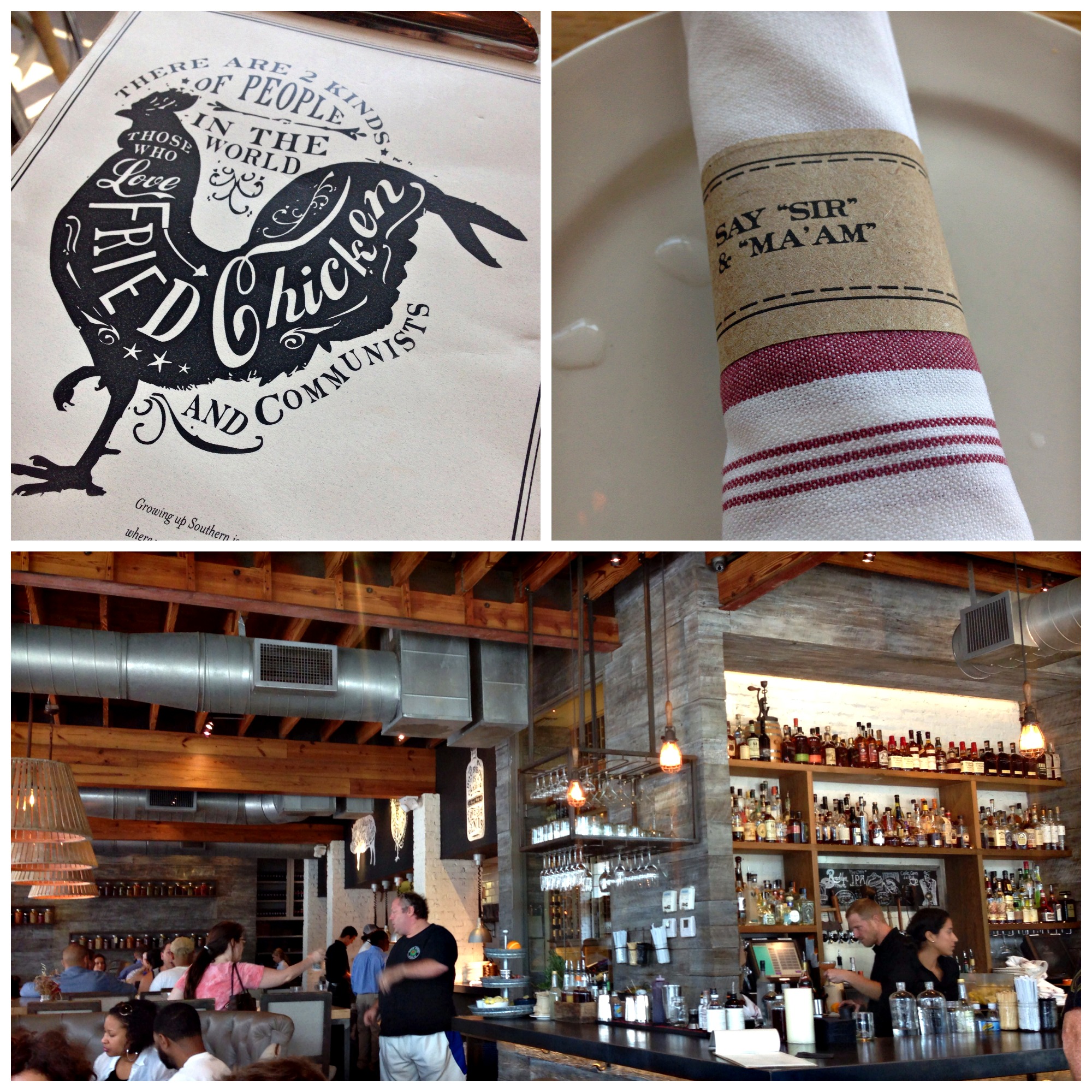 Just throwing it out there that I very much pay attention to the decor of a restaurant, and I have to say that Yardbird is about the most perfect decor everrrr. Yes, I even took pictures so I can incorporate different elements into my own home one day. Brooke coined the decor a "rustic chic" and that's exactly right. Mason jar lighting, chalkboard walls, various sized jars of pickled vegetables, and even a gorgeous bathroom…ahh. I was obsessed.
Then came the food:
Brooke and I shared since we wanted to try multiple dishes. All items on the menu can be shared between 2 people, or enjoyed alone if you are pretty hungry, and then there are some dishes that are so big, you'll need at least two. Love this!
In fact, we went back to Yardbird Monday morning for breakfast again and ordered the kale salad…again…before taking the MegaBus back to Tampa. I could eat at Yardbird every day. If ever I visit Miami again, I will make time to go back to this restaurant.

Now get ready, you guys, because my Saturday night is one for the record books.
Remember that time I met Chef Scott Conant at HSN? And I was surprised that I didn't blubber like an idiot because he's basically one of my favorites? And he gave me his card and told me to email him when I knew I'd be visiting one of the Scarpetta locations and I gladly took the card, but had immediate anxiety about emailing a celebrity chef? Yeah, about that.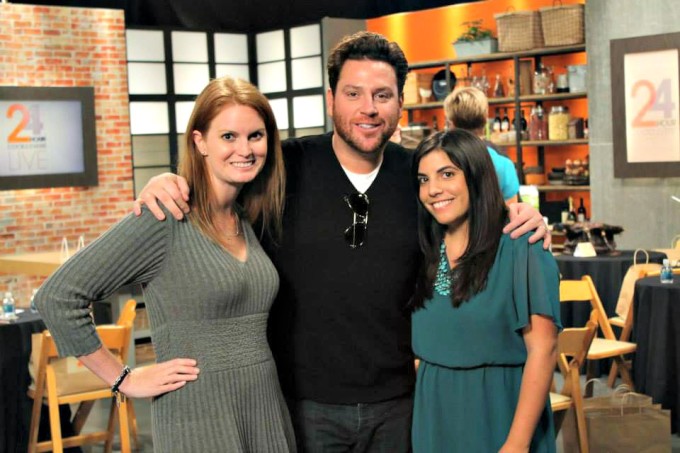 Well, as soon as Miami was decided upon as our vacation spot, I knew we would be eating at Scarpetta. But can I just say – we decided on Miami months before we actually went, but I didn't get up the courage to even email Scott about visiting until we were a week out. I mean, he's a very busy guy, right? I thought: who am I? How can I be sure I'm not bothering him? And more importantly: how do I email him about dining at Scarpetta without it seeming like I'm looking for a handout? (Because I was totally not.)
Well, long story short, I emailed, asked for the must-trys on his menu and other Miami restaurant recommendations, if he had any. Within a couple of hours the reply email was telling me he was happy I was visiting, he was having the reservations changed to include a Chef's Tasting, and to come hungry. Ummmm…
A part of me didn't even think he would right back. No offense to him at all, but I waited a week before my visit to email. Sometimes it takes a month to get an email back from a friend; I thought I had missed the opportunity. Then to get a chef's tasting? I was floored and so appreciative, you all have nooo idea. I'm still stunned.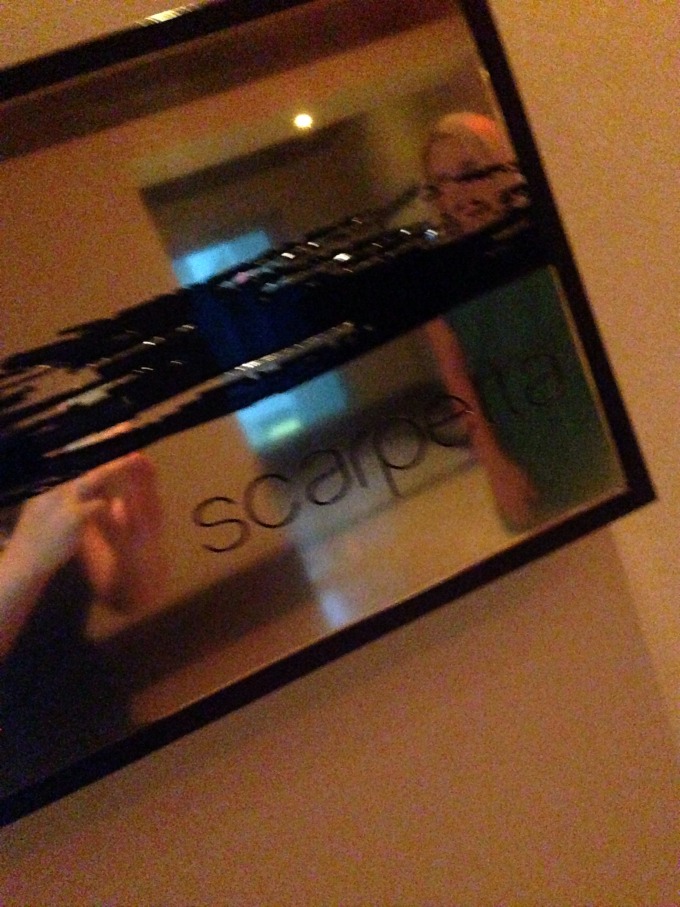 Yeah, that's the only picture I took of Scarpetta anything. And look- Brooke is in the shot and so are my hands. I didn't care. I felt like I needed some picture, and I definitely didn't want to a) take too long outside the restaurant like a crazy looney and b) take pictures of my food. Sorry to all of you who expected to see pictures of the food. Not only was it dark inside which would make for bad pictures, and why would I ever want to display Scarpetta food in that way, but to use a flash (totally against my photo-taking rules) just seemed inappropriate. I decided to sit back and enjoy the meal. I hope my Scarpetta recap is just as appreciated without pictures.
Here's what we had:
Burrata salad: Burrata, heirloom tomatoes, basil oil, some arugula. The starter before the starter. Something so simple, yet divine.
Primi Piatti
Creamy Polenta: with fricassee of truffled mushrooms. Such creamy polenta, I've never had it better. And I said earlier in this post, truffle is not my thing because it's usually too strong for my preference, but this was the most brilliant use of truffle ever. Brooke and I scraped the bowl clean.
Braised Short Ribs of Beef: with vegetable and farro risotto. Another brilliant dish, of course. They all were, for the record. The farro just had a slight bite and short ribs were so tender. Would you expect anything less? I didn't think so.
Paste
Duck and Fois Gras Ravioli: with marsala reduction. YES!
Scialatella: maine lobster, arugula, basil, bottarga bread crumbs. A second wonderful pasta dish. Just the right amount of lobster flavor.
Spaghetti: in a tomato and basil sauce. I can't even with this dish. How does something so perfect even exist? And you know what? It's perfect not only because the flavor is impeccable, but I appreciate the simplicity of ingredients. You don't need fanfare or expensive ingredients to make a really great, classic dish. Let everyday ingredients shine. That's my favorite kind of food. Love this pasta so much. I made it a mission of mine to recreate the sauce and I'm happy if it's even remotely reminiscent.
Piatti
Roasted Orata: with preserved lemon and zucchini soffritto. Flaky, crispy, perfect.
Lamb Chops: I don't see this on the menu so I can't be sure of what came with it, but the lamb was so tender and juicy, mmm!
Dolce
Coconut Panna Cotta: with caramelized pineapple and guava "soup". I was so full before this dessert came, but you say coconut and furthermore, you say panna cotta, I say "Heck YES". Oh, and then guava? That's a latin girl's dream.
Amedei Chocolate Cake: with salted caramel sauce and toasted almond gelato. Could've eaten the gelato for forever.
And that, my friends, was Scarpetta. My version of Disney World.
Not to mention that the service was flawless (we were welcomed by every employee we passed, a customer service standard I'm sure is met all the time at Scarpetta), and the decor and ambiance were exactly what I had in mind. I didn't want to leave our booth and now I can't wait to get back there again.
A huge THANK YOU to Scott and the Scarpetta staff for everything. 🙂

During our trip we also took a Duck Tour, mostly because it was easier than walking everywhere while also showing us some sights. A totally touristy thing to do, yes, but I don't care- it was fun!
We also visited Dash (the Kardashian store that is less than impressive), ate at Moreno's for a Cuban breakfast, had pizza from Cantina 27, and laid out by the pool.
So that's basically it!
Have you been to Miami? Tell me about your trip!
2 Responses to "Miami Vacation | My South Beach Experience"

Leave a Comment