Asparagus and Goat Cheese Crostini
Pee.
Your pee can tell you a lot about your health, right?
Well, what happens when the food you're eating smells like really bad urine? Like, you should go to the doc pretty soon urine. (What's wrong with me? I'm correlating pee to food on a food blog….) I have a point! For way more than half my life, I vowed never to touch asparagus. Asparagus was that stinky pee, housed in an aluminum can, that my dad ate (all by himself, of course, because we didn't want to get near it). The asparagus was limp and vomit green (lots of bodily functions around here, people), and just generally so gross. And I, mistakenly, stayed far away from the real deal asparagus – the kind from the produce section – for a very long time.
And then, magically, I didn't. And it was magical. And I have to say magical many times because that's an accurate description. It's become one of my favorite vegetables of all time, especially when roasted.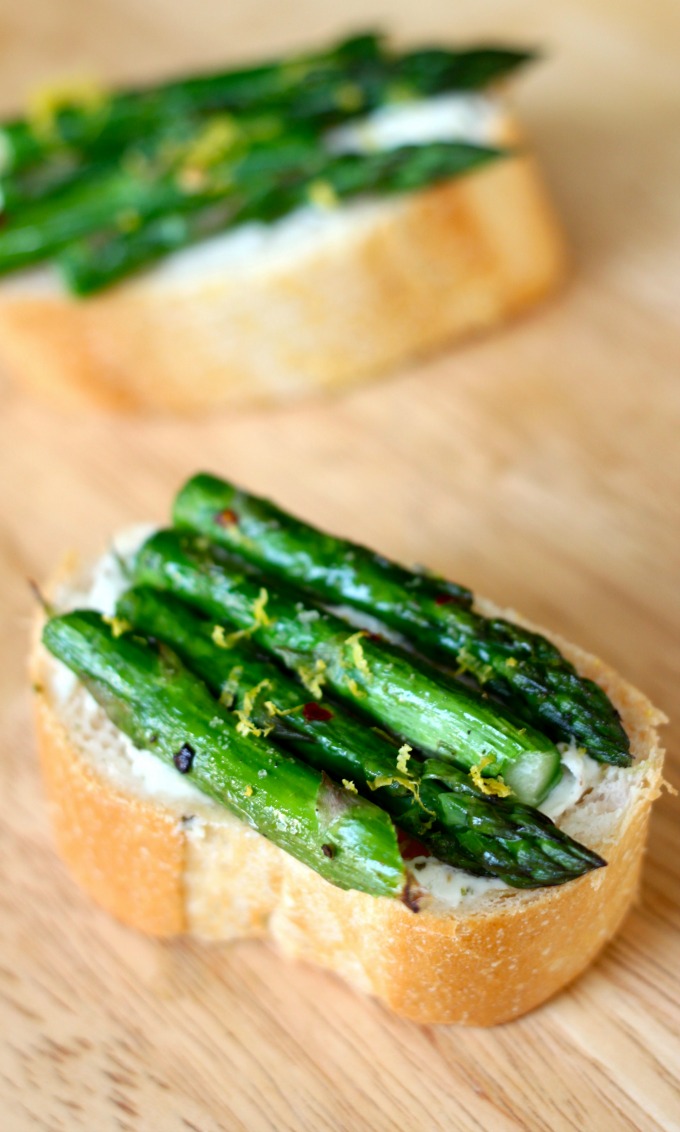 And then one day I had bread and fresh asparagus and a garlic and herb goat cheese log. I needed to put these all together and into my mouth hole. And that's what I did.
Really, you can use regular goat cheese, but the garlic and herb goat cheese spoke to me from the Deli case. The voice was teeny but powerful. And then when the crostini was assembled, I added some lemon zest to the top for good measure, and then savored it like my life depended on it. Oh, wonderful crostini, you have my heart.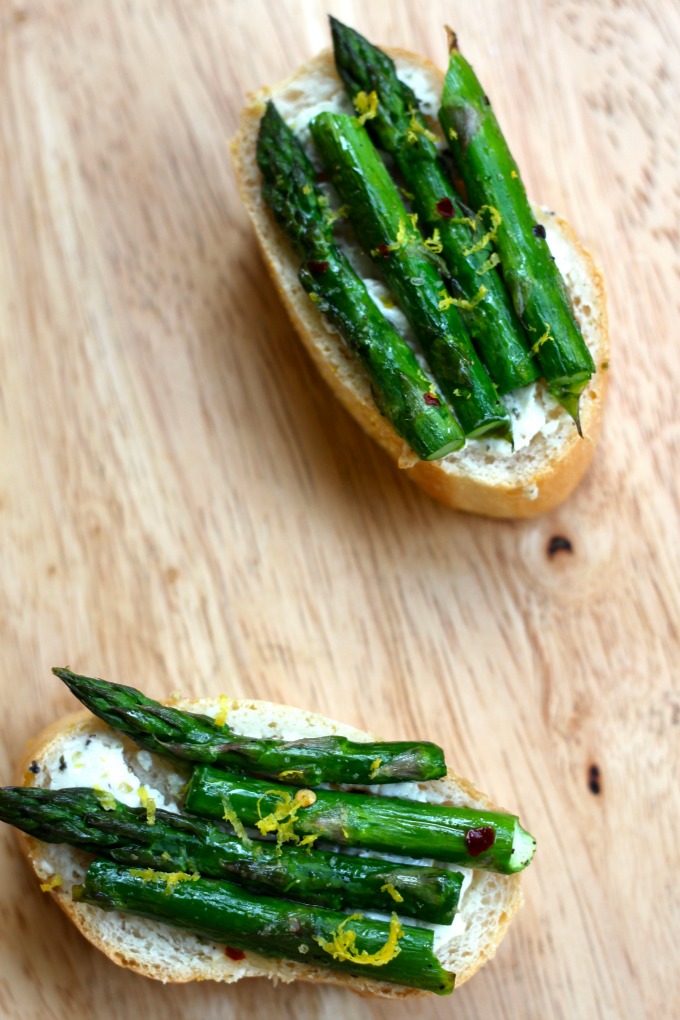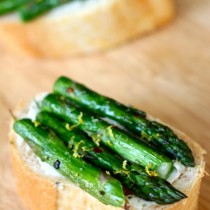 Asparagus and Goat Cheese Crostini
This Asparagus and Goat Cheese Crostini is tangy and crunchy and spicy and tart. Let's celebrate for an appetizer worth playing tug of war over.
Ingredients:
Baguette
Olive oil
Asparagus (2 stalks per crostini piece)
Goat cheese (Garlic & Herb is the bomb dot com)
Salt and pepper
Red pepper flakes
Lemon zest
Directions:
Preheat oven to 375*F. Line a baking sheet with aluminum foil and place asparagus on sheet along with a drizzle of olive oil, salt, and pepper. Mix with your hands so asparagus are lightly coated. Arrange in a single layer on baking sheet. Bake for 10 minutes.
Once slightly cooled, cut each asparagus stalk in half, width-wise. Cut baguette into crostini pieces, drizzle slightly with olive oil, spread desired amount of goat cheese on top (I used about 1 teaspoon per), and top with 4 pieces of cut asparagus (2 whole stalks total). Bake for an additional 5 minutes, or until asparagus is cooked through and bread is crispy.
Sprinkle with just a pinch of lemon zest and enjoy!
Leave a Comment