Eating Local at Ulele in Tampa Heights
This is a sponsored post written by me on behalf of Fresh from Florida. All opinions are 100% mine.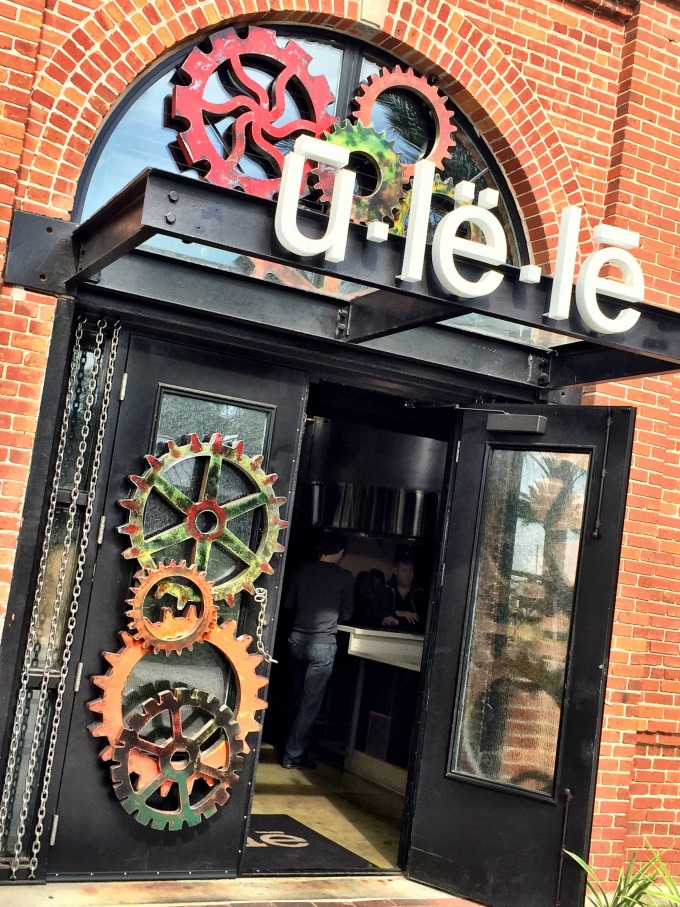 There was a time when I dreamt of living elsewhere. I guess that's what happens when you're Tampa born and bred. But then, just when I thought perhaps Florida had given me all it was going to, Tampa blossomed into this mecca of festivals and outdoor exercising groups and, what's most exciting to me – restaurants. Real local, quality restaurants with innovative dishes and cocktails. The kinds of restaurants where you feel at home at in just the first visit.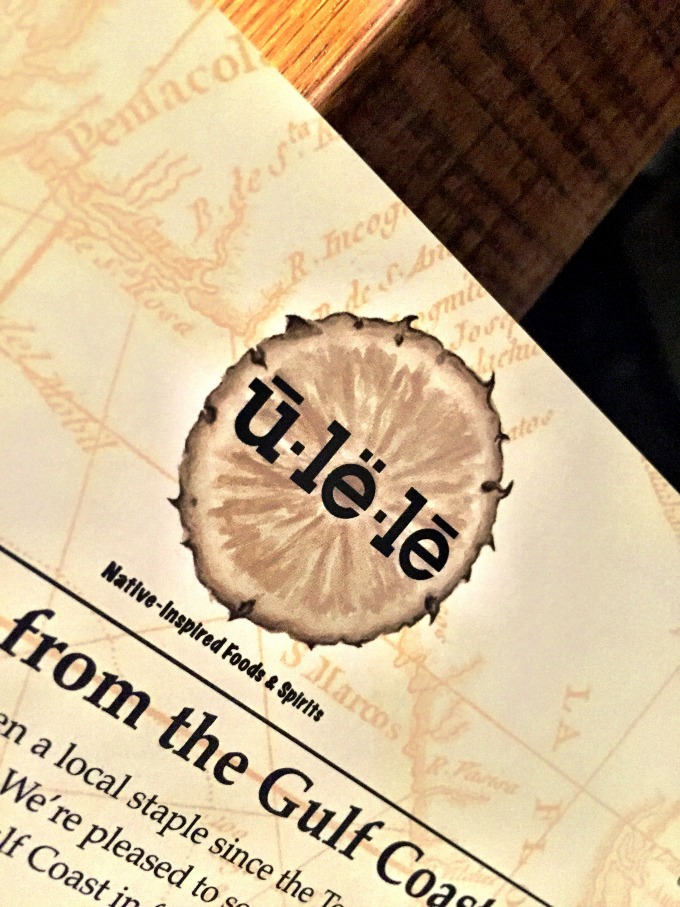 Ulele, the restaurant not to be missed in the renovated area of Tampa Heights and Water Works Park, is just this kind of restaurant. Ulele has already become one of my favorite places for lunch, and for a date night, or even a night out with friends.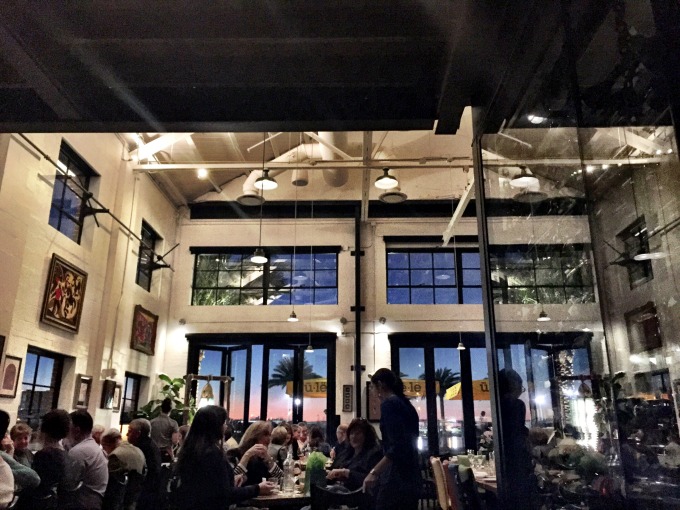 The last time I visited Ulele, just a couple of days ago, it was right after sunset. The restaurant was in full swing and the large doors were slightly open so the river breeze could capture the attention of all the patrons. Ulele just opened in August, but this restaurant that has taken over the old Water Works building has already captured the heart of all Tampa residents…and showing no signs of slowing down. At any given moment, you'll see people milling around in the lobby, by the bar, and outside along the Ulele spring and Hillsborough river. (Psst: this is code for make a reservation.)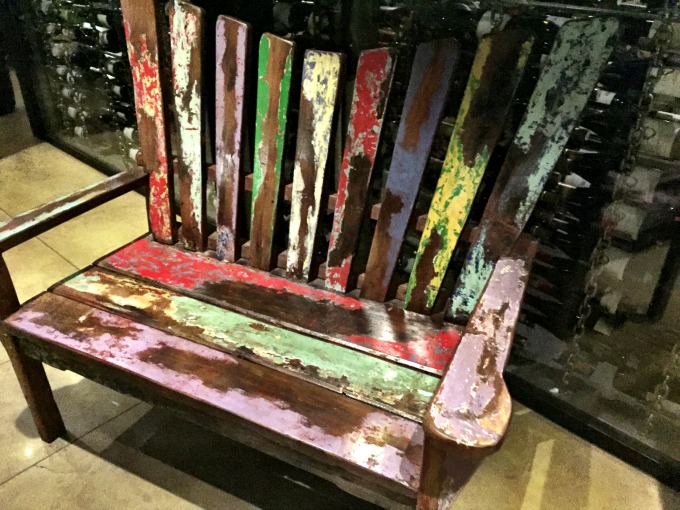 The thing about Ulele is that it's so worth the wait. There are historic pieces in the restaurant – too many to even count – and even the bathrooms are impressive. (Yes, you read that right. Bathroom checking is, like, my thing.) High ceilings, exposed pipes, all these elements that bring the restaurant to life, even if you removed the normal hustle and bustle of a fun, relaxed atmosphere, which is never lacking.
When I went to dinner the other night, I brought along my husband and neighbor, neither of whom had been to Ulele before. Yes, I'm all about introducing my favorite people to the experiences I've loved. (Spoiler alert: They left just as happy as I.)
Also, you should know that you can't just visit Ulele, order your entrees, and leave. I mean, a quick scan of the menu will attest to that. There are so many appetizers and sides that you'll want to go ahead and settle in to enjoy. The entrees will have you scratching your head in thoughts of how you'll possibly choose just one (and I'm here to tell you that you should just order as much as your little foodie heart desires and then split everything with your fellow diners). The greatest thing about Ulele is their commitment to sourcing local whenever possible. The items on their menu that are Fresh From Florida prove that, along with plenty of Florida produce scattered throughout the menu.
Let me just take you on a little foodie dream through our evening. Ready?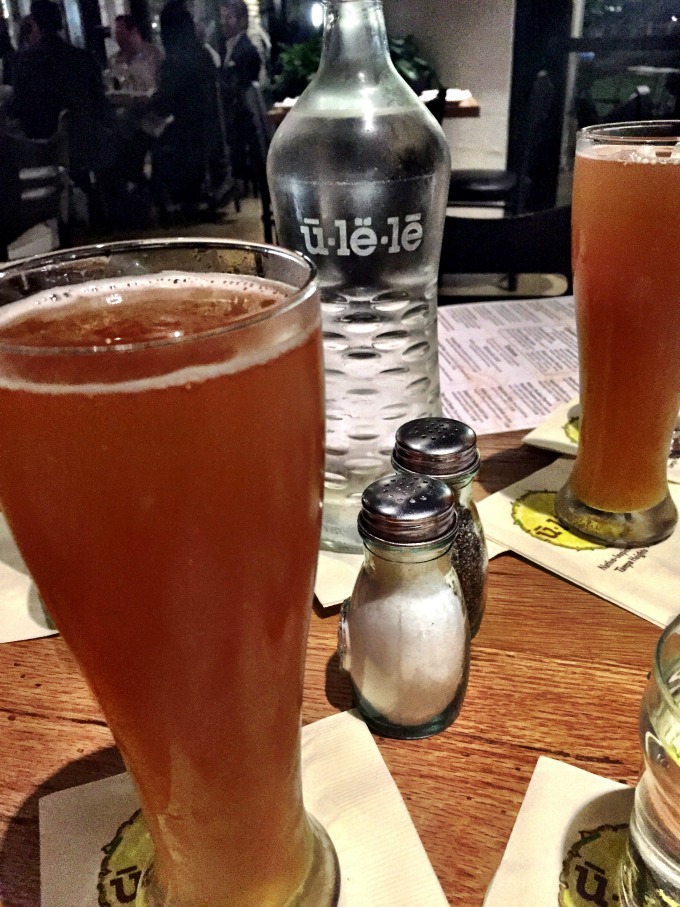 Cheers! Ulele brews their own beer using fresh fruit and locally sourced honey, right on premise. Since strawberries are in season around these parts, they created the Honeymoon beer. This lager is unfiltered and infused with fresh Plant City strawberries. None of those dehydrated strawberries around here! The strawberry flavor came through loud and clear, and finished with a nice honeysuckle flavor.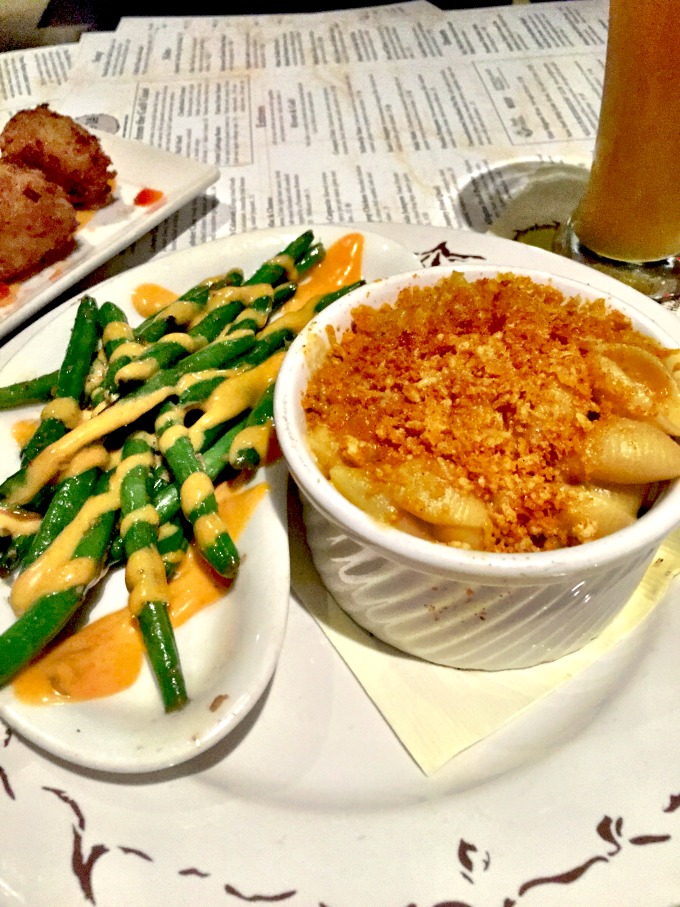 So get ready, because we ordered four appetizer/sides options to begin with. I'm not lying when I say making choices here is very difficult. So, first up were the green beans (nice, firm snap), served with datil pepper aioli. With it, we ordered Ulele's macaroni and cheese (you can also order this with crab meat, a nice addition). You see, I love me some good ol' macaroni and cheese, but dare I say it? I cannot remember a macaroni and cheese I love as much as this one. The seashell pasta is mixed with a four-cheese light beer sauce and topped with a Parmesan Romano crust that's crunchy and lovely and perfect. No freakin' joke. Just build me a bathtub of this stuff and watch me go to town until I pass out from food baby exhaustion.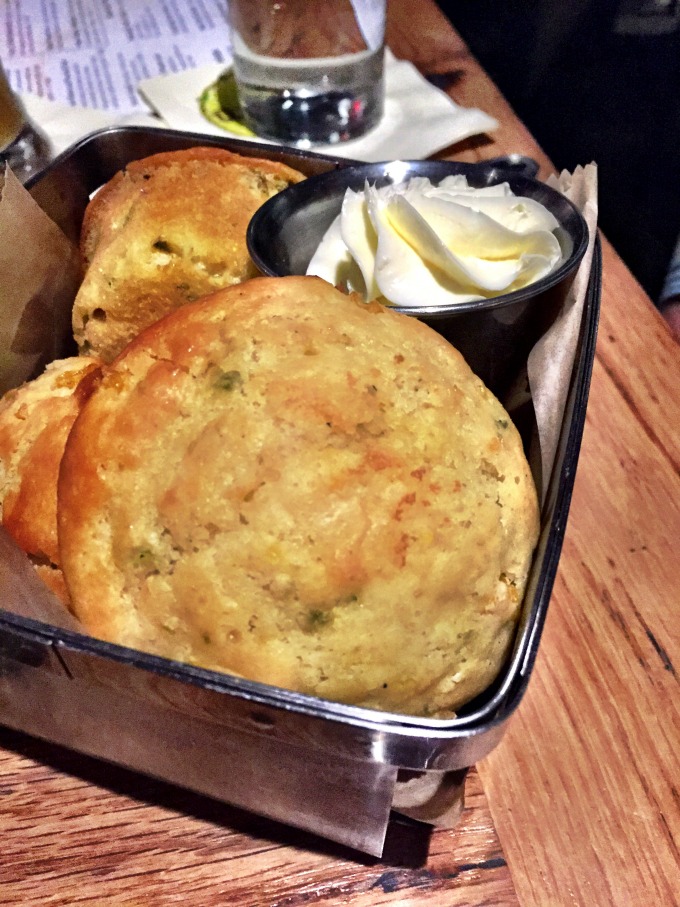 This was our neighbor's choice, on the advice of a friend who had been to Ulele before. I need to become friends with this friends because it's clear she knows what she's talking about. A slightly spicy corn muffin that falls apart but also has these wonderful outer edges, oh take me to carb heaven where I can live happily ever after.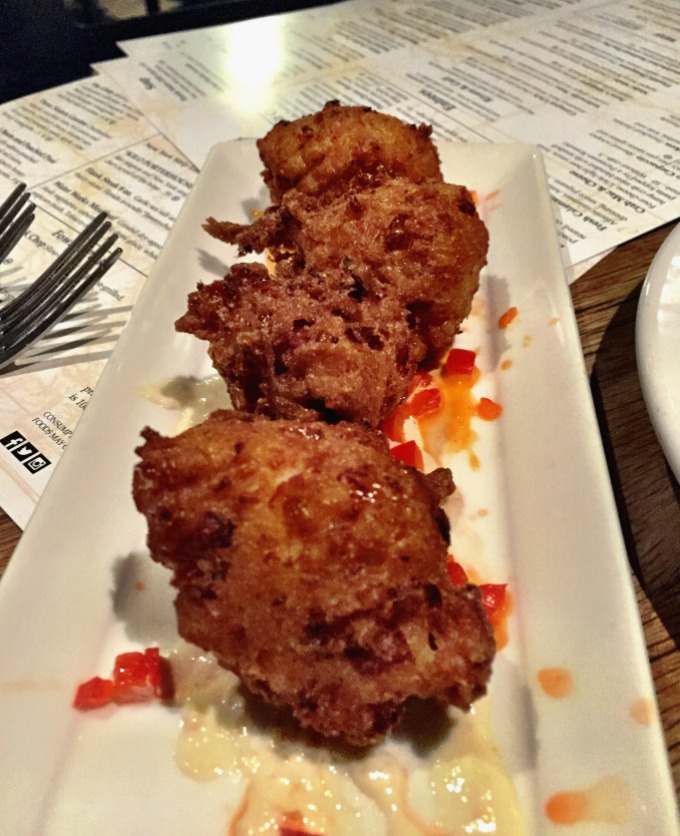 These are perhaps my favorite item on the menu. Made with alligator, country ham, duck bacon, fresh corn, jalapeno, honey datil peper sauce and fresh-ground horseradish aioli, it's an appetizer whose taste is both an enigma and the best thing ever.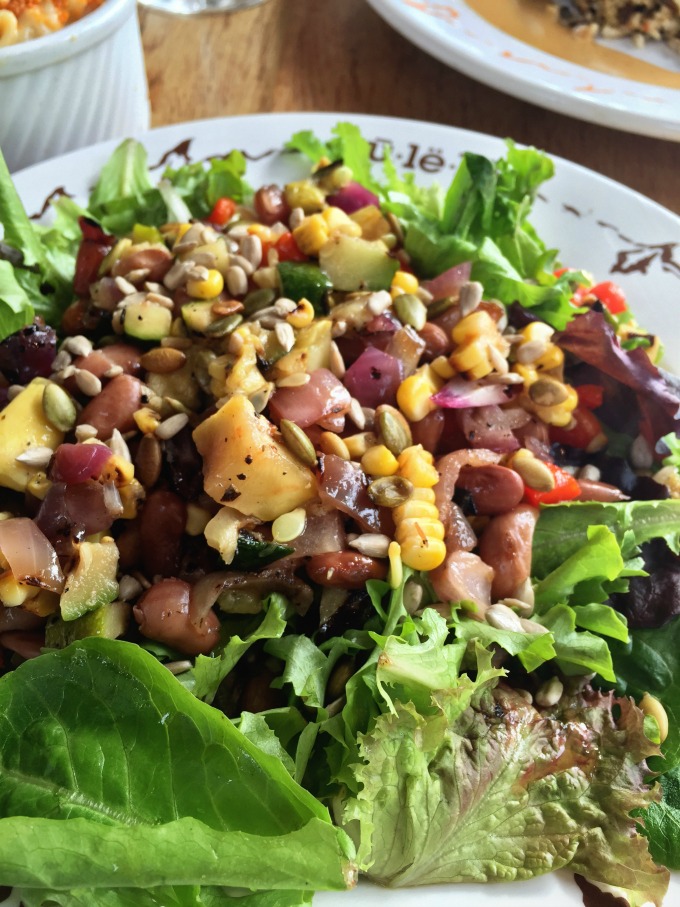 For me, the only thing defining this salad as a salad are the leaves of lettuce. Besides those, it's a produce plate. Produce that's locally grown and absolutely breathtaking with the apple cider honey vinaigrette. Here, we have charbroiled squash, zucchini, corn, red onion and peppers, cranberry beans, and toasted sunflower and pumpkin seeds.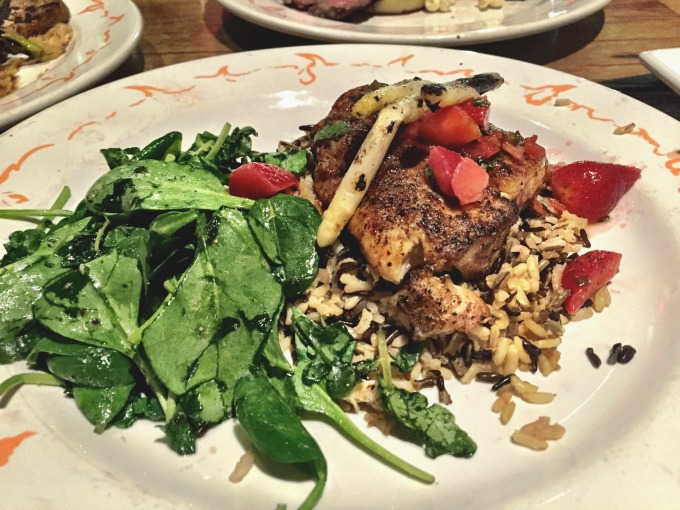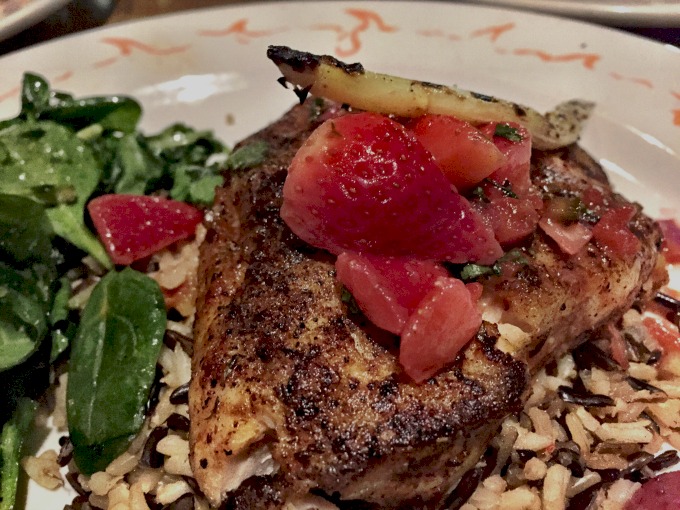 This is a Fresh From Florida selection: blackened grouper, wild rice, spinach, white asparagus, and a topping of strawberries with citrus juices. Described as a strawberry pico de gallo, I had never had a combination quite like this before. It added a sweet element to the dish that wasn't overwhelming, but instead completely transformed me and how I'll pair grouper in the future.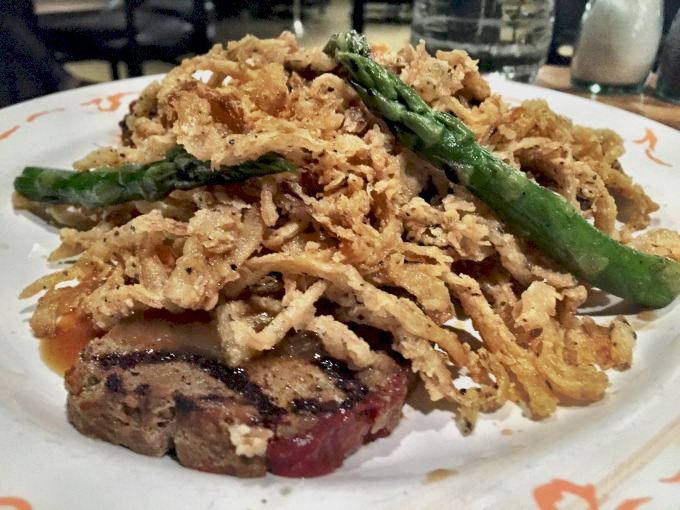 On previous visits to Ulele, I had seen this dish on the tables of others and always wanted to try it for myself. Yet another Fresh From Florida menu option, with the meat coming from Strickland Ranch in Myakka City, Florida. We have ground dry-aged strip loin here with fresh vegetables (asparagus that night), cabernet garlic demi glace, and get this – white cheddar popcorn mash (!!!!) – and Tobacco onions. What exactly is white cheddar popcorn mash, you ask? Ulele makes it by making a big batch of white cheddar popcorn, taking half of it for the mashed potatoes + some other magical ingredients and voila!
And although the meatloaf doesn't look like the traditional, it was exactly the flavor I was hoping for, the kind that exceeds your expectations and leaves you wondering how TV dinner meatloaf was ever okay.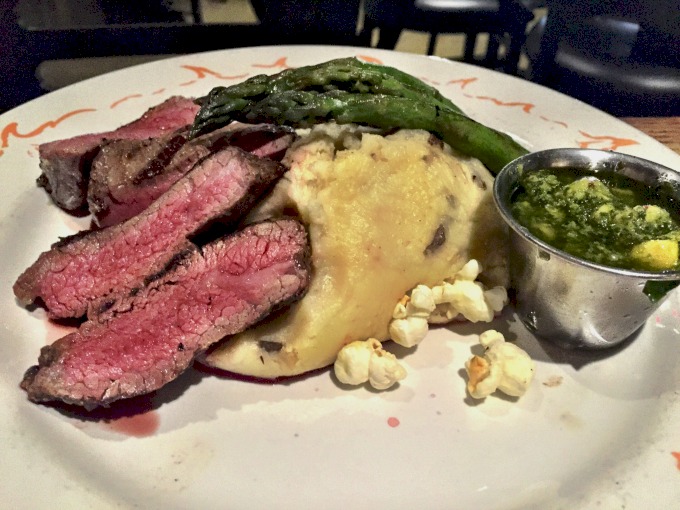 Seems we can't get enough of the Fresh From Florida selections because this Flank Steak is one of them, too! It's marinated with garlic sea salt and olive oil, thinly sliced, and served with Florida avocado "Jimmychurri". Of course, we also have the popcorn mashed potatoes again and local produce – asparagus (my favorite roasted veggie).
There's a plethora of Florida produce, both fruits and vegetables, on the menu. It's clear Ulele puts that importance in the top priority spot, and I love them for it. Other Fresh From Florida options on the dinner menu include: Filet Mignon (wet-aged 28 days), New York Strip Loin (dry-aged 21 days), "KILO PORTERHOUSE" (both filet mignon and NY strip loin, chef-carved off the bone).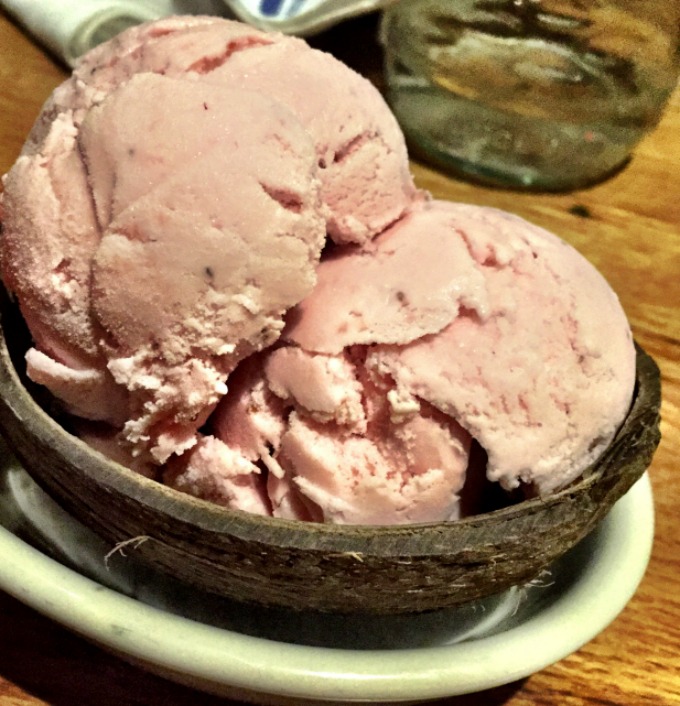 After all this food, dessert was still in order. I couldn't pass up the opportunity to have Ulele's Fresh From Florida strawberry ice cream, made with those luscious Plant City strawberries. It was the Flavor of the Day…or, as I anticipate, the Flavor of the Season.
When you get a chance, as SOON as you get a chance (ya dig?), visit Ulele! Spend some time in the new Water Works park, opt for a seat outside, take a walk around the area when you're done. You'll want to stay forever, but will be happy with just coming back for more again and again.
What are some of your favorite dishes using fresh Florida produce?
Be sure to follow:
Fresh from Florida on Facebook
4 Responses to "Eating Local at Ulele in Tampa Heights"

Leave a Comment