Savory Spice Shop (Giveaway)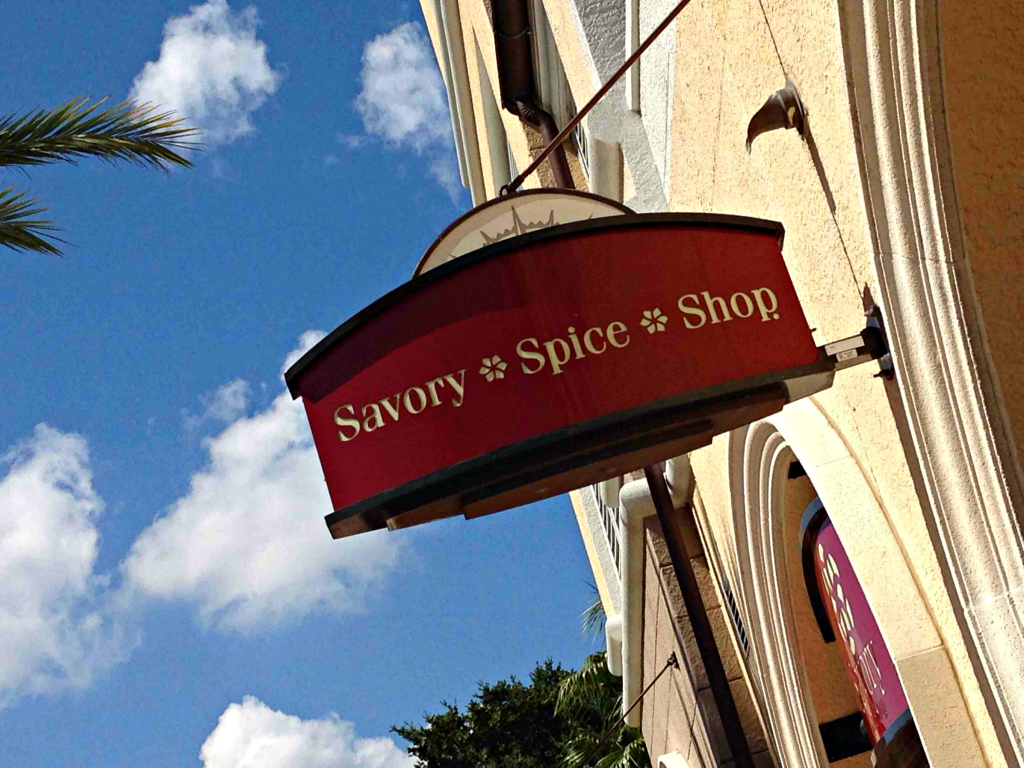 I have a love/hate relationship with Pinellas County. Hate because the drive from my home in Tampa is atrocious and love because there are so many great restaurants, cool shops, and beautiful scenes. On a recent Friday afternoon, my husband and I ventured over the bridge to check out Savory Spice Shop, a shop that is very true to its name in downtown St. Petersburg.
Savory Spice Shop is a store that is worth the drive. Situated right in the middle of my favorite stores and eats, Savory Spice Shop reminds me of why I love to cook and experiment in the kitchen. I instantly felt welcome in their open space with plenty of sunlight streaming in.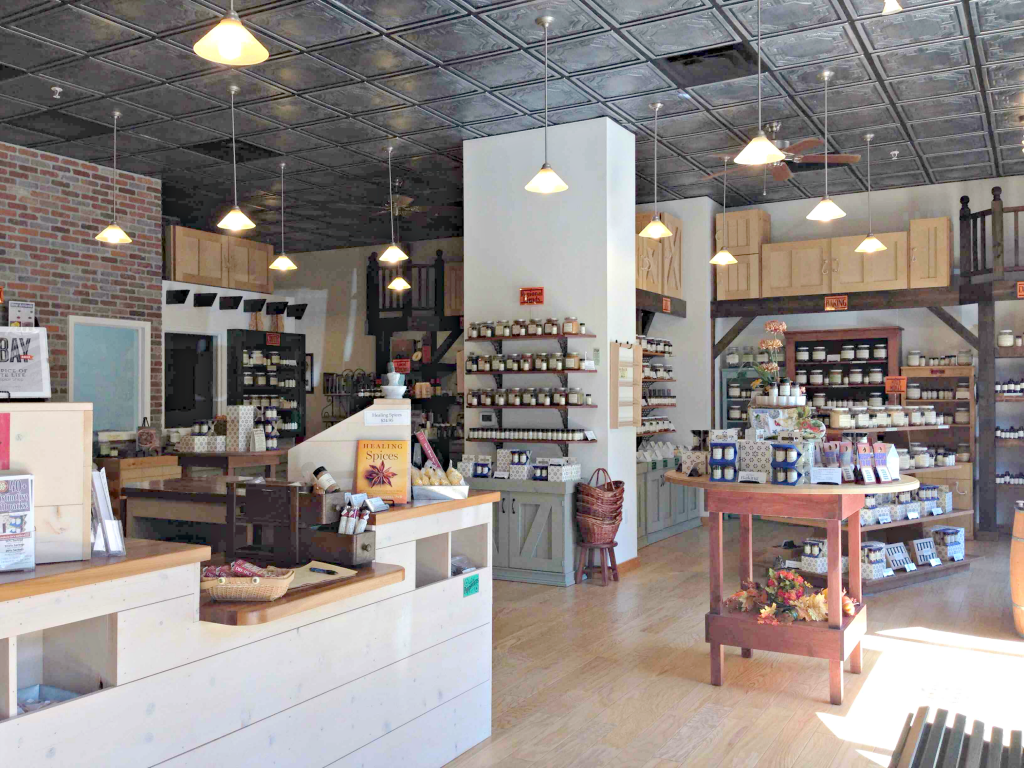 I didn't even know where to begin. Every wall in this shop is covered with spices, recipe cards and gift packs. There is a wonderful aroma. The decor, furniture used and colors employed, helps to provide a very rich experience as you walk around. I was even greeted with a "Trick or Treat" Pumpkin Oatmeal Cookie made with Ghost Curry Powder.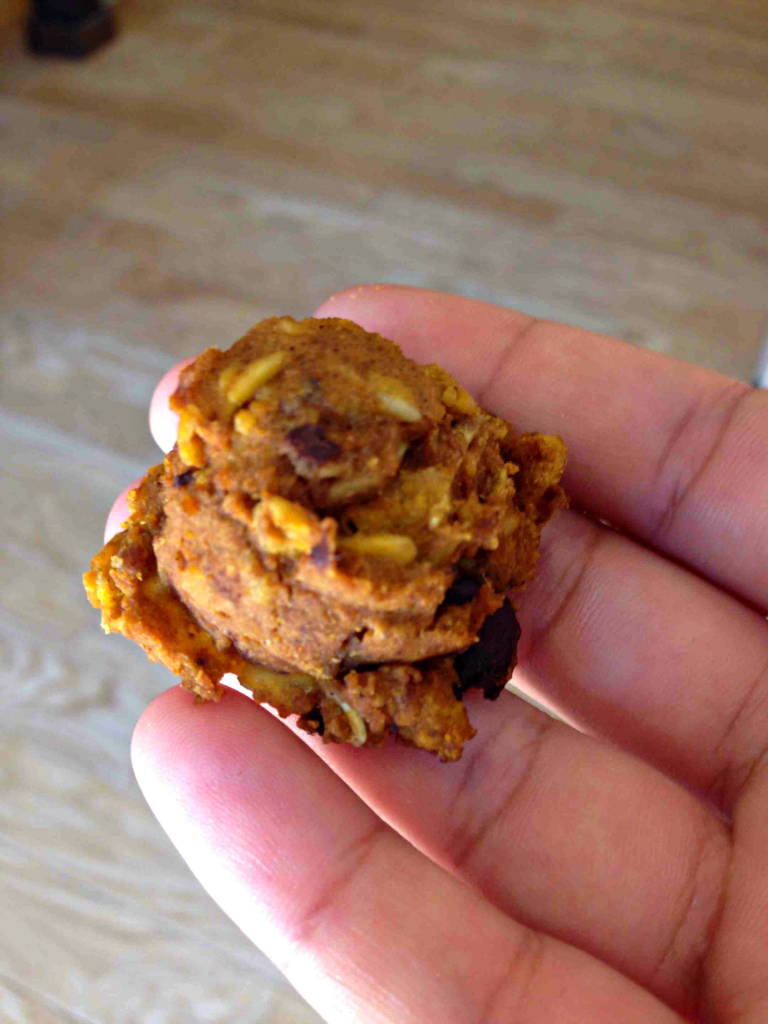 At Savory Spice Shop there is always treats ready for shoppers to try. Whether it's these cookies or candied peanuts, it's just one more aspect of this shop that is so very welcoming.
Paul, the owner, is extremely knowledgeable about the products in his store and welcomes customers to try out all the spices. He was also able to learn what my preferences are and recommend spices, and combination of spices, to try. Let's just say he was spot on and I walked out of Savory Spice Shop with a bag full of goodies.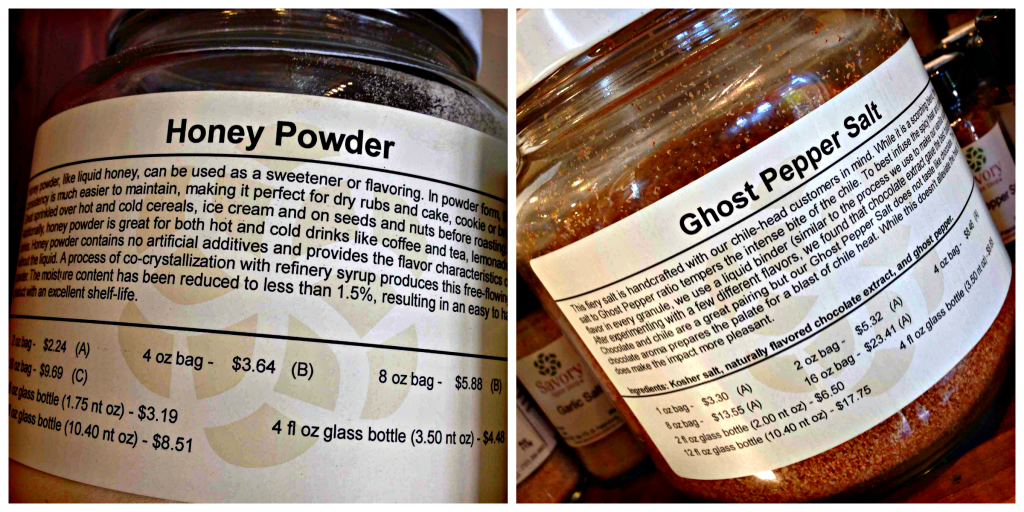 This combination, Honey Powder and Ghost Pepper Salt, is something I went home with and put on popcorn. At Paul's suggestion, we sprinkled some of each spice in our palms, mixed together, and tried. The Honey Powder flavor came first, followed by a small punch of heat. It was perfect!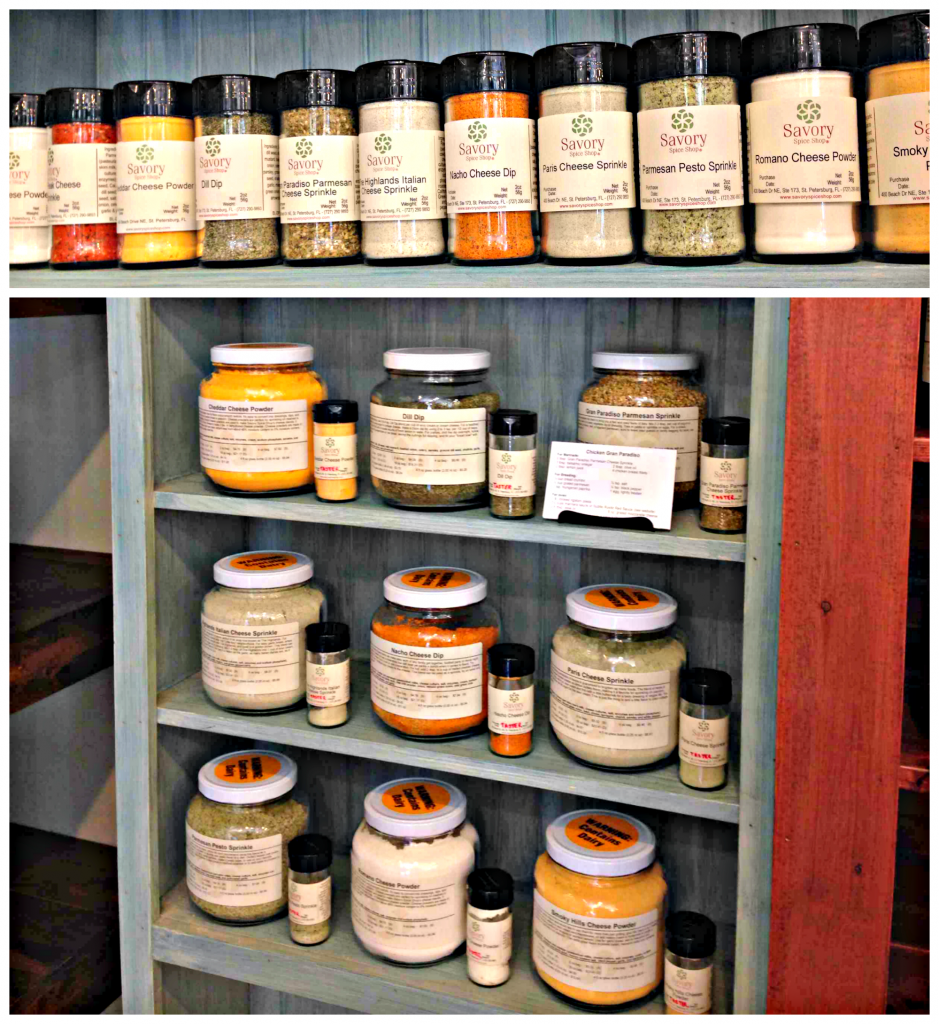 Speaking of popcorn, Savory Spice Shop also had an entire shelf full of blends that would be perfect on our favorite movie snack. But also, they are great combined with mashed potatoes or sprinkled on another dish. Some favorites included: Dill Dip, Parmesan Pesto Sprinkle and Nacho Cheese Dip. Really great flavors on this shelf.
Toasted onions, garlic, chives, chili powders, etc line parts of the shop walls. Savory Spice Shop also has mushrooms, cinnamon sticks, fresh anise and something that caught my eye for a future dish, Tikka Masala Curry Powder.
Another thing that completely impressed me was the array of available salts and peppers. I tried the Black Truffle Italian Sea Salt, Pink Reunion Island Peppercorns, and the Hickory Smoked Sea Salt. Impressive flavors and smells.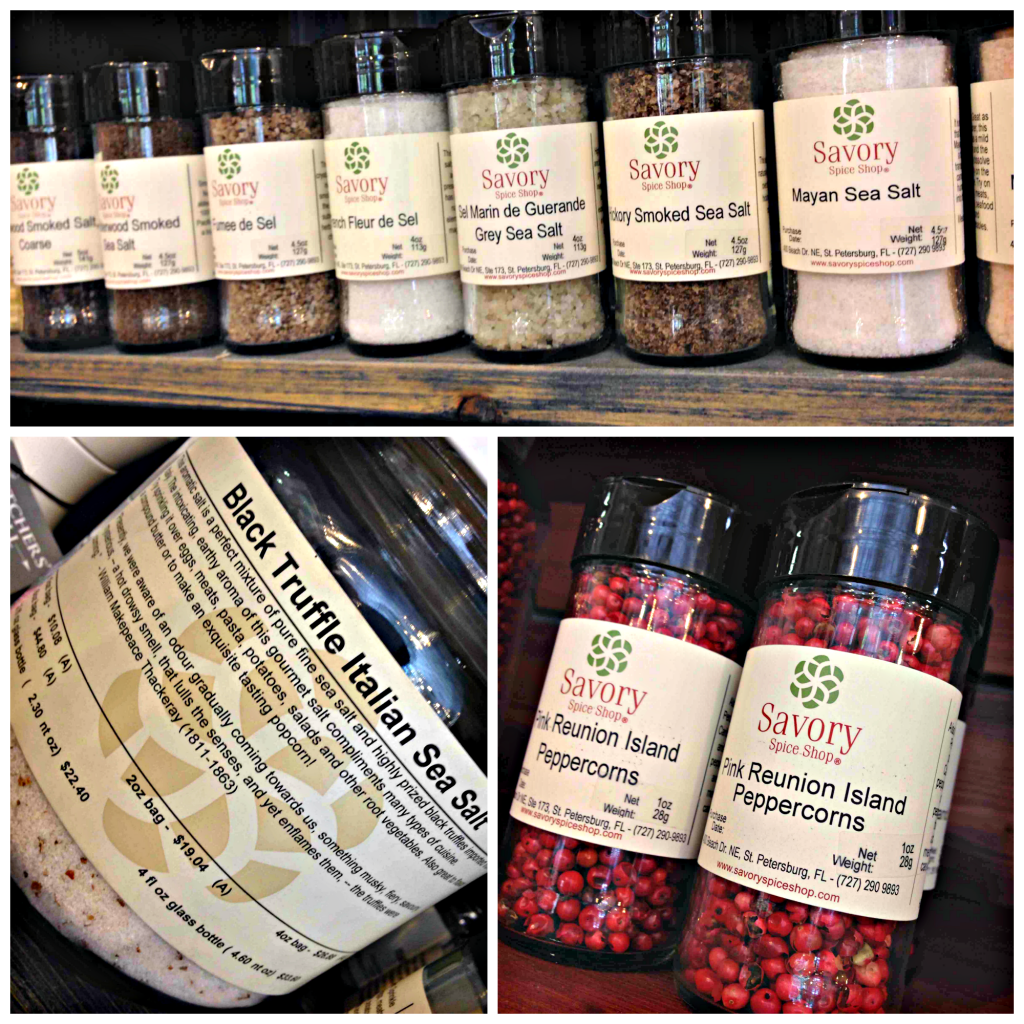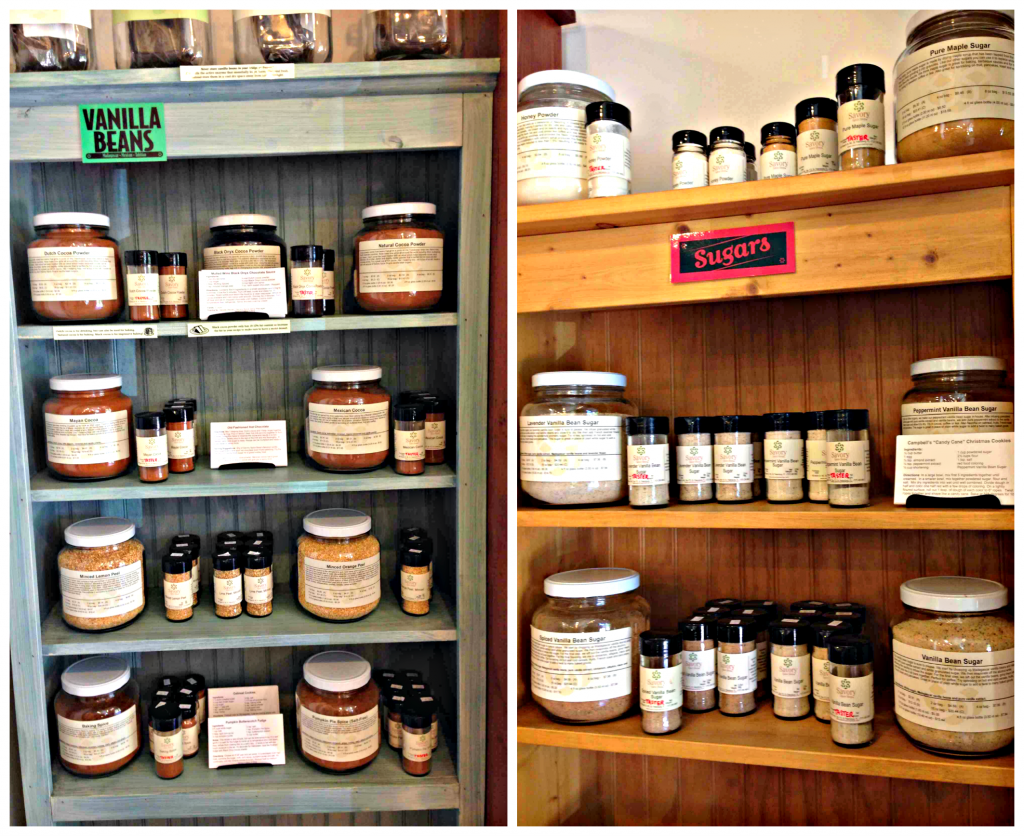 ANDDDDDSavory Spice Shop has a baking spices area. They have tons of extracts, but also different cocoa powders, citrus peels (orange, lemon), and vanilla bean sugars (lavender, peppermint, spiced and regular).
What I have highlighted here doesn't even begin to touch all of the offerings of Savory Spice Shop. They genuinely care about helping to make your dish at home even more successful. You'll find recipe cards throughout the shop, placed next to the spices featured. I admit that I took my fair share of inspiration from here.
They also have a listing of which spices they recommend based on your main dish.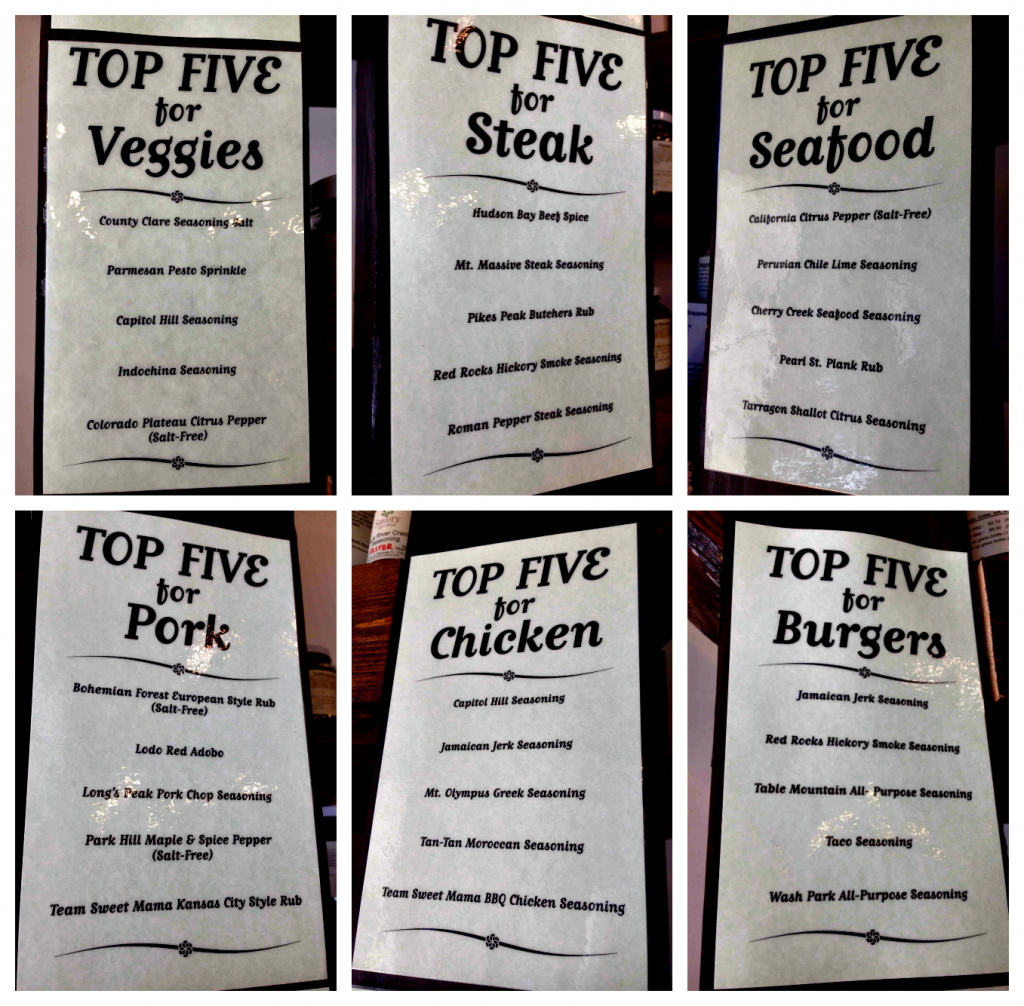 I can absolutely stand behind Savory Spice Shop and their offerings. We have used their spices on a number of items at home and have been more than pleased. And, given my new love for this shop, I am giving away a couple of items. One winner will be graced with a Mojito Wings spice set, Pumpkin Pie spice set, and Chai spices. Enter using the Rafflecopter below and good luck to you!
*Sorry folks, but USA residents only*
14 Responses to "Savory Spice Shop (Giveaway)"

Trackbacks/Pingbacks

Leave a Comment