National Spumoni Day | Spumoni Cupcakes
Man, I agonized over National Spumoni Day for a little while. I am happy to challenge myself, and really that's one of the points of this food holiday challenge I embarked on, but sometimes (most times, if I'm being honest) I just want something easy. And honestly, I wasn't sure I knew what spumoni was so I did look it up to get some recipe inspiration. (And then I saw this recipe on the Betty Crocker website and the rest was history…)
According to Wikipedia, spumoni is usually a molded Italian ice cream made with layers of different flavors and colors, usually containing fruits and nuts. Well, I'm not the greatest with molded ice cream – my Baked Alaska was a totally new experience. So I really didn't want to go that route. I needed something different.
Enter: Spumoni Cupcakes! Thanks, Betty Crocker!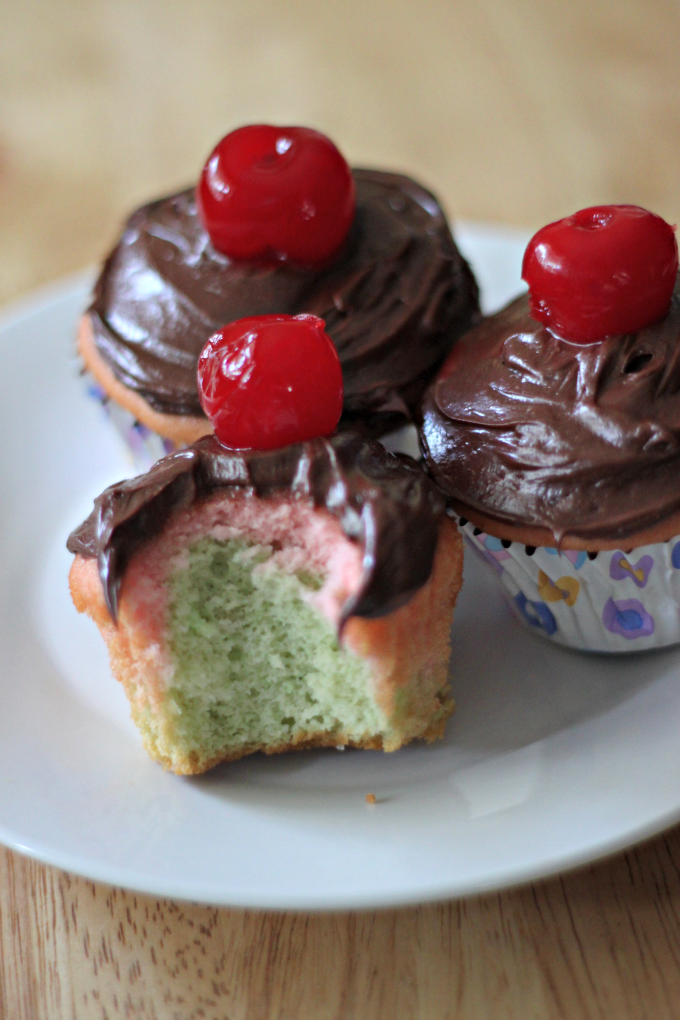 There's no ice cream in this dessert, but the colors are the same as a traditional spumoni. You'll also find varying flavors – pistachio and cherry – and nuts from the pistachio. Chocolate frosting tops these cupcakes to round out the spumoni feel. Enjoy!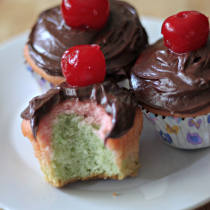 Spumoni Cupcakes
Ingredients:
1 box Betty Crocker™ SuperMoist™ white cake mix
Water, vegetable oil and eggs called for on cake mix box
3/4 of box (4-serving size) pistachio instant pudding and pie filling mix
1/4 cup cherry juice (from jar of maraschino cherries)
1 container (12 oz) Betty Crocker™ Whipped chocolate frosting
Jumbo marachino cherries for topping
Directions:
Heat oven to 350*F. Place paper baking cup in each of 12 jumbo-size muffin cups.
Make cake mix as directed on box; divide batter evenly into 2 bowls. Add 3/4 box pudding mix to 1 of the bowls; mix well. To other bowl, add cherry juice; mix well.
Split up pistachio batter evenly among muffin cups. Divide cherry batter evenly over pistachio batter in muffin cups.
Bake cupcakes and cool completely as directed on box, usually 15-19 minutes, or until .
Frost cupcakes with frosting. Top each with a jumbo maraschino cherry.
Tomorrow: National Sponge Cake Day
Leave a Comment