National Poultry Day | Lemon Roast Chicken
Roast chicken: It's simple, but when executed correctly, it's one of the most delicious things on the planet. Or, at least I think so. Apparently, so do a lot of men because a simple roast chicken recipe from Glamour magazine was named Engagement Chicken when they discovered lots of men dropping to one knee with a ring in their hand after being served a perfect bird by their girlfriend.
Besides, roast chicken is so easy to execute correctly. You basically just have to make sure it's cooked chicken. Because, really, anything you season the roast chicken with will come out great. It's a no-lose situation. If you fail at roast chicken, we should have a discussion.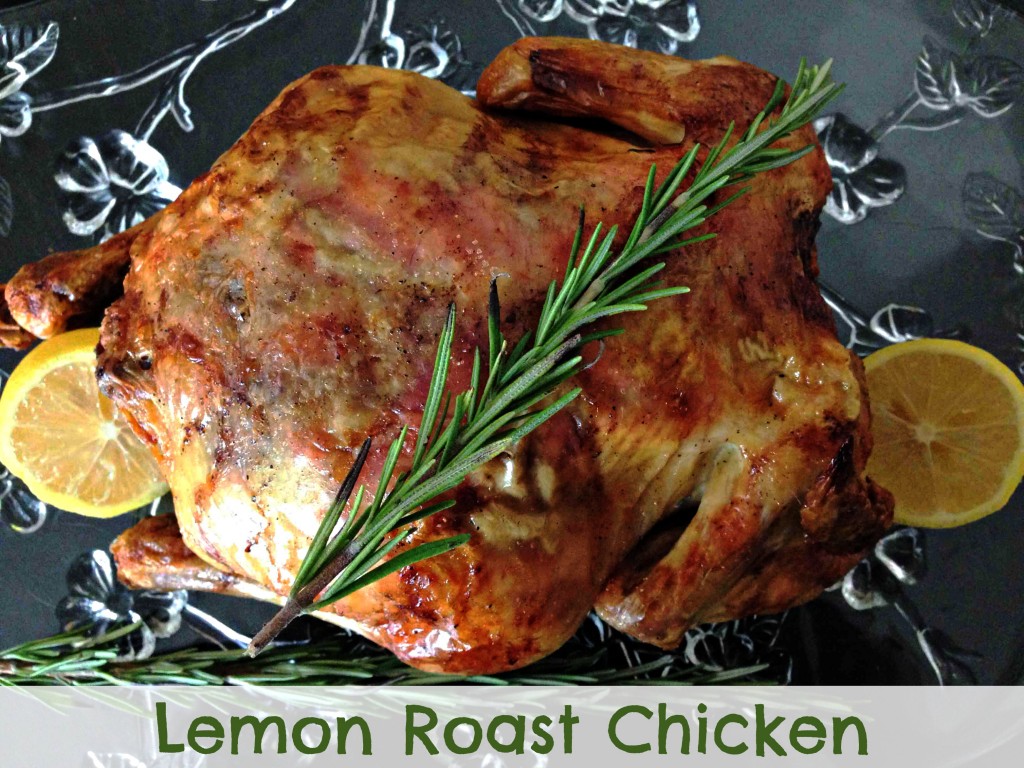 Although I knew Mike would marry me anyway (RIGHT, MIKE?!?!), I made Engagement Chicken a number of months before he actually proposed, but really only because it sounded great, and the cookbook Glamour put out that included the recipe had tons of other recipes that I was looking forward to trying.
The first time I made Engagement Chicken, I wanted to buy myself a piece of jewelry, quite frankly. The second time I made it, which was this recipe that I'm sharing today, I changed up just a couple of things, but ultimately, I wanted to keep the chicken simple, lemony, and herby. I want it to have all the yums.
National Poultry Day | Lemon Roast Chicken
Recipe Type: Poultry
Author:
Prep time:
Cook time:
Total time:
Serves: 4
Ingredients
1 whole chicken (approximately 4 pounds)
1/2 cup butter, softened
Zest from 1 lemon
4 sprigs of rosemary, leaves removed and minced
1/2 cup fresh lemon juice
2 whole lemons
1 tbsp salt
1/2 tsp pepper
Fresh herbs for garnish (rosemary, sage, thyme, parsley)
Instructions
Preheat oven to 400*F. Position an oven rack in the upper third of the oven.
Remove the giblets from the chicken and pat the chicken dry with paper towels. Place breast side down in a medium roasting pan fitted with a rack. Pour the lemon juice all over the chicken, both inside and out.
In a small bowl, combine butter, lemon zest and chopped rosemary. Spread mixture all over the chicken, including the cavity. Season all over with salt and pepper, including the cavity.
Prick 2 whole lemons three times each in three different places with a fork and place them deep inside the cavity.
Put the chicken in the oven, lower the oven temperature to 350*F, and roast, uncovered, for 15 minutes.
Remove the roasting pan from the oven. Using tongs, turn the chicken breast side up. Return the chicken to the oven for about 1 hour to 1 hour and 15 minutes, or until a meat thermometer reads 180*F.
Remove from the oven and let the chicken rest for 10 minutes before carving. Pour the juices from the roasting pan on top of the sliced chicken. Garnish with fresh herbs and lemon slices.
Tomorrow: National Bock Beer Day; National Ravioli Day
2 Responses to "National Poultry Day | Lemon Roast Chicken"

Leave a Comment