National Pears Hélène Day | Pears Belle Hélène
My strength, and greatest interest, is Italian food. After all, I've learned from some of the best- my family. I love all cuisines- my shelves of cookbooks can attest to that- but you'll find Italian cookbooks from the likes of Donatella Arpaia, Stanley Tucci (did you know that this actor is a family cook too?) , and Giada DeLaurentiis to name a few, taking more shelf space than others. And, I love a good spaghetti. And risotto. And gnocchi. And any dessert involving biscotti.
Why am I declaring my love of Italian food for National Pears Hélène Day? For starters, once I start talking about the cuisine, I can't stop. Also, it's to try to show you all that French cuisine isn't something I'm used to. Pears Belle Hélène, being a French dish that I'm not even sure I pronounce correctly, was out of my comfort zone.
Aren't the French known for their baking? Isn't France the home of beautiful desserts and baked goods? Surely with a name like Pears Hélène, it would be a difficult dish, right? Wrong. I'm really starting to understand that while some dishes warrant it, a lot of my kitchen anxiety is completely unfounded.
Pears Hélène changed the way I look at pears forever.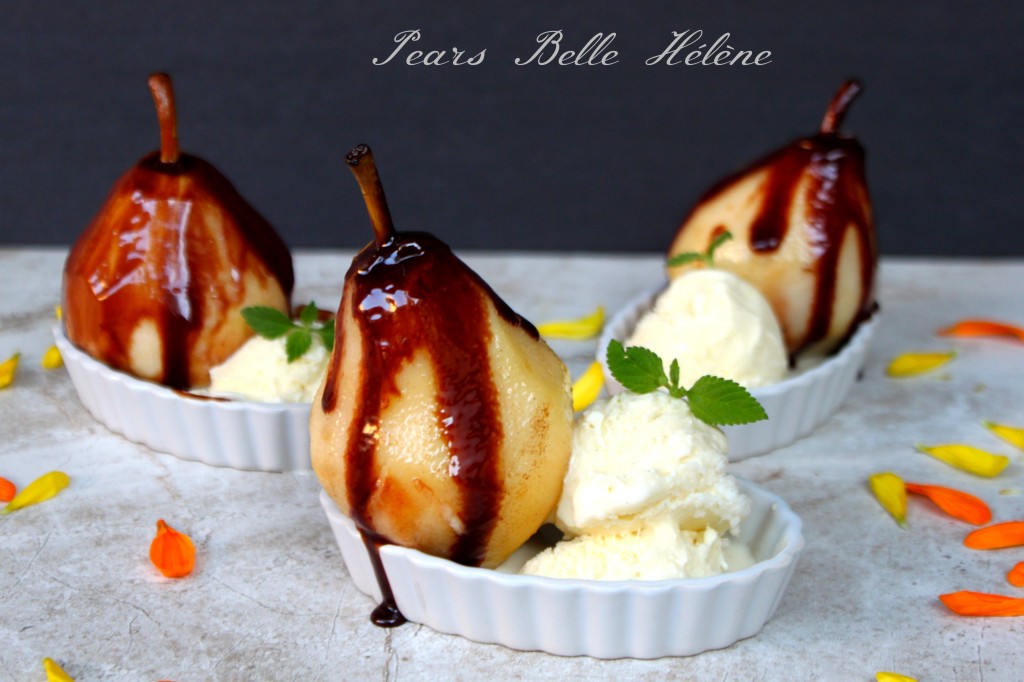 I fell in love with the idea of France ever since I was old enough to understand that Beauty and the Beast was based there. Then I learned about Julia Child and watched her show at my grandmother's house. Then one of my favorite movies, French Kiss, came out. I can distinctly remember a number of instances where France and French food was something I paid attention to, silly or not.
French food always represented a heightened level of elegance that I didn't see as much in the simplistic Italian comfort food I was used to having with family. Everything is made and situated just so, and that's a different kind of care taken that I can really appreciate. France is on my list of the top 5 places I must visit in my lifetime. I want to eat an obscene amount of pastries.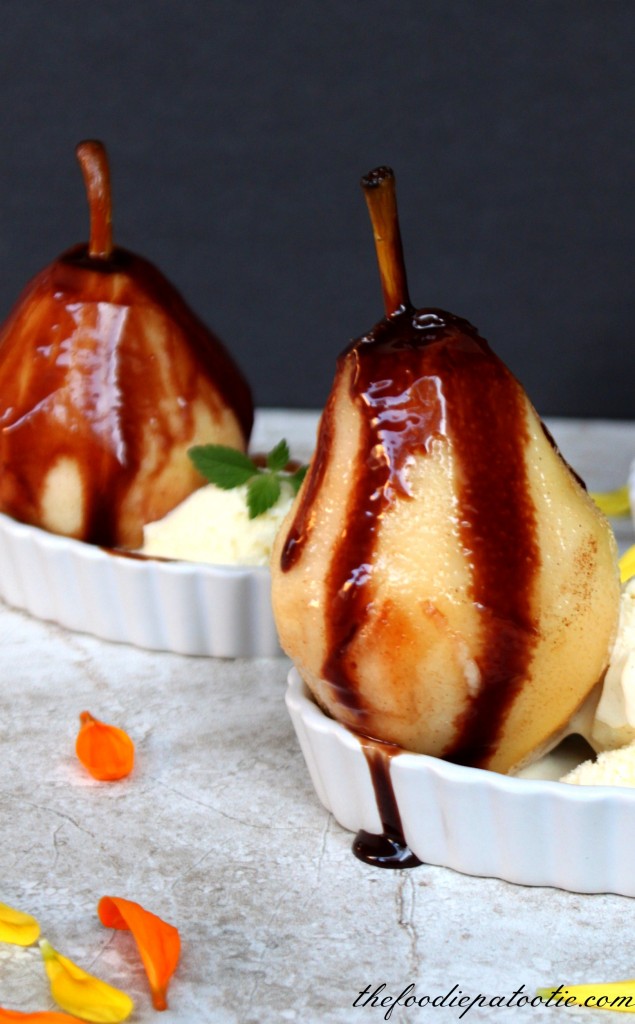 Anyway, Pears Belle Hélène showed me that French food doesn't have to be intimidating and strikingly perfect. I was able to make these in no time and didn't blink an eye when some chocolate sauce ended up on the table.
The easy combination of cinnamon, vanilla, and chocolate with a tender poached pear had us and my neighbor raving (I share- very, very often). Who knew that I could make a French dish with no hassle at all? National Coq Au Vin Day is March 22nd, and now I'm slightly less scared.
The pears have the power.
National Pears Hélène Day | Pears Belle Hélène
Recipe Type: Dessert
Author:
Prep time:
Cook time:
Total time:
Serves: 3
Ingredients
3 Bartlett pears, peeled
3 cups water
1 1/2 cups sugar
1/2 tbsp cinnamon
1/2 tbsp vanilla extract
Chocolate sauce, store-bought or homemade
Vanilla ice cream
Instructions
In a medium saucepan over medium-high heat, combine water, sugar, cinnamon, and vanilla. Bring to a boil, stirring occasionally, for about 3 minutes, or until the sugar has dissolved.
Add the peeled pears to the saucepan, reduce the liquid to a simmer, and cook the pears for about 15 minutes, or until they're tender. Remove pan from heat and allow the pears to sit in the liquid for about 45 minutes, or until completely cooled, turning the pears in the liquid a couple of times while waiting.
Arrange the pears and drizzle chocolate sauce over each fruit. Serve with a scoop of vanilla ice cream.
Tomorrow: National Artichoke Hearts Day
2 Responses to "National Pears Hélène Day | Pears Belle Hélène"

Trackbacks/Pingbacks

Leave a Comment