National Peanut Day | Honey Roasted Peanuts
It's National Peanut Day! Have you ever sat on the couch to watch a movie with a snack and before the first half of the movie is over, you've devoured your snack? And I'm talking devour, as in ate too much of it, and usually, in a much higher quantity than you had planned on? Because, after all, who truly plans on completely stuffing their face with a snack that's usually bad for you, especially in that amount.
Yeah…happens to me all the time. For example, instead of pouring some chips into a bowl, I take the bag with me into the living room. Before I know it, what with my mindless munching, I've finished off half the bag. Whoops.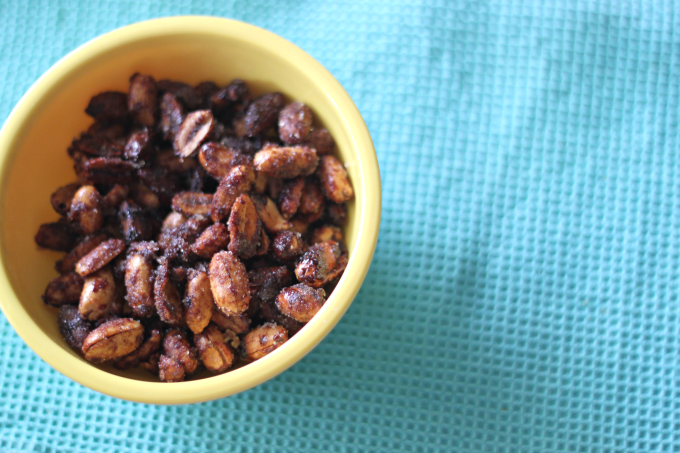 Well, today, I present you with one such snack: honey roasted peanuts. Notice this picture is of peanuts in the bowl, though. Thanks goodness because these things are highly addictive.
Sure, I could just purchase a jar of honey roasted peanuts to enjoy, but the shelled peanuts are usually on sale and I always have the ingredients on hand that I need to make them into honey roasted, so might as well. Also, I can control the amount of sugar, salt, etc that's used. Not that I do…but I could! (heh heh)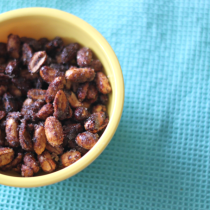 Honey Roasted Peanuts
Ingredients:
1 lb peanuts, preferably raw
1/3 cup honey
2 tbsp butter
2 tsp salt, divided use
1 tsp vanilla extract
1/4 cup granulated sugar
Directions:
Cover a baking sheet with aluminum foil, spray the foil with cooking spray. Preheat the oven to 325*F.
In a small saucepan, combine the butter, honey, vanilla, and 1 tsp salt. Heat over medium until the butter is melted.
Add the peanuts to the honey mixture and stir until they're all coated, then pour the peanuts out onto the prepared baking sheet, spreading them into an even layer.
Bake the peanuts for a total of 20 minutes, stirring every so often so they don't burn.
Remove peanuts from the oven and stir again. After a minute or two, sprinkle the granulated sugar and remaining 1 tsp salt on top and stir once more.
 Tomorrow: National Cream Filled Donut Day
2 Responses to "National Peanut Day | Honey Roasted Peanuts"

Leave a Comment