National Nachos Day | Cheesy Chili Nachos
I had a small scare yesterday. Don't worry, it was only for serious in the world of my food holiday blogging challenge. A coworker received an email from Lee Roy Selmon's, a restaurant I wish I loved, that was encouraging him to come in to celebrate National Nachos Day, which coincidentally, is about the only thing I enjoy eating at Lee Roy Selmon's. He immediately turned to me and said it was National Nachos Day and not National Doughnut Day like the doughnuts I brought into work for everyone indicated.
I was pretty certain that I was right, but with an email, and the fact that I've mixed up my days once before, I had a mini heart attack. But, all is well folks, and today IS National Nachos Day! Let's dig in.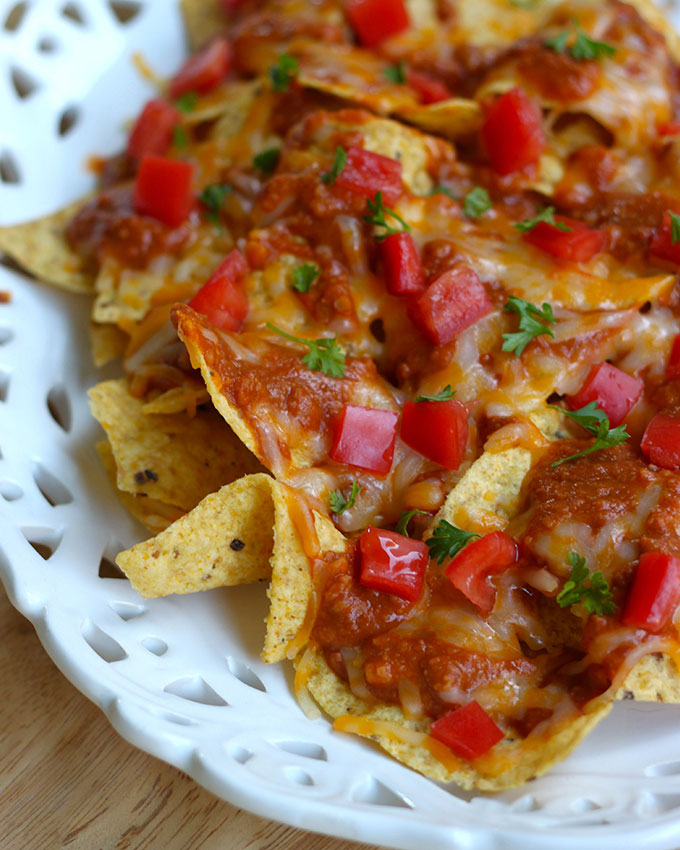 My favorite nachos in the whole wide world are from Datz here in Tampa. They have a base of homemade potato chips (so much better than tortilla chips), chili, cheese, jalapenos, and a blue cheese drizzle, which I love and cannot have their nachos without even though I am not a blue cheese fan at all. That's how good it is alongside all of the other goodies in the nachos.
I admit that I took the easy way out and used hot dog chili sauce instead of homemade chili, but I was so short on time when I was making this dish, and plus, the chili sauce is pretty good! I included cheese, chopped tomatoes, jalapenos (forgot them for the photo, remembered them for my mouth), and chopped parsley.
Also, I wanted to be lofty and make my own potato chips like Datz does, but obviously, as evidenced by my canned chili sauce, I wasn't feeling particularly on point with this recipe. It doesn't matter, though. The result is one awesome plate of cheesy, chili-ed, spicy nachos.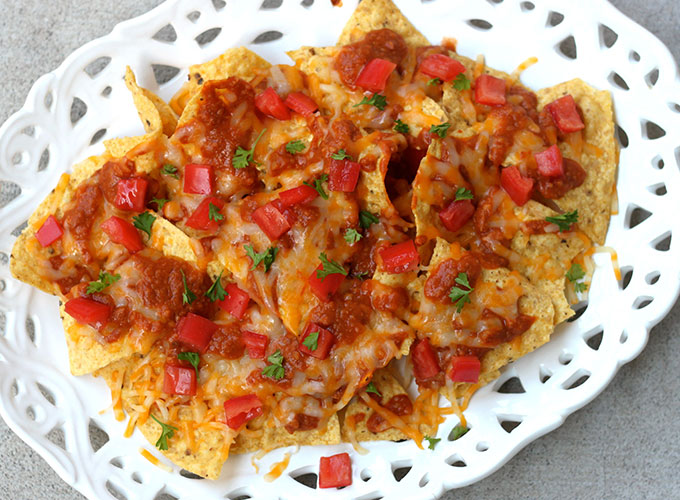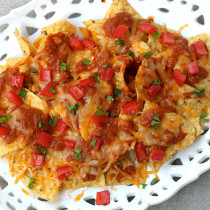 Cheesy Chili Nachos
Ingredients:
Tortilla chips
Colby Jack cheese (I used about 1/2 cup for my dish)
1 (10 ounce) can hot dog chili sauce (I used half for this dish and had half left over)
1 plum tomato, chopped
Fresh chopped parsley, for sprinkling
Directions:
Heat up hot dog chili sauce in a small saucepan over medium heat.
Place tortilla chips on plate and top with chili sauce. Top with cheese. (Sometimes I also like to go back over the cheese and put on some more chili sauce.) Cook under a broiler until cheese has melted. Top with tomato and parsley, and if you remember, jalapeños!
2 Responses to "National Nachos Day | Cheesy Chili Nachos"

Leave a Comment