National Macadamia Nut Day | Macadamia Arugula Salad
I'm always somewhat aware of how many months, weeks, days I have left in this food holiday challenge, but sometimes I actually look at the calendar and realize how far I've come…and how I don't really have much left. As of today, I have less than four months to go. Every time I think about it, it becomes the best news of my day.
I can't wait until I'm just a month out and then I'll feel immediate relief, even more so when this whole thing is over with, haha.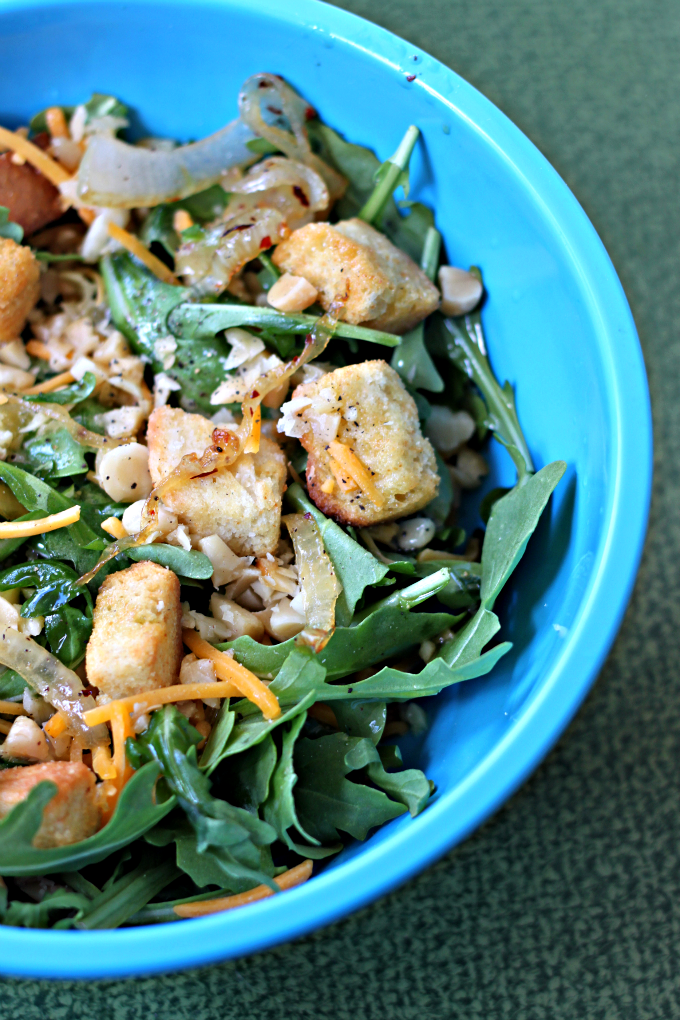 Anyways, yay for National Macadamia Nut Day! Macadamias are one of my favorite nuts, after pecans and walnuts. Macadamia Nut cookies are insanely delicious, but I really didn't feel like baking tonight. It was a long day at work and I really just wanted to make some dinner before settling in for more episodes of Mad Men.
I was in the mood for an arugula salad and I thought, why can't I just mix in chopped macadamia nuts for a bite and some sweetness? And that's exactly what I ended up doing, along with shredded cheddar cheese, and some sautéed onions slices.
The dressing is simple: extra-virgin olive oil and fresh lemon juice. I find this combination to pair perfectly with arugula salads. So simple and light.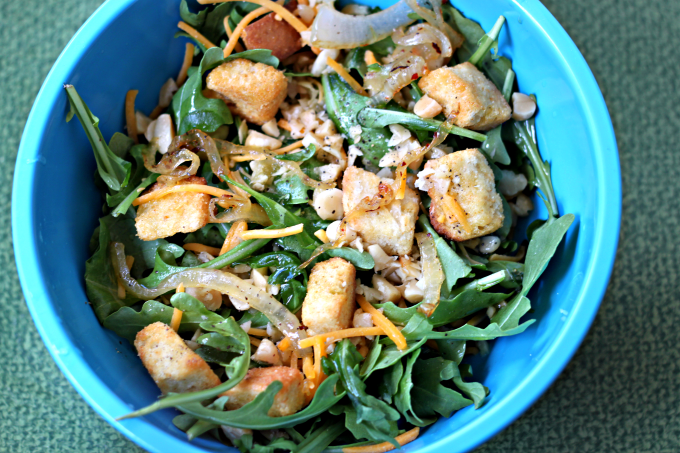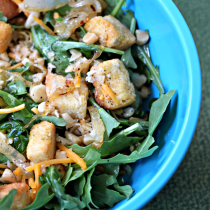 Macadamia Arugula Salad
Ingredients:
2 cups arugula leaves
Couple of onion slices, sautéed in olive oil, salt, pepper, and red pepper flakes
Handful croutons
1/8 cup shredded cheddar cheese
2 Tbsp roughly chopped macadamia nuts
2 Tbsp extra-virgin olive oil
Juice of 1 lemon
Pinch of black pepper
Directions:
In a bowl, combine arugula, onion slices, croutons, cheddar cheese, and macadamia nuts.
Toss with olive oil and lemon juice. Top with pinch of black pepper.
Tomorrow: National Cheese Pizza Day
Leave a Comment