National Greasy Foods Day | Bacon Pizza
National Greasy Foods Day…a food holiday that could go any number of ways. This Bacon Pizza is just one of them, but I contemplated fried chicken (been there, done that), buffalo wings, mozzarella sticks, you know, the typical bar foods. Then Mike suggested a bacon pizza and I was sold, just like that.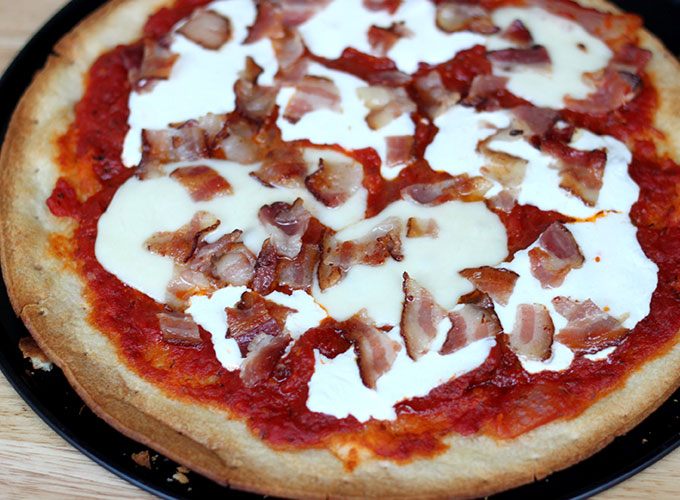 We're pretty big pizza lovers in this house, and with a days-old craving for NY style thin crust pizza, I opted to make two pizzas – one with bacon, one with just pizza sauce, fresh mozzarella cheese, and some basil leaves. Because you can't have too much pizza; it goes quick in my home. Truth be told, this bacon pizza isn't really greasy. The greasiest part is the bacon, but we use quality bacon in this house so at least it's a "healthier" version of what it could be…?
And, after all, pizza is awesome, right?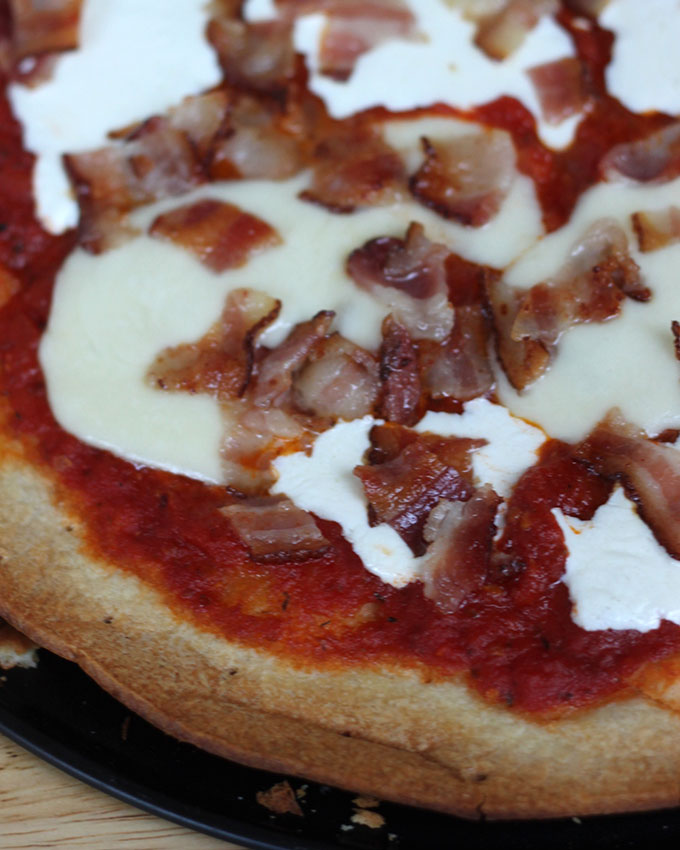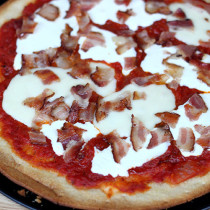 Bacon Pizza
Ingredients:
1 thin pizza crust
1 (28-ounce) can whole peeled tomatoes
1 tablespoon extra-virgin olive oil
1 tablespoon unsalted butter
2 medium cloves garlic, grated on microplane grater (about 2 teaspoons)
1 teaspoon dried oregano
pinch red pepper flakes
2 six-inch sprigs fresh basil with leaves attached
1 medium yellow onion, peeled and split in half
1 teaspoon sugar
Pinch of salt
3 slices bacon
6 ounces fresh mozzarella cheese, sliced
Directions:
Pour tomatoes into a large bowl. Using a potato masher, mash up the tomatoes until it's mostly smooth with some small chunks. Set aside.
In a medium saucepan over medium-low heat, combine butter and oil. When butter has melted, add garlic, oregano, red pepper flakes, and salt. Stir about 3 minutes, or until fragrant.
Add tomatoes, basil, onion, and sugar. Set to low and cook, stirring occasionally, until reduced by 1/2, about 1 hour. Add more salt if needed.
Preheat oven to 425*F. Brush olive oil over pizza crust and top with 1/3 cup pizza sauce (you will have enough left over to store), spreading around crust until you've left a 1-inch border.
Top with mozzarella slices and put in preheated oven for 6 minutes. Meanwhile, start cooking the bacon. When almost crispy, move from pan and carefully cut into chunks. After 6 minutes, add bacon to the pizza and continue cooking in the oven for an additional 3 minutes.
Leave a Comment