National English Toffee Day | Apple Toffee Cups
January 8th sounds like as good a day as any to make a confession to you all. There is a little tidbit about me that you may know, but if you are new around these parts, you may experience shock and confusion.
I do not like chocolate.
Yeah, I heard that gasp. Truth is, I'm more of a Starburst fan than M&M's. I prefer gummy bears over a Milky Way. My weakness, and the exception to my rule, is a good ol' Heath English Toffee Bar. Those are perfect. Crunchy toffee with a thin later of chocolate…mmm. I stare at them during checkout at the grocery store (and then more often than not, snatch one up to enjoy).
I was all too excited for National English Toffee Day because I knew this would be one day that I could enjoy all the fruits of my labor without sharing.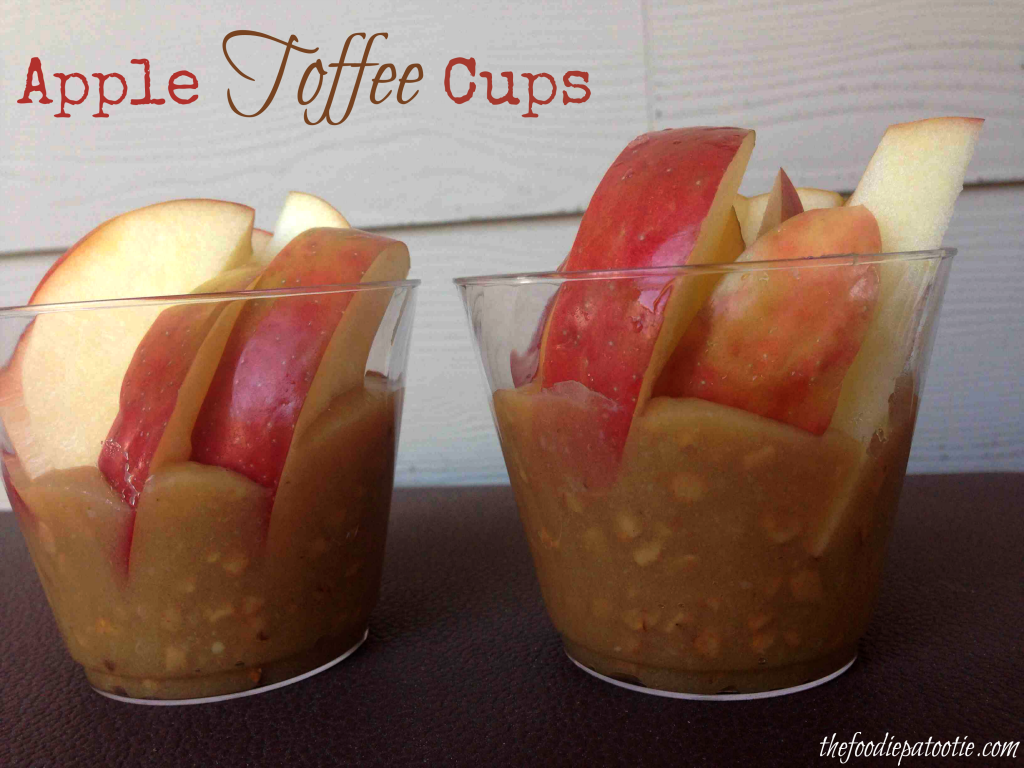 I was first introduced to these delights as a guest at my friend Danielle's daughter's birthday party. She had the recipe from her sister, but being that I didn't want to stop eating them, I was that person who hangs around the food table and waits until nobody wants anymore. I think I ate at least two Apple Toffee Cups and I could have gone for many, many more. Fast forward about a year and I was hosting my best friend's baby shower with a circus theme. With kids coming, I wanted to have food that was friendly for all ages and I immediately thought of these. They were popular with children and parents alike and in fact, were the first item that ran out!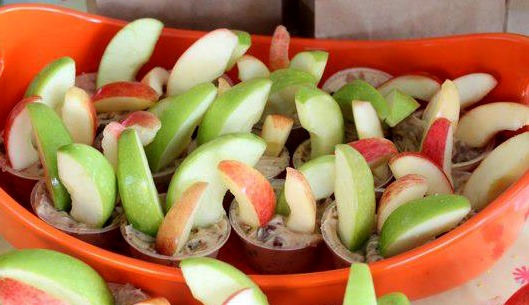 These snacks are like a take on a caramel apple except less messy and overall easier to eat. Also, you can control how much of the sweetened toffee you consume. For this recipe, I use a mixture of Granny Smith and Fuji apples.
Please assure me that my love for toffee is completely normal. Try these apple dips and let me know what you think! What other dips do you pair your apples with?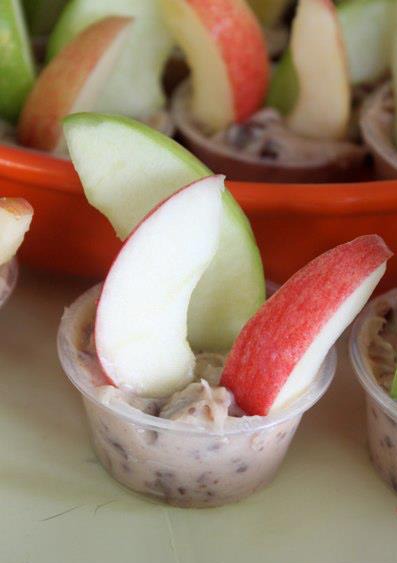 National English Toffee Day | Apple Toffee Cups
Recipe Type: Snack
Author:
Prep time:
Total time:
Serves: 15 small sample cups
Ingredients
8 oz softened cream cheese
3/4 cup light brown sugar
1/2 cup confectioners' sugar
1 tsp vanilla extract
Heath Toffee bits
Variety of apples
Lemon juice
Cold water
Instructions
Slice apples and place in a bowl of cold water with lemon juice added. You should use 1 tbsp of lemon juice for every cup of water. This'll keep the apples from browning later. Keep them here until toffee is complete.
Mix all ingredients together until creamy, adding more of any ingredient to taste and for balance.
Place sliced apples in the dip.
Tomorrow: National Apricot Day
22 Responses to "National English Toffee Day | Apple Toffee Cups"

Trackbacks/Pingbacks

Leave a Comment