Marchand's: Elegant Surroundings and Perfectly Prepared Cuisine
Cold pizza is one of my favorite things to eat for breakfast and I'm usually eating it while on the way to work. I've also been known to make a peanut butter and jelly sandwich, eat last night's leftover pasta, or any other variety of non-breakfast foods.
I admit that some reason for this behavior is that I enjoy the food, but for the most part it's because I have limited time in the mornings to make a proper breakfast for myself. It's because of this habit that I make a point of going out for breakfast and brunch every so often. I'm pretty sure that the term "easy like Sunday morning" came about because of brunch. It's the one meal of the day that I don't let myself think about my other plans for the day, or rush to finish eating. If I know that I can't take my time, I don't go out for brunch.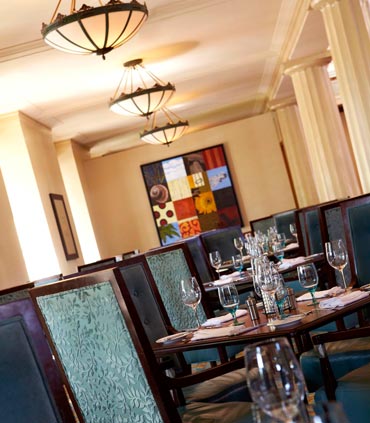 Image via Marchand's
The perfect, and only acceptable, brunch is relaxing, filled with conversation, and an experience that you can see yourself spending hours partaking in. Ideally, it takes place in a restaurant full of sunshine and pretty decor, with servers who act like your friend and a morning bar that'll make you forget your hangover from the night before.
In case you don't know, my perfect brunch description fits Marchand's, a restaurant located in the Vinoy Renaissance Resort St. Petersburg. Except you add an assortment of pastries, plenty of dessert, beautiful, live music, and innovative, absolutely delicious cuisine. The kind that makes you entertain the completely absurd thought of bringing a sleeping bag to the restaurant and setting up shop so you can easily have brunch every Sunday.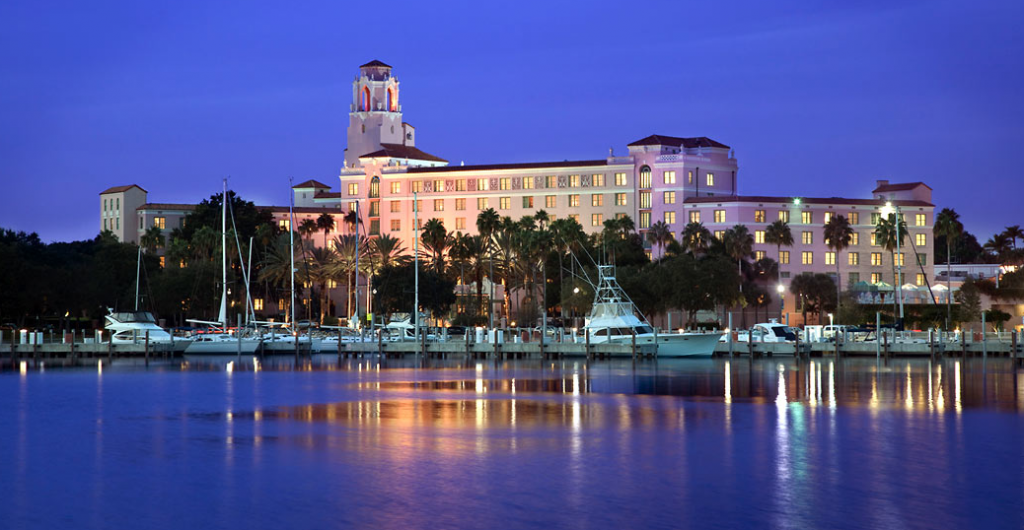 Image via Marriott.com
Fortunately for me, I dined at Marchand's, along with 4 fellow food bloggers, this past Sunday as part of our Tampa Bay Brunch Tour.
The beauty of Marchand's isn't just in the food that's created, but in the decor and extraordinary ambiance. Being in the Vinoy Renaissance, there is a history to the restaurant, including the fact that there was a restoration done to the original murals in the historic dining room, but there remains one section of mural that is exactly how it was back in the 1920's. It's very cool to see. With large windows taking up some wall space, plenty of bright Florida sunshine streams in, making for a stunning dining room that one can feel at home in.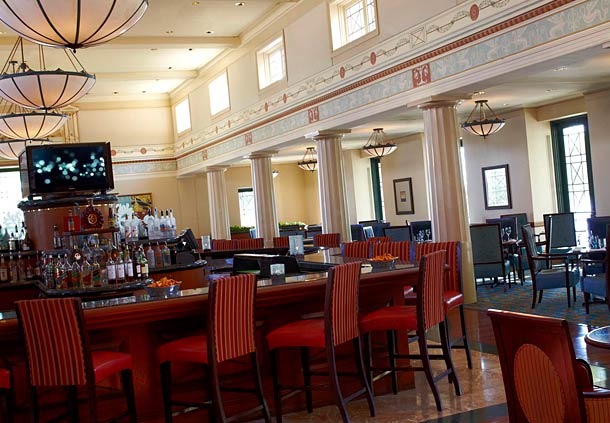 Image via Marchand's
I could go on and on about how amazing Marchand's is, from their impeccable service to their spectacular setting, but it's more about the food. It's always more about the food.
Marchand's recently switched from buffet style to a new a la carte menu (with an option to order three items for $32), which was a smart move on their part, at least in my opinion. When we first got there we were told about the bloody mary bar ($9), bottomless bellinis ($8), and unlimited mimosas ($7) options. Smart move, Marchand's, smart move.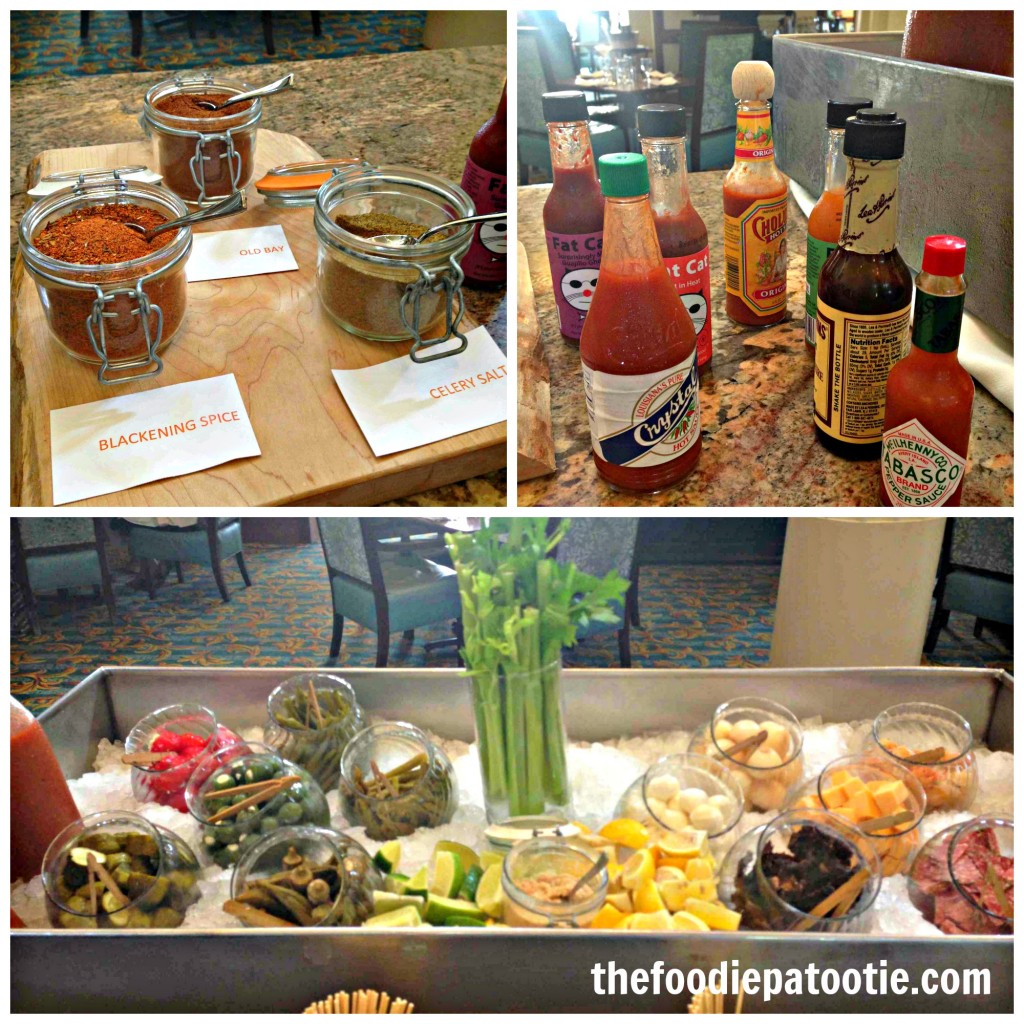 Although I stuck to a raspberry bellini, followed by a peach one, they also had blueberry, blackberry, strawberry and watermelon flavors. My fellow guests also made beautiful Bloody Marys from the bar, which was full of mixes, different hot sauces, spices, and garnishments. I wish I liked Bloody Marys…
For the first course, we were impressed with the array of pastries presented to us. Monkey Bread, a jumbo Pecan Sticky Bun, Sour Cream Coffee Cake, and even a bag of warm donuts with raspberry jam. These items were quickly passed around the table and I melted into monkey bread heaven. It was unlike any other pastry I've had before. Kudos to the pastry chef for these culinary comforts!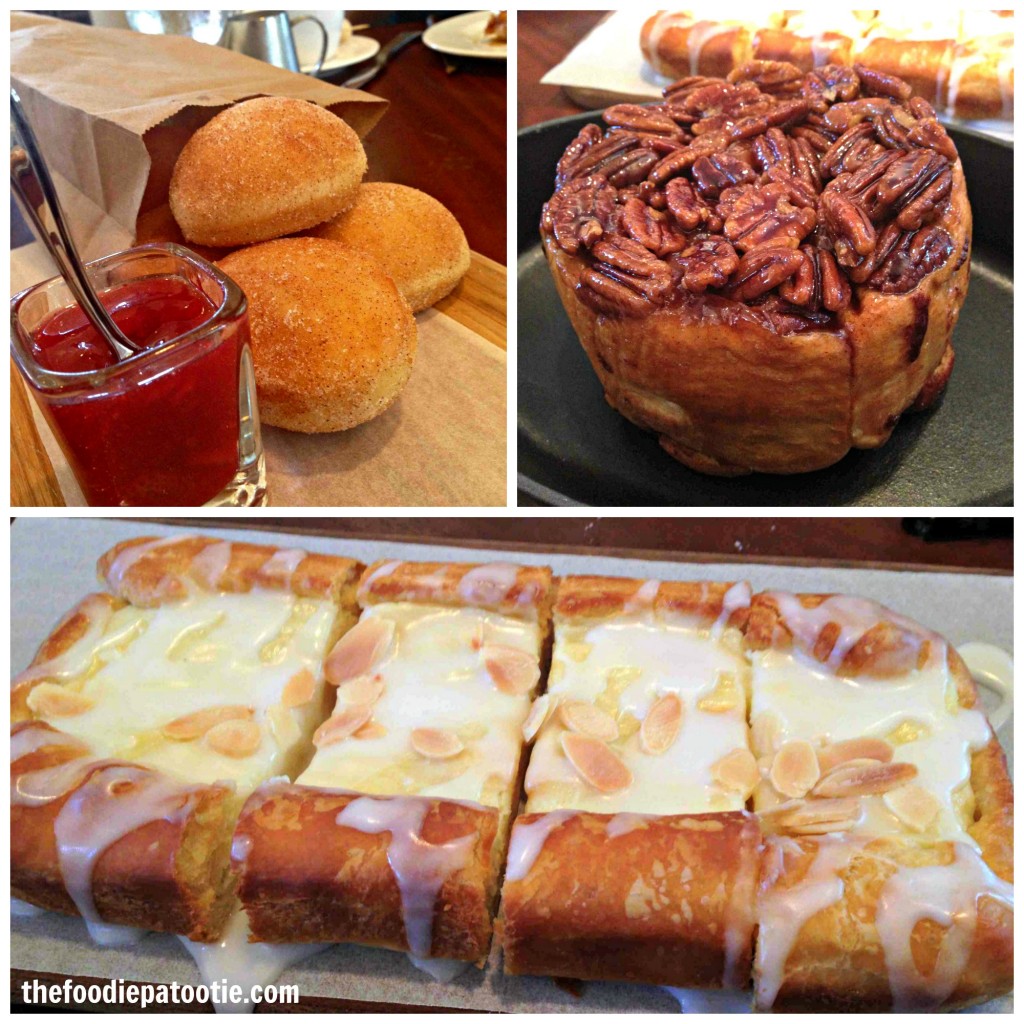 I'm being completely honest when I say that I could have left happy right here. However, Executive Chef Mark Heimann had samples of some of the menu offerings on the ready. We would be treated to Eggs in a Jar, Crispy Maple Cured Pork Belly, House Brined Corned Beef Hash, Crab Quiche, Red Wine Poached Egg, and Rhubarb French Toast.
Eggs in a Jar: Anson Mills Lil Moo Cheese Grits, Poached Eggs, Corn Meal Fried Rock Shrimp, Roasted Chili Hollandaise
Crispy Maple Cured Pork Belly: Parmesan Fried Egg, Roasted Blue Corn Grits (the pork is hiding behind the egg)
House Brined Corned Beef Hash: Fried Duck Eggs, Heirloom Potatoes
I was a big, big fan of the corned beef hash. Just like Megan said at the table on Sunday, it's the best corned beef hash I've ever had. Interestingly, this was my first time trying a duck egg and I have to say that it was so silky smooth, and the yolk so flavorful, I hope more restaurants start serving this option. The roasted blue corn grits may look a little funny, but they were creamy and sweet. I definitely scraped the plate on this one. The roasted chili hollandaise found in the Eggs in a Jar was certainly different, but I enjoyed it, especially alongside the corn meal fried shrimp.
Crab Quiche: Lump Crab, Roasted Red Pepper, Charred Leek, Lil Moo Cheese
Red Wine Poached Egg: La Quercia Prosciutto, Sourdough, Bearnaise Sauce
Rhubarb French Toast: Oranges, Candied Almonds, Mascarpone, Bacon
I really did enjoy the Rhubarb French Toast, especially the bright taste of orange, but for me, it was a little too sweet. It would be a perfect brunch option for those with more of a sweet tooth. The crab quiche was very rich and very perfect. Lump crab baked into an egg pie? I mean, how much better can you get? …Unless we are talking about the Red Wine Poached Eggs. Although the color was astonishing, it's a gorgeous meal in both looks and flavor.
As if all that wasn't enough, we still had to somehow find room for dessert. As a final send off, we were given samples of Blackberry Cobbler, S'mores Cheesecake and Lemonade Cake.
Blackberry Cobbler: served with vanilla bean ice cream
S'mores Cheesecake: Milk Chocolate Cheesecake, Graham Cracker Crust, Toasted Marshmallows
Lemonade Cake: Whipped Cream, Candied Lemon
When it comes to desserts, the Lemonade Cake was far and beyond my favorite option of the day. With candied lemon, it presented a very strong lemon taste, a wonderful mixture of tart and sweet, which happens to be a favorite flavor combination of mine. The blackberry sauce wasn't even needed, but still appreciated. I want to order a big hunk of this cake next time I visit and just fall into the best sugar coma of my life. As for the other two desserts, Marchand's did an amazing job. I still can't get over the Lemonade Cake though. Not a bad thing at all.
It wasn't too long ago that I visited Marchand's to taste their new farm-to-fork menu and just like that visit, the brunch (served Sundays from 11am-2pm) completely blew me away. They also feature a number of seafood items, including a Seafood Tower composed of king crab legs, shrimp, oysters and mussels, and charcuterie and cheese platters. On your next free Sunday, pencil Marchand's into your schedule. You might just make it a regular spot.
Like Marchand's on Facebook | Follow Marchand's on Twitter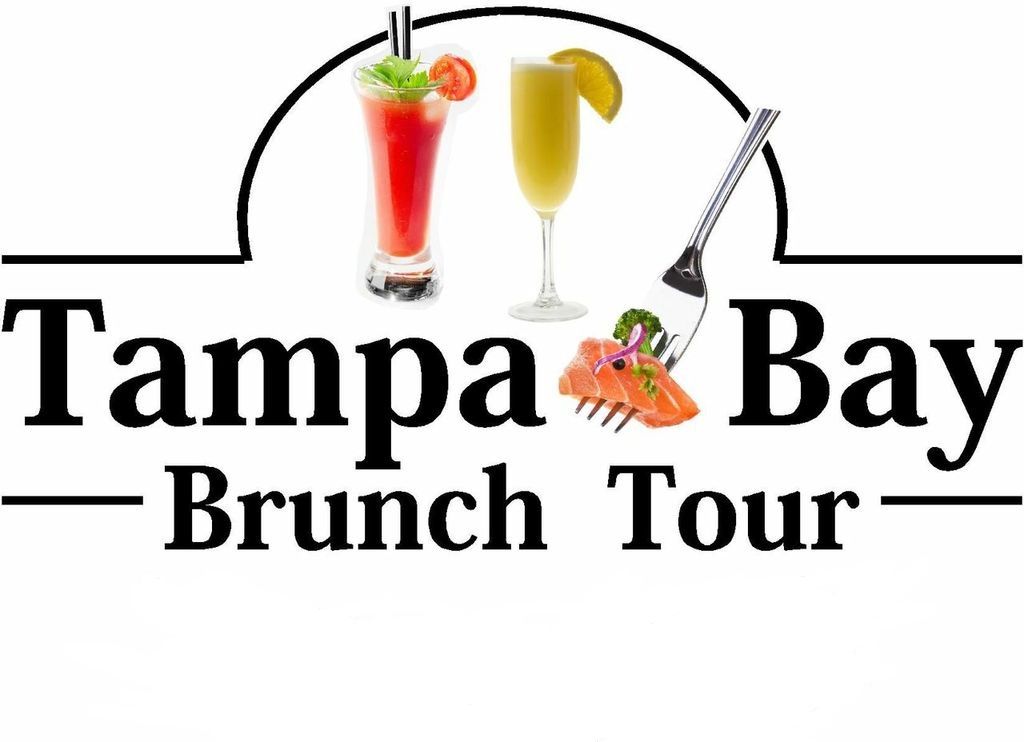 2 Responses to "Marchand's: Elegant Surroundings and Perfectly Prepared Cuisine"

Leave a Comment