Enchiladas Two Ways (with homemade beer sauces!)
This shop has been compensated by Collective Bias, Inc. and Constellation Brands. All opinions are mine alone. The following content is intended for readers who are 21 or older. #CervezaCelebration #CollectiveBias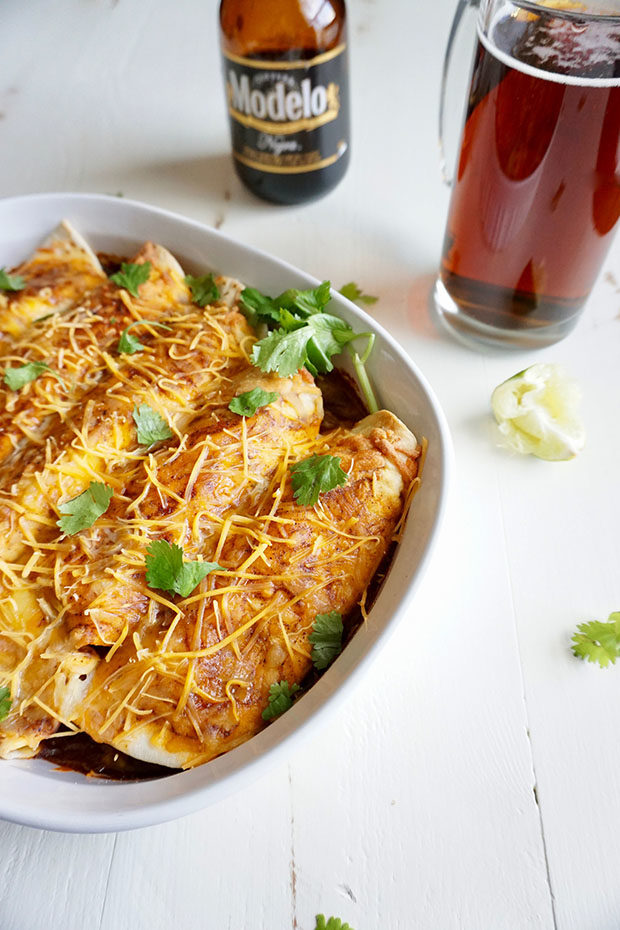 Happy (almost) Cinco de Mayo!
I feel like I can kind of be a Cinco de Mayo expert here because my husband is part Mexican (okay, fine, so about a fourth Mexican) and we have a Luchadoro piñata sitting in our garage waiting for the occasion. I'm giving away all of my Cinco de Mayo 2017 party secrets to any of my guests who may be reading this post, but it's true. Luchadoro was found at a local store for $10 and we had to grab him. It was the first thing we decided to purchase when we walked in the store so we essentially carried him around everywhere. (Psst: I would've paid triple for this treasure.)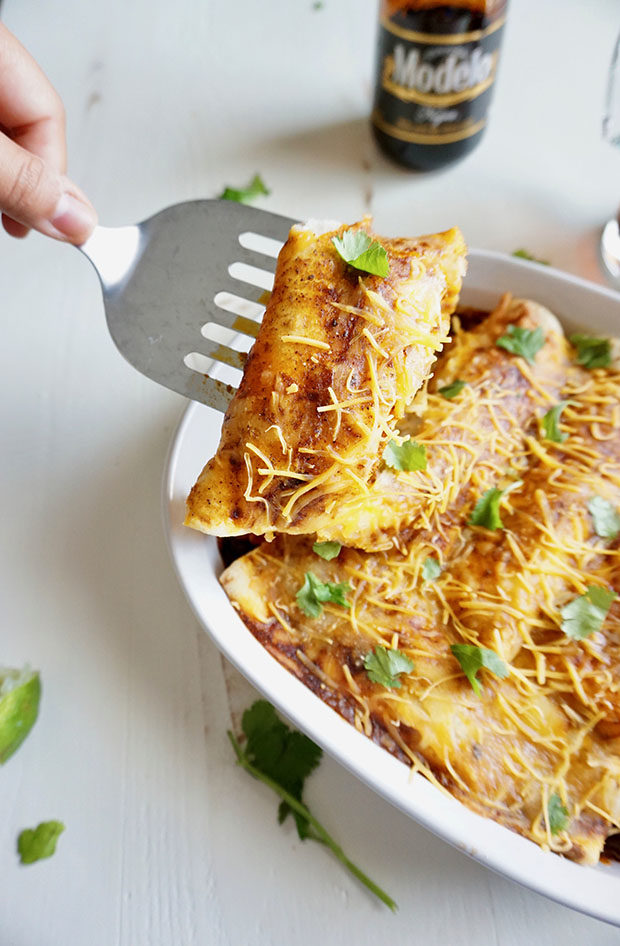 Hispanic food of any kind is some of my favorite. For Cinco de Mayo, or any off-holiday fiesta, what is better than a whole tray or two of enchiladas? Right! Almost nothing!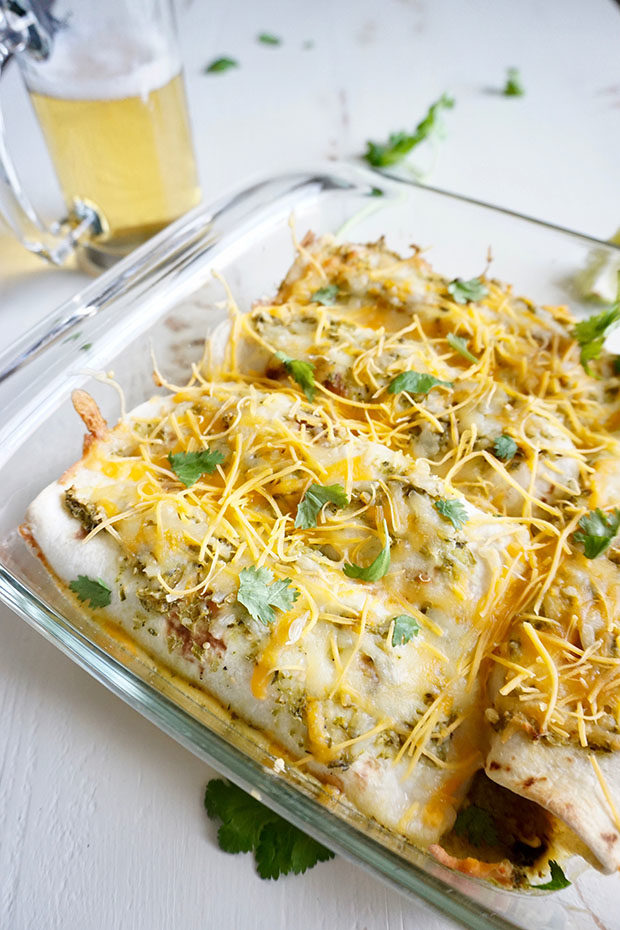 Except…a whole tray or two of enchiladas that are coated in two different types of enchilada sauce that have been homemade with two different types of beer: Corona Extra and Modelo Negra.
Let's get into it! Welcome to The Foodie Patootie's pre-fiesta Fiesta with enchiladas two ways!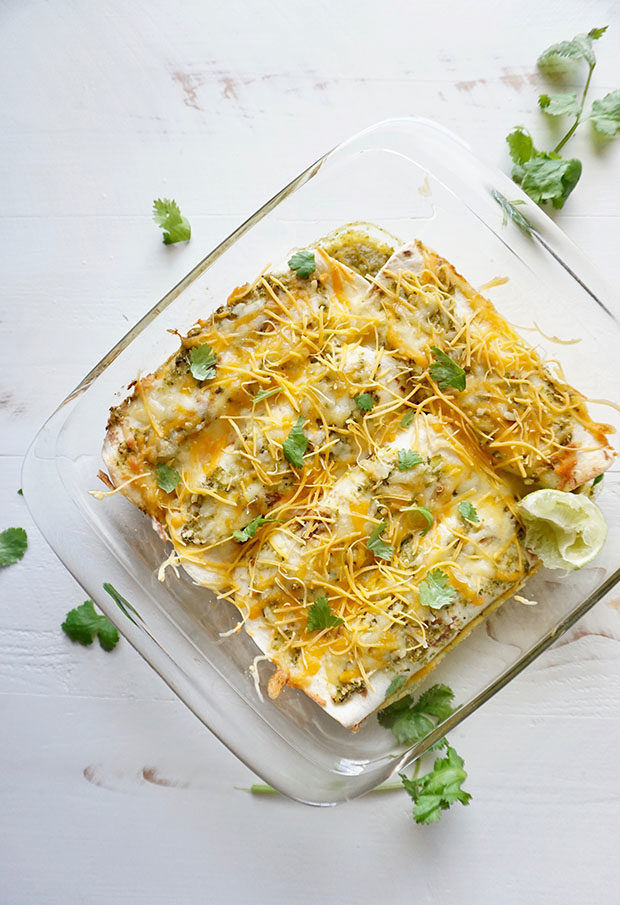 My husband and I have been pretty intentional about consuming more vegetables above all else. While you can totally make these enchiladas your own and fill them with whatever you'd like (we go for the traditional chicken if we make meat enchiladas), I decided to make some with delicious butternut squash and black beans!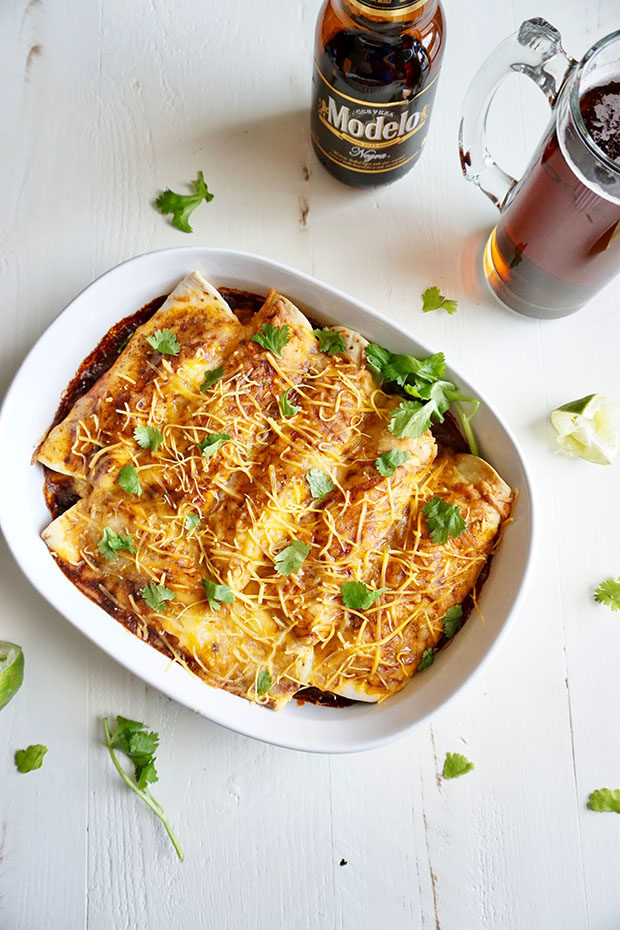 Butternut squash has this nutty and slightly sweet taste that is a little similar to pumpkin, which really pairs well with both a red sauce and a salsa verde. Plus, you take one butternut squash, roast it and you can not only make about 12 enchiladas, but you may even have some leftover! It's a cost-effective vegetable that goes a long way.
In my house we eat enchiladas pretty regularly. They are simple to make – the "hardest" part is taking the time to actually fill the enchiladas and roll them up to get ready for baking, but the possibilities are endless. Sometimes it's even fun to have guests over for the party and have an enchilada bar set up with fillings of all kinds. Bake them off while sitting around and enjoying a beer (or maybe even whacking a piñata?)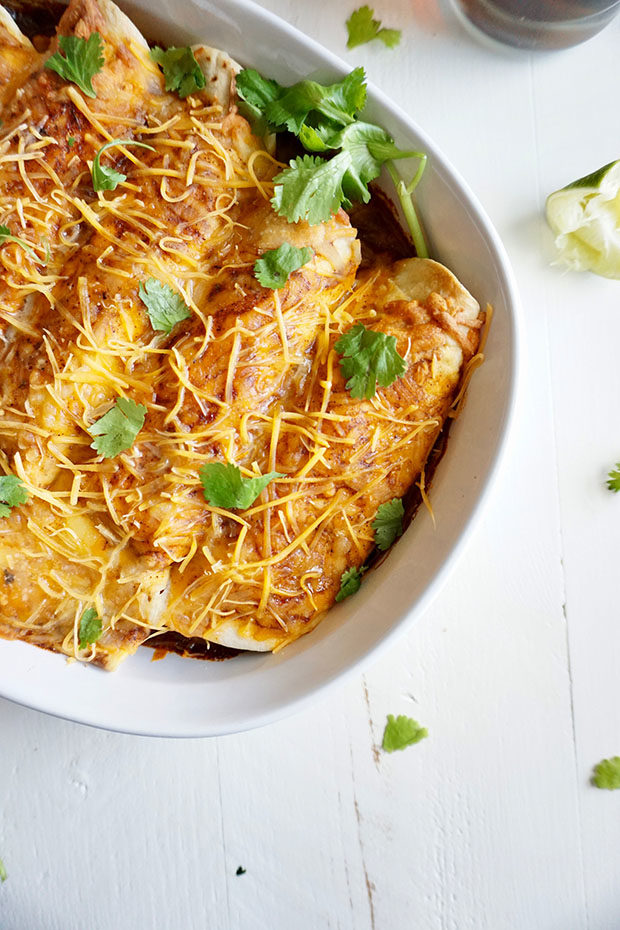 I make the red sauce most often and decided to use the Modelo Negra beer for this one. Modelo Negra is a medium-bodied lager with slow-roasted caramel malts and so when you pair that with chili powder and garlic and onion powder and cumin and smoked paprika, you achieve this deep flavor where you'll be all, "I love the taste of this sauce and I love that I can get a hint of the beer and also, just for fun, I really admire the color too."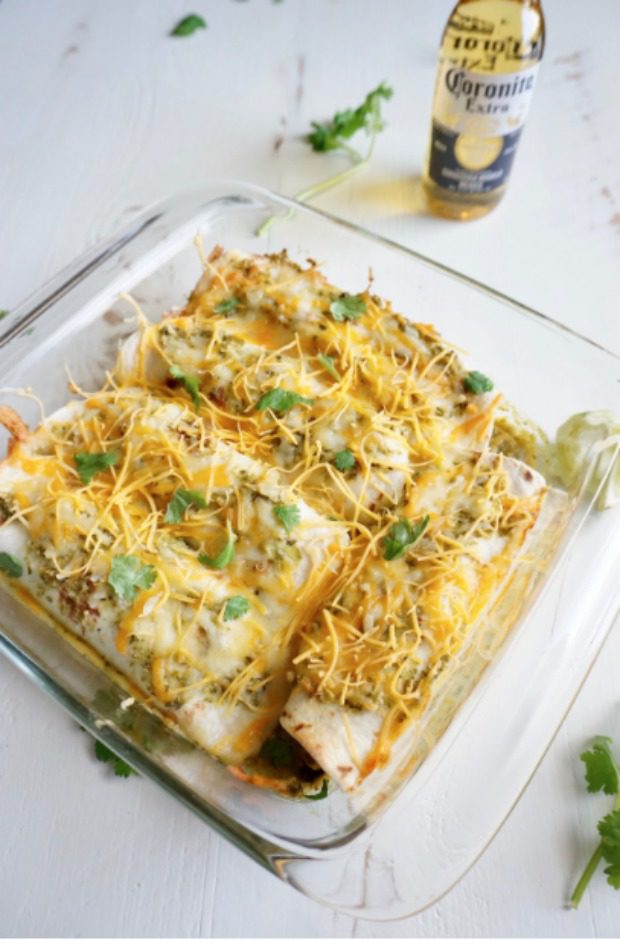 For our green salsa verde sauce, I used Corona Extra. I thought it would pair nicely with the combination of tomatillos, poblanos, and a sofrito and, being lighter in color than the Modelo Negra, would still maintain an aesthetically pleasing green color. Well, I was right! Plus, Corona Extra is pretty even-keeled in taste with fruity-honey aromas and a touch of malt and, for the record, is so much more than a vacation beer. I mean, here I am, making enchiladas in the middle of a colder and more dreary spring than I was hoping for, and I reach for the Corona. It's all about SABER VIVIR (knowing how to live) even in the chilly overcast days of the year that are usually bright and breezy.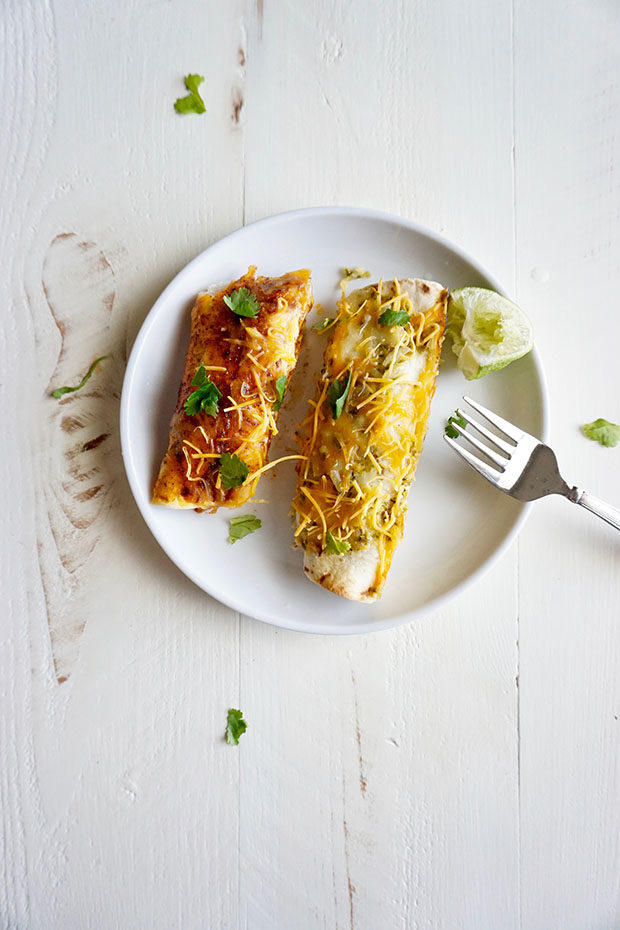 Even more perfect, Corona and lime are like peanut butter and jelly. They're  like peas and carrots. They belong together. You probably already know this, but a generous amount of fresh lime juice squeezed over these baked and bubbly enchiladas is the proverbial la guinda del pastel (icing on the cake).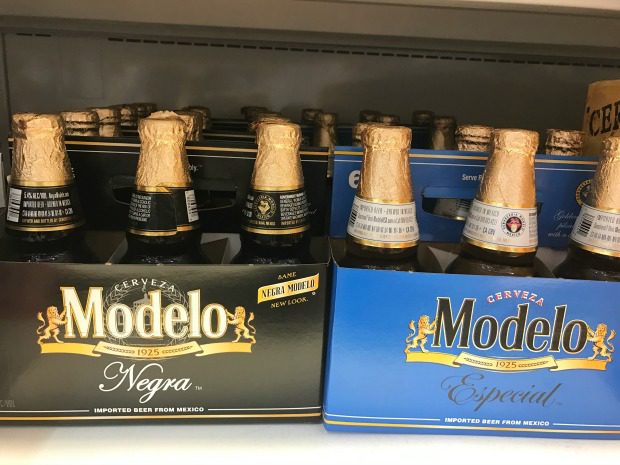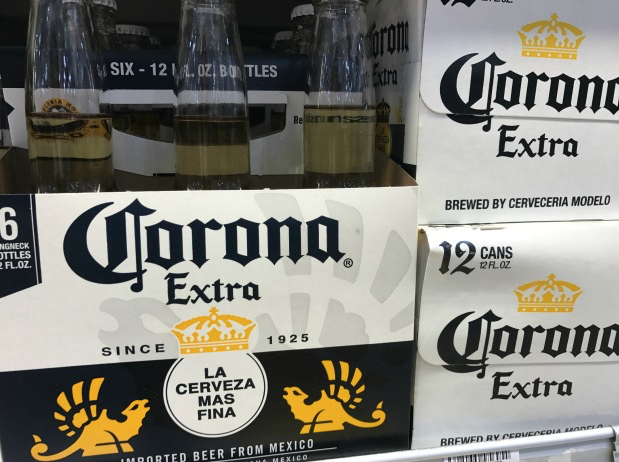 So, cheers! Cheers to you, cheers to enchiladas, cheers to beer. Cheers to Luchadoro!
Now, tell me: What are your Cinco de Mayo plans?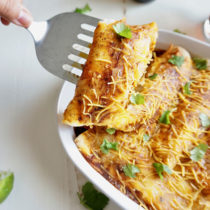 Enchiladas Two Ways (with homemade beer sauces!)
Ingredients:
Red Sauce (with Modelo Negra)
3 tablespoons extra-virgin olive oil
2 tablespoons all-purpose flour
1 tablespoon chili powder
1 teaspoon ground cumin
½ teaspoon garlic powder
½ teaspoon onion powder
¼ teaspoon dried oregano
¼ teaspoon smoked paprika
2 tablespoons tomato paste
1 cup Modelo Negra
1/2 cup vegetable broth
Salt and pepper to taste
Salsa Verde (with Corona Extra)
2 tablespoons extra-virgin olive oil
1 medium yellow onion (or half a large onion), diced
¼ green pepper, diced
4 garlic cloves, minced
1 large poblano pepper, stem removed and cut in half
7-8 tomatillos, skin removed and cut in half
1 cup Corona Extra
½ cup vegetable broth
Juice of one lime
Generous handful of cilantro, about ¼ cup unchopped
Salt and pepper, to taste
Both enchilada types
12 small flour tortillas
1 butternut squash, peeled and cut into small cubes (a good size for multiple pieces to fit into an enchilada)
1 15-ounce can refried beans (I used vegetarian)
1 15-ounce can black beans, rinsed and drained
1 10-ounce can diced tomatoes and green chiles, drained
Mexican Four-Cheese shredded cheese
Fresh lime juice
Fresh cilantro
Directions:
Butternut Squash
Preheat oven to 400*F. Line a baking sheet with foil and add the cubed butternut squash pieces. Drizzle with olive oil, sprinkle with salt and pepper (to taste, with optional red pepper flakes) and using your hands, combine everything. Spread squash pieces out to form an even layer. Cook for 20 minutes, or until butternut squash pieces can be pierced with a fork.
Remove from oven and set aside.
Red Sauce (with Modelo Negra)
In a medium pot set over medium heat, add the olive oil. While the olive oil is heating, combine the flour and other spices (chili powder, cumin, garlic powder, onion powder, oregano, and smoked paprika) into a small bowl, stir to combine, and set next to the stove. This beginning of the sauce will happen fast! Make sure you have all ingredients ready to go.
Once the olive oil is heated, add the flour and spices mixture. Whisk constantly for about a minute, or until everything is combined and the mixture has taken on an even darker hue.
Add in the tomato paste; whisk to combine. Add the Modelo Negra beer and vegetable broth; stir to combine until no lumps form. Reduce heat to low and allow to cook for 45 minutes or until desired consistency is reached.
Note: If the sauce is still too thin, combine equal parts cornstarch and water in a small bowl and stir to combine completely. I start with 1 tablespoon of each. Add to the sauce and wait before adding more to see how it thickens.
Salsa Verde (with Corona Extra)
In a saute pan, heat olive oil. Add onion and green pepper; cook for about 5 minutes, or until vegetables are softened and translucent. Add garlic and cook for 1 minute. Add a pinch of salt.
In a blender, combine poblano pepper, tomatillos, Corona Extra, vegetable broth, lime juice, and cilantro. Pulse until combined. Add sauteed vegetables and blend again.
Note: If the sauce is still too thin, combine equal parts cornstarch and water in a small bowl and stir to combine completely. I start with 1 tablespoon of each. Add to the sauce and blend; see how it thickens before adding more.
To assemble and cook
Set oven to 375*F. Utilizing two different baking dishes, pour a little of each sauce into its own baking dish. You should pour in enough to cover the bottom of the dish at least slightly.
To assemble, set up an enchilada station. In order: Spread an even layer of refried beans on a tortilla. Top with your preferred portion of black beans, diced tomatoes and green chiles mixture, and butternut squash pieces. Top with cheese. Roll enchilada up and place in baking dish. Repeat with all enchiladas.
Pour the desired amount of each sauce over your prepared enchiladas (you may have left over sauce, depending on your preference). Top with desired amount of cheese.
Bake at 375*F for 20 minutes, or until warmed through, the cheese is melted, and it's all bubbly.
When ready to serve, top with fresh lime juice and torn fresh cilantro leaves.
2 Responses to "Enchiladas Two Ways (with homemade beer sauces!)"

Leave a Comment