Crave-Worthy Panzanella Salad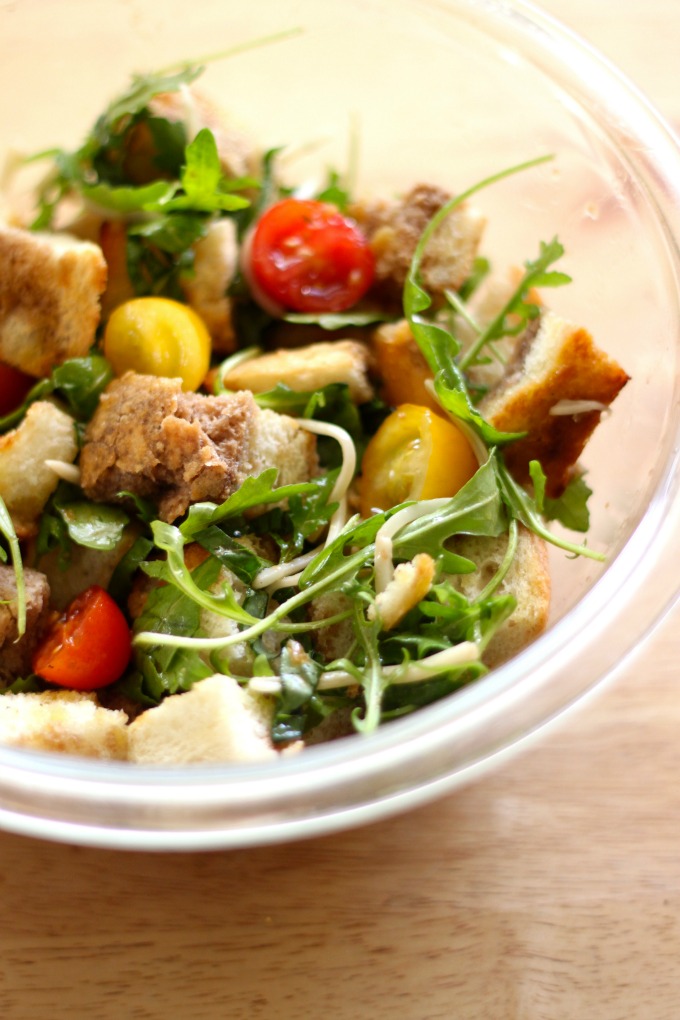 How many of you go to a restaurant and are giddy with excitement over the free bread? I see all those hands raised (because I'm IN YOUR COMPUTER) but you aren't alone (because I'm in your computer) – I love me some free bread. I'll take any dips: pesto, a balsamic and olive oil combo, a sun-dried tomato concoction. Or just warm bread, plain. Which reminds me, I'm going to whip out my bread maker this weekend (thanks, Mom!) and make something so delicious, I might not want to share it with you because I want it to be mine, all MIIIIINE.
I can be selfish when it comes to warm bread.
Which is why when my favorite restaurant to get a nice panzanella salad at decided to change the salad options on their menu and claim that the "new panzanella" salad was almost just like the panzanella salad they once had and then disappoint me with the results, I knew it was time to take matters into my own hands. My kneading, flour-covered hands.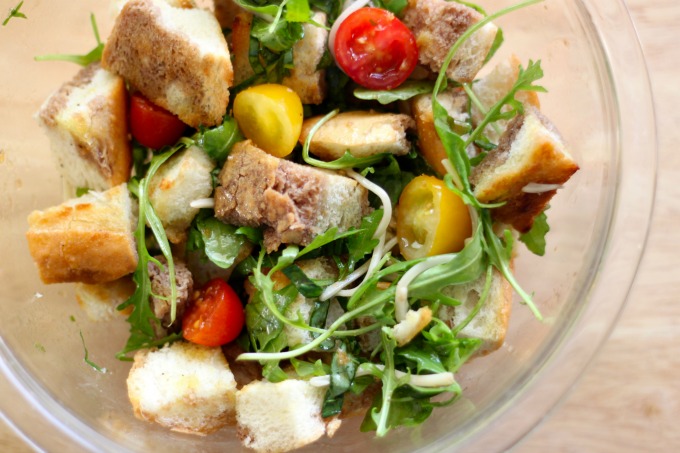 Except, I didn't. I just bought bread from the store for my own salad, but don't let that deter you from reading the rest of this post.
Please?
I'm a human and take shortcuts. If you make everything from scratch, I have a love/hate relationship with you and want to be your BFF.
So anyway, after my very sad (and not so coincidentally, last) visit to this restaurant, I immediately went to the store and bought what I needed for a panzanella salad. And then proceeded to have one a day until the bread was too old to be edible.
It's simple, really. Arugula, basil, tomatoes, vinegar and oil, and lots of bread. My favorite part of any salad are the croutons, especially when they soak up a little of the dressing. It's such a flavorful bite when done right! Naturally, panzanella salads are where it's at.
What do you think?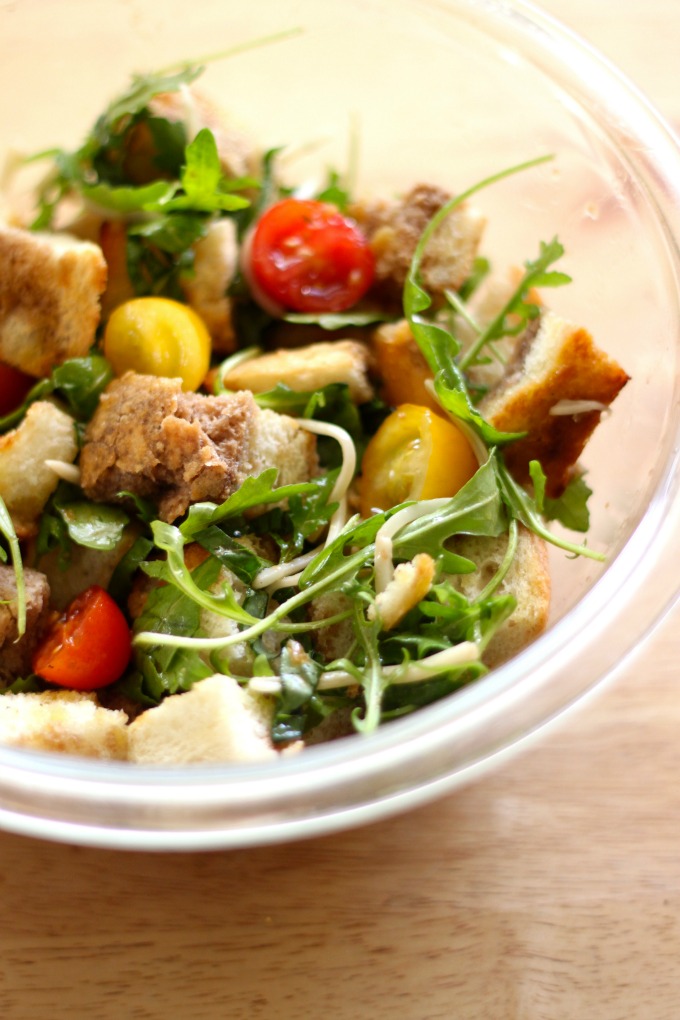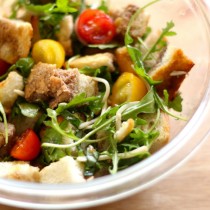 Crave-Worthy Panzanella Salad
Perhaps the greatest salad of all time, the panzanella is exactly what your carb-loving self needs!
Ingredients:
2 slices from a French baguette
1 1/2 cups arugula
1/4 cup red cherry tomatoes, sliced in half
1/4 cup yellow cherry tomatoes, sliced in half
1 tablespoon fresh basil, chiffonade cut
1/2 teaspoon balsamic vinegar
1/2 teaspoon white wine vinegar
1 teaspoon olive oil
Salt and pepper, to taste
Directions:
Cut French baguette into cubes. Combine with arugula, tomatoes, and basil in a large bowl.
In a small bowl, combine balsamic and white wine vinegars. Slowly drizzle in olive oil while whisking. Pour over salad. Add salt and pepper to taste.
Add more dressing if needed.
Leave a Comment