Sweet Potato Muffins for Me, Dog Treats for Bits
This shop has been compensated by Collective Bias, Inc. and its advertiser. All opinions are mine alone. #TreatingWithNutrish #CollectiveBias
I love my dog so much that I still sometimes refer to her as my first born child. This is even after I've carried a real human baby for 40 weeks and delivered this child and then enjoyed this child for the past nine months. Bits was there for a long while before (five years!) and was a constant during the time of pregnancy when your emotions are all over the place.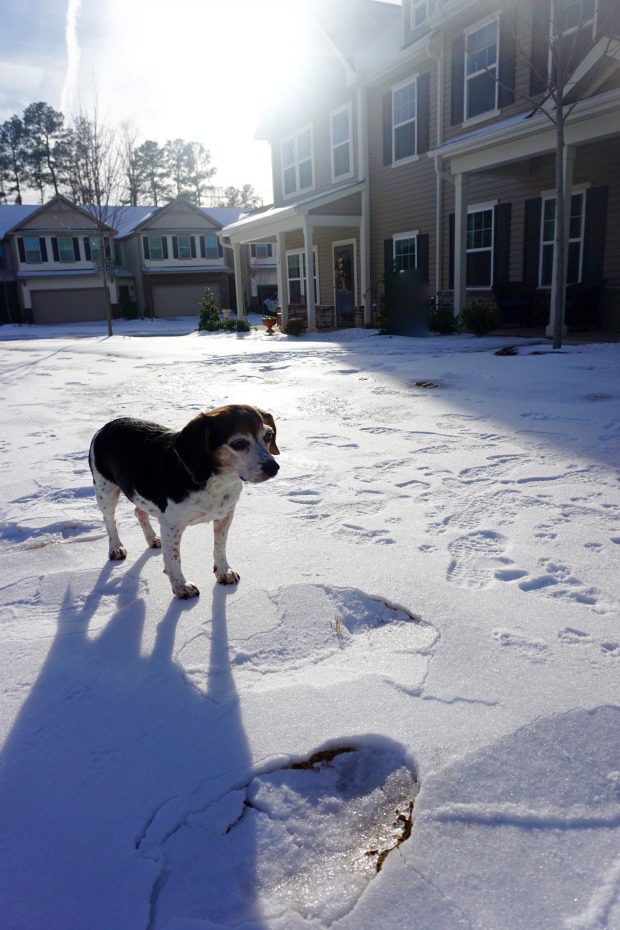 Some background on Bits: Bits is a beagle mix, but we have no idea what she's mixed with. Theories include chihuahua, french bulldog, even cocker spaniel. All I know is she's beautiful and amazing and so sweet. We adopted Bits from the Tampa Bay Beagle Rescue about five years ago. I was actually fostering her and Mike had to keep her. I was supposed to take her to an adoption event and as I'm getting her leashed up, he just looked at me and said, "She can't go. She just can't. She belongs as part of our family."
And then Bits was ours. It's been a process getting her out of her shell, helping her to be less afraid of people, to overcome everything she had to go through. She was found on a farm in Georgia along with many other beagles, living in deplorable conditions. She was also heartworm positive and had to go through many treatments to finally get rid of them, and she had to have six teeth pulled. But she's spunky and bright and loves to eat (and sleep, Beagle-style!)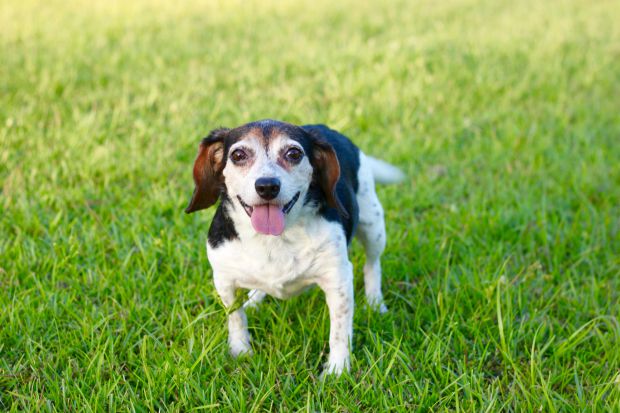 We put a lot of special care into Bits and will do anything to make her happy. I mean, this is the dog who would routinely lay her head on my pregnant belly and just fall asleep that way. There were many uncomfortable nights when I just stayed put because Bits being with me was just too precious for words (or movement).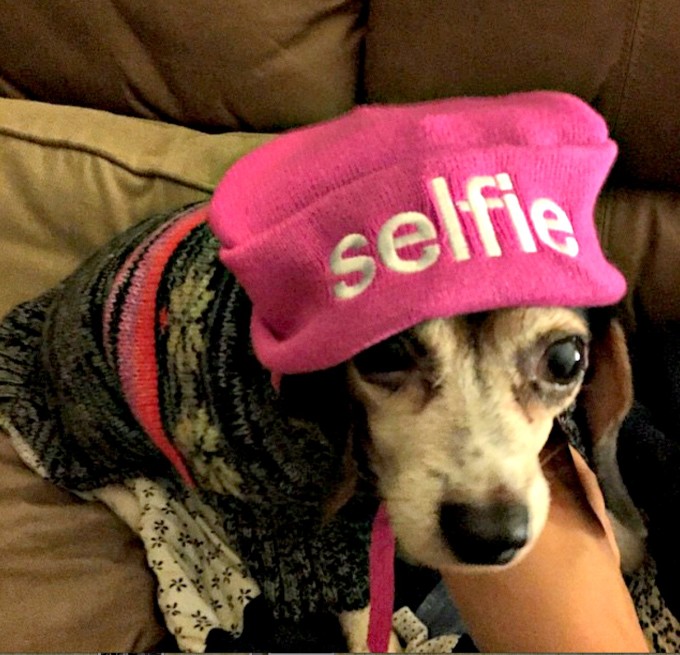 A couple of months ago she started rapidly losing weight and we had some tests run. Turns out she has EPI which is when the pancreas no longer produces the enzymes it's supposed to. For the rest of her life we'll be preparing food that includes pancreatic enzymes that have been absorbed in wet dog food. And I always say: I get to do that for her because anything to improve her quality of life is exactly what I want to be doing at all times. It's my privilege.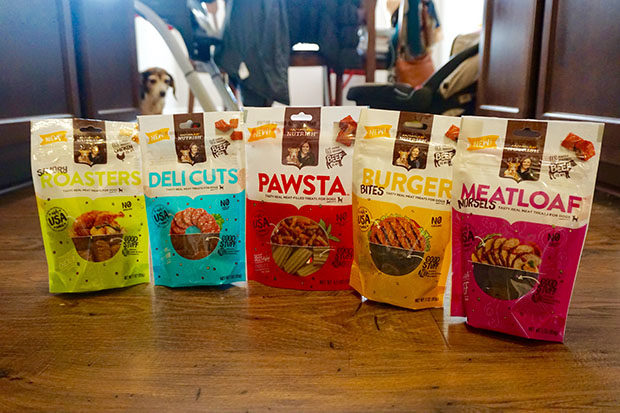 Although we always made sure Bits ate "better for you" dog food, we became way more purposeful when she was diagnosed. The Rachael Ray™ Nutrish® [1] line of dog treats meets our standards, and Bits loves them. Let me give you a quick breakdown of the highlights:
Real U.S. farm-raised beef or chicken is always the #1 ingredient.
No artificial flavors or meat by-products.
No corn or wheat.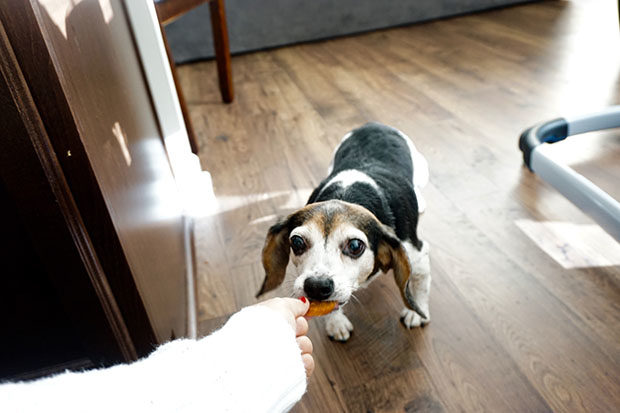 Even better: Rachael's Rescue® was created for all of the forgotten pets – the ones who might not have someone who loves them as much as they deserve. A portion of proceeds from each sale of Nutrish is donated to The Rachael Ray Foundation, which helps animals in need through Rachael's Rescue. Through 2016, Rachael's Rescue has donated more than $14 million dollars to pet charities and other organizations that do good for animals. The funds are used for food, medical supplies, treatments, and more for animals in need. Many more animals around the country need help, and through Rachael's Rescue, together we can make a difference in the lives of many four-legged friends.
As a foster, rescue dog mom, and donator to the Beagle Freedom Project, this in particular really pleases me.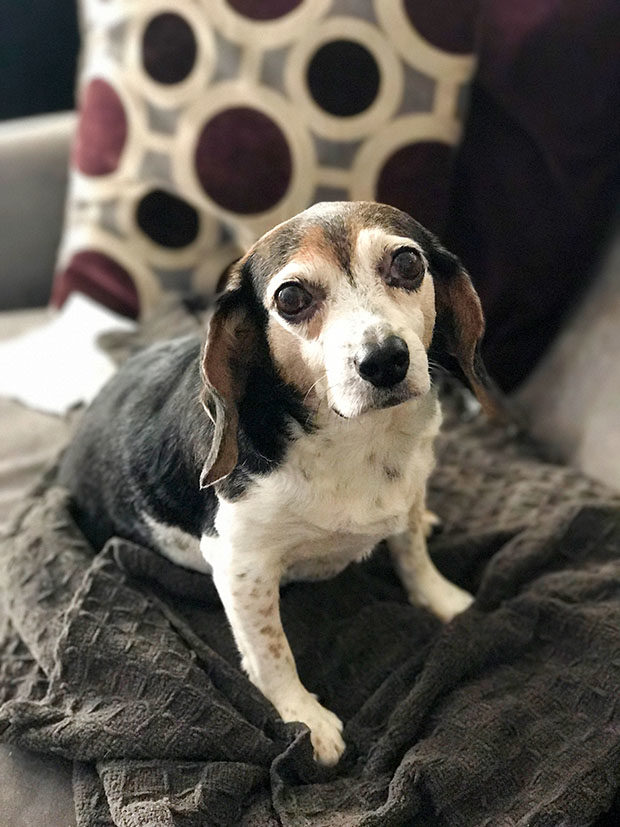 We got one of each flavor of Rachael Ray™ Nutrish® treats (Rachael Ray™ Nutrish® Deli Cuts, Rachael Ray™ Nutrish® Meatloaf Morsels, Rachael Ray™ Nutrish® Pawsta, Rachael Ray™ Nutrish® Savory Roasters, Rachael Ray™ Nutrish® Burger Bites) for Bits to enjoy and she was beyond happy to run into the kitchen and grab a treat! When she went outside and did her business, she came right back in and hopped around until we gave her a treat.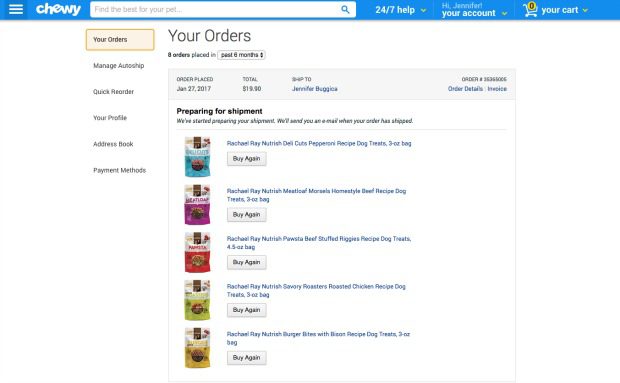 I purchased these Rachael Ray™ Nutrish® treats [1] on Chewy.com, but you can check out this this coupon [2] for $1.50 off your purchase. The coupon can be used all year and you can even print it out twice. Your dog will thank you, I promise. Bits is in love with these treats!
[Rachael Ray™ Nutrish® Treats are intended for intermittent or supplemental feeding only. Please watch your dog to ensure Nutrish treats are thoroughly chewed before swallowing. Break into small pieces for smaller dogs.]
Now, we talked about treats for our dogs, but what about humans? We all love treats too, right? 🙂
I've made treats for Bits with a primary ingredient of sweet potato and she gobbles them up so I thought, why not make myself some sweet potato muffins? They are great for on-the-go!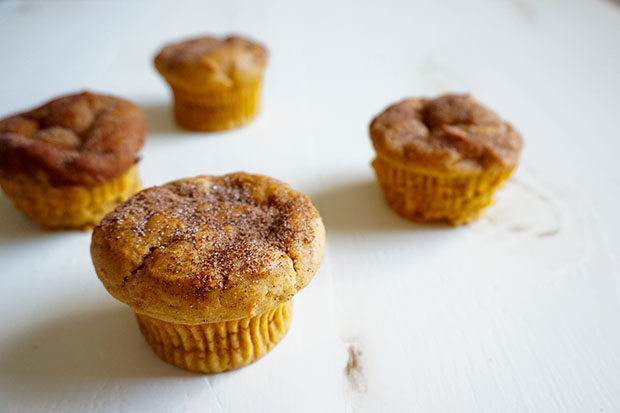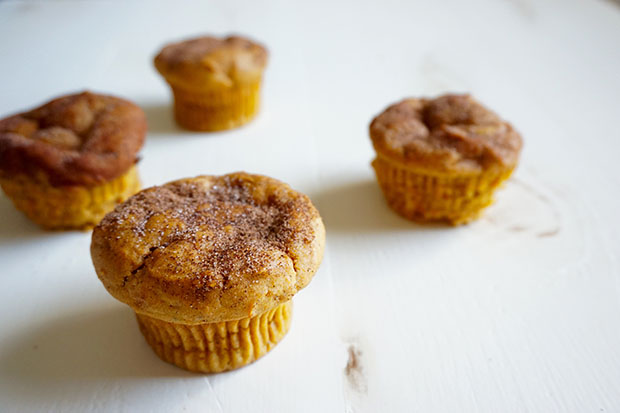 These muffins are like taking a sweet potato casserole – you know, the one you eat too much of at Thanksgiving? – and making that into muffin form. They are soft and topped with cinnamon sugar and you just feel really good eating them. They are a great breakfast option, especially with just a little bit of butter melted. Mmmmm.
What do you make for your dog and yourself?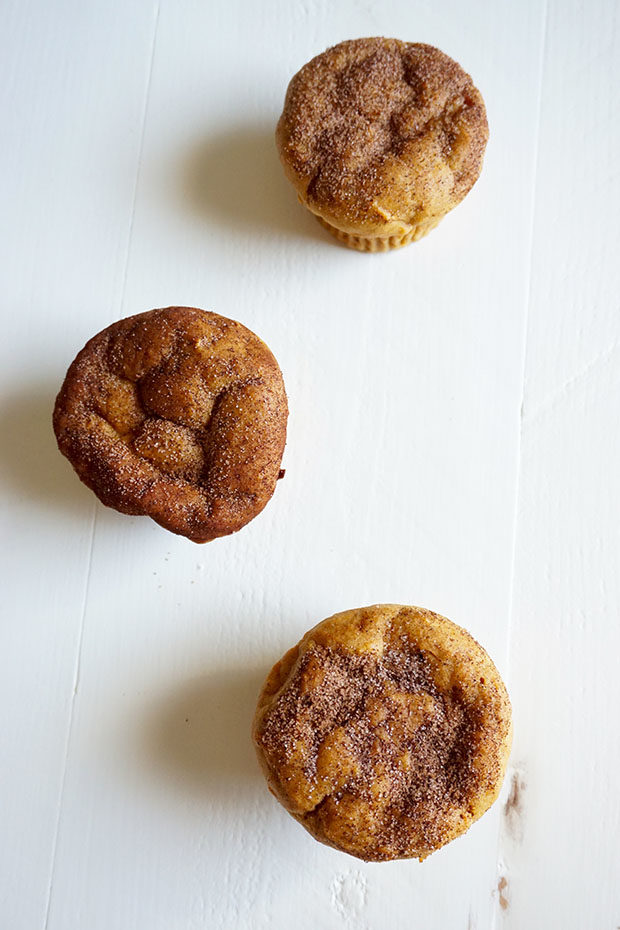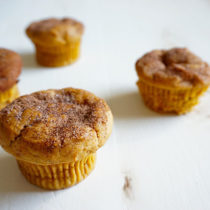 Sweet Potato Muffins
Ingredients:
1 large sweet potato, peeled and chopped
1/2 cup vegetable oil
1 cup light brown sugar
2 large eggs, room temperature
1/2 buttermilk
1 1/2 cups all-purpose flour
2 teaspoon baking powder
1/2 teaspoon baking soda
1/2 teaspoon salt
1/2 teaspoon ground nutmeg
1/2 teaspoon ground cinnamon
Topping
2 teaspoons granulated sugar
2 teaspoons ground cinnamon
Directions:
Boil a pot of water and add sweet potato. Once the sweet potato is soft, drain and allow to cool completely. Once cooled, transfer to a bowl and use a fork to mash the sweet potato.
In the bowl of a stand mixer using the beater attachment, combine the vegetable oil and brown sugar. Mix on medium until combined. Add eggs one at a time, combining on low after each. Add the buttermilk and sweet potato and mix again until incorporated.
In a large bowl, combine the flour, baking powder, baking soda, salt, cinnamon and nutmeg. Whisk to combine.
In 1/3rd increments, add the flour mixture to the stand mixer bowl, mixing after each time and scraping the bowl to make sure everything is incorporated.
Transfer batter to the muffin liners and fill as close to the top of each one as you can. Bake for 30 minutes, or until a toothpick inserted in the center of the muffin comes out clean.
Remove from oven and transfer to a wire rack to cool. Before they are all the way cooled, but when they are not too hot to handle, dip in the topping mixture of cinnamon and sugar.