Chocolate Toffee RITZ
This shop has been compensated by Collective Bias, Inc. and its advertiser. All opinions are mine alone. #RITZpiration #CollectiveBias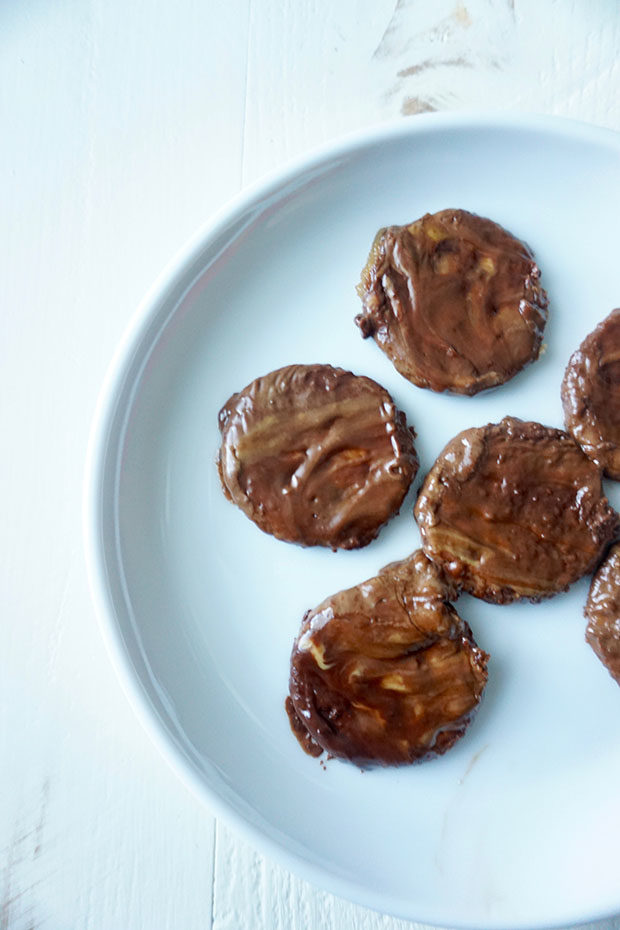 I basically live for easy snacks. I'm a mom who works full-time outside of the home, yet love to see friends and family on the regular. I need easy meals, easy snacks, easy appetizers while dinner is being prepared. And easy dessert because I'm not exactly the best at baking.
My sweet tooth is rare, but one thing I never tire of and always have a taste for is toffee. I've always loved toffee and can eat so much of it my stomach hurts. This dessert with RITZ Crackers [1] is my attempt at creating a toffee flavor with chocolate that is easy to make and very easy to enjoy. You won't believe how fast this comes together.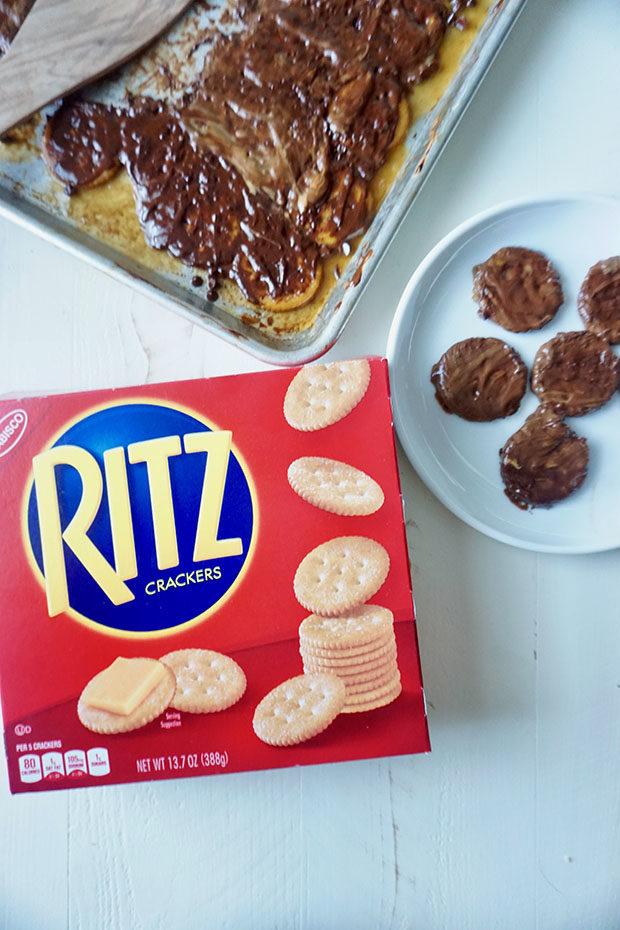 When I have people over, the last thing I think about planning out is the dessert. For dessert I give myself some leeway and allow myself to not have something elaborate. I focus more on the dinner, making sure that everything is seasoned perfect, that nothing is burned or undercooked, that everything comes together as one cohesive meal and sort of has a theme to it. I worry about place settings and how to lay out the food so it makes sense. Do I serve the food on plates for guests? Do the plates go in the center of the table for everyone to help themselves? Do I keep the pots and pans laid out in order on the kitchen counter so we can all form a line and make our plates?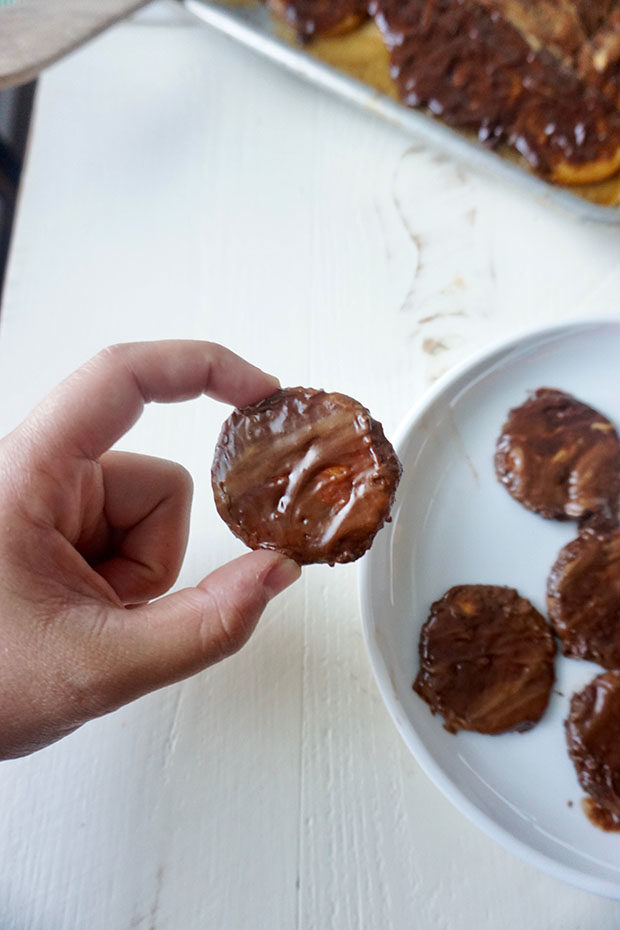 This is what runs through my mind and so my desserts and appetizers have to be a little foolproof for me. They have to make it easy on me. They have to be fast and simple, but also tasty. Just four ingredients and you have these handheld desserts right here. You don't have to babysit the RITZ crackers. Everything is made in about 10 minutes. It's the perfect dessert for those moments when you don't remember dessert until the last minute and it's also perfect for those dinners when your timing is way off and you can't even think about dessert until dinner is actually over with.
One of the other great things about these is that they are made with items you probably have in your pantry and refrigerator at any given time: butter, brown sugar, chocolate chips. Just keep some RITZ Crackers [1] in your pantry and you'll have something sweet in no time at all. RITZ is really the perfect snack for every occasion.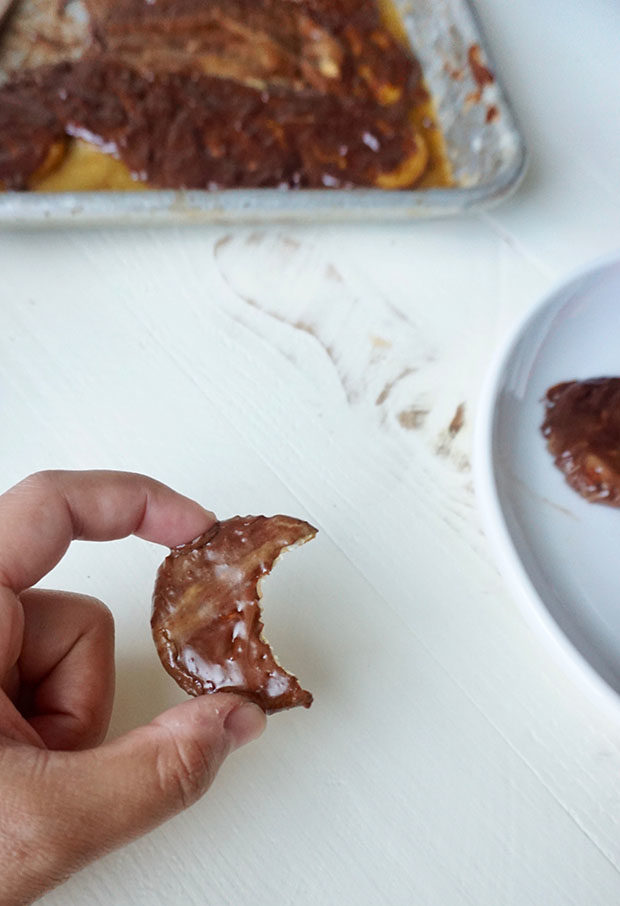 RITZ Crackers are those crackers that are reminiscent of childhood to me. I've recently rediscovered my love of them. If you're in the same boat as I am, sample RITZ Crackers at Walmart during the in-store demos taking place on April 15. Get a free recipe handout with coupon and spin for a chance to win a Walmart gift card or a free box of RITZ! This demo is in partnership with Peter Pan® Creamy Peanut Butter.
What do you like to make with RITZ Crackers?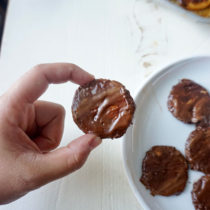 Chocolate Toffee RITZ
Ingredients:
1/2 pound unsalted butter
1/2 cup light brown sugar
1/4 cup semisweet chocolate chips
Directions:
Preheat oven to 400*F. Lightly spray a baking sheet with non-stick spray. Spread RITZ crackers into an even layer on the baking sheet.
In a small pot set over medium heat, melt the butter. Add the light brown sugar and stir frequently until throughly combined and sugar has melted into the butter.
Pour brown sugar and butter mixture over RITZ crackers. Cook in oven for 5 minutes, then remove.
Sprinkle the chocolate chips evenly across all the crackers, then spread with a spatula until all chocolate is melted.
Place baking sheet into the freezer to set. When ready to eat, remove from freezer and allow to come to room temperature. If the crackers don't easy come off the baking sheet, heat in the oven for a minute or two, or until the crackers are more manageable.
After separating from the baking sheet, store back in the freezer for a quick snack!