Baked Avocado Macaroni and Cheese
This campaign has received compensation from Collective Bias, Inc. and its advertiser. All opinions are mine alone. #VidaAguacate #EchaleLoMejor #CollectiveBias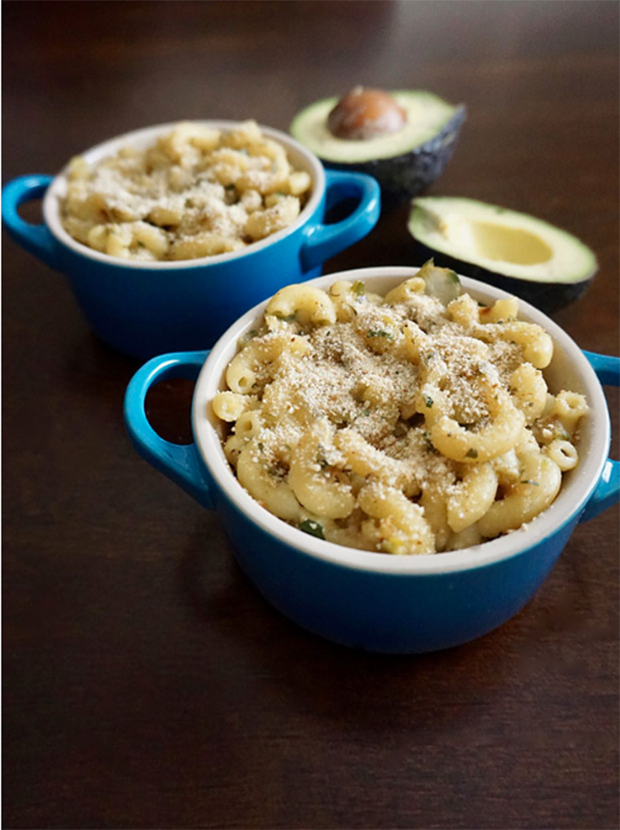 Raise your hand if you love avocados.
The thing about avocados is they can be used in so many recipes, from breakfast to snacks to salads and even as a substitute when you want to focus on having nutritious food in the new year. We all have goals on what we want to improve and work on in our lives. For me, it's balancing my meals a little better. Small, incremental changes in what you consume can make a world of difference.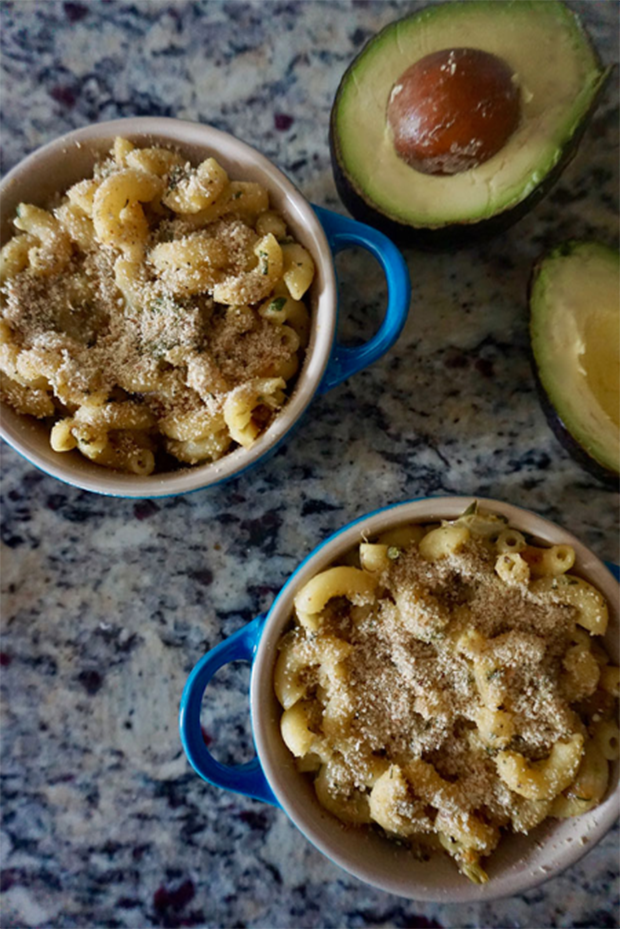 Avocados help me in my own personal challenge. I incorporate avocados into my meal planning because they are nutritious and help to create a balanced diet. Plus, they are incredibly easy to prepare for a number of dishes and flavors. Growing up, we had a lot of food prepared for family meals. Indulging is part of who I am, but we all know you can't indulge all the time. Avocados are that perfect food for when you want to indulge without feeling guilty.
It helps that Avocados From Mexico are always fresh and always delicious. So I can indulge whenever I want to, in the guilt-free way I like to.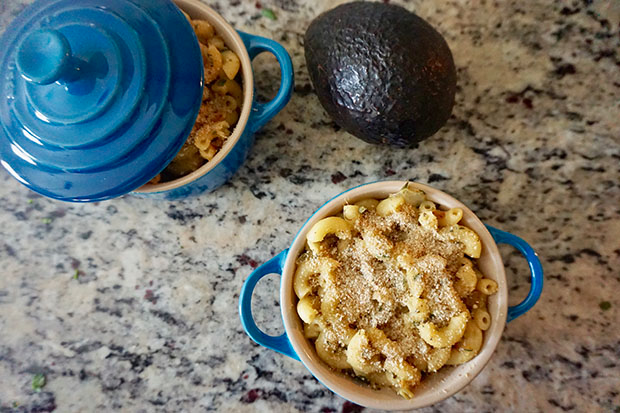 Go ahead and join Vida Aguacate [1]! 
When it comes to working toward my goals, I like to challenge myself with ingredient substitution.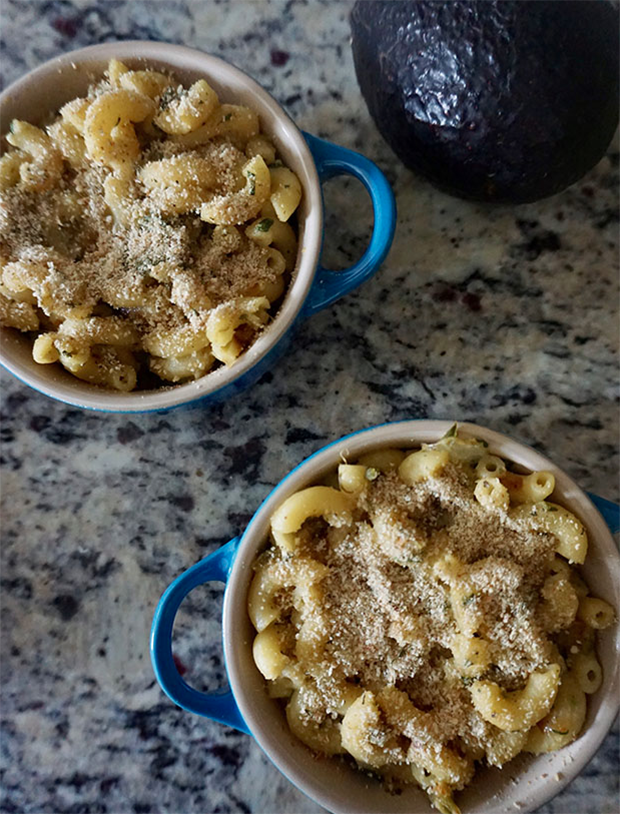 Did you know that you can use avocados to substitute other ingredients like cheese? Yep, avocado.
One other great thing about Avocados From Mexico (among the many) is they are always in season. There are so many fruits and vegetables that I seem to really want outside of their normal seasonal schedule. I can enjoy these avocados any time of year. So, you know, when it's winter and all you want is a bowl of macaroni and cheese (your favorite comfort food? ME TOO), you can easy use avocado as a cheese substitute.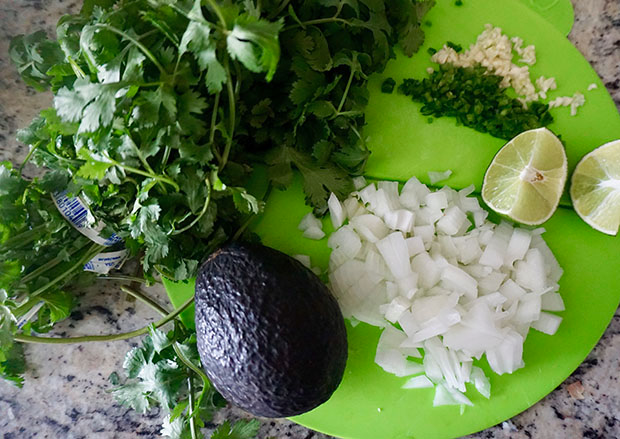 In this recipe, you'll find a little bit of cheese, although you can just add more avocado if you want to leave the cheese out completely. Remember, though, the idea is to make small, sustainable changes to your eating habits so you can strike a more perfect balance in your daily meals. My Latina culture really comes through when my family gets together for big meals. It's hard to resist the great food in large quantities because you're laughing and telling stories and the act of eating is automatic because you're having such a great time. If the changes you make are small, the habit tends to be easier to stick with and then you can have balanced meals and still keep to those family traditions. Win-win!
Avocados From Mexico empowers me with the perfect solution for providing convenient, nutritious, and delicious excitement to the foods I prepare for the ones I love, while also instilling a little piece of where I came from.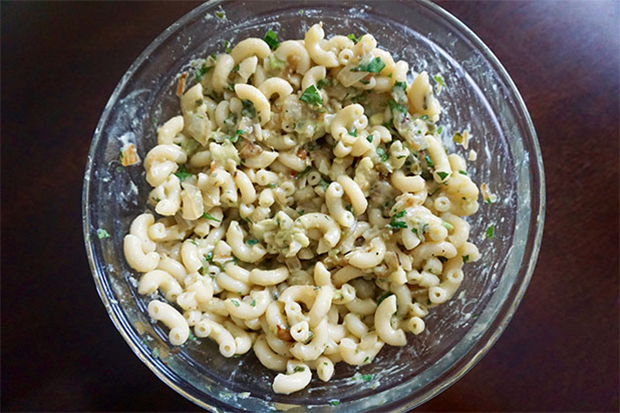 This macaroni and avocado dish is just as good, if not better, than the cheesy macaroni you may be used to. It's nutritious, yes, but still rich in flavor so you don't miss the macaroni and cheese of your childhood.
The idea for avocado macaroni and cheese came about because my husband and I make sure to prepare avocado for Max to have every day. And I thought there had to be a way to get more creative with my avocado consumption. This avocado mac and cheese is so good, so unique, so flavorful, so rich, you'll never miss the cheese pull of past macaroni and cheese dishes. This is my promise to you.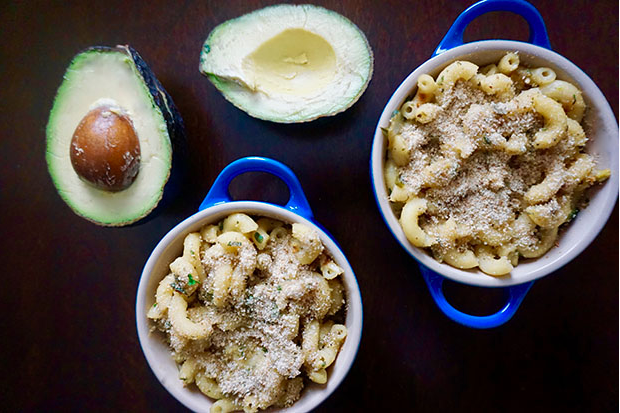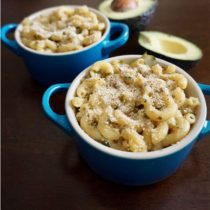 Baked Avocado Macaroni and Cheese
Ingredients:
1 ripe Avocado From Mexico

1 tablespoon extra-virgin olive oil

1 medium onion, diced

2 garlic cloves, minced

1 small jalapeño, minced

Juice of 1/2 lime

Salt and pepper, to taste

8 ounces elbow macaroni

2 tablespoons fresh chopped cilantro

1 teaspoon dried parsley

1/4 cup shredded mozzarella cheese

Sprinkle of Italian breadcrumbs
Directions:
Preheat oven to 350*F. Set a pot with salted water to boil. Cook elbow macaroni according to directions on the box, or until al dente. Remove from heat and drain.

While the pasta is cooking, heat olive oil in medium skillet over medium heat. Add the onion, garlic and jalapeño, lightly salt and pepper the vegetables and sauté until translucent and softened. (See note) Remove from heat and set aside.

Prepare the avocado cream: Remove the pit and skin from the avocado. Add the inside of the avocado to a blender along with the lime juice, salt and pepper, and 1 tablespoon of water. Pulse until you have desired consistency. (I like very little chunks in mine.) Set aside.

In a large bowl, combine avocado cream, sautéed onion mixture, drained elbow macaroni, cilantro, parsley, and mozzarella cheese.

Divide into even servings or spread into a large casserole dish (I like to use small coquettes) and sprinkle with a very thin layer of breadcrumbs. Bake for 10 minutes, or until breadcrumbs are slightly browned and crispy.
I like to sauté the onion and jalapeño together first and then when they are almost done, I add the garlic. This prevents the garlic from burning.