Takara Sushi Lives up to its Name: A "Treasure" in New Tampa (Giveaway)
**Scroll all the way to the bottom of the post for the giveaway!**
Have you ever been on a treasure hunt? It's fun searching for something great and reveling in the fact that you found the coveted item. I remember not really minding the dentist's office when I was little because if I did a good job, I got to dig around in the treasure chest for something fun. Want to pull out a couple of compacted teeth? Sure go ahead, I just want my yo-yo.
The other week I attended a sampling dinner at Takara Sushi & Sake Lounge. "Takara" in Japanese means treasure. I didn't know this at first, but finding out after, it all made sense.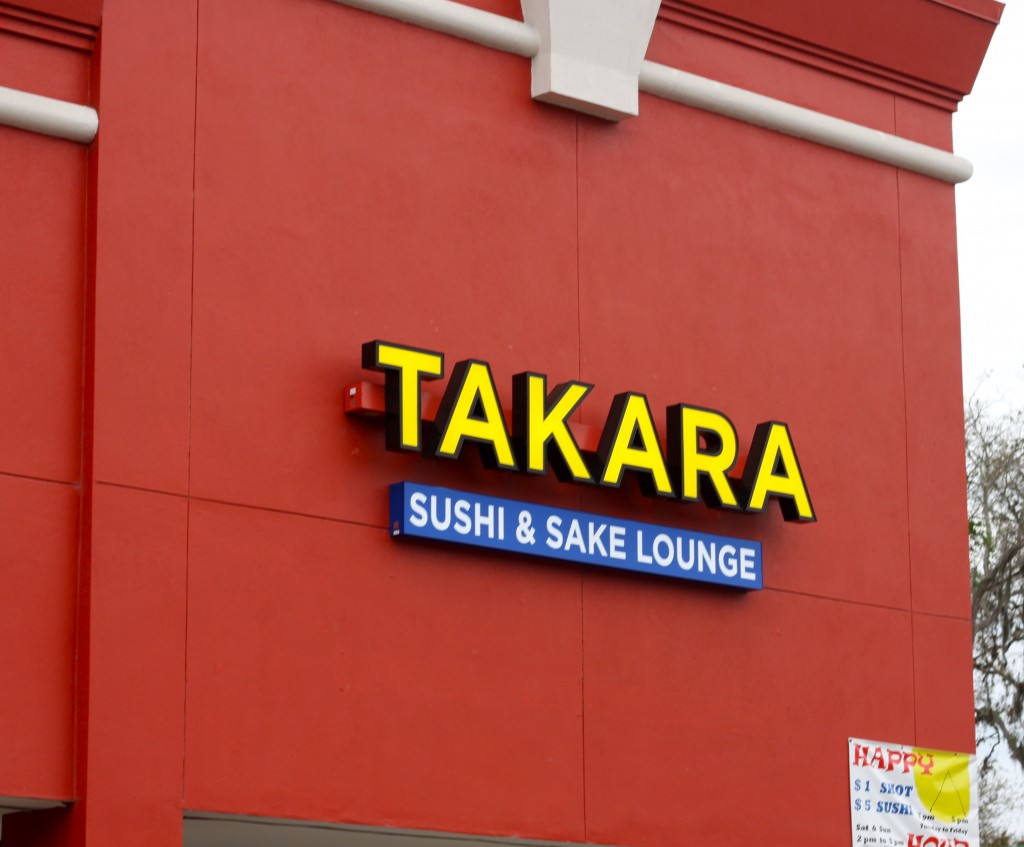 Takara Sushi, located on Bruce B. Downs, is a true treasure indeed. Even though they occupy a building that can't be missed, I've passed by this location without realizing that the prior occupants had left and Takara Sushi took over. I'm glad this spot can now be highlighted and shared.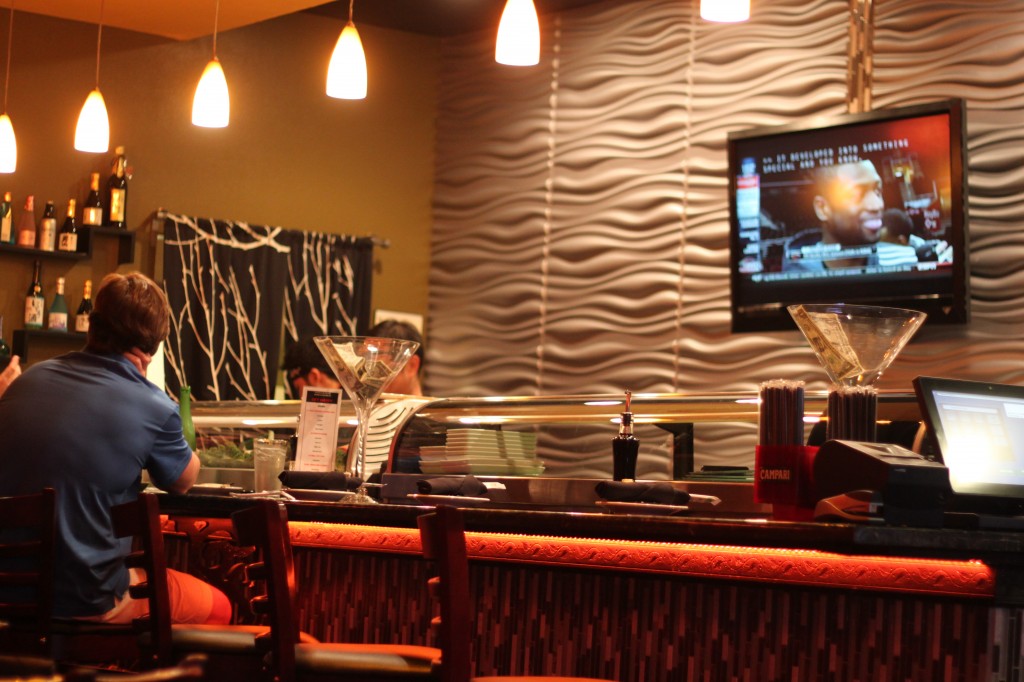 First I have to remark on the ambiance. I loved the colors and how I felt like I was in an elegant restaurant though without the airs. Takara Sushi has a cozy quality to it as well, making a meal with loved ones even better than normal. With our intimate group, it was time to start off with some flavor-infused sake.
For lack of a better word, all I can say is "yum"! Each of these three sake samples were so infused with their flavors, it was like that heightened flavor you get from a Jolly Rancher or something. It was sweet, but not over the top. The sake was very much like drinking the fruit that is was infused with, without an alcohol taste. I can see myself drinking many more of these.
During our time at Takara Sushi, we were treated to six sample portions of appetizers, two of entrees and then shared many many sushi rolls. Prepare your eyes.
For the first appetizer, feast your eyes on their beautiful White Fish Ceviche. The white fish is marinated in lime juice and tossed with celery, red pepper, red onion and cilantro. While I'm still getting used to eating fish that isn't completely well done, I have to say that I loved the flavor profile of this appetizer. The lime juice and cilantro really stood out and made for a very cleansing dish.
Next up: a dish that tasted as good as it looks. The chopped tofu and avocado pieces are tossed in a honey miso dressing along with cherry tomatoes.
This next appetizer was my favorite item of the evening- lump crab over wilted spinach, topped with alfalfa sprouts, served with mustard aioli. The crab cake has this really appetizing crust that created just the bit of crunch to separate textures.
Our next appetizer was baked mussels with mayo, scallions, smelt roe and wasabi. Just look at that baked topping. Bravo, Takara, bravo.
Next up- Spicy Tuna Bowl, or in our case, spoon. A delectable bite of spicy tuna, avocado, mango, smelt roe and scallions tossed in a spicy sesame sauce, served over mixed greens, this dish was something special. Takara really does a fantastic job of pairing flavors together to only enhance all components and this appetizer was no different.
The last appetizer of the night, the Sambuca Shrimp had a really unique flavor and it all comes from their sauce. Sauteed with fennel, shallots and red pepper, the shrimp were then tossed in a Sambuca red curry coconut milk with cayenne seasoning. The coconut milk balanced out any spicy flavor that would be had by the other seasonings, creating a pleasant spicy/sweet combo.
Thankfully, we had a small break before the main courses came out. Though all appetizers were sample portions, my belly was a'filling and I need to breathe and allow myself to have more food.
This seabass was grilled with sweet sesame soy and served with asparagus and white rice. Something I should let you know right now is that I'm very particular about my white rice. It should be fluffy but sticky at the same time. That's just the way that I like it and I've had it exactly right at a couple of places. Usually I take white rice and mix it with ketchup. Apparently that's weird, who knew? The only time I don't mix white rice with ketchup is when I have tons of flavor from any other sauce in the dish. Takara Sushi not only cooks their rice to perfection, but they also serve it with such a dynamic sauce and fish that ketchup flitted from my mind. Just. Like. That.
Juicy tender meat at a Japanese restaurant is one of my favorite things to indulge in, especially with grilled onions. When this Korean Barbeque short ribs pieces were placed in front of me over onions, carrots and scallions and served over, again yum, white rice, I jumped around in excitement (also, in my mind).
Just as I expected these short ribs to be (read: awesome), they were.
Now, prepare yourself because even as I look at all the items I still have to write about, I feel my stomach expanding and getting really irritable with me. After all, whatever yum yums my eyes see, my stomach has a desire for. (Maybe it's time to have some lunch after all.)
We had so many different sushi rolls that evening that it was hard to keep track. Some people pop bottles, some people pop pills, I pop sushi rolls into my gullet.
The amount of sushi that Takara provided to us blew my mind. So, let's break them down, shall we?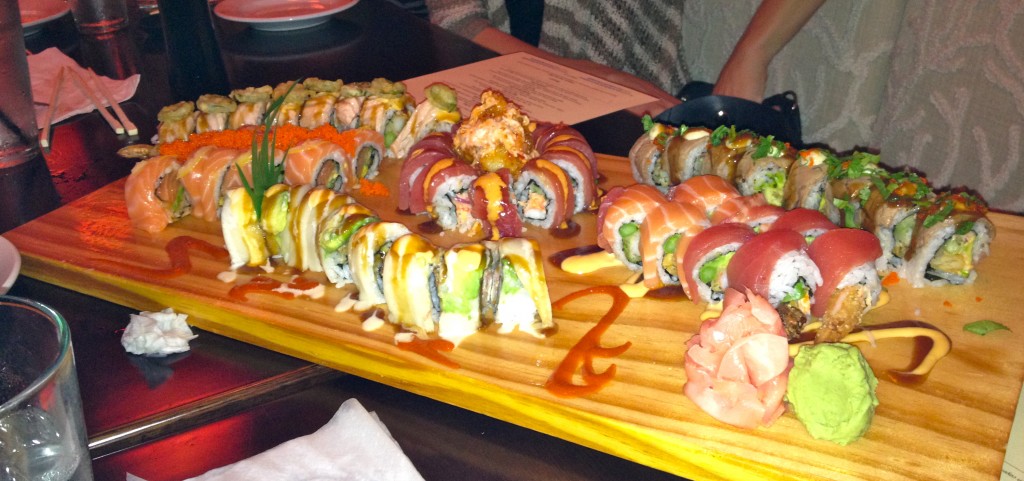 Ah, now how awesome was that journey? I'm stuffed.
Oh, but I'm j/k'ing you because there was ICE CREAM left. That's right:
To me, one of the best kinds of desserts are ones that mix together hot and cold. The entire idea of this tempura fried ice cream just had me anticipating this last course all meal long. The sauces are incredible and the crispiness of the tempura is so good, I think I heard angels singing.
I huge thank you to Takara Sushi for taking care of us this evening and making themselves known. Now I have a new place to dine, something invaluable to me.
The best part of my experience? I received two $20 gift cards to give away to my dear readers! Enter using the Rafflecopter widget below! There will be two winners (one for each gift card) and the giveaway will run for 1 week, ending at midnight on Tuesday, April 9th. If you have any questions on how this works, please email me at Jennifer [at] thefoodiepatootie [ dot com].
16 Responses to "Takara Sushi Lives up to its Name: A "Treasure" in New Tampa (Giveaway)"