National Zucchini Day | Pork-Stuffed Zucchini Boats
One of the first recipes I made on this blog, back in 2011, was Sausage-Stuffed Zucchini Boats adapted from Kitchen Belleicious. Since then, I've adapted even more and now this recipe is my own with inspiration from that first dish from Jessica. It's a fan favorite and my husband and I make it often enough to keep us both satisfied. I won't lie – it is somewhat labor intensive, what with having to remove the flesh and seeds from the zucchini halves and then separate those even further, but it's completely, 100% worth it in the end.
I actually hadn't completely planned what I would make for National Zucchini Day, though I had some ideas. Mike requested that I make these because he had a hankering and since he was planning to go to a guy's night at his friend's house, he wanted to bring some and show off his wife's cooking skills to the crowd. I'm more than happy to oblige. I really love cooking for people, although it still makes me nervous.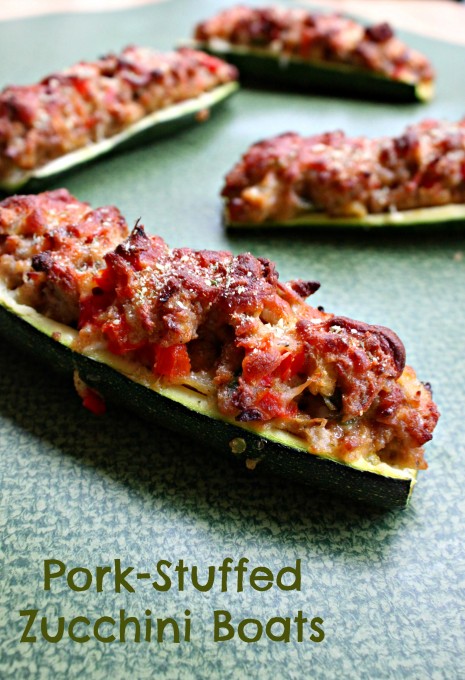 I'm Italian and ashamed to say that I'm not a huge fan of Italian sausage. I thought updating my prior zucchini boats, substituting the sausage for ground pork, would be much better and it was! With the kick from red chili flakes and jalapeño peppers, it turned into a dish I no longer wanted to share with my husband's friends. I mean, couldn't we just pretend that I had some sort of kitchen mishap and therefore was unable to produce the promised food? Not quite. (And I'm a horrible liar.)
Mike and I split one zucchini boat because we are nice like that and he took the other five halves over to be consumed by someone who was not me. It's okay though. I have a package of zucchini in the fridge and already know what I'm making this weekend!
National Zucchini Day | Pork-Stuffed Zucchini Boats
Recipe Type: Pork
Author:
Prep time:
Cook time:
Total time:
Serves: 6
Ingredients
3 medium size zucchini
1 pound of ground pork
1 red bell pepper, chopped
1 jalapeno pepper, minced
1/2 large onion, chopped
1 tsp garlic powder
1 tsp red chili flakes
1 tsp paprika
1 tsp salt and pepper each
1/2 cup mozzarella cheese, divided
1/2 cup breadcrumbs
2 eggs
Instructions
Preheat oven to 375*F.
Cut zucchinis in half lengthwise. Using a small spoon, carefully scoop out flesh and seeds, leaving a 1/4-inch-thick shell around the edges. Discard seeds and set aside the flesh. Take the flesh and chop into small pieces for the stuffing.
In a large saute pan, cook the pork until no longer pink. Drain and set aside.
Saute the onions and peppers in the same cooking pan until nice and tender, approximately 6-8 minutes. Add the chopped flesh of the zucchini along with the seasonings and 1/4 cup of mozzarella cheese. Put the pork back in the pan and combine with the other onion/pepper mixture.
In a large bowl, combine the pork mixture with the breadcrumbs and eggs. Mix together until thoroughly combined.
Place zucchini boats in a single layer on a greased baking sheet and divide the stuffing equally among the boats, making sure to mound the stuffing. Sprinkle with the remaining 1/4 cup mozzarella cheese and bake 35-40 minutes, or until stuffing looks nice and browned.
Tomorrow: National Pretzel Day
6 Responses to "National Zucchini Day | Pork-Stuffed Zucchini Boats"