National Taco Day | 21 Spice Tacos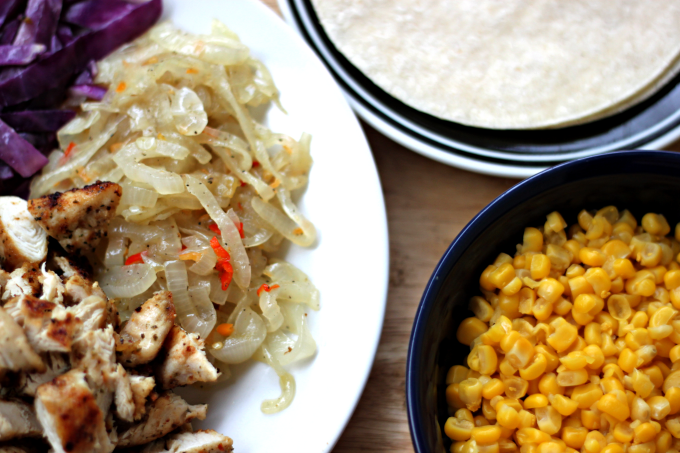 It's National Taco Day and I've been feeling particularly inspired lately. The food blogs that I totally crush on, for their style of writing, their pictures, their stories, the fact that they make things that make me want to eat through my computer screen, are making me want more. I have an ongoing, pretty extensive list, with all of the things I want to do to and buy for my blog, starting with a new blog design. I am signing up on the wait list for a custom design and can't wait to get the process started and reveal it! Here are my must-reads:
What are some of your favorites?
The recipes I tend to gravitate towards have multiple components, yet each component doesn't take a lot of time or more effort than running a 5k (cause those things are miserable). Tacos are that food. You can make a simple taco meal, you can make it uber complicated, but no matter which direction you go in, it's usually still considered comfort food to some extent. 'Cause really, who doesn't love tacos, amiright?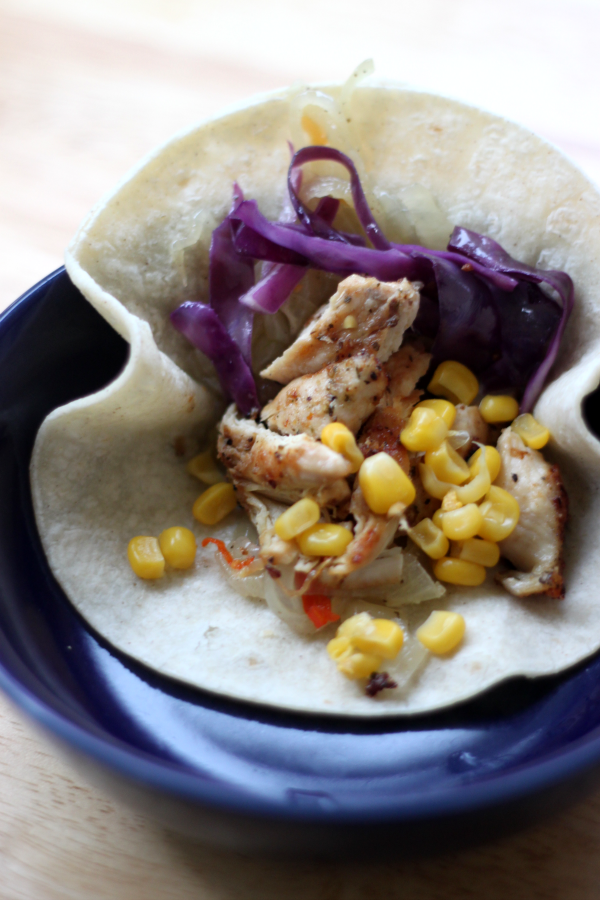 My husband and I have tacos (on corn tortillas only!) pretty often. It takes chicken, corn, red cabbage, onions, and a couple of thai chiles or habanero peppers from our patio garden and the meal is complete. This is our simplest, fastest version of tacos, and the base for many other tacos. I like to put every topping in a separate bowl so we can sit around the ottoman in the living room (we lack a dining table and it's a total bummer) and fix up our tacos together while watching our favorite show – a tie between The Walking Dead and Top Chef.
What makes these tacos even better is the simplicity of seasoning involved. That's not to say that there isn't a punch of power in the seasoning we use for the chicken, but figuring out what spices to put on there is made easy with some 21 Seasoning Salute from Trader Joe's. It's got onion, black pepper, celery seed, cayenne pepper, parsley, basil, marjoram, bay leaf, oregano, thyme, savory, rosemary, cumin, mustard, coriander, garlic, carrot, orange peel, tomato, lemon juice and lemon oil. See? Totally complicated and awesome, but just takes from sprinkling from me.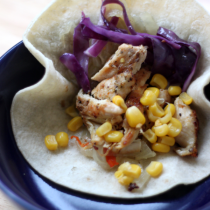 National Taco Day | 21 Spice Tacos
Ingredients:
1 pound chicken tenderloins
2 Tbsp 21 Seasoning Salute
1 Tbsp olive oil
Salt and pepper
1 medium onion, sliced
3 thai chili peppers, diced
1/2 red cabbage, cut into shreds
1 can yellow corn
Corn tortillas
Directions:
In a large pan or on a grill pan set over medium heat, heat olive oil. Season all sides of the chicken with 21 Seasoning Salute and place in the pan. Cook through on both sides. Remove from heat and set aside on a plate.
Add more olive oil to pan, if necessary. Add in onions and peppers, along with a pinch each of salt and pepper. Saute until translucent.
Top tacos with red cabbage and cooked yellow corn.
 Tomorrow: National Apple Betty Day
Leave a Comment