National Shrimp Scampi Day | Shrimp Scampi Galletti
Being Italian, making and eating pasta is basically one of our greatest accomplishments. I bought a pasta maker about a month ago and while I haven't yet had the opportunity to use it, I know that I'm great at eating pasta. It's one of my favorite pastimes.
Tonight, I'm making Pasta Aglio e Olio with broccoli which is a sauce made mostly with garlic, extra-virgin olive oil, and red pepper flakes. The other day, in preparation for National Shrimp Scampi Day, I made Shrimp Scampi Galletti.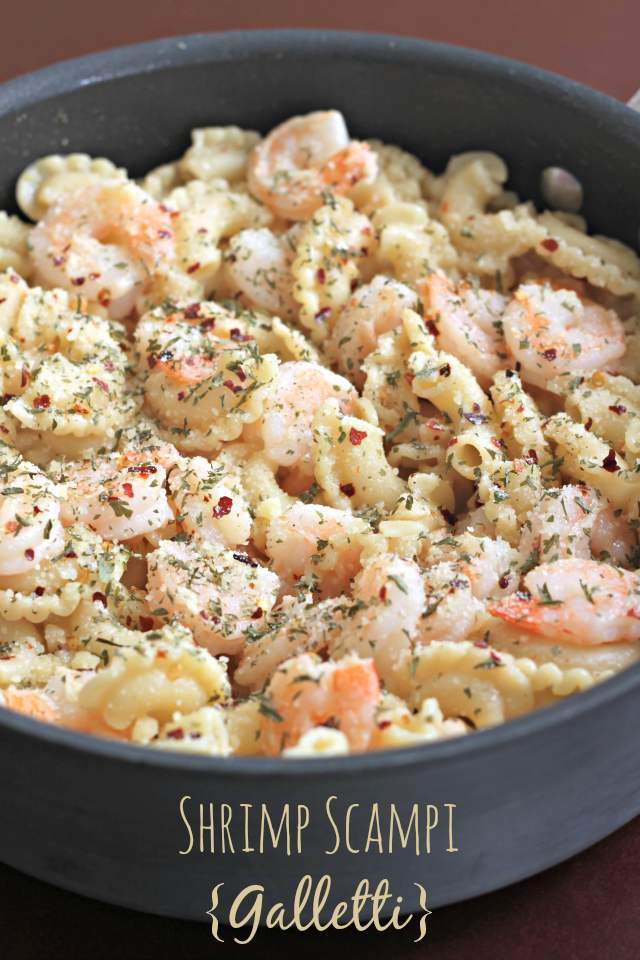 I found galletti pasta at Target when I was browsing the food clearance section. There are frequently some pretty awesome buys there! If you know me at all, you know I'm a huge fan of Giada DeLaurentiis. I have almost everything one could own from her Target line so when I saw a box of beautiful galletti pasta on sale (I think she is bringing in new items so they are phasing out what was left), I snatched it up.
Galletti pasta is just a really cool looking pasta. I love the unique shape for aesthetics, but also you have both the tube and ribbon of the pasta to catch sauce. Trust me – the pasta and sauce combo is a big deal! You should use pasta that matches your sauce and vice versa.
When served with pasta, I've always seen shrimp scampi with linguine, but the galletti, with a shrimp-like shape anyway, just makes it more of a fun dish to enjoy!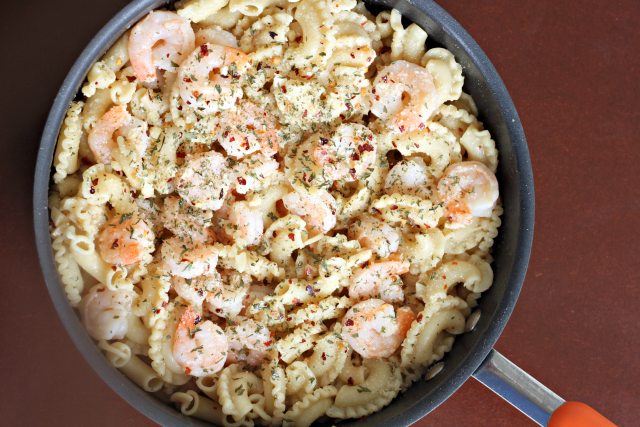 National Shrimp Scampi Day | Shrimp Scampi Galletti
Recipe Type: Pasta
Author:
Prep time:
Cook time:
Total time:
Serves: 4
Ingredients
1 pound large cooked shrimp
2 tbsp olive oil
3 tbsp unsalted butter
4 garlic cloves, minced
1 1/2 tsp red pepper flakes
Pinch of salt
1/2 cup white wine
2 tablespoons finely chopped parsley
2 tbsp lemon juice
Freshly ground black pepper to taste
Parmesan cheese
1 pound Galletti pasta, or whichever pasta you choose
Instructions
Rinse shrimp, remove tails, and set aside.
Put a pot of salted water on to boil and start cooking the pasta. Drain when complete.
In a large sauté pan over medium-high heat, add the olive oil and butter. Once the butter melts, add the garlic, red pepper flakes, and a pinch of salt. Sauté for a minute, or until the garlic becomes fragrant.
Add the white wine, increase heat to high and allow wine to boil for 2-3 minutes, reducing by about 1/3.
Add shrimp to the pan, turning them over to coat in the mixture. Boil the wine for another minute. Remove from the heat, add the parsley and toss to combine. Sprinkle with lemon juice, black pepper, and Parmesan cheese.
Toss the pasta with ingredients in the pan. Top with more of any ingredient you choose. I topped with more parsley, red pepper flakes, and cheese.
 Tomorrow: National Raisin Day
6 Responses to "National Shrimp Scampi Day | Shrimp Scampi Galletti"

Trackbacks/Pingbacks

Pingback: National Shrimp Scampi Day | Shrimp Scampi Galletti - Celebrity Chefs TV | Celebrity Chefs TV

Leave a Comment