National Potato Day | Boiled Baked Potatoes
When I first started this challenge, I swore to make everything myself, or at least have a very heavy hand in making everything myself. But as time goes on, you realize you need people, that to do a challenge where it's only you is not truly representative of how you feel about cooking (and enjoying) a meal in general, which is that a meal deserves to have more than two hands in it more often than not. And while, more often than not, it's just me because I'm on my own schedule and have lots going on, but with these potatoes for National Potato Day, my husband made them. And they were AWESOME!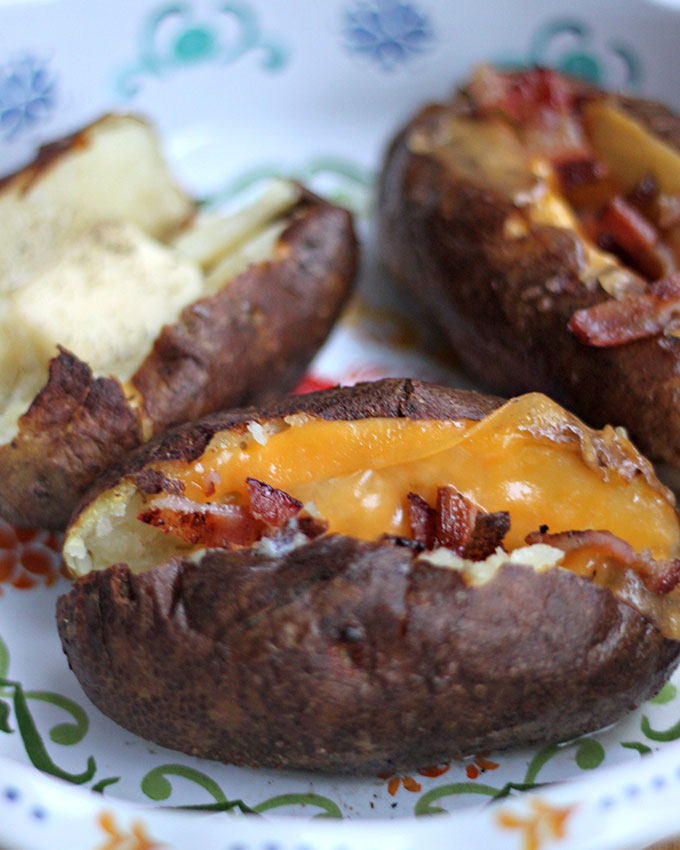 I've always eaten the skin on my baked potatoes. I've seen some people scrape all the potato from the inside to enjoy, leaving the skin behind to be scraped into the trash and I always wondered why. Why keep yourself from what is the best part of the potato, when done right? This was my feeling about it even before Mike made these potato and what turned out to be the crispiest potato skins ever.
It's through the cooking method that you come up with the wonderful texture of these skins. He boiled the potatoes first, which serves to semi-separate the potato from the skin. This comes in handy when it's baking time because it allows the skin to get even crispier than usual. Of course, the olive oil and spice rub (one of the most used ingredients in our house) make it a baked potato unlike the others I've had.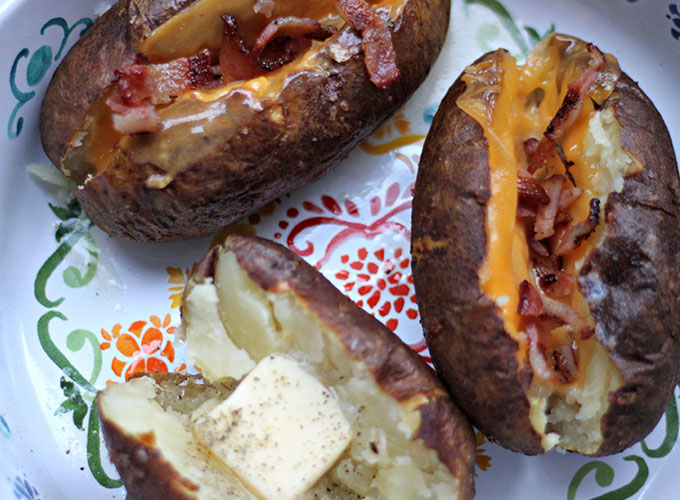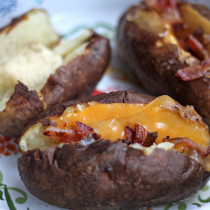 Boiled Baked Potatoes
Ingredients:
3 Idaho potatoes
Spice rub, your preference (we used ghost pepper salt from our local spice shop)
OIive oil, to drizzle
Potato condiments, your preference
Directions:
Preheat oven to 450*.
In a large pot, bring water to a rolling boil. Boil potatoes for 10 minutes. You should be able to easily spear the potato with a fork.
On an aluminum foil-lined sheet, place the potatoes in oven for 10 minutes. Pull them out, drizzle with olive oil and spice rub all around. Return to oven for another 20 minutes.
Remove from oven, cut a slit in the center and top with your choice of condiments (we chose cheese, bacon, butter, and salt and pepper).