National Coffee Cake Day | Coffee Cake Muffins
There were a number of things running through my head this morning before writing this post. You see, I was at the dentist and when you're there, you want to focus on anything except the tools in your mouth and the noises they are making. The dentist is not fun. Now I wonder: Is there anyone else like me who struggles with where to put their tongue when you're getting a cleaning? It's awkward, right? Maybe it's just me.
After that question swirled around in my mind for a solid 10 minutes, I started thinking about breakfast because your girl is super hungry when she wakes up, mmkay? These Coffee Cake Muffins that I made were calling my name from the Ziploc bag in my purse while I was in the dentist chair and therefore unable to enjoy them.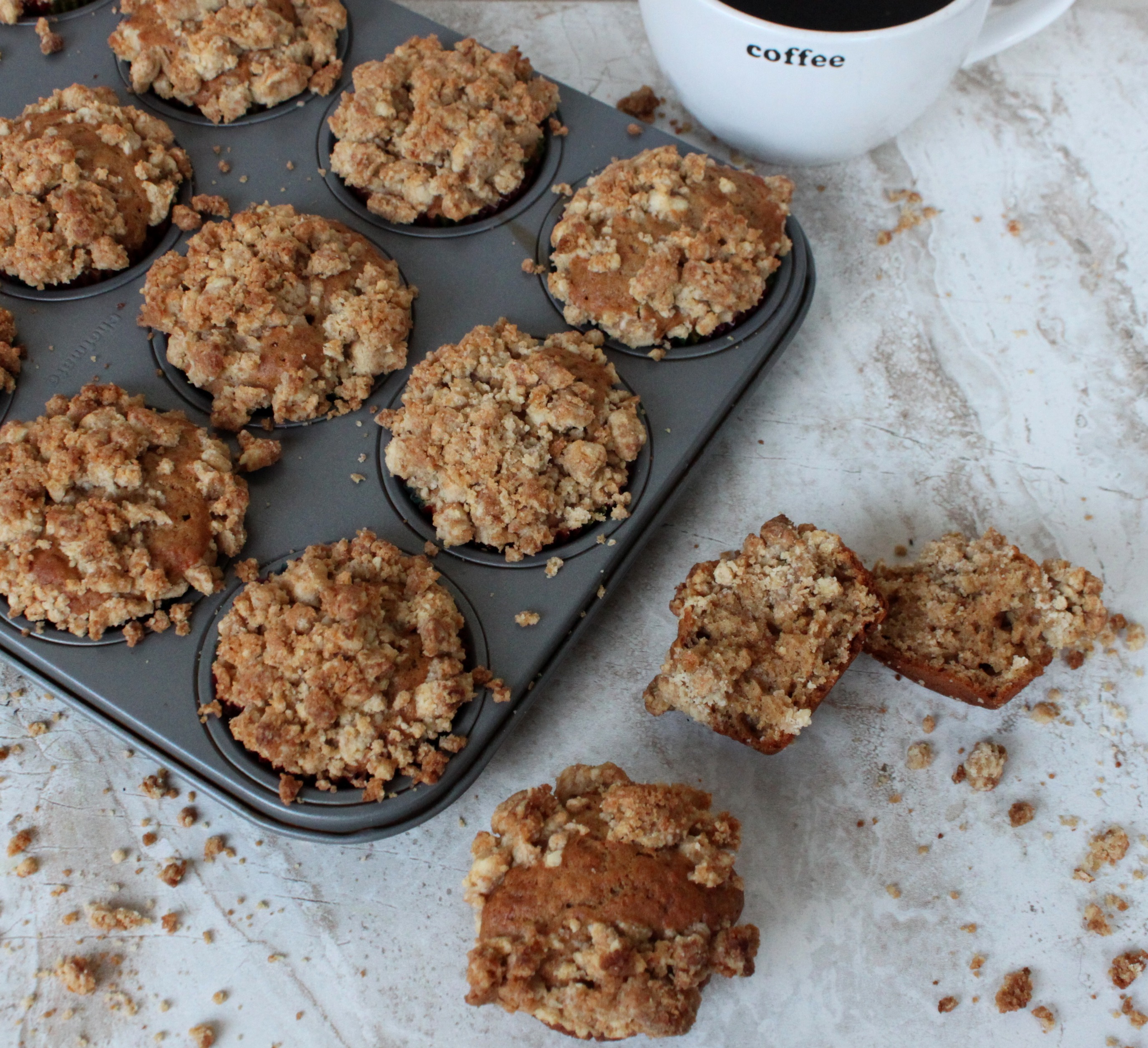 With breakfast being the most important meal of the day, I love those things I can make that I can just grab and go with, and that I don't get too sick of. I have food ADD in that I need something new all the time. For me to find something that I can eat every morning for several days is rare. But, these muffins are it. I eat one for breakfast and another for snack on the long days at work.
Speaking of long days of work, today is one of them and I'm struggling to stay awake already. How am I going to last until 8pm? Please share your tips that don't include alcohol. That's not allowed at work, you know.
National Coffee Cake Day | Coffee Cake Muffins
Recipe Type: Breakfast
Author:
Prep time:
Cook time:
Total time:
Serves: 12 muffins
Ingredients
[b]Muffins[/b]
1 1/2 cups all-purpose flour
1/2 cup light brown sugar
2 teaspoons baking powder
1 teaspoon cinnamon
1/4 teaspoon baking soda
1/4 teaspoon salt
3/4 cup milk
1/3 cup canola oil
2 large eggs
[b]Topping[/b]
1/3 cup sugar
1/3 cup light brown sugar
1 teaspoon cinnamon
1/4 teaspoon salt
1/2 cup (1 stick) unsalted butter, melted
1 1/2 cups all-purpose flour
Instructions
Preheat oven to 375 degrees F. Line a 12-cup standard muffin tin with paper liners; set aside.
To make the crumb topping, combine sugars, cinnamon and salt in a medium bowl. Whisk in melted butter. Add flour and stir to combine. Spread out mixture on parchment paper to dry until ready to use.
In a large bowl, combine flour, sugar, baking powder, cinnamon, baking soda and salt.
In a separate bowl, whisk together milk, canola oil and egg. Pour mixture over dry ingredients and stir using a rubber spatula just until moist.
Scoop the batter evenly into the muffin tray. Sprinkle with reserved crumb topping, using your fingertips to gently press the crumbs into the batter.
Bake for 15-17 minutes, or until a tester inserted in the center comes out clean.
Notes
Adapted from [url href="http://damndelicious.net/2014/03/24/coffee-cake-muffins/" target="_blank"]Damn Delicious[/url]
Tomorrow: National Empanada Day
Trackbacks/Pingbacks

Pingback: 6 Ways to Eat Healthy in 2015

Leave a Comment